For the past three years, my mother's been repeatedly reminding me that when she'll turn 60, one of her life-long dreams would be to go on a roadtrip in a convertible with her two sons. Well, my dear mother said goodbye to her fifties earlier this summer, and because my brother and I are such a good kids that love their mom, we did what any loveable sons would do: we booked a few nights in a cozy B&B  in Québec's beautiful Charlevoix region, took a few days off work, and had a convertible Ford Mustang rental car prepared for the trip.
Turns out BMW Canada had better plans for us.
When I emailed my local BMW correspondent, Joanne Bon the week before my departure for some future bookings, she offered me to spend the week in the 440i Cabriolet you see here instead. So yes, we ditched the Mustang.
Snapper Rocks!
Before I go on talking about the actual car, I'm sure you all have questions about that insanely attractive shade of turquoise blue this Bimmer is covered with. BMW calls it Snapper Rocks Blue Metallic, and when married with the Opal White Extended Merino Leather interior, I gotta say, this thing isn't just a neck turner, it's one of the most flamboyant luxury convertibles I've seen this side of a Rolls Royce. Wait. Isn't Rolls Royse owned by BMW now?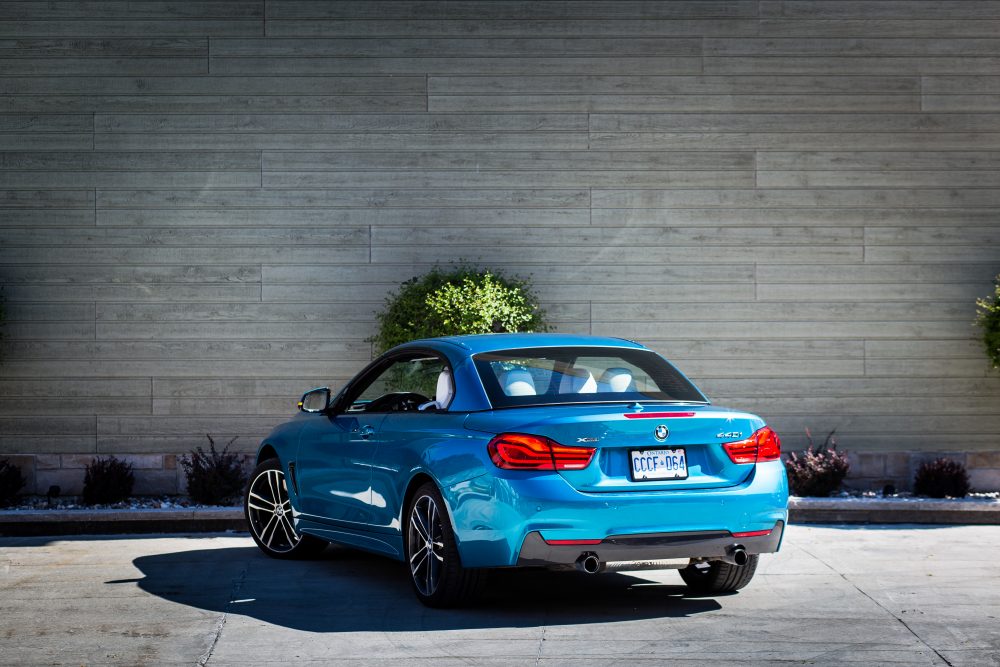 Anyway, for those who haven't been following BMW's latest naming shenanigans and think I made a typo in the car's nomenclature up there, you're wrong. Here's a flash update: the four series is the new three series coupe. Confused? I am too. But BMW says the coupe is a completely different car than the sedan, hence its different designation.  The 4-Series is a tad lower and wider than its sedan sister, but with an exact same wheelbase and overall length. It still looks every bit like a two door three series, but, sure, whatever floats your boat BMW.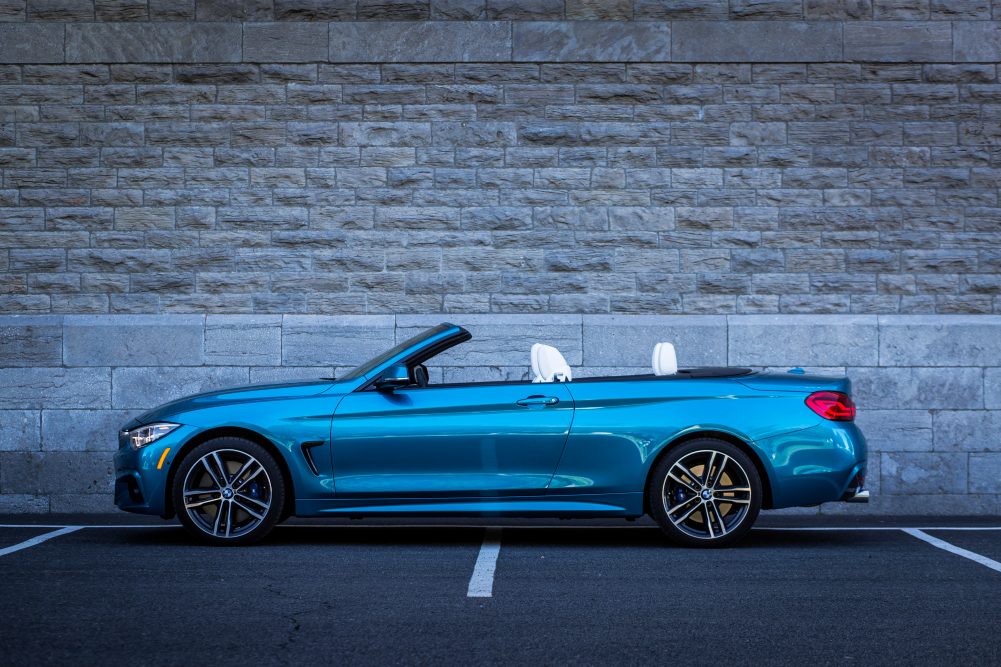 Although considerably larger than any three series coupe that came before it, BMW claims this new coupe is 100 pounds lighter than the last generation 3-Series sedan. And from where I was standing, especially when equipped with the optional M package, which included a set of double-spoke 19-inch wheels and performance brake kit, this Bavarian coupe looked damn pretty.
M-Fueled Grand Touring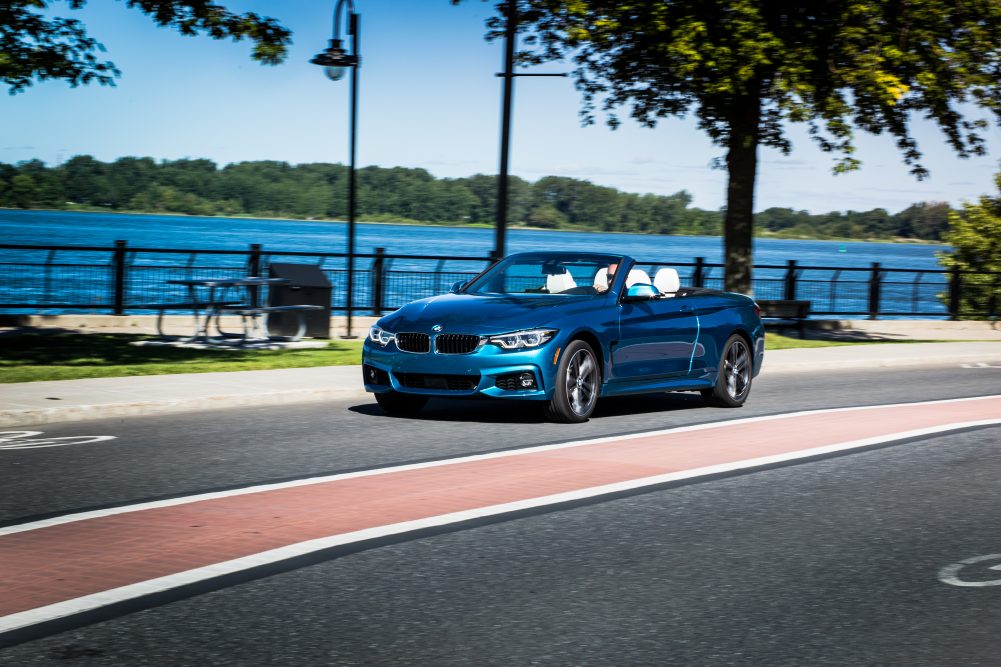 To further complicate things, BMW doesn't name its cars according to the size of their engines anymore. So no, a 440i isn't powered by a 4.0-liter V8, although that would be glorious. This is essentially an updated 335i, meaning power comes from BMW's now popular and still velvety smooth 3.0-liter, turbo inline six. BMW says this new coupe pumps out 320 horsepower, and 330 lb-ft of torque.

My tester was fitted with the eight-speed automatic and BMW's xDrive all-wheel-drive system – the only possible configuration for Canadian-spec'd 440i cabrios. Equipped this way, and considering this is the heaviest 4-series available at a whopping 5,070 pounds, it'll still launch to 100 km/h in a respectfully quick 5.4 seconds, just 0.6 seconds behind a rear-wheel-drive coupe.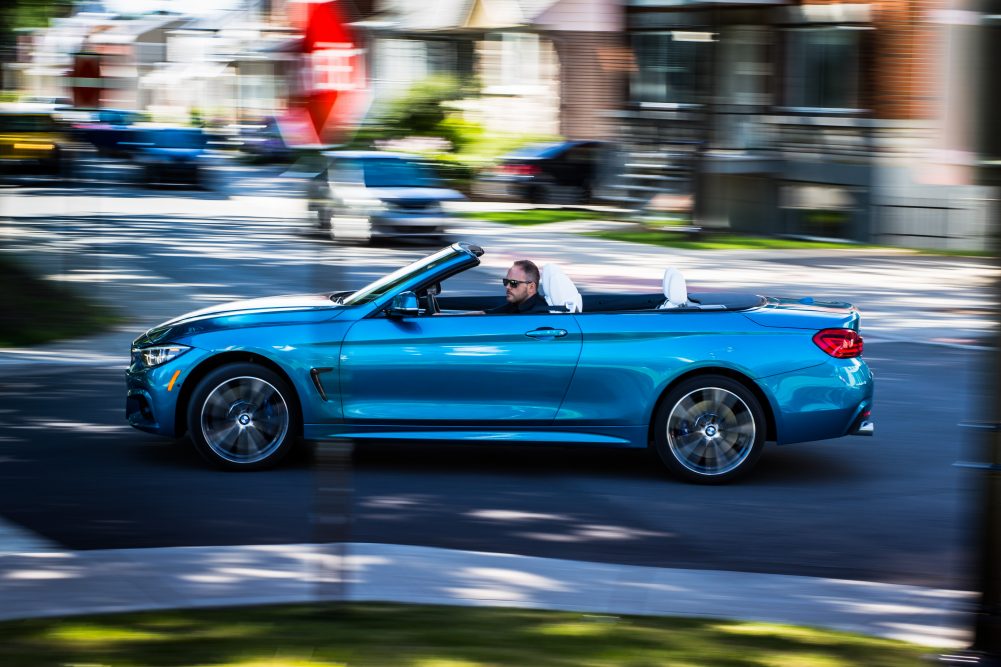 Behind the wheel, when set to its most aggressive Sport + setting, the 440i remains a quick machine, one which pulls in a leaner fashion, powerband unbothered by jerky turbo lag or dead spots, transmission quickly snapping another cog in a Germanic, authoritative and efficient manner. This remains one of the smoothest turbo sixes I've ever driven and will flirt with its redline all day long.

Mind you, I'm now becoming familiar with the various drive modes modern cars are fitted with, but I will admit that this is the first car I've driven which completely alters its character from one mode to the next. For the 440i, there are four settings to choose from: Comfort, Eco Pro, Sport, and Sport +, each considerably altering the car's suspension settings, steering heft, throttle response and transmission shift points.

During our drive up route 138, along the coast of the Saint-Lawrence, past Québec city, Eco Pro deemed to be the most serene configuration and overall easiest to live with for a grand touring roadtrip. Fuel economy remained on point in the low nines, and the entire ride was quiet and plush, with the active performance exhaust suddenly shutting up, steering wheel becoming all light, suspension set to plush mode and engine purring effortlessly as it carried us from one elevation change to the next. That's partly thanks to the inline six's ability to deliver most of its available torque down low at 1,380 rpm.

When set to Sport +, the 440i is a completely different machine, and, quite the raucous, especially when fitted with that M performance exhaust. If attention is your thing, then you'll be getting a lot of it in this. Not only does its flamboyant demeanor attract a lot of eyeballs, this Malibu convertible growls, crackles, pops and farts like the best supercars out there. That's when I realized the Germans have one hell of a sense of humor; they'll sell you a turquoise all-wheel-drive convertible with an muffler that's louder than a Messerschmitt flying over an Alsatian village. It's great though.

Because when I was pushing this car hard through the sinuous route 362 that connects Baie-Saint-Paul with LaMalbaie, riding along the cliffs of Charlevoix, the Saint-Lawrence dominating the scenery, and the blazing sun cooking my forehead, the 440i proved to be an impeccable performance machine, remaining planted to the ground, feeling heavy and tactile during corner exits and enticing me to keep pushing harder. Great handler this is, and a car that delivers speed thrills, especially in your hair. Unfortunately though, this current generation car remains a tad softer than past iterations of the 3-Series, with a steering wheel that remains on the light side. The heft cannot be ignored and remains the dominate caveat when attacking apexes.

Granted, BMW worked on the steering, which has been the current generation car's biggest fault since its inception. It's better, yes. But we're nowhere near the utmost precision of past examples. I'm sorry, but in when it comes to steering feel, Alfa Romeo has beaten the Germans.
When treated as a grand tourer, however, the 440i is impeccably docile; the suspension provides compliance all while remaining stiff, with impeccable handling and an ability to carry speed effortlessly. If you're expecting the canyon-carving compact BMW's of yore however, you'll be a tad disappointed. Because this isn't it.
Top Up Or Down?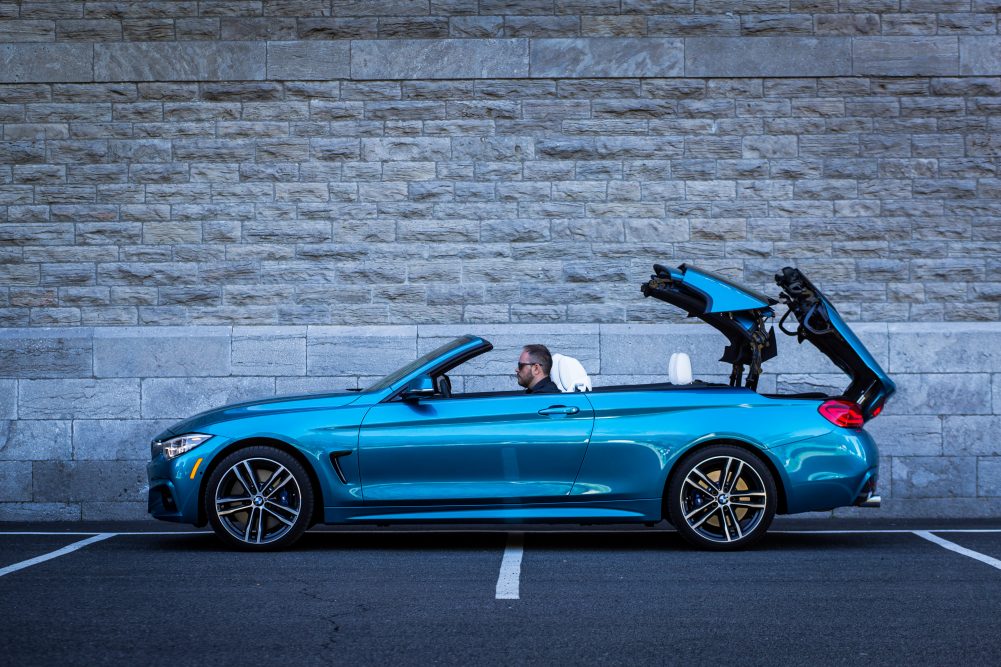 Hold a tiny toggle located on the center console, and the 440i cabriolet goes from sleek, curvaceous coupe, to vacation-ready open top cruiser. Convertibles are always a treat when the sun shines hard, but if you plan on going far in this German coupe, make sure to pack light, because once that fancy, three-piece metal roof is stowed back there, you don't get much of a trunk left.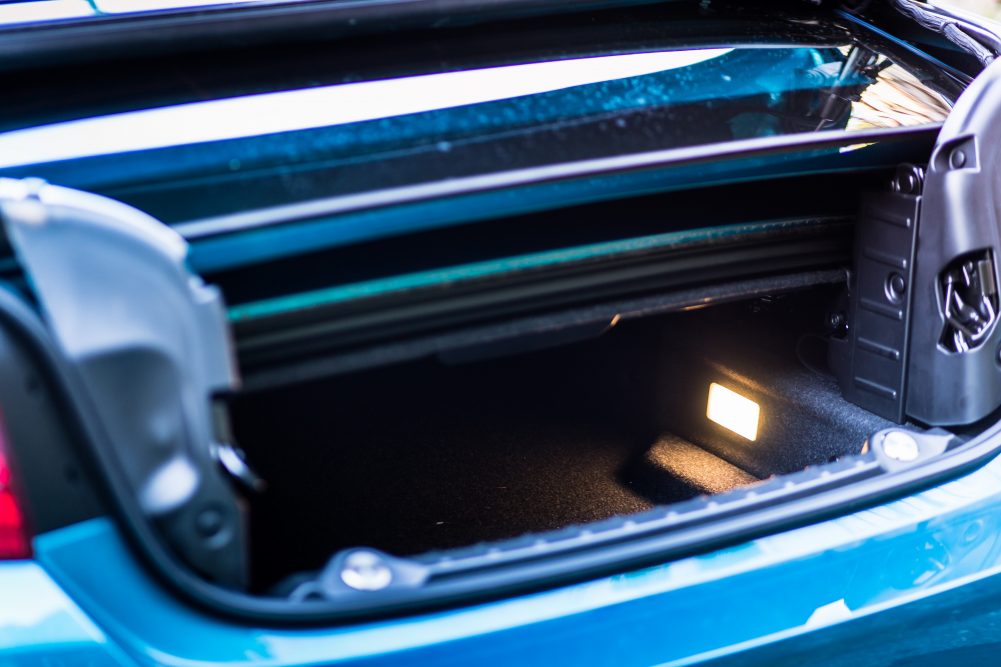 That was one of my main gripes with the cabriolet during my trip. Considering its size, I would have imagined the trunk would remain intact. I mean, Mazda succeeded at protecting cargo space with its puny little MX-5. But this isn't the case. Once that roof is in there, you'll only fit a few travel bags and some pairs of shoes, nothing more.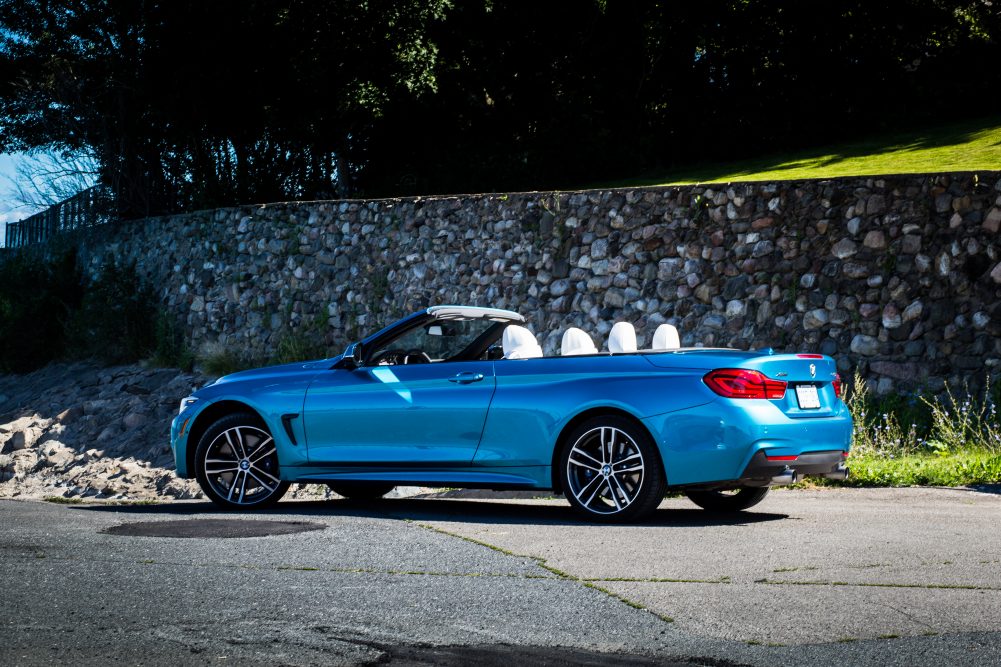 Another issue I had was with the rear seats, which not only look and feel like an afterthought compared to the sublime thrones up front, they're also hard, and offer no incline option, so you're sitting upright in them. There's also no neck warmer back there, which doesn't make sense.

Because when you're sitting out the back at highway speeds with the top down, it ain't all too warm. Luckily, the front seats are fitted with the neck warmers, ideal if you still want to look cool with the top down while driving around during a fresh summer evening.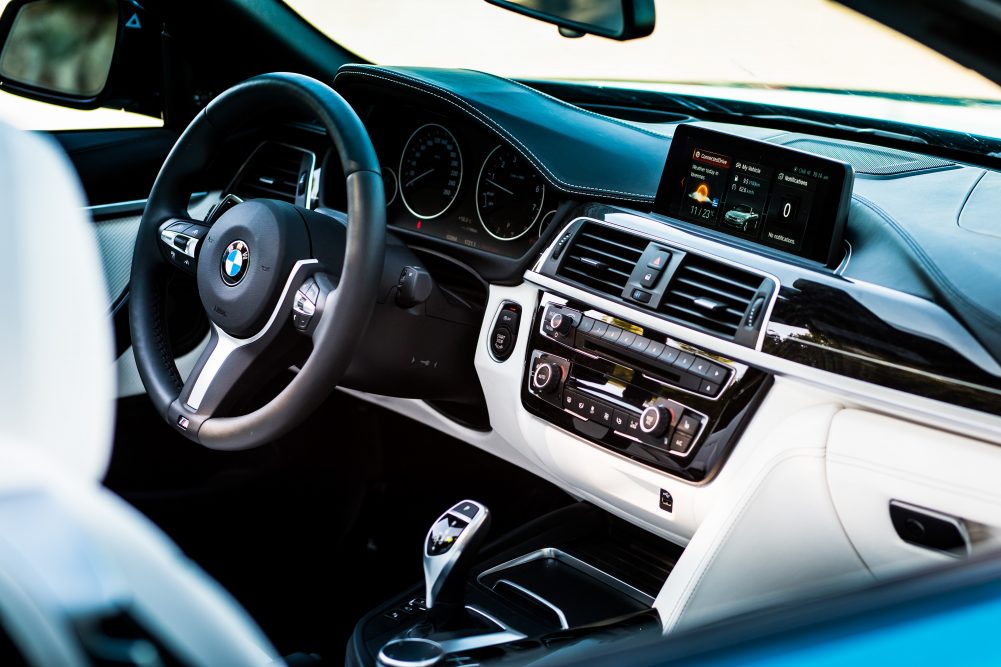 But the rest of the 440i's cabin impresses with the high quality of its materials and contrasting surfaces. Sure, the design is getting somewhat old, but the craftsmanship remains, and the high sales prices is justified. This is every bit a luxury convertible. BMW's iDrive interface remains solid, with clear, easy to understand menus and an easy to grasp rotary knob that makes navigating through the multiple features a breeze. That shifter remains complicated for nothing, but overall, ergonomics are good and controls are easy to get your head around.
Pay For The Bling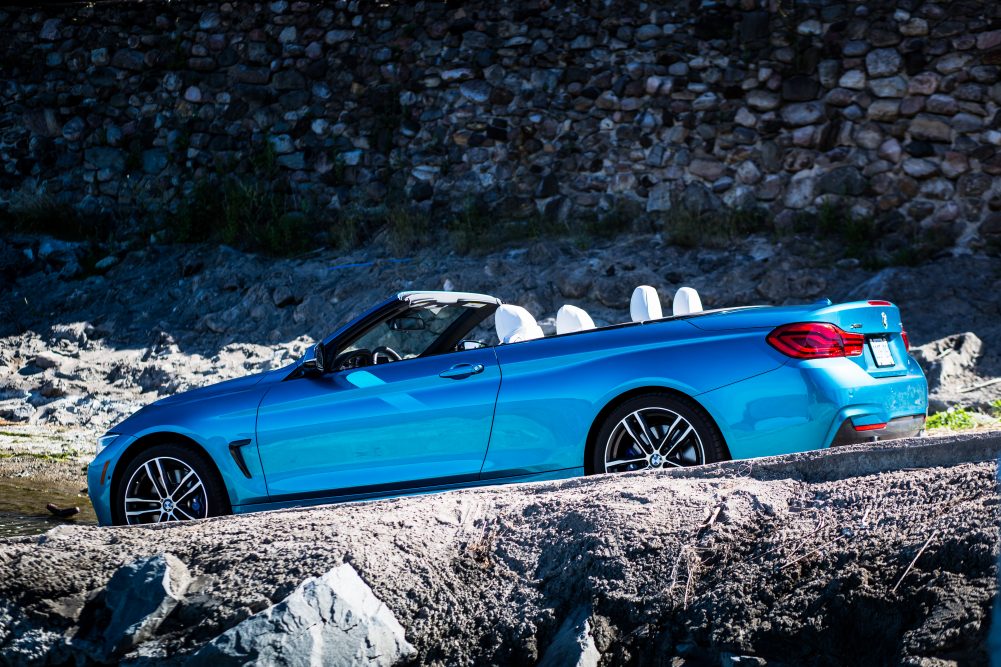 Pricing for a 2018 BMW 440i kicks off at not-so-cheap $71,050. My tester had all possible packages added on, such as the $6,000 Premium Package Enhanced, which you'll need if you want those neck warmers, the two available M Performance packages which add the performance exhaust, brakes, wheels, adaptive suspension and a slight engine tune, as well as a set of connectivity and driving assist options. Total price: $89,485.

To my surprise, my fully loaded, almost 100k BMW still didn't get autonomous lane control assistance, a feature which can now be had a $32,000 Honda Accord.

An expensive BMW convertible isn't a surprise. What you should know is that the 440i Cabriolet remains a formidable weekend getaway cruiser in which you'll be comfortably seated, get a bit of wind in your hair, have a bit of fun behind the wheel and attract a lot of positive attention. As a flamboyant "look at me" premium grand tourer that makes a lot of cool noises, this is a fantastic automobile. But sadly, BMW's "compact" sports coupe is no longer the nimble, energetic and easily tossable driving machine it once was. For that kind of thrill, you'd better turn to the 2-Series.
Clavey's Verdict
Review of the 2018 BMW 440i Cabriolet by William Clavey
Luxury Convertibles
Looks like vacation on wheels.
Fantastic engine and transmission.
Immensely comfortable front seats.
Questionable rear seat comfort.
Limited trunk space with retracted roof.
No longer the performance benchmark.
Clavey's Corner is located in Montreal, Quebec, Canada. Prices and trim levels discussed in this article reflect the Canadian car market.
Special thanks: BMW Canada
Photography: Appearance
Join the Tribe
Contact the author: [email protected]