I got the 2020 BMW M550i press unit a few weeks before Canada was shut down due to the COVID-19 pandemic. In case you're wondering how this shit show has affected my work, it means that I no longer travel, I am no longer invited to new car events, and very soon, I won't have access to press cars to review.
What's a person who makes a living out of reviewing cars supposed to do during such a crisis? Many of my colleagues have chosen to sit this out until it's over, which is fine. I, on the other hand, have decided to drive the hell out of these vehicles while I still can, which is exactly what I did with the stealth missile you see here.
The Ultimate Sleeper
If you were to search for the word "sleeper" in an automotive encyclopedia, a picture of the 2020 BMW M550i would most probably be used as an example. By definition, a sleeper is a very fast and powerful automobile that appears totally underwhelming from the outside.
That's precisely why the M550i exists, for people who desire near BMW M5 performance without the brash "look at me Mr. Officer" attention of an M car. The "M before the number" series of BMW cars and SUVs has also proven to be a frankly lucrative solution for the brand, opening up a full niche of intelligently packaged performance machines aimed at a new kind of customer with a different kind of budget.
What you need to know is that the M550i is the fastest and most powerful BMW 5-Series before entering M5 territory. Its engine is a detuned version of the M5's, a twin-turbocharged 4.4-liter V8 rated at 523 horsepower and an equally satisfying 553 lb-ft of torque.
It's mated to the same eight-speed automatic gearbox as its big sister, and comes with the same rear-biased xDrive all-wheel-drive system, except the M550i doesn't get the M5's rear-differential which allows to disengage the front wheels for full rear-wheel-drive action.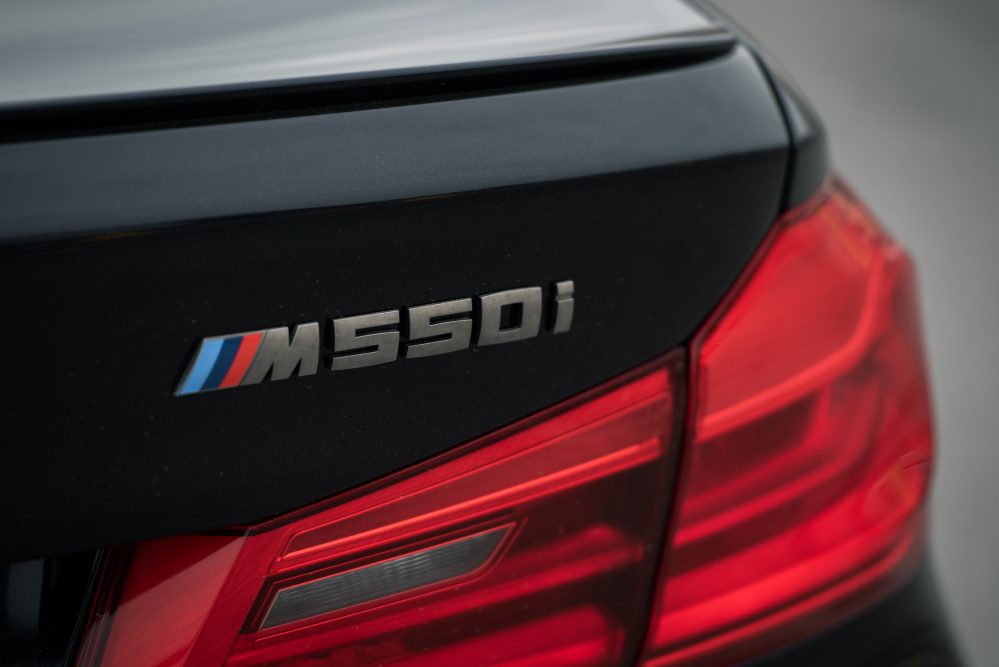 Acceleration from 0 to 100 km/h in the M550i is claimed at a shockingly fast four seconds flat, with the ability to complete the quarter mile in just under 12.5 seconds. Not bad for a grandpa-looking sedan.
Except for beefed up brakes, an adaptive sport suspension and subtle M badges glued onto its body, there's nothing about the M550i that suggests its performance. Even the front-bumper has a cute, friendly businessman look to it.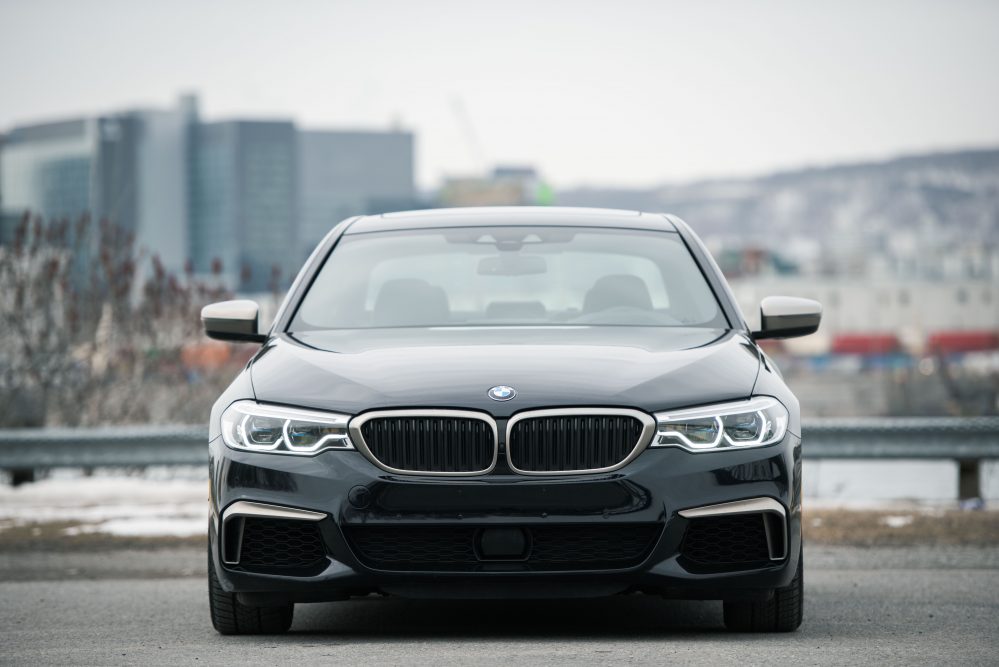 Pricing kicks off at $86,650. The car you see here has, of course, a full battalion of optional packages piled on, as well as the oh-so-subtle Azurite Metallic black paintjob. Final price was $101,050, which is still considerably cheaper than an actual BMW M5.
The Right Amount Of Performance
When I say the 2020 BMW M550i is the perfect COVID-19 stealth missile, it doesn't mean you can go out and start racing it around town like a douchebag because the streets are empty. While a deserted city like Montreal is indeed very appealing for any driver, the fact of the matter is that you still need to obey traffic laws.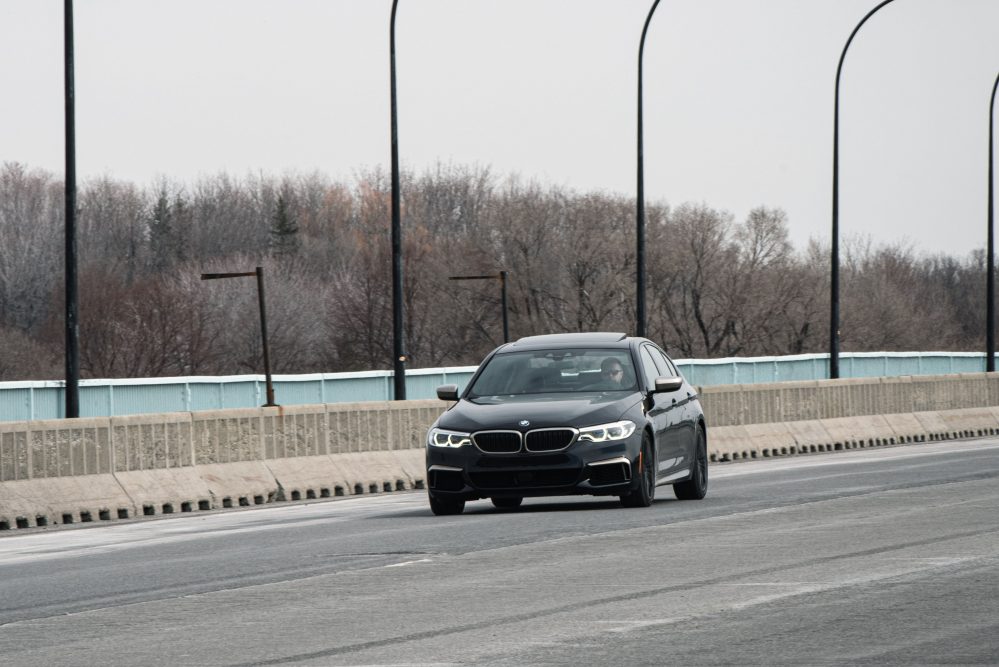 That said, in a world where streets are empty as fuck, and police is all over the place to supervise the COVID-19 situation, a machine as subtle as this superfast BMW is downright perfect for the situation.
It's not just the looks that make this Bimmer appear like it's powered by a turbodiesel four-cylinder, but how quiet and non-dramatic its exhaust note is. Contrary to the M5 or even the M850i which trumpet obnoxious backfires as they shuffle through their gears, the M550i is quiet, civilized and perfectly suited for daily driving. Don't worry though, it still has that smooth, rumbling V8 sound and feel, and if you listen closely, its exhaust will fart out a few pops and crackles. It's just all more muted and civilized.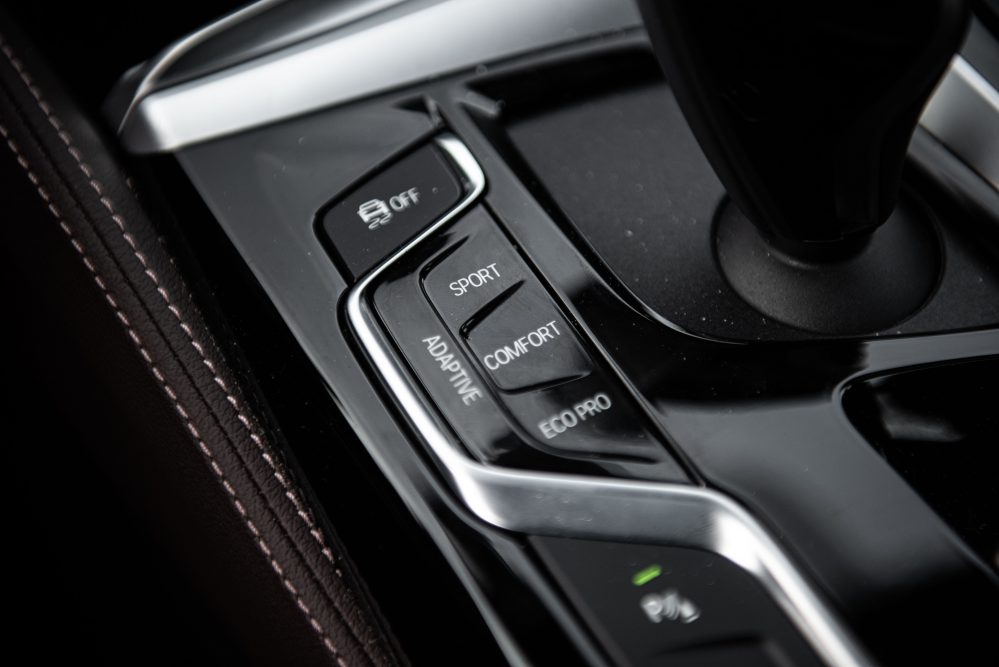 Leave this 5-Series in Comfort mode and it glides along imperfect roads in a much more mature manner than an actual M car, where the engine's massive low-end torque smoothly provides forward locomotion with very little drama or actual lag. Its only real letdown is the rate at which it sucks premium fuel without apologizing.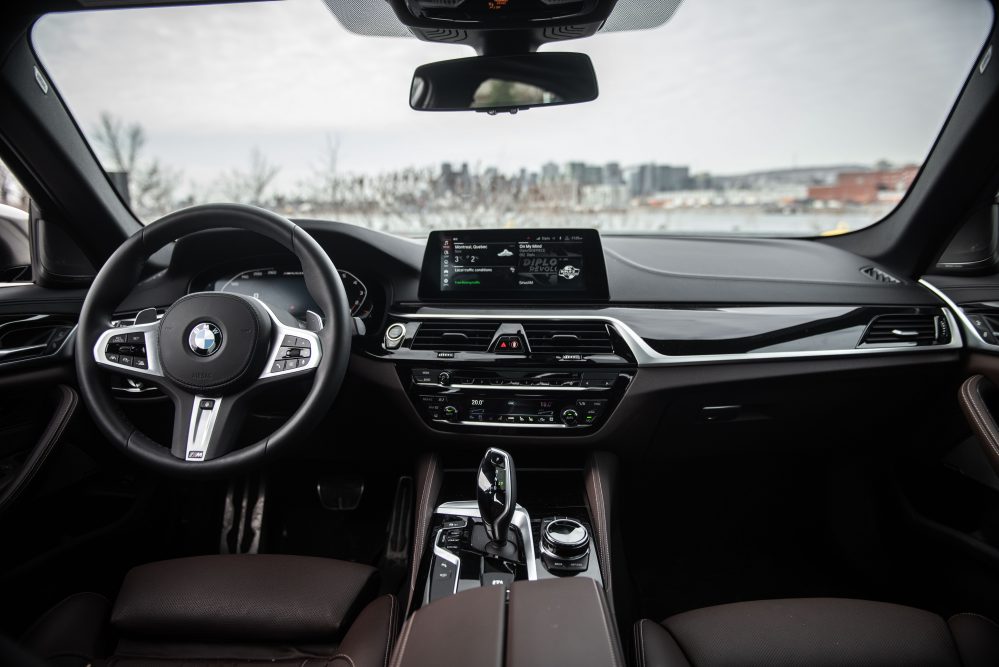 The cabin is immensely quiet too, comfortable and well put together, and as with all recent BMW vehicles, ergonomics and touch points are among the better executed ones in the business. You guys already how I feel about BMW's iDrive infotainment interface: it's perfect. But I still continue to find the overall cabin design in the 5-Series to lack excitement. The quality of some materials is also questionable considering the car's high price tag.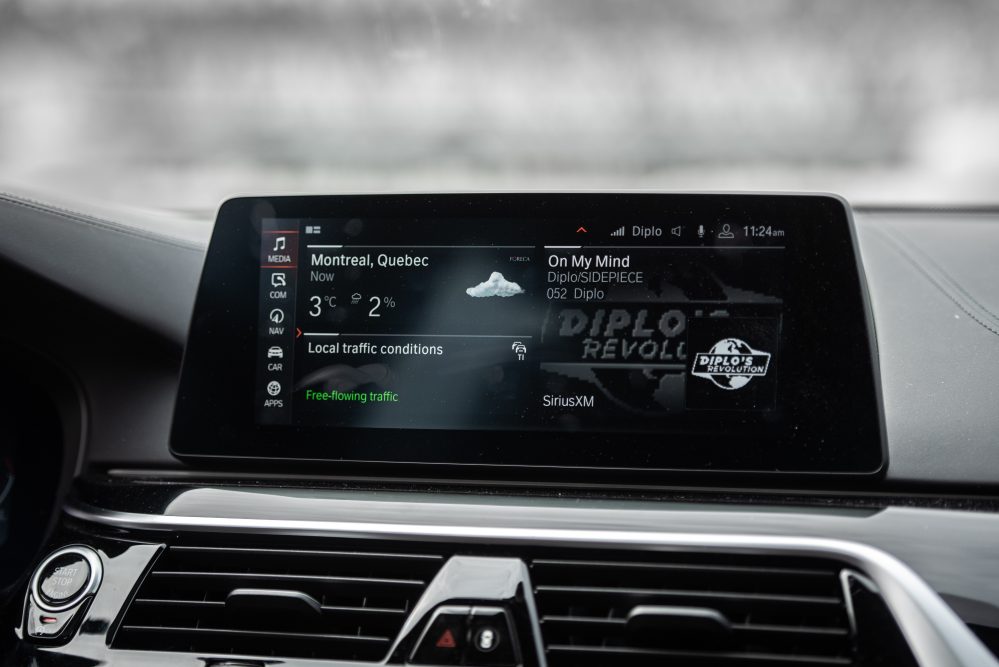 One thing I do adore are those chocolate brown leather seats. There's just an overall sense of calmness and serenity in the way the 5-Series feels, which adds to its stealthy personality. It turns daily driving into an enjoyable and stress-free affair.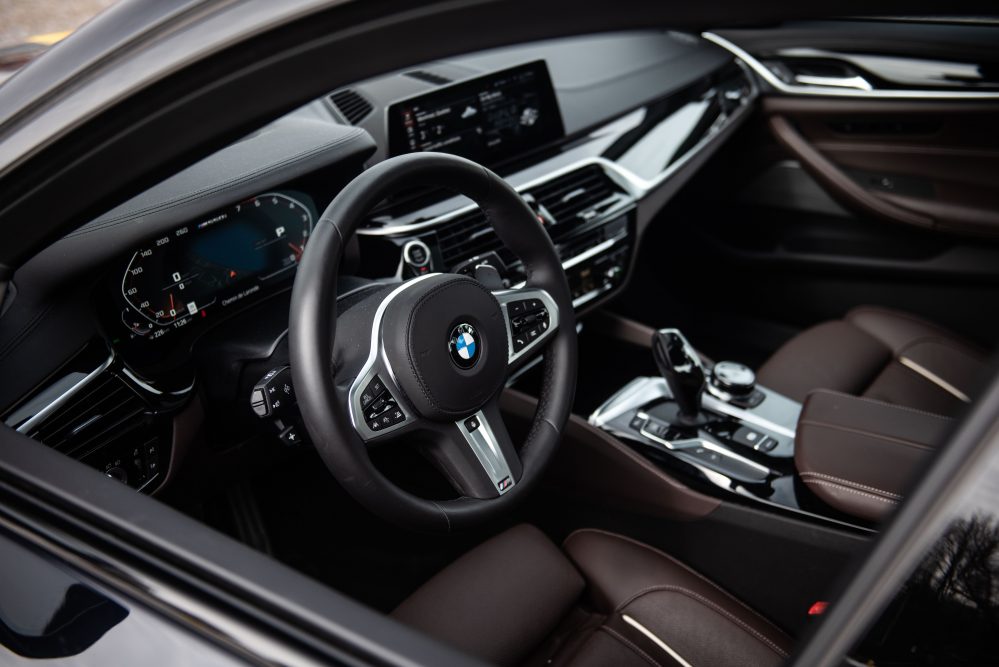 Set the car into Sport +, however, and it transforms into an entirely different animal. I've once said that BMW masters drive modes better than anyone else, and this theory couldn't be more apparent in this car. In this configuration, with traction control off, the M550i will instantly default to gracious drifts if you dare give it too much throttle on corner exits. Acceleration is brutal, to say the least. Thrust is constant, and linear, and the V8 engine simply never stops pulling, providing way more power than this midsize sedan actually needs.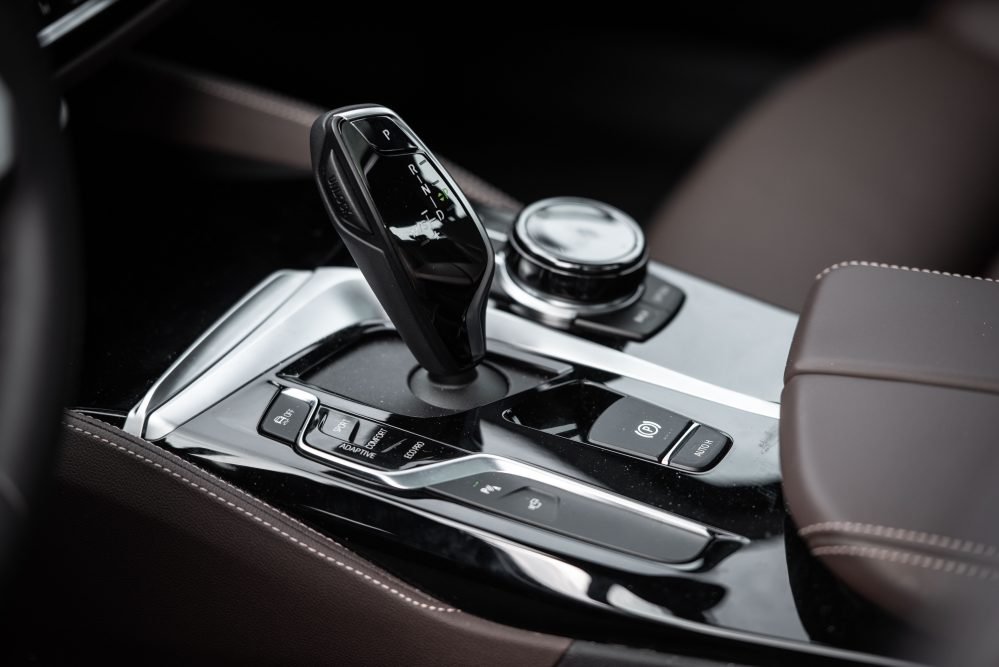 The ZF-sourced automatic gearbox remains on top of its game here, either taking care of all the cog-shifting for you, or letting you let loose on your own through the available paddles. It's a much more coherent system than the one Mercedes-Benz offers in some of its AMG models. This transmission instantly prioritizes hard driving the moment you ask for it. No need to activate manual mode in any way, just pull a paddle and you're good to go.
While tremendously quick, the M550i is never as athletic as an actual M car. The suspension tune remains soft, even in the car's sportiest setting. You feel the adaptive dampers are working hard to maintain body discipline over rougher road surfaces. That's because it's a heavy car. Hard cornering also reveals a surprising amount of body roll. The flip side to this type of calibration is excellent cruising refinement, which is what you want from your sleeper anyway.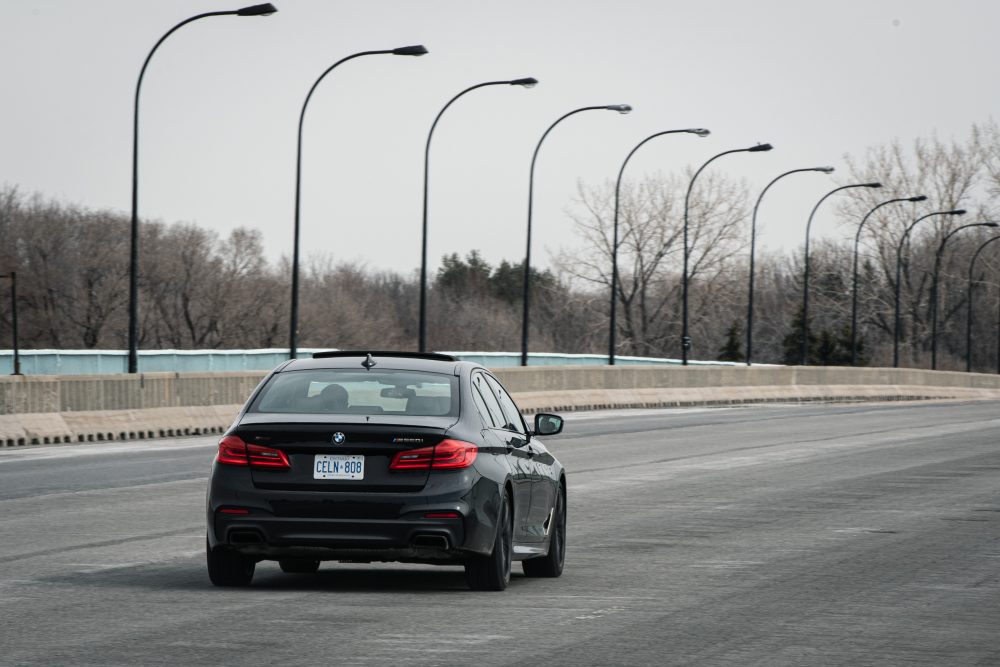 At the end of the day, one could blame the 2020 BMW M550i for carrying too many M badges and not delivering enough M performance. I totally agree with the fact that BMW is overdoing its "Motorsport" strategy these days, slapping the letter onto everything it can, from sedans to subcompact SUVs. If it were up to me, this would just be a BMW 550i; a classy, comfortable, and well put together German sedan that just so happens to have a fire-breathing V8 nestled underneath its hood.
Clavey's Verdict
Review of the 2020 BMW M550i by William Clavey
Sport Sedans
Blistering acceleration
Classy, roomy and comfortable cabin
Exemplary ergonomics
Suspension is always too soft
Too much M advertisement, not enough M car
Mediocre fuel economy
Clavey's Corner is located in Montreal, Quebec, Canada. Prices and trim levels discussed in this article reflect the Canadian car market.
Special thanks: BMW Canada
Photography: Guillaume Fournier
Contact the author: [email protected]