My profession brings with it some fine and rapid automobiles. I've driven all kinds of fast machines in my life, ranging from supercars to fire-breathing muscle cars. Fast has now become my weekly routine, so much so, that it takes a lot to impress me now. And then, there's the 2020 BMW M8 Competition: arguably one of the fastest automobiles I have ever driven.
Grand Touring – Super!
You guys probably remember the BMW 8-Series I drove last year; that V8-powered German grand tourer that did a fantastic job of carrying my ass comfortably through the countryside at near supercar speeds, but also kind of failed at making a good impression on me. It was stupid quick, luxurious and tried really hard to be two cars at once, but somehow didn't really capture the essence of its predecessor. I was hoping the 2020 BMW M8 would fix that.
It did, until it didn't. The M8 carries with it all of the 8-Series' qualities, but also its flaws, meaning it's way too subtle to chill in the coveted luxury grand touring space. And it's far too girthy to be considered an actual supercar. This is basically a very large and very fast BMW coupe or convertible.
My drop-top tester, painted in BMW's Verde Mantis optional hue, sure gave this M8 the road presence it deserves, attracting a few eyeballs along the way and having quite a few passerby ask questions. Except, when I'd tell people it stickers for $190,000, many asked why it's priced like an Aston Martin Vantage.
The problem with the 2020 BMW M8 is that it simply doesn't look like a rare expensive car, but rather some other wide German sports car. But what this BMW misses in downright flamboyance and exclusivity, it makes up for it through its fanatical attention to mechanical efficiency, ergonomics and downright common sense. In other words, it's a grand tourer only the Bavarians could have developed.
The 2020 BMW M8 takes the standard M850i recipe and adds more salt, more sugar, more sprinkles and more, well everything, to bring the taste index up to 11. The engine, BMW's exquisite twin-turbo 4.4-liter V8, is cranked up to 600 horsepower and 553 lb-ft of torque. In Competition form – the car you see here – you gain an extra 17 horsepower, because why not?
The car's entire chassis was retuned by BMW's M magicians, while carbon ceramic brakes make sure to bring this 4,200-lb behemoth to a stop when it's plowing down the Autobahn at bullet train speeds. Perhaps more impressive are the numbers this M8 will deliver, accelerating from 0 to 100 km/h in an astonishing 3.2 seconds, completing the standing quarter mile in about 11 seconds and continue on full boil up to a governor-limited top speed of 304 km/h. These numbers aren't very far from a Lamborghini Huracan Evo, by the way.
The God Complex
The 2020 BMW M8 delivers its performance in such a brutal and efficient manner, that it'll immediately instill in you a God complex that very little automobiles can achieve. Set in Sport+ mode, activate launch control, and the M8 grips its rubber claws into the tarmac, launching forward with more urgency than a roller coaster. This car makes you feel invincible as the landscape charges at you quicker than a parachute drop.
And it's not just the Tesla-rivalling acceleration that'll squeeze your internal organs to the edges of their sockets that commands respect, but the way the M8 continues to pick up speed as though a rocket was bolted onto its trunk. There's power and torque all the time, no matter at what speed you're going at. And the eight-speed ZF-sourced automatic gearbox performs as expected, meaning it's always ready to serve you the gear you need, shuffles through cogs within milliseconds and knows when to calm down when you're done hooning the machine.
While not as flamboyant as the top grand tourers currently on sale, the 2020 BMW M8 sure does a fantastic job of carrying two occupants in ultimate comfort. I say two, because while yes, there is a seat back there, it's mostly fit for large bags or very small children.
The M8's cabin is also a clean, modern, if not a tad too spartan area, with impeccable build quality and cool design cues like the quilted leather seats and brushed aluminum center console. Like the other M cars in BMW's portfolio or even some performance SUVs like the BMW X3 M, the M8 inherits two M-configurable red buttons on its steering wheel, allowing its driver to configure their favorite M setting according to their personal preferences.
And the possibilities are rather vast, with adjustments for suspension, steering, transmission and throttle response. The M8 can go as far as disengage its front axle in order to become a rear-wheel driven car. I had the M1 button programmed for rear-wheel-drive, and M2 for all-wheel-drive.
The M8's ergonomics are also BMW-exquisite, especially the iDrive infotainment system, which remains downright one of the best systems currently on sale due to its clean interface, quick-reacting touch controls and easy to manipulate central rotary knob dial. The M8 has one of the best seating positions in the business, incredibly comfortable seats and a soft top that folds flat between the cockpit and the trunk within seconds.
With ergonomics this solid, I need to ask: why are the configurable drive modes so complicated? Because while I adored configuring the car to my fancy, finding the ideal setup had me spending several minutes fiddling through the car's menus. BMW gives you three different gauge pods to choose from, and the most extreme Track setting will even turn off the infotainment system. I mean, why? Is this even necessary in for an automobile that was originally conceived for cross-country motoring?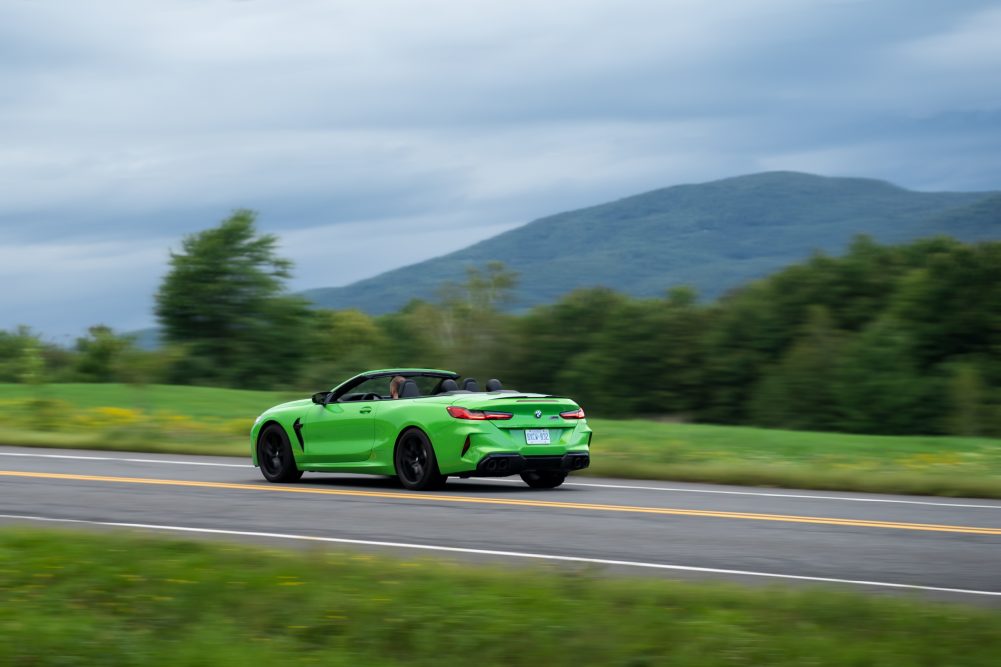 The 2020 BMW M8 doesn't quite match its ancestor's on-road presence. That pop-up headlight wedge that took the entire world by surprise in the early 1990's is still a more special automobile than this. And honestly, there isn't enough of a performance difference between this and an M850i to justify the price gap. Does the luxury grand tourer segment even need two versions of an 8-Series? Perhaps only this spectacular M8 will suffice, as very few cars make 617 horsepower feel like a walk in the park on a Tuesday morning quite like this BMW.
Clavey's Verdict
Review of the 2020 BMW M8 Competition by William Clavey
Luxury Grand Tourers
So much power and speed
Did I mention how fast this thing is?
A fantastic grand tourer
Not as flamboyant as main rivals
Complication in drive settings
Too similar to an M850i
Clavey's Corner is located in Montreal, Quebec, Canada. Prices and trim levels discussed in this article reflect the Canadian car market.
Special thanks: BMW Canada
Photography: Caleb Gingras
Contact the author: [email protected]