Sure, the 2021 BMW M3 looks a little off with that gigantic vertical grille and pulled back headlights, but that doesn't matter. Because the moment you strap yourself inside its snug sports bucket seats and engage first gear using a manual gear lever, all of that dissipates. Plus, the more time I spent with the car, the more I actually enjoyed the grille. It grows on you, and I received a ton of positive thumbs, comments and stares while I had the car in my possession. That has to mean something, right?
The Right Ingredients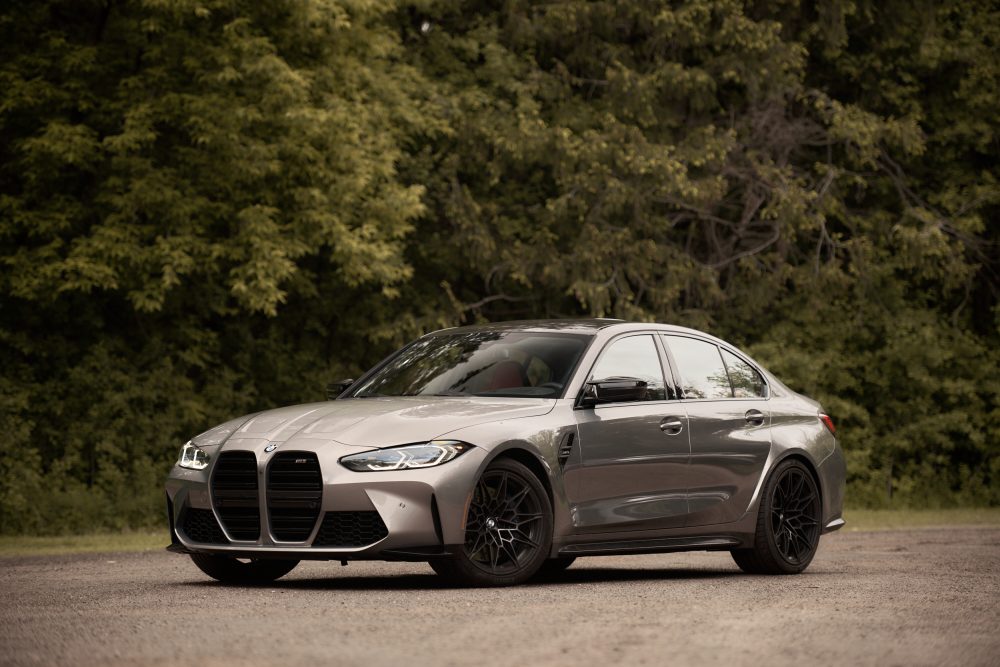 Maybe BMW is trying to overcompensate for the looks, but I'm not going to complain about the fact that the 2021 BMW M3 can only be had with a six-speed manual gearbox. Yes, you read that right; the only way you can get an automatic is by opting for the Competition model, which is also more expensive, but comes with all-wheel drive and a bit more horsepower.
It's also quite funny that the European market doesn't even get the #savethemanuals configuration. Over there, they currently only get the M3 in Competition form with rear-wheel drive. Sure, our rear-wheel driven M3 is a bit less powerful, and it would be cool if we could have the stick with all-wheel drive, but should we really complain about rear-wheel drive and three pedals?
More on the styling: it looks better in person due to the fact that the M3 is so wide and properly stanced. Coming down the road, the car looks like a giant skull heading your way, which forces you to stare. The grille is definitely not the M3 worst problem. I'm more worried about how high the front fenders are over the wheels, making them appear lost in the wells. Those fenders also stop their course very high up in front of a front door that's strangely too long, giving the car strange proportions from the side profile.
Anyway, what's important is what's underneath the hood. You'll be happy to know that this M3 packs one hell of an artillery. The sole engine choice is a twin-turbocharged 3.0-liter straight six good for 473 horsepower and 406 lb-ft of torque. That engine first day viewed in the X3 and X4 M, and it's considerably different than the what powers an M340i or a Toyota Supra. For starters, it has two turbochargers, but also a forged crankshaft, connecting rods and pistons. There's a shorter stroke as well, allowing for higher revs: from 7,000 rpm to 7,300 rpm.
If you can shift fast enough, or find grip from those 275-wide rear tires, the M3 will hit 100 km/h in 4.2 seconds and complete the quarter mile in just under twelve. It's a seriously quick machine, even without a trick launch control system, all-wheel drive or a smart-ass automatic to pull it off. And all of it can be yours for a starting price of $84,300. My tester, which had the Oxyde grey paint, orange Merino leather interior and a few optional packages, stickered for $96,150.
Precise Steering, Rock Solid Chassis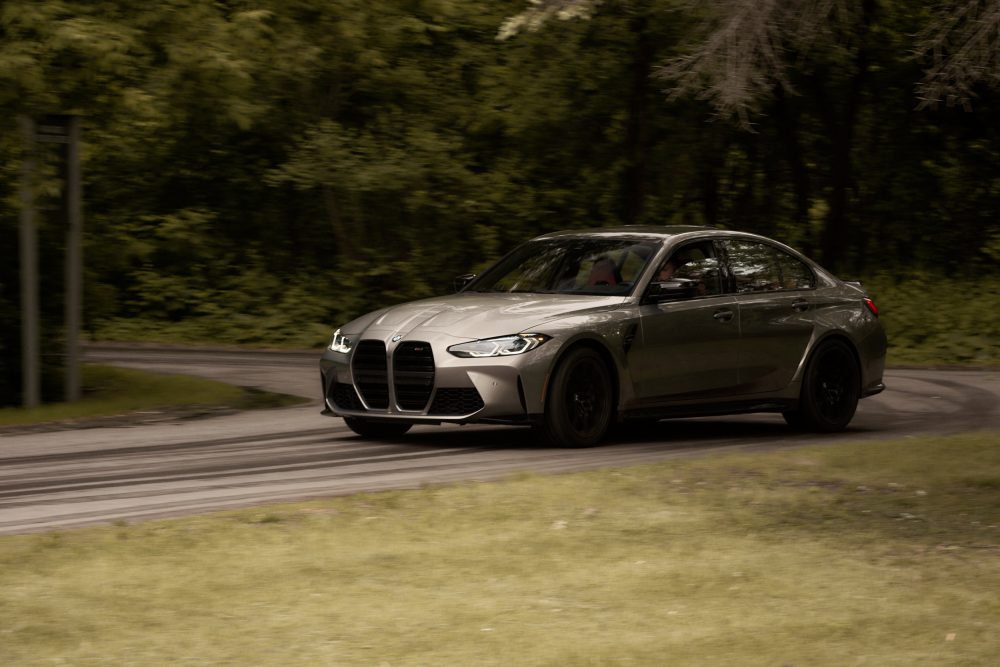 If there is one word that sums up the M3's driving experience, it would be precision. Stomp the throttle, downshift a gear, change its trajectory or slam on the brakes, and this Bimmer responds at lightning speeds. It's that kind of precision that allows you to properly harness all the performance, because trust me, managing nearly 500 horsepower with two pedals and a stick is an event that must be experienced to be fully understood.
Extra points go to that gem of a straight six engine that delivers its power with urgency all while always remaining smooth. There have definitely been more vocal M3s in the past, some powered by naturally aspirated straight sixes or even V8s, but what the S58 lacks in sound, it makes up for by being so bloody effective at doing what it was meant to do. It just pulls all the time. Let it rev, however, and it goes berzerk all the way to redline.
The M3's steering has wonderful feedback and it's well weighted. Throw the car fast into a corner, and the level of grip is downright dizzying. You really need to chuck it hard for it to start wiggling its tail. But when it does, it gives you all the heads up you need to perform glorious power slides.
An electronically controlled limited slip differential with ten settings definitely helps. There's even a drift analyzer that'll give you points in the form of stars according to the quality of your drift, but you'll need a closed circuit to give that one a try.
Rowing through the gears is massive fun in a car like this, but I did find the shifter itself to be a tad too rubbery. It doesn't have the slick mechanical feel of say, a Honda Civic Type R. You need to take your time between cogs, or you'll miss a gear. It's the same story for the clutch; it just bounces up real quick with no fluidity or actual feel. But while I would have liked to see more finesse from these components, their roughneck operation really come in handy when you're pushing the car hard. That shifter just takes in the hits, which is what  you want when that straight six is running full boil.
When you're done eating up country roads and working real hard to not lose your driver's license, the M3 gets back to being nothing more than an overpowered 3 Series. Sure, its suspension is a tad stiffer, but not to the point to destroy your back. And my god is the orange interior sick. If you don't like orange, don't worry, BMW has plenty of other color combinations available.
But at least there are colors. Past BMW interiors were accused of being too spartan and dark. This is the exact opposite, appearing like some sort of workout suit or ski apparel. And in typical BMW fashion, build quality is impeccable, with class-leading ergonomics thanks to well placed controls and easy to grasp gauges.
BMW's iDrive system continues to be a peach to operate thanks to its central knob dial, clean graphics and quick-responding interface. Butt the available drive modes and customization possibilities could quickly give you a headache due to their complexity and at times confusing names. You'd think pressing M Mode would turn your M3 into The Ultimate Driving Machine, but it doesn't. It gives you M gauges instead. Urgh…
Hey, I'm nitpicking here, because as a driver's car, the 2021 BMW M3 is at the top of its game. I'm even going to come out and say that this is even more focused than the E90 with the V8 engine. Damn right it is. What, you don't like the grille? Then don't buy it. But consider this: BMW sold more M cars last year than it ever has in its history, so I don't think it cares that some people don't like the way the face looks. This thing will sell, and one day, it'll even become a classic. Mark my words.
Clavey's Verdict
Review of the 2021 BMW M3 by William Clavey
Luxury Sport Sedans
Powerful and butter smooth straight six engine
Class-defining handling
Comfortable and well put together interior
Rubbery shift knob
Can't get all-wheel drive with the manual
Complicated drive modes
Clavey's Corner is located in Montreal, Quebec, Canada. Prices and trim levels discussed in this article reflect the Canadian car market.
Special thanks: BMW Canada
Photography: Guillaume Fournier
Contact the author: [email protected]