Moments before sitting in the 2017 Honda Accord Touring you see here, I was driving around in the oh-my-god-I-can't-believe-this-thing-exists Volvo XC90 R-Design. You can imagine then that my expectations were set very high. So, as I drove from Volvo Laval to the Boucherville Honda press office to go pick up the Accord, I thought to myself: "How am I going to see clearly after being so spoiled?"
You see, automotive journalism requires that no matter how exquisite a car may be, we have to keep our head cool or else we wouldn't be reviewing cars, but simply driving them instead. Yes, we are a spoiled bunch, which means that when we get out of a 70k Swedish luxury SUV, it's hard to be objective about a mid-size sedan targeted to common mortals like you and me.
That being said, the moment I sat in the 2017 Honda Accord, apart from noticing a solid drop in the quality of interior materials compared to the blue Swede, I immediately felt at home; because the Accord is Honda ingenuity at its best. In fact, this car is so good, that by the time I had driven out of the Honda press office parking lot, I had already forgotten all about the Volvo.
It's All in the Details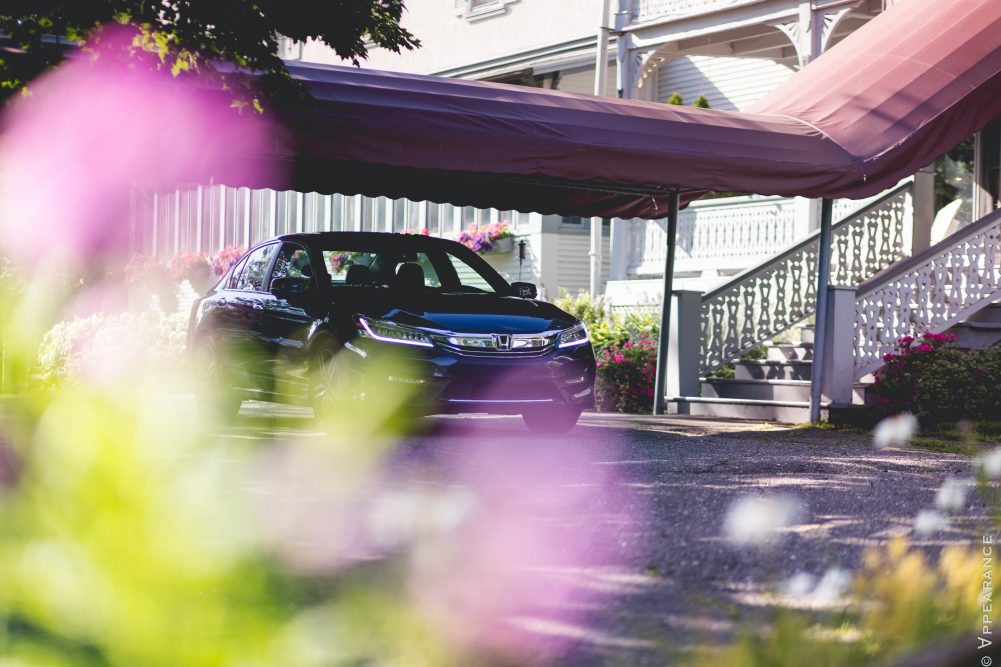 It's really the minute details that add up to make the Accord feel so exquisite. Behind the wheel, the first thing you notice is how easy it is to see everything outside.  Thanks to a low cowl, thin A-pillars, and lower than average door windows, there's an airy feeling in the cabin that brings back memories of the cars of the nineties. And that, believe me, is a very good quality – especially for us gen-Y's who grew up in the 90s and are the ones buying new cars nowadays.
Then, there's the way you sit in an Accord. Granted, there's nothing revolutionary about the seats; the fabrics are ok at best, and that fake grey leather could very well have been borrowed from a Honda Shadow motorcycle seat cover for all I care. But they're just so damn comfortable and provide excellent lumbar support. You also sit nice and low just like in the Honda products we all grew up with. And that instantly makes you feel happy about everything else in the world.
Styling wise, this is very much a Honda Accord, meaning it blends right into the array of mundane family sedans offered on the market today, yet it still retains that typical timeless design that's so typical of Honda products.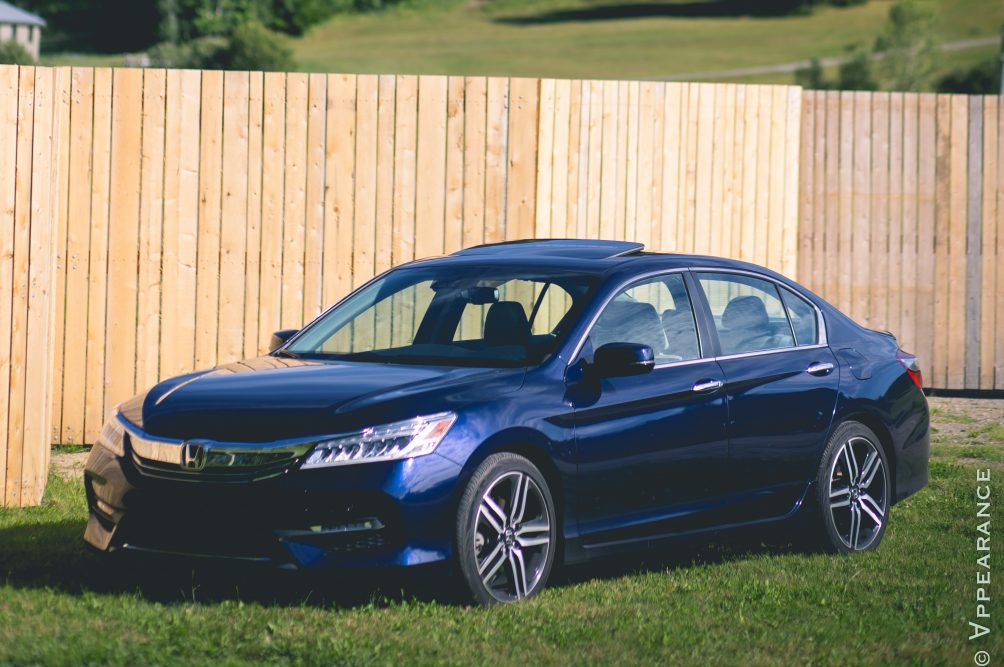 Ever since the 2016 model year, the Accord received a facelift which does a fantastic job of giving it a bit more sex appeal. This was never a bad design to begin with, but the previous version was a bit too conservative for my tastes. The updated front fascia is now dressed up with even more chrome inserts, as well as a new pair of LED daytime running lights. Opt for the Touring trim, such as my tester, and you get the full LED treatment of headlights and fog lamps.
Touring also adds very attractive 19-inch wheels, which, coming from Honda, is a complement considering that most of their current wheel designs are just plain awful. Out back, there's added chrome over the taillights which have also been given a revised LED design.
Dressed up this way, with the added rear spoiler and that Obsidian Blue Pearl paint job, this Accord looks, well it looks very good doesn't it?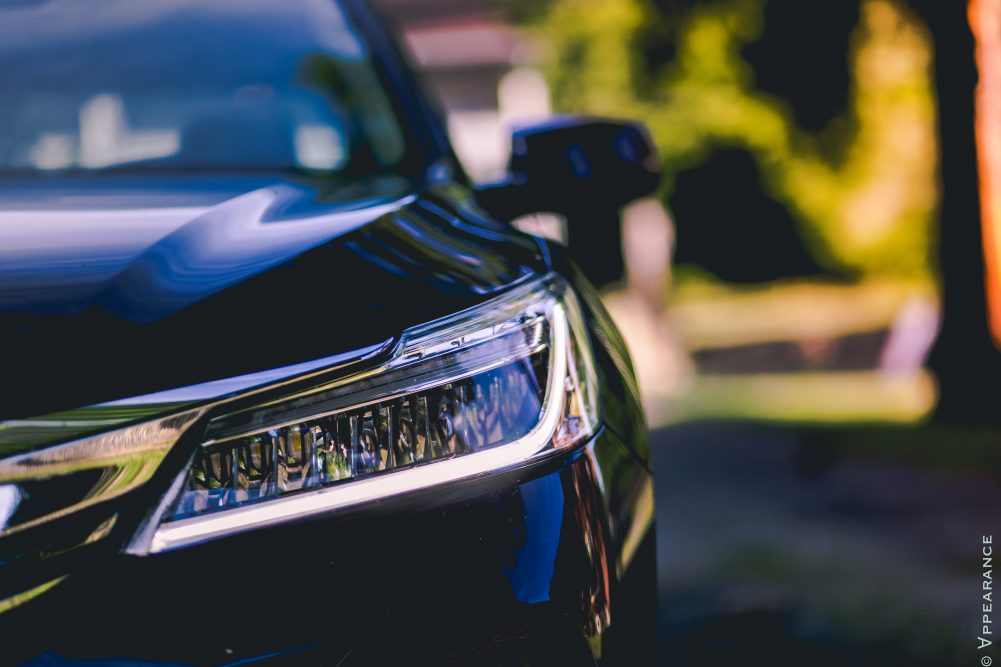 Inside, as stated earlier, the cabin won't set your hair on fire with fancy designs or expensive looking fabrics. Just a clean, functional and well put together interior. Being the "older" car in Honda's lineup, it's certainly not as fresh as what you get in the 2016 Civic, but it still stands its own ground as a great place to spend some time in.  In an attempt to prevent the Accord from being overshadowed by the Civic, Honda has pimped up the interior with piano-black plastics, wood grain (for Touring trims) as well as soft-touch materials on door panels and across the dashboard, but to be totally honest, the Civic still feels more premium than its big sister. And that's somewhat disconcerting.
You Need to Drive One to Understand
The charm of the 2017 Honda Accord lies in its driving dynamics. And this is where, somehow, it surpasses the Civic. Here is how ironic things are at Honda these days: the Civic, which is supposed to be the brand's entry level sedan for younger buyers, feels more premium, spacious, and overall larger than the Accord.
The Accord, which is supposed to be the more sedate and mature midsize family sedan, feels sportier, nimbler, and light on its feet.
Ok Honda.
Anyway, the Accord is, without fail, fantastic to drive. And that's no coincidence, since Honda's engineers have carefully massaged the car's handling feel by adding an aluminum hood, a more rigid front strut tower bar, a new front member upper member stiffener, as well as new front and rear damper housing stiffeners. The immediate feeling behind the wheel is of a light and playful chassis that can take abuse all day long and still ask for more. As a matter of fact, during the time I had my Accord press car, I allowed myself to enter corners way faster than I was legally allowed to, expecting the tires to start complaining as they were pushed to the limits of their adherence; in the end, all they did was claw into the pavement, as if they were asking, "Are you done warming up?".
My god this car is a gem to drive.
And it's not just the Accord's ability to eat up corners that impresses the most, it's its ability to soak up road imperfections and leave your Tim Hortons coffee intact while doing so. This is one of the most balanced suspension system I've ever experienced in any automobile so far, and I've driven a lot of stuff.
Drivetrain wise, there are two possible engines with a total of three transmission choices for the 2017 Accord. There's even a hybrid version. Buyers can either opt for a naturally aspirated 2.4-liter 4-cylinder engine good for a more than sufficient 185 hp and 181 lb-ft of torque. It can be coupled to either of Honda's excellent transmissions, the CVT or the 6-speed manual – thank God.
A V6 is available; essentially the same engine found in all Honda V6-powered vehicles. It's the brand's now famous and very appreciated 3.5L, the same engine found in the Acura TLX SH-AWD I drove this winter. It's good for 278 hp and 258 lb-ft of torque and can only be had with a 6-speed automatic transmission in sedan trim. Rest assured, a 6-speed manual is available in the coupe.
My tester had the 2.4L with the CVT transmission. Although my Accord of choice would be equipped with the stick and three pedals, I was eager to experience that CVT with the 2.4L. This is the same transmission as in the near perfect 2016 Civic Turbo I drove earlier this spring, one which I had described as:
"Never once was I thinking about what the transmission was doing. It simply gets the job done, going about its business without attracting too much attention to itself."
And things are no different in the Accord. There are three different drive modes available directly on the shift lever. Shift it into S, and, like in the Civic, the CVT transmission keeps the revs up to maximize the engine's available power band. In this case, the 2.4L emits one very satisfying intake rasp and starts to bark as it climbs through the revs thanks to the i-VTEC system.
Of course, this is the same 2.4L that powers the Acura ILX, but with slightly different tuning.  It's without a doubt a fantastic engine, one which, even with the CVT transmission, satisfies drivers with quick throttle response, an enjoyable exhaust note, and a willingness to rev. And although I have nothing to say against Honda's new turbocharged engines, this 2.4L will be missed.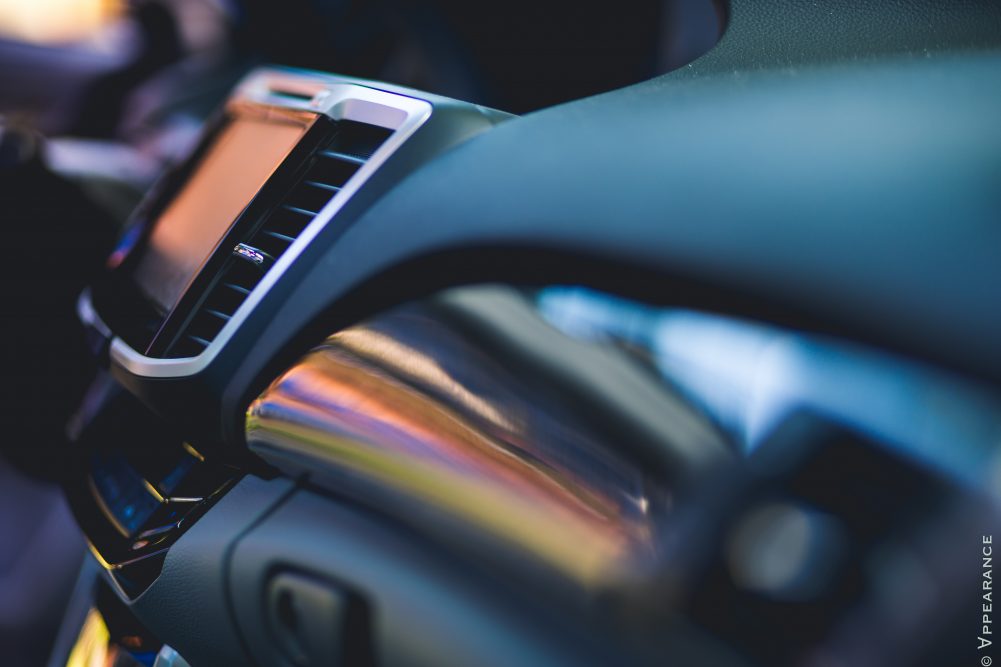 It's important to mention that the Touring model was never intended to be sporty. Honda will sell you an Accord Sport, which comes with an added 5 hp (lol) and a dual exhaust. It also gets the Touring's rear deck spoiler, 19-inch wheels and carbon fibre inserts instead of the wood grain. Because nothing says Sport like carbon fibre trim.
That said, even in Touring trim, and with the "boring" CVT, the Accord manages to put a smile on the face of even the most hardcore of enthusiasts.
Uncomfortably Acura-esque
At the end of my time with the Accord, it took me a lot to find any shortcomings.  My only gripe is with the fact that Honda still hasn't fitted its infotainment systems with a freakin volume knob. That touch-based volume control thingy is utterly useless. Also, I'm still not a big fan of the whole two-screen layout for the infotainment system, where more often than not, it simply mirrors the same information on both displays. It's unintuitive and simply doesn't make sense.
Annoying volume controls aside, the Accord not only accomplishes its duty of being a well put-together mid-size sedan for the masses, it also offers its drivers a list of pleasant surprises that allow it to punch way above its weight. Rear leg room and cargo space is more than decent, although I've heard you can get a tad more from the competition. Meh, who cares right? Boring statistics aside, the Accord is perfectly balanced in the areas that matter;  it's comfortable, handles well, is seriously fun to drive, reliable, fuel efficient (6.9L/100 km average) and looks good enough to park it next to a BMW 3-series without being ashamed of it.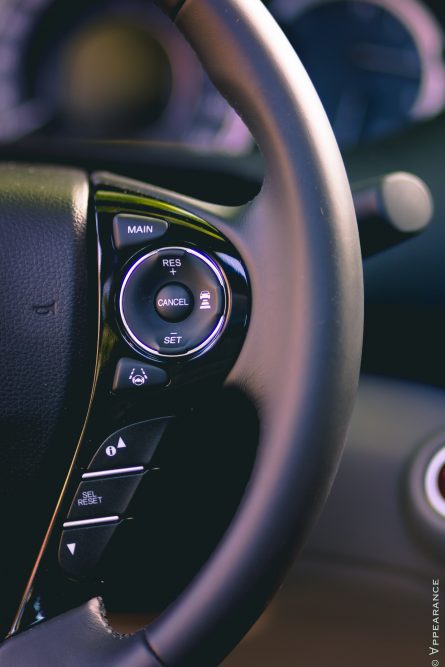 And then, there's the fact that the 2017 Honda Accord is uncomfortably close to the Acura crop of sedans. During the time I was driving the Accord, I'd ask myself, "why on God's earth would anyone buy an Acura TLX over this?"
Fine, the TLX does come with the added benefit of AWD in SH-AWD trim, but is it really worth paying almost $12 000 extra? And if you're looking for a dynamic sports sedan with a raspy exhaust note and high-revving engine, why get an Acura ILX? That thing is still a few thousand dollars more than this Accord. Not that I want to bash on the ILX or anything; it's a car I respect and rather enjoyed. But in four cylinder trim, the Accord is simply too much of a bargain. My tester, the Touring, is the most topped-out Accord you can get before entering V6 territory and it sells for $35 241. The Acura ILX I test drove a few months ago sells for $37 191.
And yes, at that price your Accord will have leather seats, power everything, and Honda Sensing; Honda's seriously impressive mashup of safety technology and autonomous driving aids that actually allow your Accord to drive on its own on the highway. You can even charge your smart phone via Bluetooth in the Honda, something I couldn't do in the ILX.
But the final nail in the coffin for Acura, especially for the ILX's sake, is that the Accord Sport, which comes with a 6-speed manual, the same engine, and more overall interior space and comfort, sells for $28 941. Opt for the same tech packages as in the ILX, and you're still under at $31 048 ($31 791 for the ILX).
Uh-oh.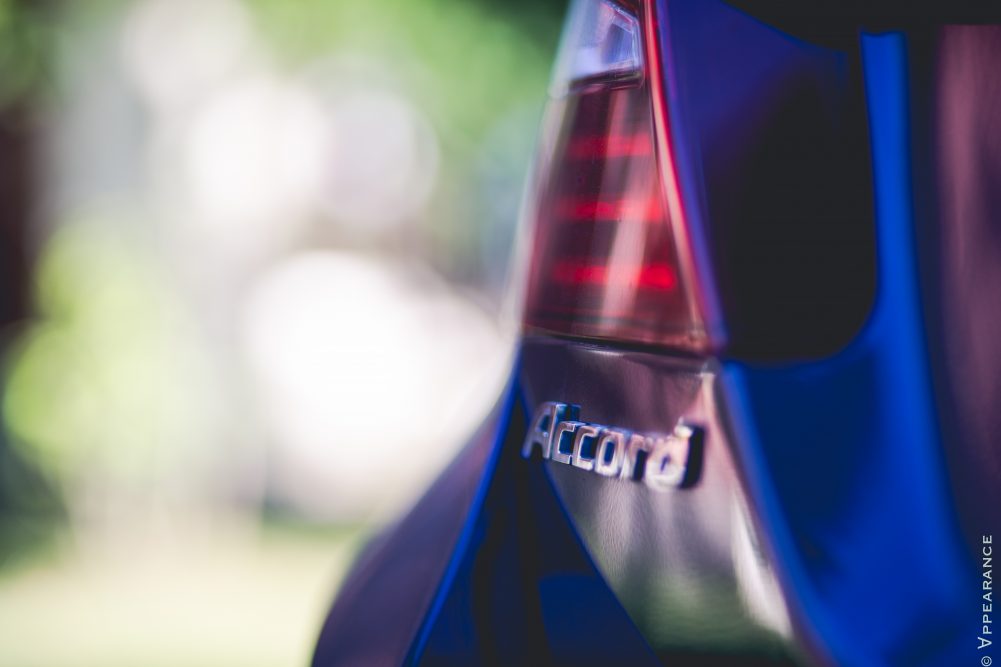 And although I have nothing to say against the current crop of Acura products, I would personally go out and buy the Accord Sport way before an Acura ILX, even if it comes with an impressive dual-clutch transmission. Sorry DCT, the manual box still has you beaten. That being said, not only does the Honda Accord offer more Acura for your money, it's just a way better sorted out vehicle in every way. Unlike the Acuras, which try so hard to get noticed, the 2017 Honda Accord simply dominates its mission of being the benchmarked midsize sedan. Simply put, there aren't many cars on the market today that offer you this much car and fun for the price.
Clavey's Verdict
Review of the 2016 Honda Accord by William Clavey – *2016 Top 10 Contender

Midsize Sedans

+
+ Impressive handling and road manners.
+ Comfortable and well put together interior.
+ A lot of car for the money.
–
– Interior materials feel low grade next to the cheaper Civic.
– Lack of a volume knob.
– Unintuitive two-screen infotainment system.
---
Clavey's Corner is located in Montreal, Quebec, Canada. Prices and trim levels discussed in this article reflect the Canadian car market.
Special thanks: Honda Canada
Photography: Appearance
Contact the author: [email protected]