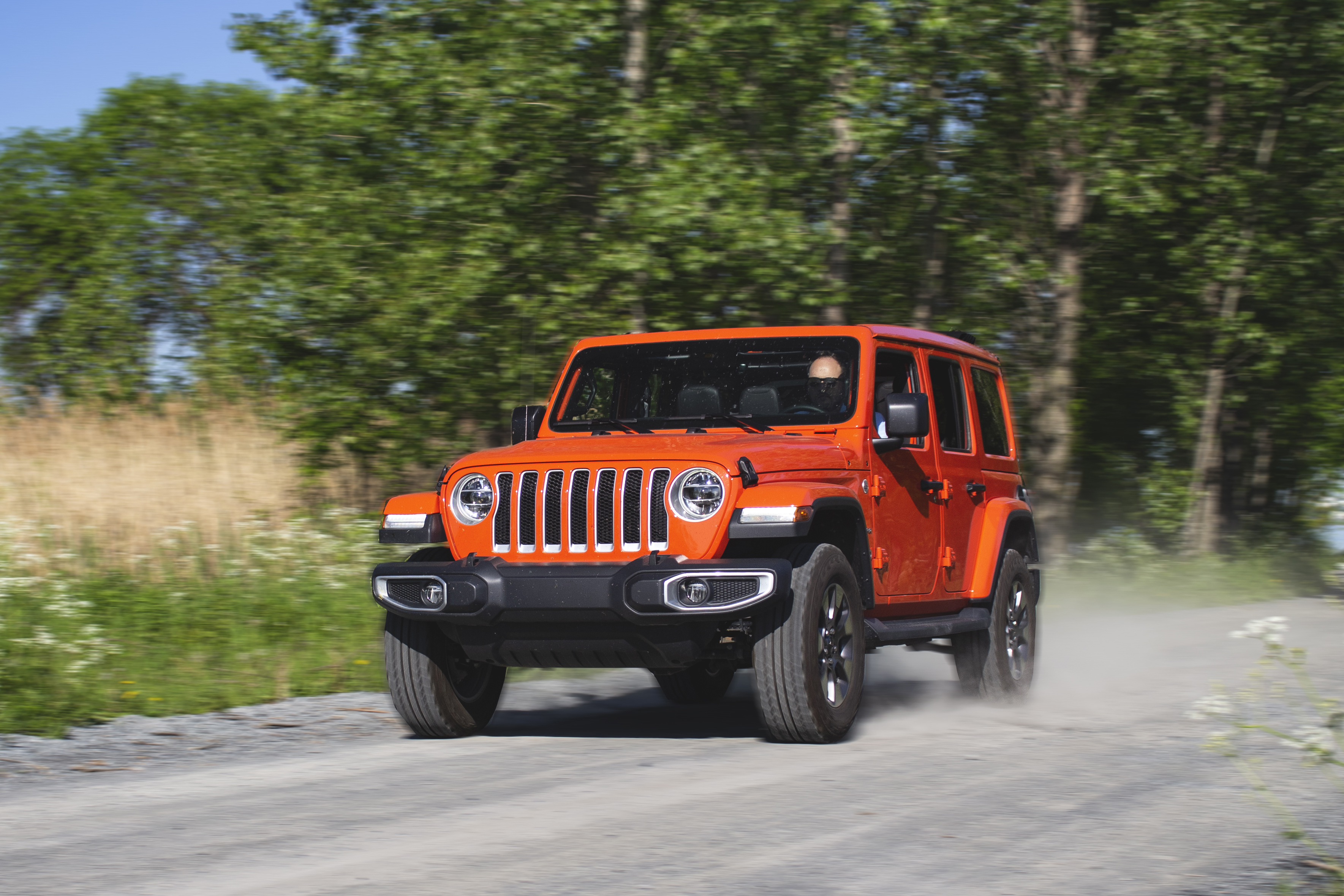 You might think that a four-cylinder 2019 Jeep Wrangler would be irrelevant given these things are essentially expensive toys. That's actually half right. While I agree that driving a Wrangler will bring out your four-year-old Power Wheels driver, if a Jeep can remain a Jeep all-while reducing its carbon footprint, aren't we all winning in the deal? That's the promise FCA is making with its latest 2.0T variant, and I got to say, it's rather convincing.
Bounce and Blow
The more sophisticated engine doesn't mean the 2019 Jeep Wrangler has become all smooth and refined; it's still a plaything in all respects, and arguably the most capable off-road machine currently available in this price point.
But when Jeep released the all-new redesigned and heavily re-engineered JL Wrangler last year, it not only brought us the best version of the thing to date, it also gave birth to a finely put together sport utility vehicle. If there's a car that stays true to the original "SUV" term, it's the Jeep Wrangler.
Still body-on frame, and still fitted with a trail-rated four-by-four system; all controlled via a two-speed transfer case, the Wrangler has significantly matured, proving to be much smoother, quieter and grown-up when driven on public roads. It's also still a Jeep, which means its chassis wobbles when driving over train tracks, body roll is kept high, and it doesn't make apologies for messing your hair up during a windy drive.
Yes, all alterations of the 2019 Jeep Wrangler, whether it is a two-door soft-top or a four-door Wrangler Unlimited, offer some form of convertible fun. Doors can be removed and the windshield can be dropped flat in a much simpler fashion than before. My tester was an Unlimited Sahara model, complete with the brightest shade of orange FCA had lying around in its parts bin (it's actually called Punk 'n Metallic). It also had Jeep's new Sky One-Touch Power Top, which carves a massive hole in the hardtop roof over both rows of seats and covers it with a power-retractable canvas blanket.
But there's more, rear panels, now made of aluminum for weight reduction, can be removed by the simple operation of releasing two clips for ultimate open-air motoring.
Pentastar Outgunned
The default engine for all 2019 Jeep Wrangler models is FCA's tried and proven 3.6-liter Penstastar V6, an engine which has not only proven to be a reliable workhorse since its inception, but also offers more than ample horsepower and torque for off-roading duties. It's good for 285 horsepower and 260 lb-ft of torque, mated to either a six-speed manual or an eight-speed automatic gearbox.
The biggest surprise is the one you see here, a 2.0-liter turbocharged four-cylinder sourced by Alfa Romeo. Not only does it pump out more torque than the V6 at a claimed 296 lb-ft, it's rated at a stout 270 horsepower. Even more interesting is the fact that it's mated to a tiny 22-horsepower electric motor that provides up to 71 pound-feet of twist for about half a second when pulling away from a stop. FCA calls the technology eTorque.
It's not a hybrid system per say, since the electric motor doesn't provide any form of propulsion. See it more as a way to significantly reduce fuel economy during the times the gasoline engine consumes the most amount of it, which is during accelerations from a standstill.
Does it work? Hell yes it does, as my 2019 Jeep Wrangler recorded fuel numbers in the high nines/low tens while I had it, which is observably lower than the 12L/100 km average the last V6-powered Wrangler I drove. The only downside to this drivetrain is the fact that it can't be mated to the manual gearbox, but with the eight-speed automatic instead.
Mind you, it's not a bad transmission per say, I've actually been a fan of this unit in other FCA applications. It does a rather great job of maximizing the available torque on tap. The four-cylinder pulls strong the moment boost kicks in, providing surprisingly smooth power delivery across the rev range. Inevitably, that drivetrain remains lag-proned, something turbo engines constantly remain plagued with even as technology progresses. In that respect, the V6 is a much more linear operator.
You also don't get the grunty decibels we all know and love from a six-cylinder engine. Instead, the Wrangler 2.0T whistles, blows and chirps like a delivery truck. That eTorque system does provide drama-free takeoffs at stoplights, however, with one of the quickest-reacting start-stop systems I've ever sampled. That's because the electric motor fills in during the time the starter kicks back up. It's quite witty, and during daily commutes, I absolutely loved this setup.
That Interior
One of the areas where the 2019 Jeep Wrangler does leaps and bounds over its predecessor is in cabin design and general comfort. While still unmistakably a Jeep, the dashboard layout remains functional, Spartan, but also elegantly designed with its enormous rubber knobs, toggle switches and easy to read gauges. Seat comfort is on point, so is visibility – unsurprisingly given it's essentially a big box on wheels -, and there's more than ample leg and head room for rear passengers to hop on for your next adventure.
FCA has been praised for its near-perfect UConnect infotainment system in the past, and the Wrangler does no exception. It's a clear, attractive and downright well-thought-out interface, with its large icons, available built-in WiFi and standard Android Auto / Apple CarPlay compatibility. I'm a personal fan of the Off-road Pages which provide a full-battalion of useful information for when taking on your next trail.
Last year, I participated in the gruesome Jeep Rubicon Trail adventure where during a two-day period, I joined a team of journalists and FCA employees through what is arguably the toughest off-road trail in the world. It's where Jeep tests out its vehicles and stamps the "Trail Rated" badge onto them once they complete the run.
Among our convoy were V6 and four-cylinder-powered Wranglers, either equipped with manual or automatic transmissions. The event proved that no matter which engine sits under the hood of these things, it all comes down to the way they were put together and how robust their four-wheel-drive systems are. If I were to choose, I'd get the four-cylinder Wrangler over its V6 counterpart simply for its sophistication and effective fuel economy. Hell, even if Jeep were to offer a full electric variant, I'd be sold. Because in the end, a Jeep remains a Jeep, no matter how it gets up and goes.
Clavey's Verdict
Review of the 2019 Jeep Wrangler 2.0T by William Clavey
Sport Utility Vehicles
Plenty of low-end torque
Impressive fuel economy
Clever Sky One-Touch Power Top
Rough ride
Observable turbo lag
Uninspiring engine sound
Clavey's Corner is located in Montreal, Quebec, Canada. Prices and trim levels discussed in this article reflect the Canadian car market.
Special thanks: Jeep Canada
Photography: William Clavey
Contact the author: [email protected]