Moments before sitting inside the 2017 Kia Forte5 SX you see here, I had just spent an entire week driving the all new Honda Civic Si, a car which we all expect to be quick off the line, engaging to drive and an all around blast behind the wheel. That's a given. What I didn't expect, was for this Kia to be equally enjoyable to fling around and, quick?
It's a true story guys, Kia sells a hot hatch now. Well, sort of. It's called the Forte5 SX. Sure, it's missing a big rear wing, huge wheels and bright lettering. And Kia has little to no racing background. But I'm serious; if you're looking for something cheap and fun, this little Kia is worth a shot.
Clean And Understated
I mentioned that Civic earlier for a specific reason. The Japanese car brands these days, Honda in particular, have a problem with their styling. My theory is that their artists have suddenly had their coffee machines spiked with something really, really potent. That or they've all escaped to the Korean brands and left the poor Japs with a few interns left to draw their cars.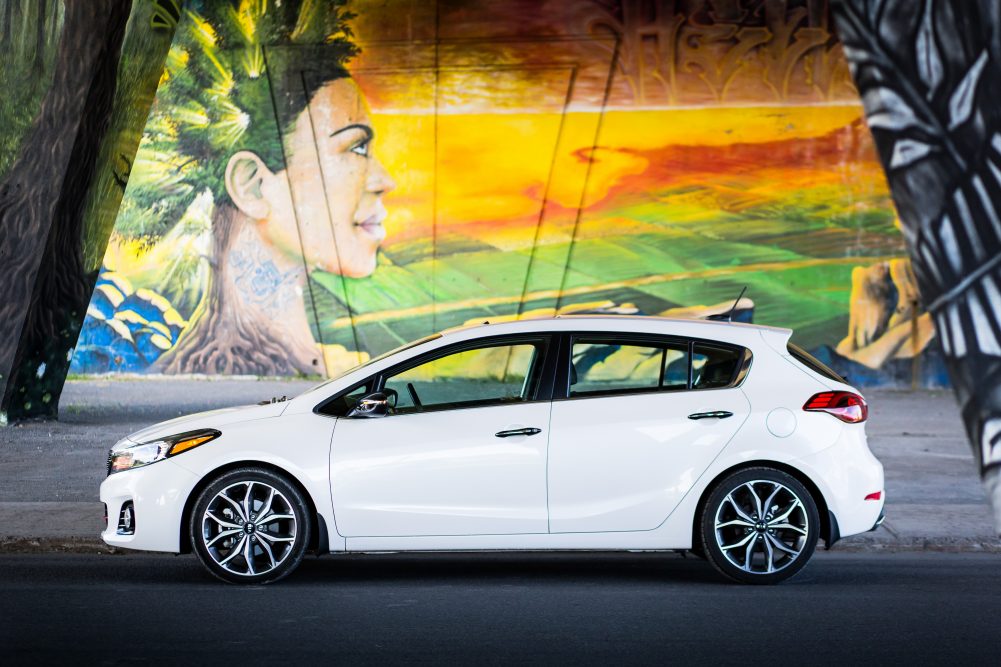 While the Civic hatch looks as if a three-year-old attempted to draw a robot, the clean lines and tight proportions on this Forte5 could very well be slapped onto an Audi and nobody would notice. What a formidably well designed little hatch.
The 2017 Forte5 is a clean and understated package that still looks of a decent size as far as compact hatchbacks go. I particularly appreciate how that stubby little rear end tapers off when looked at from a profile. And with those restyled headlamps, which are now squarer and thinner than the bulbous set they replace, new from this year's facelift, the car generally looks wider and hunkered down, especially when squatting on those 18-inch wheels, which are specific to the SX.
A subtle red line crosses the lower front grille to remind everyone this little Kia means business – how cute.
Get The Automatic, Wait, What?
Normally when reviewing a compact hatchback with sportified intentions, I'd say get the stick with three pedals. But if your goal is to get the most off-the-line acceleration for your money, then I'd strongly suggest getting your Forte5 SX with the automatic. That's because for 2017, the Forte inherits the same six-speed dual clutch gearbox as in the larger Optima. It's also worth mentioning that only the Koreans and Germans offer a dual clutch setup in this segment.
This is also the only transmission that can be paired with the Forte's larger engine, so you don't really to choose your gearbox. You're stuck with the automatic, which is a big letdown.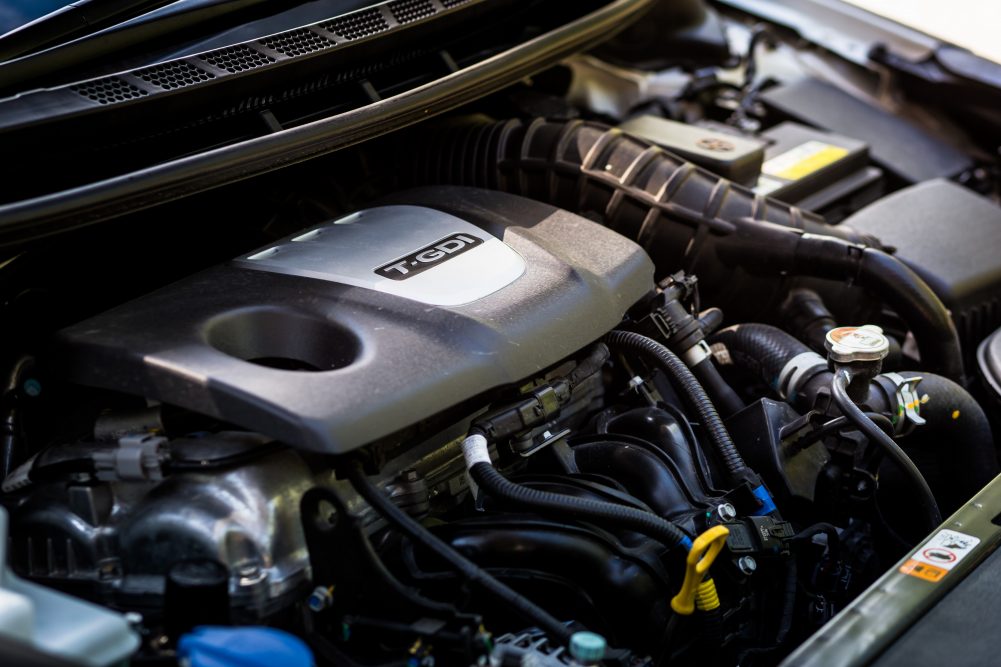 That engine remains a peach though, with  power figures unchanged from last year. It's a 1.6-liter four that churns out a claimed 201 horsepower and 195 lb-ft of torque. Just four horsepower less than that Si. With the dual clutch gearbox, this hot little Kia will catapult itself from a standstill to 100 km/h in a hot-hatch appropriate 6.4 seconds, just 0.3 seconds behind a manually equipped Ford Focus ST, or 0.5 seconds slower than the new Civic Si. Well shit.

And what a great transmission this is, providing smooth and quick upshifts, crisp downshifts and an ability to simply disappear in the background, allowing the engine do its thing, unaffected by the frustrating delays some of these systems are often plagued with. There's even a set of steering-mounted paddle shifters. While not as engaging and precise as those found in a Golf GTI, considering where this carmaker comes from, this is great!

The same can be said about the way the engine delivers its power from low to mid range. Boost is strong and acceleration is felt the moment you hit throttle. Turbo lag is minimal, throttle response is quick, but sadly, the entire experience dies out way too early in the rev counter, and by the time you're up there by redline, there's just no more puff left. Kia also needs to work on its engine sounds, because this one sounds absolutely horrible.

Steering feel is another area where this Forte lags behind. Sure, that flat-bottomed wheel looks the part, but it's vague, there's absolutely no feedback in the way it operates. Even when the car is set to its most aggressive Sport setting, there's no heft, as if it were totally disconnected from the front wheels.

Handling, on the other hand, proved to be quite good, with a light and nimble feel overall, and a chassis that will allow you to push the car hard into a corner, quelling understeer by remaining well planted to the ground, with an ability to easily correct its line upon throttle lift off. That's a remarkable trait considering the Forte5 wasn't fitted with independent rear suspension.

The merits go to the chassis' calibration, but that suspension remains too soft for this crowd, and because the Forte doesn't get a limited-slip differential, it won't allow you to hold your right foot down coming out of a bend like you can in a Civic Si or a Golf GTI. Well it will, but you'll keep going in a straight line and crash.

These shortcomings are the reason why the Forte SX still doesn't quite match its established sport compact car competitors. On paper, the numbers are all there. In a drag race, this Kia will hang with the best to them. The issue more has to do with mechanical components that don't feel connected with each other. The chassis is great, but the suspension attached to it doesn't make sense. There's good power, but it sounds like a vacuum cleaner. The Forte sadly doesn't hold together as a unified package, which ends up coming through as a lukewarm effort. And that's a shame, because there's a lot of potential here.
Value Remains Its Ace
Of course, the Kia promise has always been to offer consumers more for their dollar, and for the Forte5 SX, that promise continues to be fulfilled. The Forte5 SX is the top of the line model, and comes as is for $31,770. That's about one grand more than a Civic Si, but the Kia is literally fully loaded for that money, with leather seats, which can't even be had in the Si, a heated steering wheel, lane keep assist and navigation. Equip a Golf GTI or a Focus ST with similar toys, and you'll be kissing at the door of 40K.

But, ok, the 2017 Kia Forte5 SX isn't a Focus ST or Golf GTI contender, especially not out on a track or a winding road. We've established that. And its interior is starting to feel dated compared to the newer stuff out there. But its cabin is roomy, comfortable, well put together, and when all seats are folded flat, that hatch will give way to 56.4 cu-ft of available cargo space. That's more than a Golf. Fuel economy ain't all that bad neither, my Forte kept hanging around the high sevens, no matter how I drove it.

My final verdict is this: as a hot hatchback, the Kia Forte5 SX kind of fails. But as a respectfully quick, plenty fun to drive, and easy to live with hatchback, I say there isn't much to hate here. As far as beating the other sport compact cars at their own game, the Koreans aren't quite there yet. But who knows, maybe Kia's efforts at making the Stinger go around the Nürburgring will one day trickle down to the humble little Forte. Then, we can have a talk.
Clavey's Verdict
Review of the 2017 Kia Forte5 SX by William Clavey
Compact Cars
Attractive exterior design.
Ample power.
Quick-shifting dual-clutch transmission.
Vague steering.
Suspension needs more work.
Lacks a limited-slip differential.
Clavey's Corner is located in Montreal, Quebec, Canada. Prices and trim levels discussed in this article reflect the Canadian car market.
Special thanks: Kia Canada
Photography: Appearance
Join the Tribe
Contact the author: [email protected]