The 2019 Kia Stinger is a car I like very much. Even in its four-cylinder trim, which Kia recently announced it would remove from the lineup next year, the car is a solid performer. The Stinger simply gives you a lot of performance at an attainable price. Even after the competition has tried to catch up to it, this thing remains a good looking and frankly capable four-door machine. I took it out for another run, but in its 20th Anniversary Edition package, to see if it's still in my good graces.
Ghost Grey
Obviously the 2019 Kia Stinger GT is still in my good graces. I mean, look at it! It's still a fabulous design, isn't it? And the amazing part is that it will indeed age well. The Stinger has its own look, own personality, own character. It doesn't resemble anything else on the road, and that's one of the main reasons why I love it so much.
I also totally dig this Ghost Grey paint job my tester was covered in; also the only color available for the 20th Anniversary Edition trim, which tops the already well-garnered Stinger Limited. It's mostly an aesthetics package that underlines the fact that Kia has been selling cars in Canada for 20 years. And I'd recommend you get one fast if you like it, because only 150 of them have been built.
The package adds the kickass paint job you see here, but also a set of unique 19-inch wheels, red Nappa leather surfaces (only combined with Ghost Grey), carbon fibre inserts and red Stinger embroidered carpets.  It towers the Stinger lineup at $53,495.
Mechanically, it's all pretty much identical to a standard Stinger GT, which means that even in its 20th Anniversary suit it's powered by a twin-turbocharged 3.3-liter V6 good for 365 horsepower and 376 lb-ft of torque, mated to an eight-speed automatic gearbox.
Since all Stingers sold in Canada come standard with all-wheel-drive, we unfortunately don't get the GTS variant with rear-wheel-drive and a drift mode. Still, thanks to a launch control system, this thing will bolt out of the hole to 100 km/h in roughly 4.6 seconds. Not bad.
Grand Touring Korea Style
I posted the picture of the Stinger driving from its side profile up there because I firmly believe it's the best way to explain what this car actually is. It's not really a sport sedan per se, but more a grand-touring five-door that also happens to have a cavernous trunk. It's massive back there!
And that's not coming from me, even Kia claims the Stinger was never intended for outright speed or cutting edge handling dynamics. It's also interesting to compare this car with its sister-mate, the Genesis G70, which shares the same underpinnings and drivetrain. As I'm writing this, I'm actually driving the G70 and it's fascinating to observe how different  each  car  is  given  their  shared  components.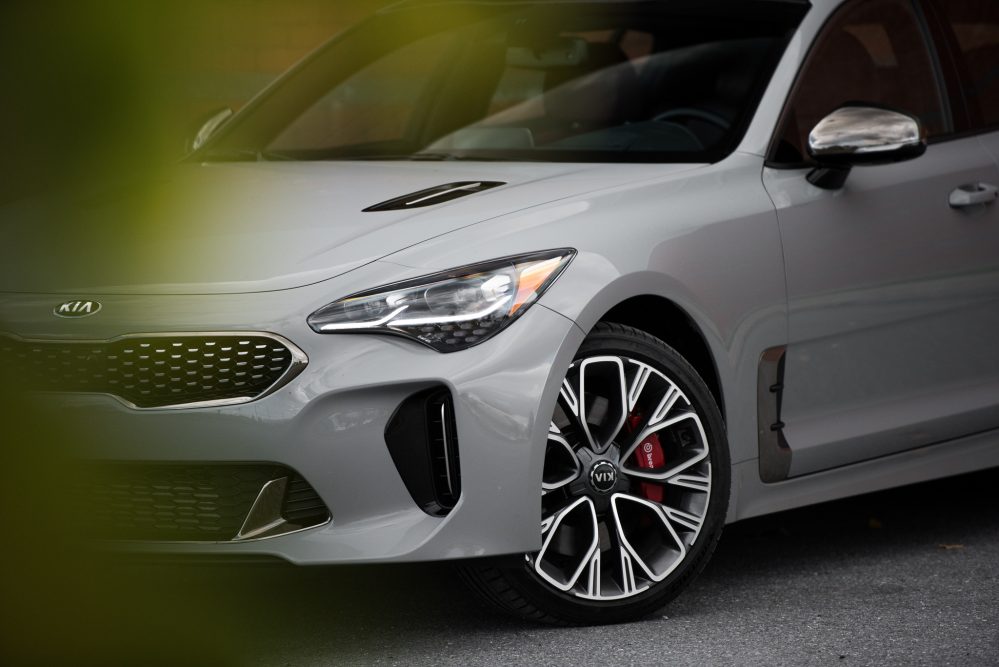 For instance, the Stinger rides on a longer wheelbase as the G70, 1.8-inches extra to be exact. So it's a considerably longer and heavier car overall, with a fastback configuration that inevitably adds weight to the rear of the car. The Stinger's suspension is also a tad softer, body roll is more apparent and the way its transmission shoves in gears in Sport mode is also a tad less aggressive.
But that's not to say this isn't an athletic machine, because it is! Punch the accelerator in any mode – Comfort, Eco, Sport or Smart – and this Korean muscle sedan knocks down a few gears in milliseconds and starts pulling strong in an immediate and urgent manner, providing a clean, flat torque curve all the way to redline.
The chassis is rock-solid, steering is vague but responds immediately to your commands and there's an overall sense of weight and control behind the wheel that provides utmost confidence to push it harder, even if its suspension remains on the soft side.
It also sounds very mean, a feature I personally got tired of fast due to the fact that it's mostly synthesized through the car's sound system. It just sounds overdone. Luckily, you can cleverly tone it down in the car's infotainement system, which helps. But you still can't turn it completely off.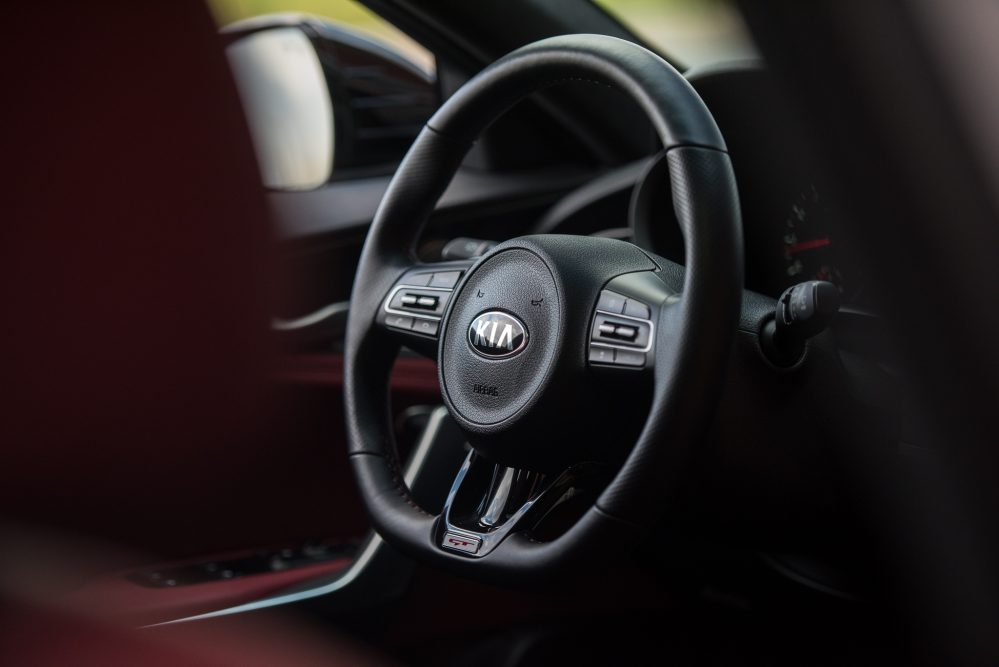 Meanwhile, the Brembo brake package my tester was fitted with made sure this hefty sedan came to a halt with very little drama, but, just like the G70 I'm driving this week, they showed early signs of fade when really putting them through their paces.  The  more  I drive  cars with Brembo  brakes,  the  more  I  find them  overrated.
My personal favorite feature about the way the Stinger drives, though, is upon corner exits where the car's heavy rear end squats down on throttle applications. It provides a stable, buttoned down feel that helps you catapult out of the apex in utmost efficiency. I'm also happy to report that the Stinger's frustrating trunk rattle problem has finally been remedied by Kia. Cabin noise was impeccable during the time I had this thing.
Fantastic Daily
That's where the Stinger really distinguishes itself from a G70; in cabin comfort and overall passenger space. Not only does that red interior look absolutely dashing, those seats are stunningly comfortable, supportive and plush. I personally love the headrests on them. I'd use them as pillows in my personal bed. That's how good they are.
Then, there's the amount of room the rear seats give you compared to its Genesis cousin. It's visibly more spacious back there, especially for legroom. However, the car's slopping roofline does somewhat hinder headroom for taller passengers, but it's still much more enjoyable to sit back there than in a G70.
I'm also a big fan of this car's overall interior design, which still holds up great two years after it was originally launched. To nobody's surprise, the Peter Schreyer influence comes with its share of Audi-inspired design queues, such as the circular metallic air vents and the stubby gear lever. What this Kia achieves better than the German opposition, however, is the simplicity of its controls and all-around ergonomics.
Everything is super well laid out in a Stinger, from gauges to menus and buttons. Icons in the infotainment system are big and clear, the interface itself is quick to react, and cycling through drive modes is a breeze thanks to the tiny little knob on the centre console. What's more, activating launch control doesn't require complex procedures. You simply remove traction control, hold the brake, smash the throttle, and you're good to go.
These are the intricate details that make the Stinger GT such a good car, a vehicle so well accomplished that it took home last year's coveted AJAC Car of the Year award. It's quick enough to have fun, its chassis is dialed in to the point that carving down a backroad will be a blast. At to that a soft suspension and a cabin roomy enough to carry you, your family and plenty of cargo on long trips, and it's hard to argue against this thing. With a design this solid, build quality this good and a price tag this attractive, the 2019 Kia Stinger GT remains up there among the best sedans I've driven this year.
Clavey's Verdict
Review of the 2019 Kia Stinger GT 20th Anniversary Edition by William Clavey
Sport Sedans
Looks cool as hell
Solid performance for the price
Hatchback practicality
Fake engine sound can't be removed
Slightly limited rear headroom
Deletion of the four-cylinder engine from the lineup
Clavey's Corner is located in Montreal, Quebec, Canada. Prices and trim levels discussed in this article reflect the Canadian car market.
Special thanks: Kia Canada
Photography: Guillaume Fournier
Contact the author: [email protected]