The 2021 Kia Forte5 GT is definitely an underdog in the sport compact car space. When this generation model came out in 2019, I had absolutely adored the sedan equipped with the dual-clutch transmission. But in this form, the Forte5 with the hatch and the six-speed manual setup, I reckon it's good enough to give a bit of a scare to the almighty Golf GTI. Yes, this Forte is that good.
Not Exactly A Hatch Though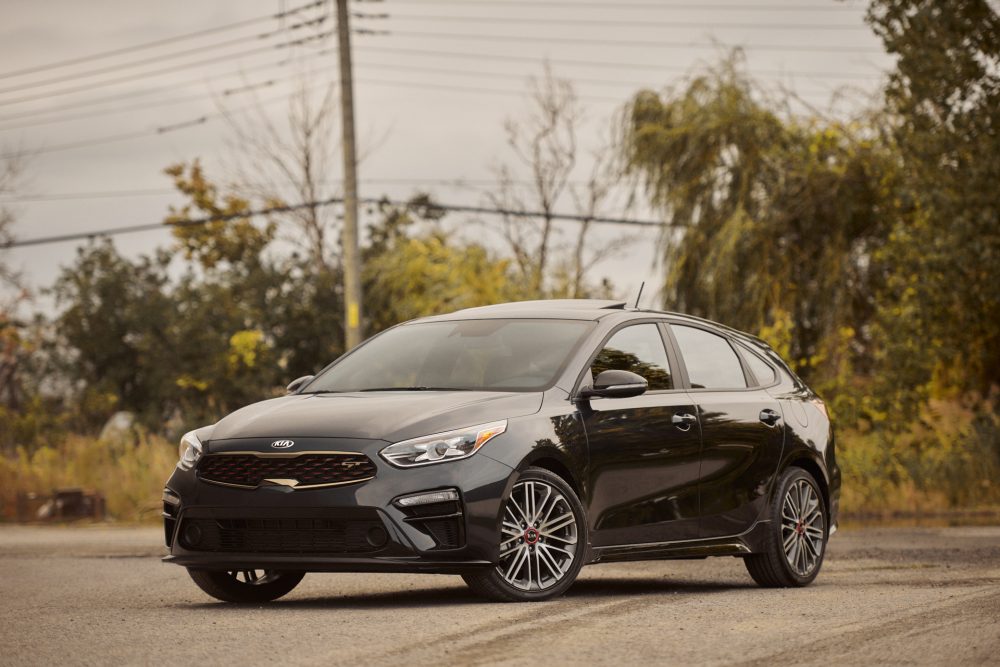 Although the Forte5 technically ranks in the compact hatchback segment, it more or less takes the proportions of a small station wagon. In my opinion, it's a bit too long to be called a hatchback. I much prefer the stubby rear end of an MK7 Golf or even the wild demeanor of a Honda Civic Type R. Such proportions also make this Kia Forte5 look a little weird, especially from the side profile.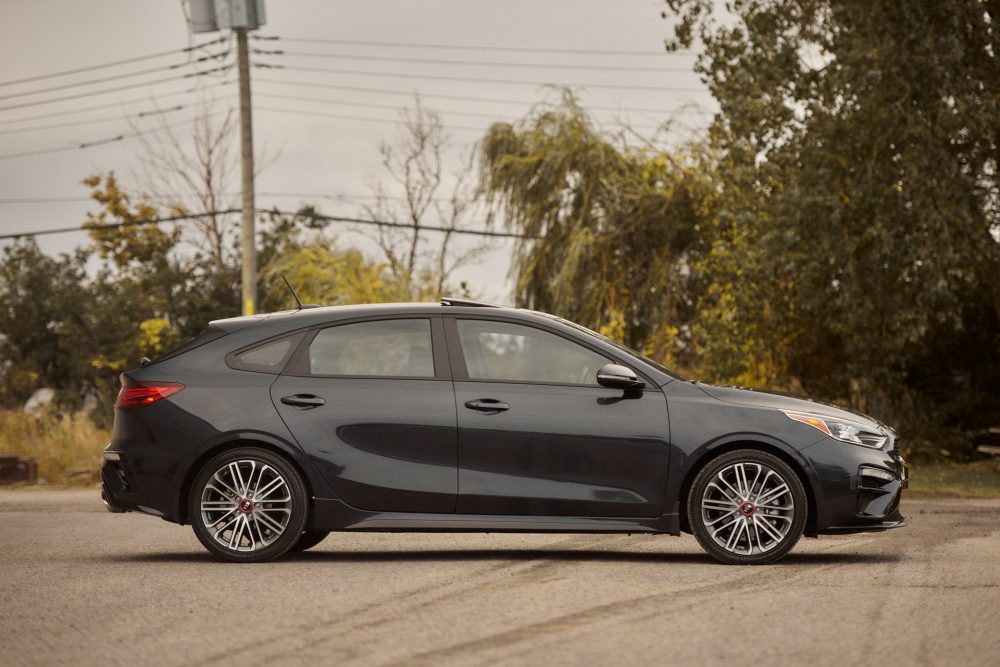 Perhaps all of that will be fixed with the upcoming facelift. In 2022, the entire Kia Forte lineup will get a set of styling, cabin and technology tweaks. Kia still hasn't showed us what that'll all do to the Forte5 however, or if the model will continue to be offered this side of the pond at all. Remember, this is a Canada-exclusive model here in North-American, which means it's a highly fragile and volatile model. Kia could suddenly decide to kill it due to poor sales.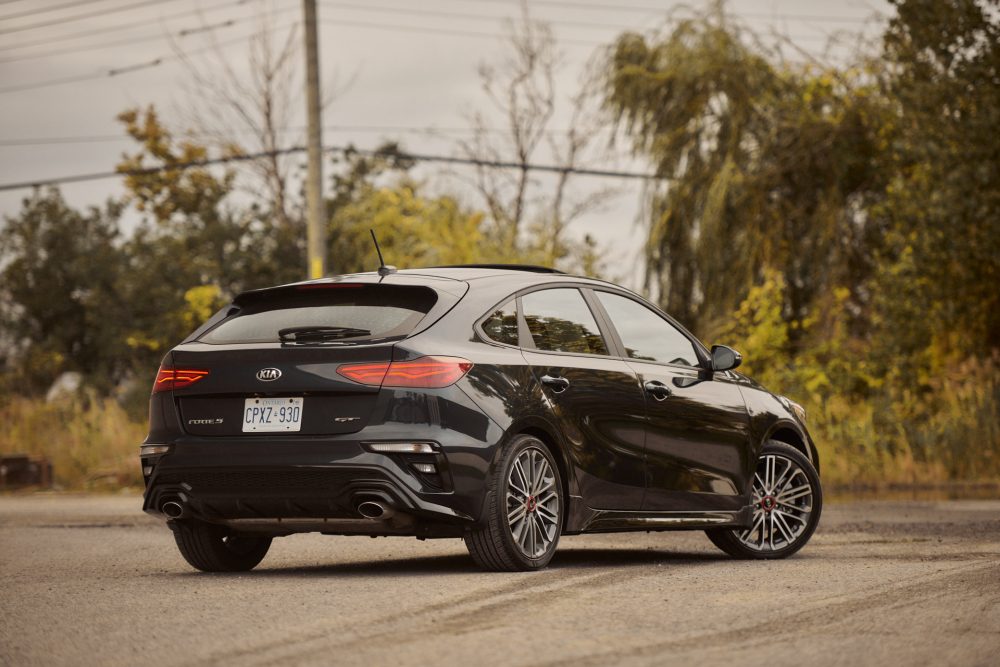 As it sits, the 2021 Kia Forte5 GT may appear a little bizarre, but it sure offers a lot of content for the price. For starters, it gets some interesting design cues that are unique to the GT model, like those bitchin wheels, side skirts, more aggressive front bumper, red mesh grille and sporty rear fascia complete with a dual exhaust treatment and diffuser. This car looks good, as long as you're not checking it out from the side.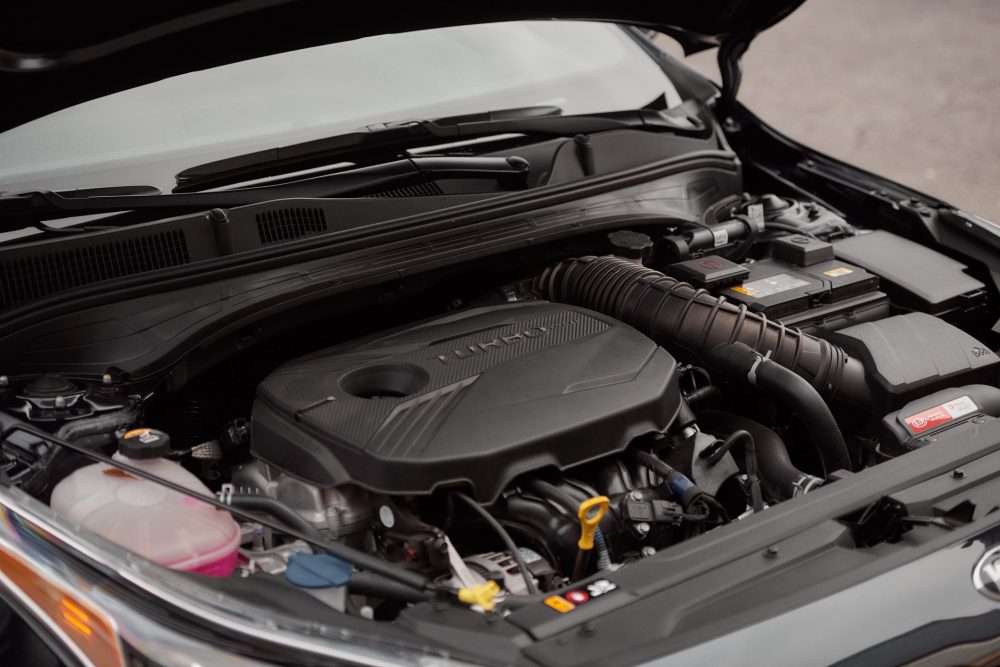 The important bits lie underneath the hood where considerably more muscle sets the GT apart from a standard Kia Forte. Power comes courtesy of a turbocharged 1.6-liter inline four good for a stout 201 horsepower and 195 lb-ft of torque. That engine can either be mated to a seven-speed dual-clutch automatic, or in this case, a six-speed manual gearbox, the much more interesting configuration. All Forte GTs also get an independent rear suspension and beefed up 12-inch discs (versus 11 inches), as well as larger torsion bars for improved chassis rigidity.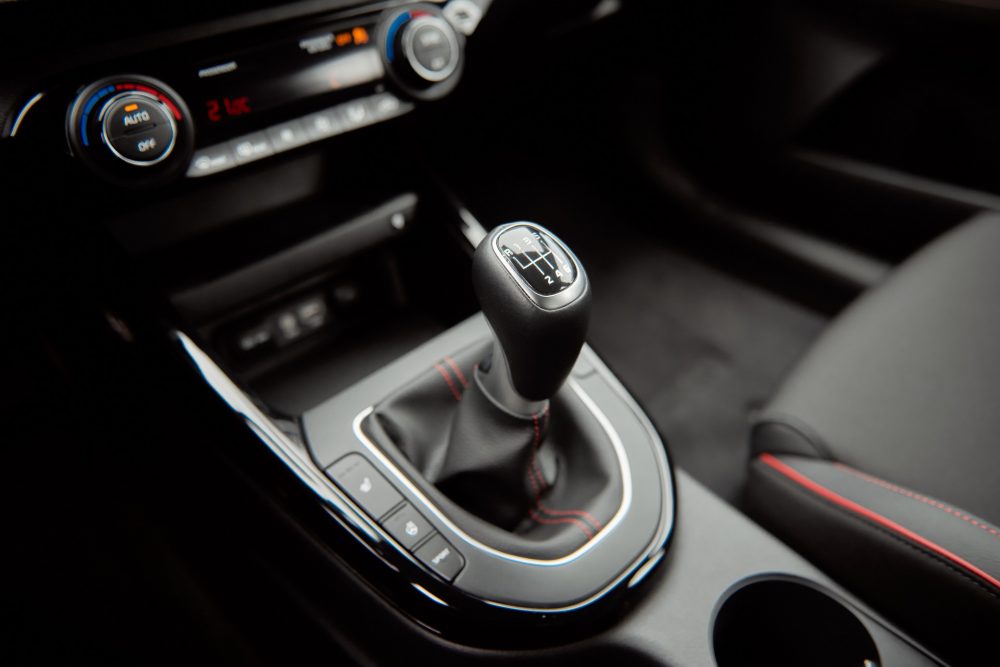 Price is also rather great, which makes this hot hatch one hell of a bargain compared to a GTI. Base price for a Forte5 GT with the six speed manual kicks off at $27,655. That's even cheaper than a Honda Civic Si. And there aren't even any options, the car comes as is as a fully loaded package. Pretty neat.
Will Flog, But Also Burn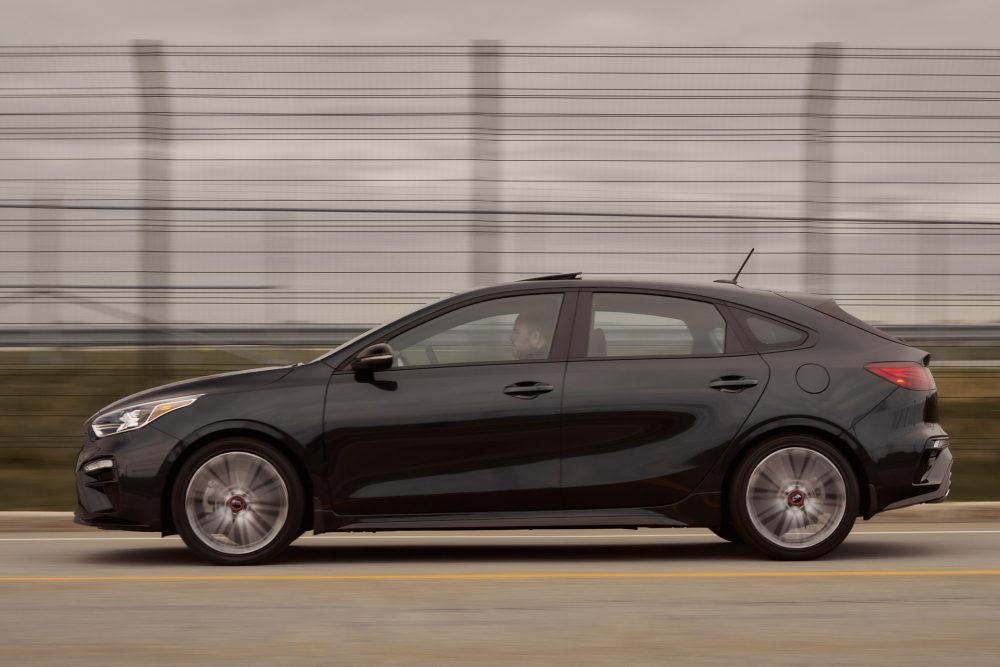 If you're wondering if a 2021 Kia Forte5 GT can follow a VW Golf GTI on a winding road, the answer is yes, but only if the driver is ready to brawl. While this Forte exhibits fantastic road composure thanks to a rock-solid architecture, a well tuned suspension and adequately quick steering, the fact that it's not fitted with a limited slip differential means it'll smoke its front tires the moment you apply too much power upon corner exit. This is the old school way of driving a front-wheel drive car, meaning you need to constantly dose your throttle inputs.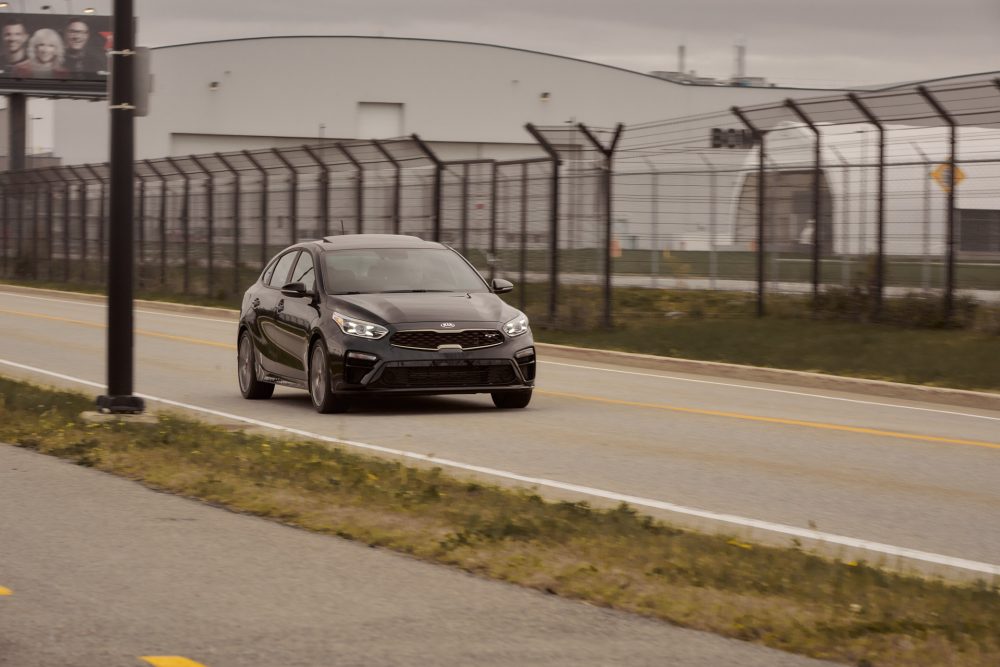 But that's not to say the Forte5 GT isn't fun to drive, because it is. The manual gearbox may be a tad sloppier than in a Volkswagen, but gears do pop with a positive "snick". The clutch is also light and bouncy, which allows you to thrash the thing and have a bit of old-fashion fun. The only part that got me infuriated was the amount of excessive rev hang the moment I'd dump the clutch at high revs. In that respect, a GTI is much more focused.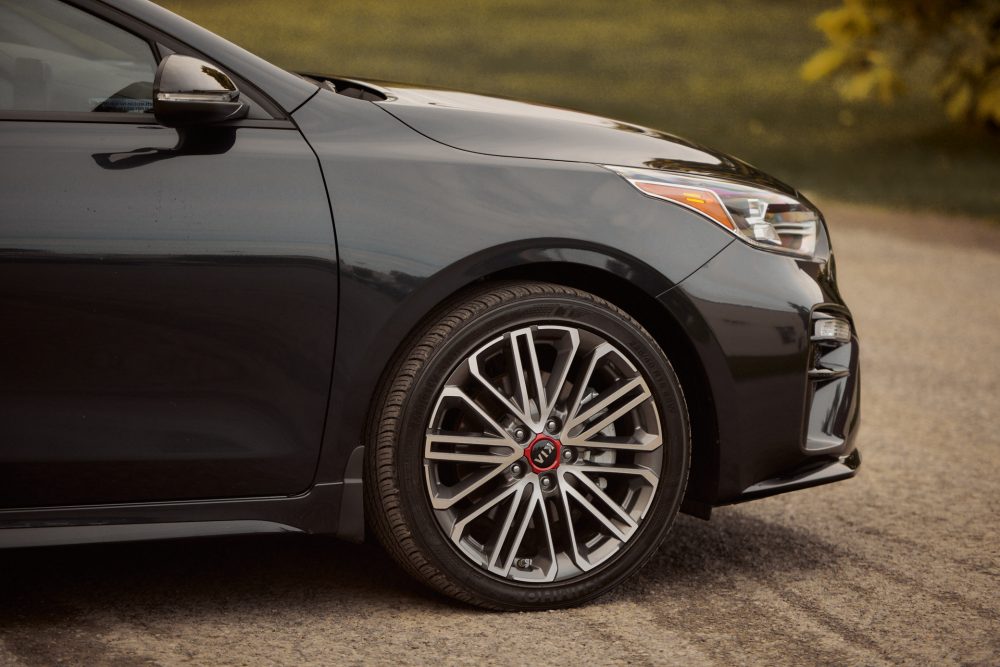 The turbocharged four may be small, but it's punchy and provides ample low-end torque with minimal turbo lag. It's not the best sounding engine, and it runs out of puff at around 6,500 rpm, but what power it does provide is good enough to get this little Kia up and going in a jiffy. I was also impressed by the level of grip here, even with the absence of a limited-slip differential.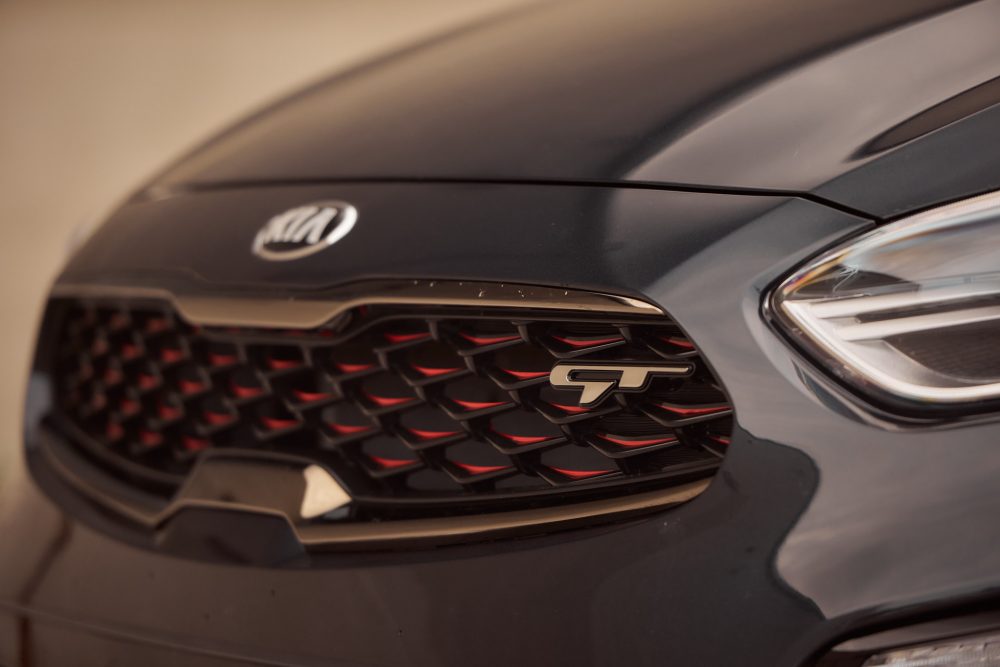 You see, while the Forte5 GT will spin its tires while turning, it won't necessarily plow, meaning you can still steer it towards the direction  you want it to go, while burning rubber. It's an odd way of tuning a car, almost as if the engineers outdid themselves in the suspension and chassis department, but the bean counters were too cheap to give them an actual performance diff.
The Forte5 GT also boasts a fantastic interior, especially considering its bargain-basement price tag. There's nothing inexpensive about the way this compact car looks and feels inside, with no real signs of cost cutting either. Material quality is above average and fit and finish is impeccable. Cabin insulation is also more than decent for a car of this price bracket, but a Mazda3 Turbo still feels considerably more upscale.
There's also good support from those sport bucket seats, and the entire cabin feels spacious. Rear seat leg and head clearance is rather fantastic in a Forte5.
As for the hatch itself, it'll engulf up to 428 liters of your gear without having to lower the rear seatback. That number is lower than a Golf (493 liters), a Civic hatch (693 liters) and a Toyota Corolla hatchback (504 liters).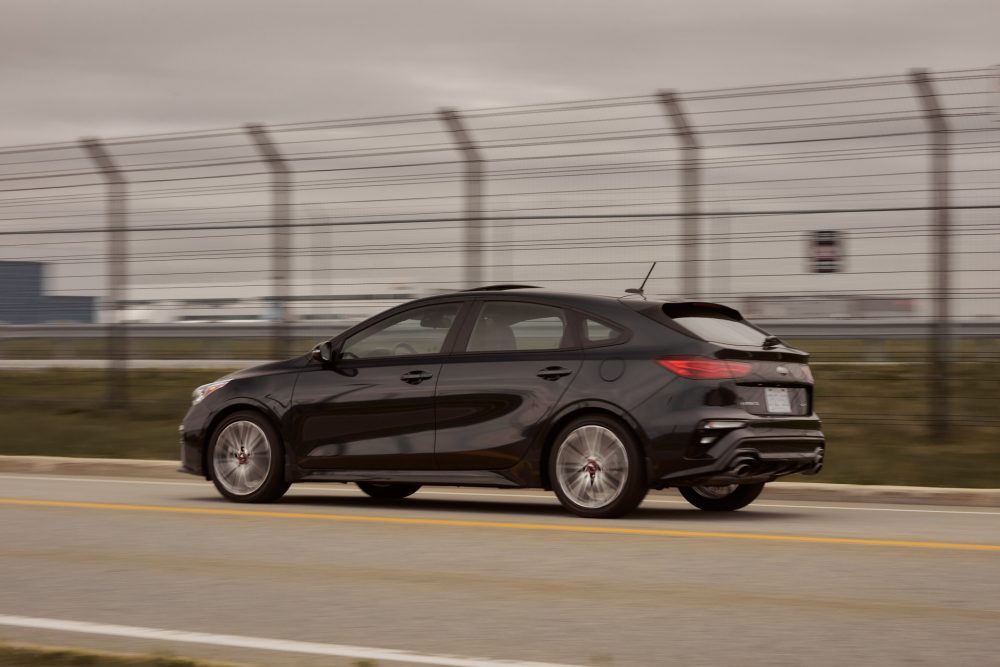 The 2021 Kia Forte5 GT may not be as precise as a VW Golf GTI or even a Honda Civic Si out there in the wild, but it's just as much fun to flog around on a winding road and, more importantly, it's several thousand dollars less expensive. Considering all the content, all the quality, all the performance and all the practicality you'll be getting from this package, I reckon this Kia is currently the best kept secret the pocket rocket universe.
Clavey's Verdict
Review of the 2021 Kia Forte5 GT by William Clavey
Hot Hatchbacks
Fun and quick!
Immensely practical
A fantastic bargain
Needs a limited slip differential
Looks a little off
Sloppy manual shifter
Clavey's Corner is located in Montreal, Quebec, Canada. Prices and trim levels discussed in this article reflect the Canadian car market.
Special thanks: Kia Canada
Contact the author: [email protected]