Yeah, so 2020. Tell me about it. Ironically, this year was perhaps the best of my career. Fine, my business almost went bankrupt and I went from travelling the world to being locked inside my apartment writing blogs, but I did get more cars than I could manage and this website got record views, even if it got hacked by Russian crooks last year. Furthermore, the YouTube channel is doing fantastic, so I think I'll be doing more videos in 2021.
This all brings me to the 2020 Clavey's 10 Best list. As you know, I usually do a Best of Everything, except this year, I realized people weren't reading that long-ass post. This is 2020 after all. We're all fed up, pissed off and impatient to get back to our normal lives, which is why I decided to compress it all into a 10 Best. It wasn't easy, since there were many great vehicles this year. But these are the ten cars, trucks and SUVs that really did an impression on me in 2020. Enjoy!
10 – Ford F-150
There's an unwritten rule in the full-size truck segment, and it goes along the lines of the moment a new model comes out, it tends to overshadow its rivals. This is typically attributed to strong competition and a commitment from their respective carmakers to make the best truck. And to be totally honest, weather you opt for a Ford, a GM or a RAM, you're not going wrong. They're all fantastic. Yet, when Ford had me drive its latest F-150 in hybrid form, it convinced me that it currently builds the best truck in its segment.
The most interesting aspect of the 2021 Ford F-150 isn't that it's all new, because it's not. It still rides on the same old platform and most of its engines are carried over from before. Plus, its styling isn't even all that revolutionary. Where it makes huge strides is its ability to provide truck owners precisely what they need.
And the list is long, too: a center console that transforms into a small table to work on? Check. A bed-mounted generator that offers three different power levels to sustain a wide variety of tools and machines? Check. Need to take a nap in your rig because you're doing a long night shift? The F-150's front seats, which transform into small beds, have you covered.
Add to that a beautifully finished cabin with a massive infotainment system that's filled with neat toys, as well as a hybrid powerplant that provides more power than you need, decent towing and impressive fuel economy, and it's fair to say that this new F-150 just leap-frogged its competition.
9 – Toyota Camry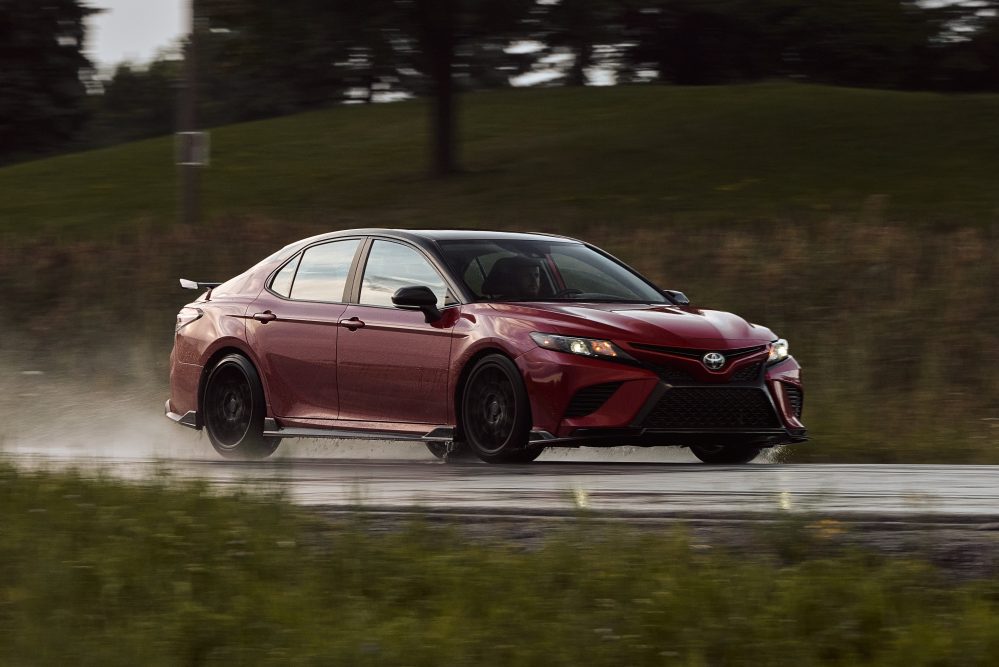 I never thought that I'd one day consider the Toyota Camry as one of the best cars I drove, let alone own one, but Toyota has finally fixed the car's only real problem: boredom. Because up until recently, everyone would agree that the Camry was a fantastic automobile for its reliability, sturdiness and low running costs, but nobody necessarily wanted to own one because it was so dreadfully boring and dull. But now, with this eighth-generation model, Toyota has put together what is arguably the best midsize sedan on the market.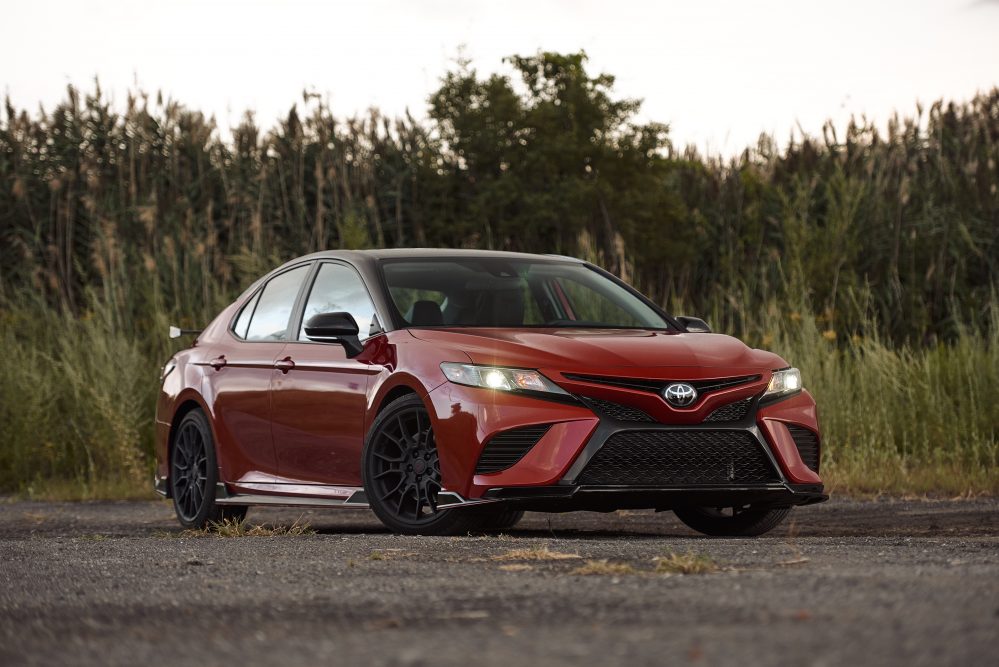 Up until now, I would tell you to buy a Honda Accord, especially the one powered by the 2.0-liter turbo engine and the six-speed manual gearbox. But what sealed the deal for me was the Camry TRD, which proved that a Camry can actually be fun, cool and exciting. Oh, and did I mention that the V6 model makes 300 horsepower?
Add to that stellar build quality, a reputation for being indestructible, a very frugal hybrid variant and an excellent all-wheel drive trim in the four-cylinder cars, and this current-generation Camry not only walks all over its competition, it proves that midsize sedans still deserve their spot in this SUV-infested industry.
8 – Kia Telluride

When Kia introduced the Stinger, it proved to the entire world that it can now make vehicles that are just as, and in some cases, better than the Germans. If you still count yourself among the folks that say "Kia is getting better", you're about 5 years too late. Kia, along with its sister brands Hyundai and Genesis, is now a serious car-making machine, dishing out products that, in many cases, redefine their respective segments.
The Kia Telluride is such a vehicle. Up until recently, if you wanted a three-row midsize SUV, I'd tell you to buy a Honda Pilot, a Toyota Highlander or a Nissan Pathfinder. But then, Kia dropped in with a vehicle that not only looks like it belongs in a Land Rover dealership, but one that offers more cargo space than almost all its rivals, a 5,000-pound towing rating, and a tried and proven 3.5-liter V6. The Telluride rides smooth, pulls great, offers plenty of fantastic creature comforts, a lot of cabin space for your family, and it's better built than a Volkswagen. It just wins.
7 – MINI John Cooper Works GP / MINI Cooper SE

The checklist for a great hot hatchback includes more power than the car can handle, in-your-face styling, the biggest, possible rear spoiler you can find and a "I don't give a shit" attitude. That's why the MINI John Cooper Works GP is, in my opinion at least, the coolest hot hatchback of 2020, cooler even than a Honda Civic Type R, a Hyundai Veloster N or a Volkswagen Golf R.
With 301 horsepower sent directly to the front wheels and no trick suspension setup like you get in a Civic Type R, the Cooper GP will torque steer and tramline the hell out of your wrists, but that's also why it's so much fun. It's wild. It's rowdy. It's VERY fast. And it's a handful to drive, especially on a wet surface like when I tested it. Sure, it'll light up its front tires the moment it can and possibly ruin your back on a public road, but that's all totally fine.
Because in a world where everyone is trying to be perfect, MINI comes out with this feisty little hooligan that has the same road presence as a supercar due to its wide stance, carbon fiber fender flares and ginormous wing. It has only two real flaws: no manual gearbox, and it's way too expensive. But I still want one.
And special mention to the all-electric MINI Cooper SE which proved to be just as, if not more fun to drive than the GP. Yes, range is low, but the car makes up for it for its superb driving dynamics, funky styling, fun-to-drive nature and acceleration that'll shame a MINI Cooper S. This is up there as one of the biggest surprises of the year.
6 – Jeep Grand Cherokee Trackhawk

Of course, I had to put a Hellcat-powered FCA on this list. But while I also adored the Dodge Charger and Challenger powered by this engine, the truth of the matter is that the Jeep Grand Cherokee Trackhawk is quicker off the line and more practical. It will also tow a boat, so it downright wins.
There's nothing particularly innovative about this Jeep, nor does it beat its rivals in build quality or technology. But the simple fact that it houses a 707-horsepower supercharged HEMI engine and that it will outrun several supercars in a drag race makes it stand tall against all other SUVs on the market. More importantly, it's a slap in the face to much more expensive luxury SUVs from BMW, Porsche and Lamborghini.
This is, after all, the fastest gasoline-powered sport utility vehicle on the planet, only to be slightly beaten by a Tesla Model X Performance. Except, unlike a Tesla, you'll know this Jeep is heading your way from the wine of its supercharger, which sounds like it has just spent the weekend in hell.
5 – Lexus LC500

Some cars feel special before you've even sat in them, and it's very much the case with the Lexus LC500. Because on paper, this $115,000 Toyota doesn't do anything to convince you to buy it over something German. And it's not even all that quick neither. But it's how the car makes you feel that allows it to come through as one of the most interesting grand tourers of the modern age.
Yes, this Lexus tries to compete against an Aston Martin DB11 or even a BMW M8, but doesn't exactly meet them in the performance department. The LC500 wins by using its stunning concept car looks to lure you towards it, its incredibly well put together and comfortable interior to keep you inside, and its sweet-sounding naturally aspirated V8 to keep you driving it.
This car is all about the ownership experience. It makes you feel good about driving. Everyone looks at it. It sounds amazing at full throttle, and it'll even allow itself to kick out the rear for some good-old fashion power slides. Furthermore, it's a Lexus, which means it'll most likely last forever. If you can afford one, buy it, lock it up inside a barn and wait about two decades until it's worth about twice its current price.
4 – Genesis GV80 / Genesis G80

Perhaps the biggest surprise of 2020 is how quickly the Genesis brand got traction. We all knew it was up to something with the G70 sport sedan, but nobody expected its first-ever SUV, the GV80, to be this fantastic. Because in just a five year span, Hyundai's luxury division, which everyone laughed at when it became its own entity, has already managed to do what Acura, Infiniti and Lexus have been attempting to do for three decades: disrupt the Germans.
Yes, Genesis is going to give several carmakers a hard time in 2021. Its models are aggressively priced, they come fully loaded, they're delivered to your home, and they look, feel and drive just as good as some competing German alternatives. What worries me the most is that this could render the Lincoln Aviator and the Cadillac XT6 obsolete, while giving the Acura MDX a serious run for its money. And as I write this, Lexus doesn't even have a model to compete against this thing.
An equal special mention goes to the sedan on which this SUV is based, the G80. While several carmakers are ditching sedans in favor of SUVs, Genesis releases a midsize premium alternative to a Mercedes-Benz E Class and actually succeeds at making you rethink German ownership. While never as quick or focused as a European rival, the G80 is packed with refinement, luxury and technology, all while appearing like a budget Bentley along the way.
3 – Mercedes-AMG E63 S Wagon

Did you really think I'd forget the 600-horsepower, all-wheel drive German station wagon? Of course not, which is why this Mercedes-AMG E63 S is sitting up here in the top three. Because in this day and age, nobody, except for perhaps Audi, which copied Mercedes, has the balls to sell a wagon that'll rip a new one to a Porsche 911 in a drag race.
The simple fact that this thing will do the quarter mile in the same time as a Challenger Hellcat while carrying your kids, your grocery and your dog, makes it one of the most desirable automobiles currently on sale. Yes, it's expensive, and being a Mercedes-Benz means repair costs will cost you an arm and a leg, but you can't deny how incredible this super wagon is. And the good news is, Mercedes has no plans to kill it off. An updated version of this car, with a new front end and interior, but with the same twin-turbo V8 engine, is scheduled for our market in 2021.
2 – Polestar 2

The full review for this car is coming soon on these pages and on the YouTube channel. I only drove the Polestar 2 for one day last week, but it was enough to prove to me that Volvo's new high-end division really has something going on here. More importantly, it could very well be the first real rival to Tesla. Why? Because it basically copies everything Tesla does, but in a different, more stylish, Swedish way.
The Polestar 2 isn't a better car than a Tesla Model 3, but it's just as good and capable. It's a bit weird like a Tesla. It has a giant screen like a Tesla. And you can buy it online, like a Tesla. Except, it does certain things better than a Model 3. Sure, its range is a little low at about 400 km, compared to around 500 for a Model 3 Dual Motor. And it's not as quick off the line neither.
But it's built like a tank. Has an actual gauge pod, like a normal car, and it's backed by Volvo's half-century experience of manufacturing and selling cars. Which means you can expect the same kind of after sales service as a Volvo. Furthermore, with Chinese giant Geely behind the brand, and a witty market penetration strategy, as well as Polestar spaces quickly growing across the country, this is definitely the carmaker to watch in 2021.
1 – Tesla Model Y

When you're an automotive journalist, Tesla is an interesting brand. For starters, it doesn't answer to the media. It also doesn't have a press fleet, which means that contrary to all the other cars on this list which were handed to me for free, I actually have to pay to borrow someone's car on Turo. But unlike some of my colleagues, who enjoy shitting on Tesla because it doesn't lend them cars or book them trips to exotic locations, I'm going to come out and say that I absolutely adore what Elon's electric car company is doing.
Now, do I recommend buying a Tesla Model 3 or Model Y for Canadian roads? Only once you've had the car treated with a paint protector, equipped with the proper mud guards and had its build quality carefully inspected before taking delivery. Under these circumstances, yes, you'll be happy with your Tesla. If not, it'll honestly be a piece of shit car that'll fall apart come the first winter. And I'm not kidding. I know two people with Model 3s that are shedding their skin as I write this.
But beyond the shady build quality and the weird (in other words none) after sales service, lies a vehicle that surpass its rivals in every way. When I drove the Model Y last summer, I was not only impressed by this thing's range, comfort, performance and handling, I was flabbergasted to realize that no other carmaker makes something like this. Ford just dropped in with the Mustang Mach E, which kind of competes. And soon, we'll have the Volkswagen ID.4 and the Nissan Ariya. Yet, none of them offer the range, cargo capacity or towing rating of this Model Y.
When I reviewed the Model Y for The Drive, I had said that it reveals how far behind the rest of the auto industry still is, and it's still very much the case. The thing is, once the industry will have caught up to this Model Y, Tesla will once again be far ahead.
Clavey's Corner is located in Montreal, Quebec, Canada. Prices and trim levels discussed in this article reflect the Canadian car market.
Photography: Guillaume Fournier
Contact the author: [email protected]