The 2021 Lexus LC500 is a car that feels special before you even drive it. I missed my chance to review this unicorn when it first came out two years ago. And honestly, I didn't think I'd one day drive one since these things are so damn rare. I mean, Lexus barely sells 1,500 LCs in an average year in North America, and it's not like it's doing much advertisement for it. But if you do eventually get your hands on one, it'll most likely be one of the most fantastic automobiles you'll ever drive. At least, that's what I discovered.
Looks Like Nothing Else On The Road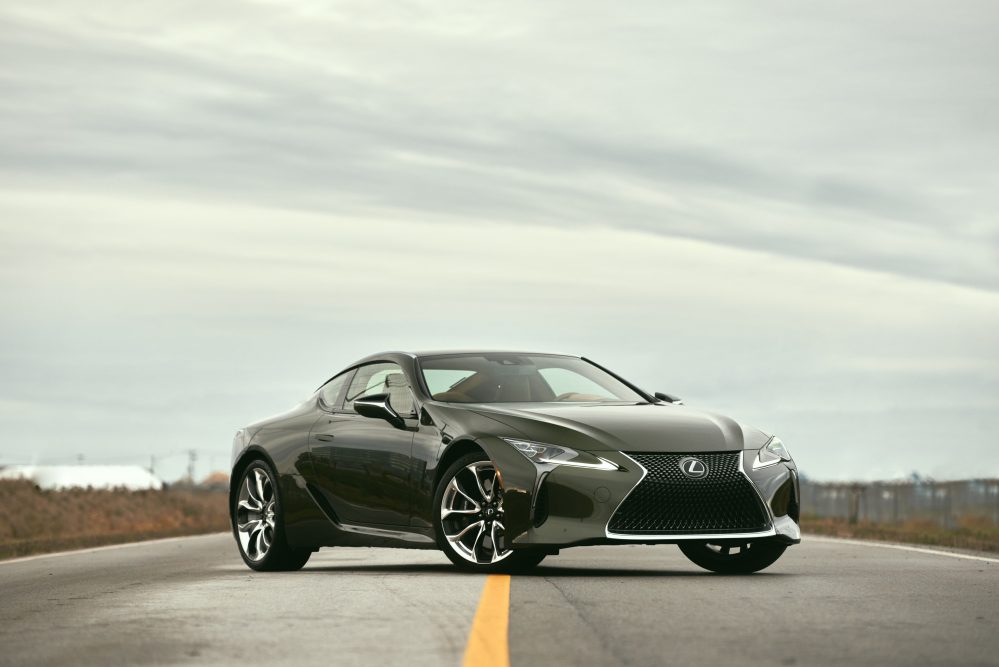 Would you just look at this thing! Many cars manage to look like a concept car for the road, but very few pull it off as well as the 2021 Lexus LC500. The styling is very much unique in the sense that it looks long, wide, futuristic and properly Lexus, taking cues from the LFA supercar.
At this point, you're probably wondering where the LC500 fits in the lineup given that Lexus also sells the RC350. In a world where SUVs rule the Earth, it is indeed odd to see two luxury sport coupes from one carmaker. But unlike the RC, which is essentially a two-door IS, the LC is the brand's flagship grand tourer, built mostly to take on other opulent two-door sports coupes like the BMW 8-Series or the Aston Martin DB11.
But then, the LC500 also goes down a different path. While yes, it is immensely luxurious and properly quick, it's never as precise as its European competition nor even as quick. What this Lexus lacks in all-out performance – which I'll get back to in a bit -, it makes up for it by a killer design, a fantastic interior and the expected Lexus levels of quality and craftsmanship.
The big news for 2021 is a new convertible version, but there's also a reworked suspension that apparently offers a smoother ride. Lexus also added a feature called Active Cornering Assist that's supposed to improve handling by lightly applying the brakes to the inside wheels through a corner.
Other changes include standard Android Auto which joins Apple CarPlay. New 20-inch wheels and two new paint colors called Cadmium Orange and Nori Green Pearl, the one you see here – arguably the coolest color of the LC's paint catalogue – also join the party for '21.
Two engines are available for the Lexus LC500, one being a hybrid (LC500h) version of the 3.5-liter V6. It's good for 354 horsepower and 369 lb-ft of torque. But the engine in this one is a glorious naturally aspirated 5.0-liter V8 that pumps out 471 horsepower and 398 lb-ft of torque. And unlike the god-awful CVT that's attached to the hybrid powerplant, this V8 gets a much better ten-speed automatic unit. Power is of course sent to the rear wheels only.
The base MSRP for a 2021 Lexus LC500 coupe is $103,550. Add about $20,000 for the convertible. My tester, which had the $13,000 performance package, which includes a slew of comfort and performance-enhancing toys like those 21-inch wheels, sports seats, variable gear ratio steering, an active rear differential, a carbon fiber roof, rear-wheel steering and a retractable rear spoiler, stickered for $119, 271.
Great Balance Of Smooth And Sporty
No other car in my career has made an impact on me like the LC500. And not because of its speed, or its handling, but by the sheer aura this car emits just by sitting still. It's the kind of automobile that makes the little boy inside me go crazy. But the LC500 is not just pretty on the outside, but houses one of the most well-executed interiors this side of a Mercedes S-Class. Even an S-Class can't match this thing's attention to detail.
I'll dig deep into the car's cabin soon, but first, allow me to write a few graphs about how it drives. No, it's not as fast off the line as an 8-Series, and it'll never feel as precise in the corners as anything European, but it's still tremendously athletic and fun to flog around a curvy patch of road.
Perhaps where the LC surprised me the most was in its ability to wag its tail rather easily upon corner exit. Some will say this car lacks grip, but it's not like Michelin Pilot Super Sports are bad tires. I say Lexus just baked in some good old fashion driving dynamics in this car. The LC500 has this old-school way of doing things which reminds me of the big sport coupes of the nineties, also known as the Toyota Supra. Why isn't the Supra based on this car again?
So yes, it'll drift but it won't try to ruin the fun through an intrusive traction control system like other Toyota/Lexus products will. The LC500 rewards good driving. There's wonderful weight distribution here and an overall mass that feels low and centered. This, by the way, are by products of Toyota's brilliant TNGA-L architecture, which ironically also underpins boring vehicles like the Toyota RAV4. Just kidding. These platforms are only similar in name, there's nothing comparable to a RAV4 here as this was specifically developed for Lexus as a rear wheel-drive architecture.
Then there's that masterpiece of a V8 engine which, yes, does lack the instant low-end torque of its turbocharged rivals, but sings a music so pleasing to the ears that you immediately stop caring about speed. Driving the LC500 is a sensorial experience modern cars have a lot of difficulty reproducing.
That V8 loves to rev and it makes all the right sounds, even when it's bouncing off the rev limiter. I also have nothing to say about the transmission, which is great news, because the six-speed unit found in the RC was junk. This one reacts quickly and is rather pleasing to shift for yourself. The LC500 is always smooth and quiet, but also extremely vocal when you let it. It's always controlled, but also a bit of a hooligan when you need it. It's just what you want from a sports car. What a wonderful thing.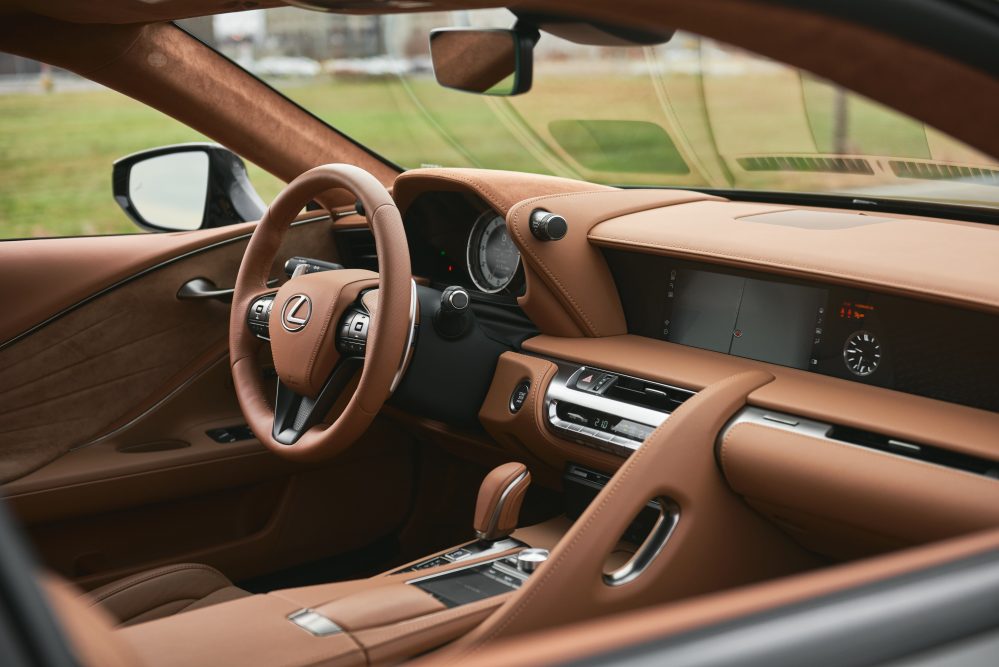 And of course, there's that cocooning interior, which not only looks like a million bucks, but wraps you in soft leather, fine alcantara and materials of the best quality you've ever set your hands on. Everything is polished, from the subtle brushed aluminum components, to the door inserts that feel like you're caressing a live animal. If anything, the LC500's cabin is even more mesmerizing than its fabulous engine.
Once you're strapped yourself inside, the LC500's seating position is downright perfect while its enormous leather thrones make sure to keep your back in check. This is how you do grand touring. In other words, this car that was first and foremost designed comfortably storm through the countryside at blistering speeds. In many ways, Lexus is teaching the Europeans how to play their own game.
Meanwhile, the dynamic gauge pod, which moves about according to your liking – heavily inspired from the LFA – remains a neat touch all while giving you all the information need. But where the LC500 fails miserably, very much like the entire Lexus lineup actually, is in its god-awful track-pad-operated infotainment system.
It's just a mess of ergonomics. Hard to use and to understand, it's much more distracting than it is useful. This is perhaps the LC's only flaw, but it's a big one. But where the 2021 Lexus LC500 wins is by offering the consumer a lot for his money. Yes, it stickers for a hair over $100,000, and I agree, that's a lot of money. But you're also getting a hell of a lot of car for your dollar, more so even than anything else in this price range.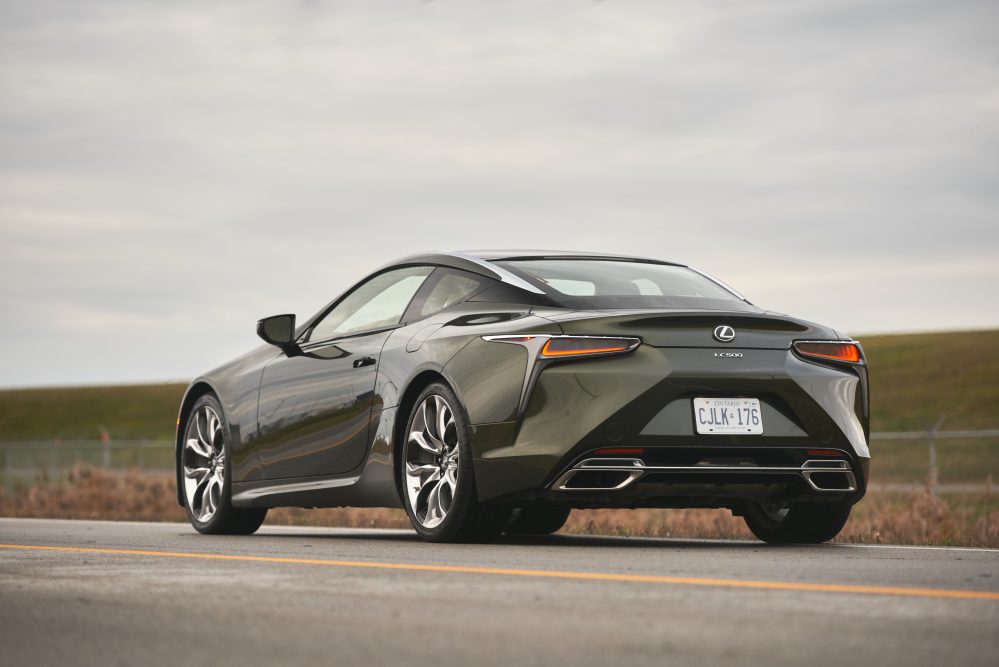 No, it won't win a quarter mile race against a Challenger Redeye, nor will it outpace a Jaguar F-Type on a winding road, but the fact that it looks this good, feels this great and sounds this amazing, let alone that it'll probably never break down, because, well, Lexus, is a testament to how much of a great automobile this is. Mark my words; this is one of the best sports cars on sale today, and it'll be a while before anything even comes close.
Clavey's Verdict
Review of the 2021 Lexus LC500 by William Clavey
Luxury Grand Tourers
Concept car styling
Naturally aspirated V8
Interior tailored for gods
Not as precise as main German rivals
Could be quicker off the line
Ridiculous infotainment controls
Clavey's Corner is located in Montreal, Quebec, Canada. Prices and trim levels discussed in this article reflect the Canadian car market.
Special thanks: Lexus Canada
Photography: Guillaume Fournier
Contact the author: [email protected]