The 2022 Mazda MX-30 is a car I already knew wasn't all that great. But I wanted to test it myself to at least give it a chance. I figured that although its electric range is low, it must have other qualities. And, being a Mazda, I expected it to surprise me in other areas like driving dynamics or driver engagement. It didn't. This is one of the most disappointing vehicles I've driven this year.
I Mean, It Looks Good
I approached the MX-30 wanting to like it because, after all, we are talking about the same carmaker that cooked up the PERFECT Mazda MX-5 or the overachieving Mazda3 Turbo. And yes, there are some positives, notably the way this car looks. The MX-30 is an electric crossover like many others currently on sale, but it's smaller, cuter, about the same size as a Chevrolet Bolt EV.
The styling, in typical Mazda fashion, is nice and elegant, grown up and refined. There's a neat coupe-like profile that gives it a sporty feel, yet, from the side, it has an interesting clown shoe demeanor, kind of like a BMW M Coupe on stilts. It's also very well put together, with tight panel gaps and paint quality that would put an expensive German sedan to shame. And I dig how Mazda programmed a delay in the LED blinkers to mimic an old light bulb, like on a classic car.
But perhaps where the 2022 Mazda MX-30 sets the cool factor to 11 is with its suicide doors. Yes, that's a nod to the RX-8 sports coupe. It gives the MX-30 a unique look, appearing like some sort of concept car for the road. It definitely allows it to set itself apart form other electric vehicles, adding to the expected quirkiness of all Mazda vehicles. Check below how cool the car looks when those doors are open.
Of course, all of this styling stuff doesn't mean jack shit if you don't have something compelling under the hood to back it up. And for an electric vehicle to be attractive these days, it must offer good range at a reasonable price, especially if you're Mazda which, although trying to upmarket its cars, remains a mainstream brand. And sadly, this is where the MX-30 falls apart.
Underneath its body sits a 35.5 kWh battery. Right off the bat, that's not a big number in a world where pretty much everyone pulls more than 60 kWh from their battery packs. But that's fine, because just like the MINI Cooper S E, the MX-30 is marketed – says Mazda – as an urban electric vehicle. Up to now, it all makes sense. That battery powers one electric motor that's fitted onto the front wheels, for a total output of 143 horsepower and 200 lb-ft of torque. That's not a lot.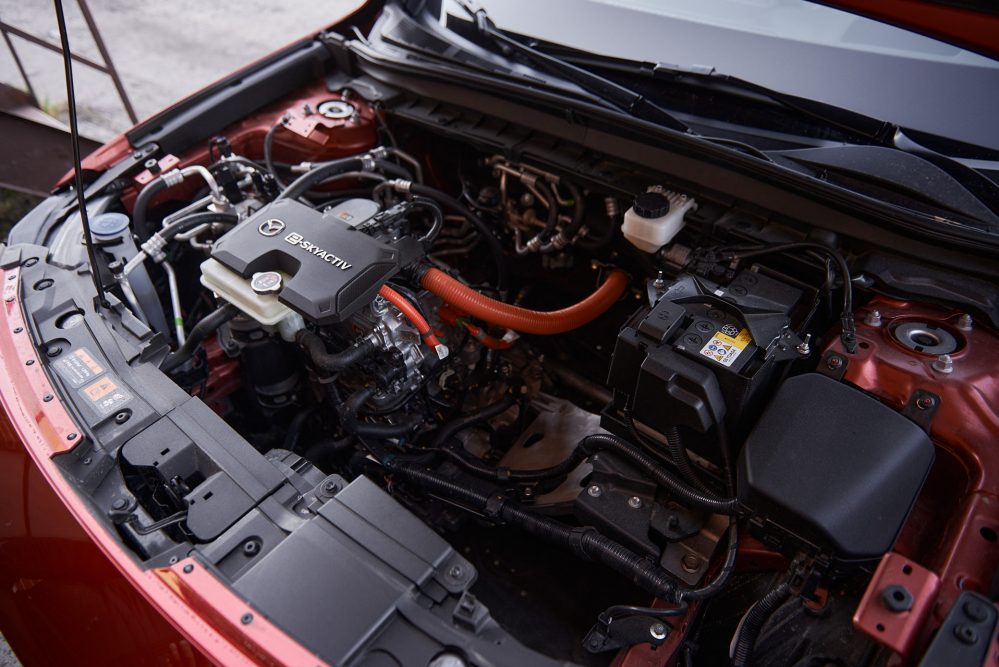 And then, there's the range. Mazda claims that the MX-30 will run on full electric mode, during ideal conditions, for up to 161 kilometers. I'm sorry, what? That's about 16 km less than the MINI. Finally, the price: Mazda asks $44,100 for a base GS model. My tester, a GT, sells for – wait for it – $51,165, including freight. Not only is that a good $5,000 more than the Cooper S E, it's about the same price as a Hyundai Kona Electric that'll pull more than twice its range.
Forget Long Trips
So, all the stuff I just wrote, I already knew before I booked the MX-30. But I wanted it to prove me wrong. I live 149 km away from the Mazda press office, so I knew that I would barely make it home. But up until now, most, if not all EVs have surprised me in the sense that they can drive further than their advertised range. Especially during a warm month of May. So I gave the MX-30 a shot anyway.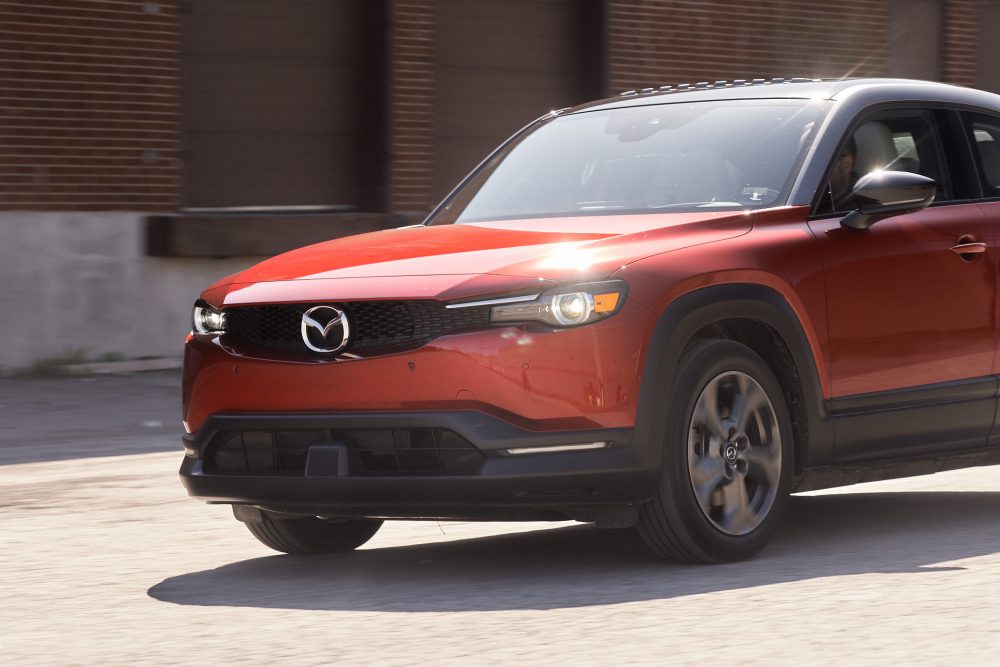 Unfortunately, my adventure didn't begin well. When I took off from the Mazda press office, the onboard computer indicated that I had 141 km of range available, even though the battery was 100% full and the climate control was turned off. After going through Montreal traffic, using the car's regenerative braking the entire way to maximize my range, I hit the highway towards home.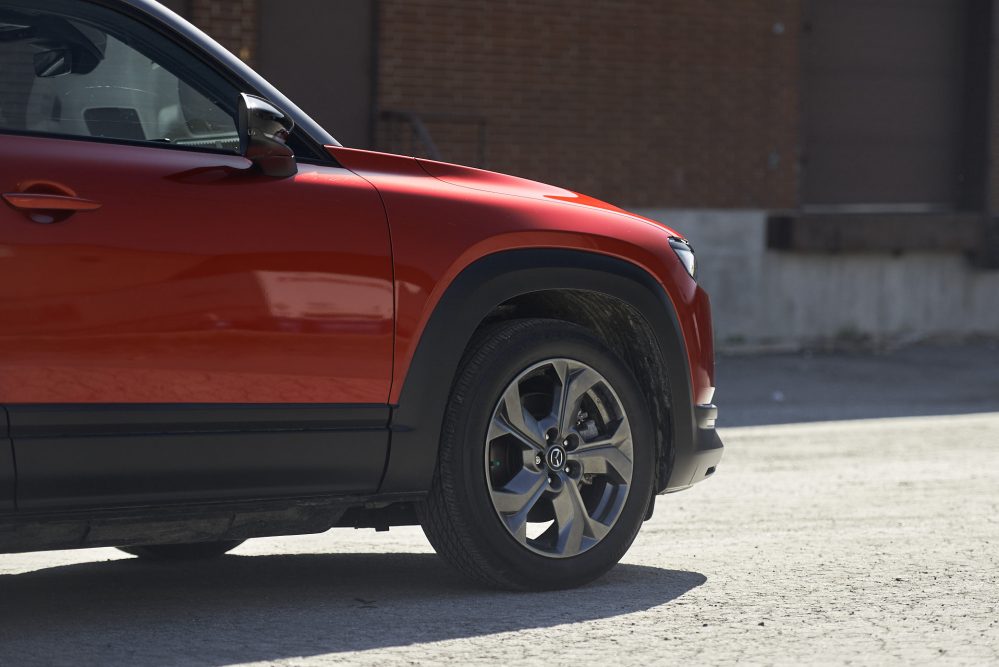 Now, at this point I'd like to say that when I drive EVs on the highway, I don't drive them slower than ICE cars. I know, a slower cruising speed improves range in an EV. But I always set cruise control at 118 km/h, no matter the model. That's the legal limit at which we can drive on highways here in Quebec.
To my astonishment, at that speed, the MX-30 started consuming energy like a hog. It was pulling an average consumption of 28 kWh/100 km. I mean, I've seen better from a Ford F-150 Lightning. This extreme energy consumption obviously affected my range, forcing me to stop along the way to charge up the beast. Luckily, I live in a province where there's an established public charging grid with quick access to fast chargers at a decent price. So I hooked the MX-30 to a 50 kW charger (the fastest it can accept) and went shopping for a pair of jeans.
One of the benefits of having such a small battery is that it charges quickly. That would be true if the MX-30 actually charged at 50 kW. When I looked at my app, the car never went over 12 kW of charging power. Very disappointing.
About 30 minutes later, I hit the road again with a battery at 80% charge (it's not recommended to fast charge past 80%). Out there in the wild, I did appreciate the MX-30's refined and upscale feel. Although small, it takes in road imperfections like a champ, feeling like a much more expensive vehicle than it actually is. Sadly, it all ends there. The MX-30 isn't fun to drive like other Mazda vehicles. It's feels clumsy on its wheels, with no sense of actual chassis and/or suspension calibration. And it's slow. Dead slow. You just never get that kick in the pants acceleration you get from other electric cars of this price range.
The rest, well it's typical Mazda stuff in the sense that the MX-30 has a pretty cabin, complete with impeccable build quality and neat sustainable materials, like recycled cork on the center console and recycled plastic for the seats and door insert fabric.
All controls are well laid out and easy to grasp, and Mazda's infotainment system, thanks to its BMW iDrive style center command wheel, is one of the most intuitive in the business. Overall seat comfort is also rather impeccable in an MX-30, even out the rear.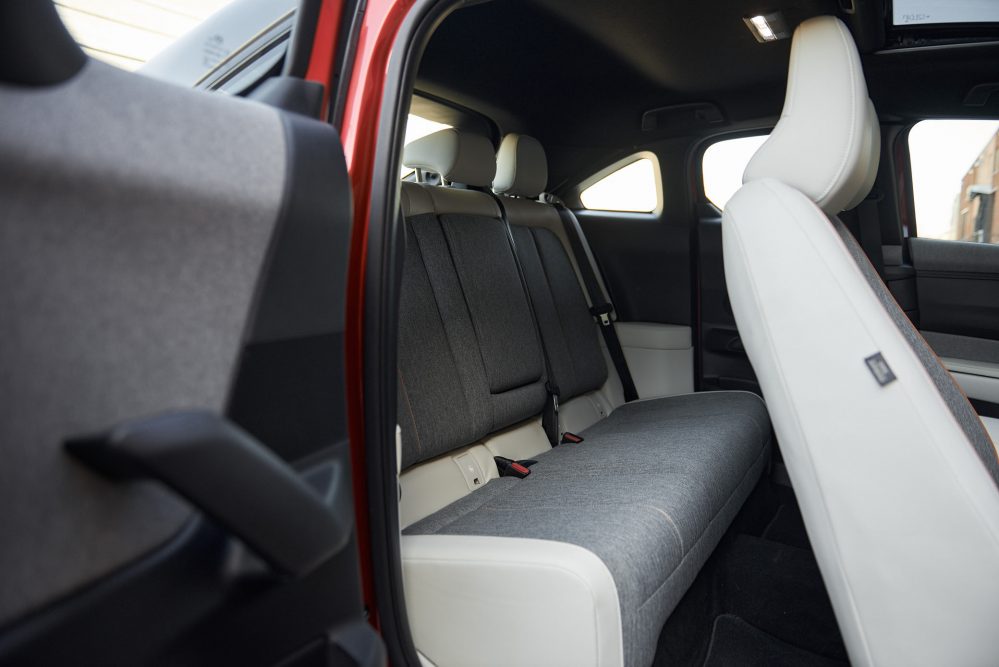 The 2022 Mazda MX-30 isn't the most practical SUV due to its size, but those suicide doors do help hopping out the rear. When both are open, there's a massive opening that also makes sitting up front a breeze. That being said, they do cause a massive blind spot when driving the car though.
Finally, cargo space is only rated at 1,080 liters when the rear seats are folded flat. That's significantly lower than a Kona Electric (1,297 liters), but at least still more spacious than a MINI Cooper S E (731 liters).
Look, the 2022 Mazda MX-30 isn't all that bad. The problem is that it's just way too expensive for what it offers. If Mazda had the means to shave $10,000 off its entry price, this vehicle would make much more sense. But at 50 grand for such lamentable specifications, the MX-30 is just not competitive. And that's sad, because this Mazda shows just how difficult the switch to electrification is for the smaller carmakers. Here's to hoping little Mazda will do what little Mazda does best: reengineer the shit out of this thing so it can finally punch above its weight.
Clavey's Verdict
Review of the 2022 Mazda MX-30 GT by William Clavey
Electric Crossovers
Looks dashing
Cool and practical suicide doors
Well built and comfortable
Ridiculously low range and charging speed
Slow and clumsy
Way too expensive
Clavey's Corner is located in Montreal, Quebec, Canada. Prices and trim levels discussed in this article reflect the Canadian car market.
Special thanks: Mazda Canada
Photography: Guillaume Fournier
Contact the author: [email protected]