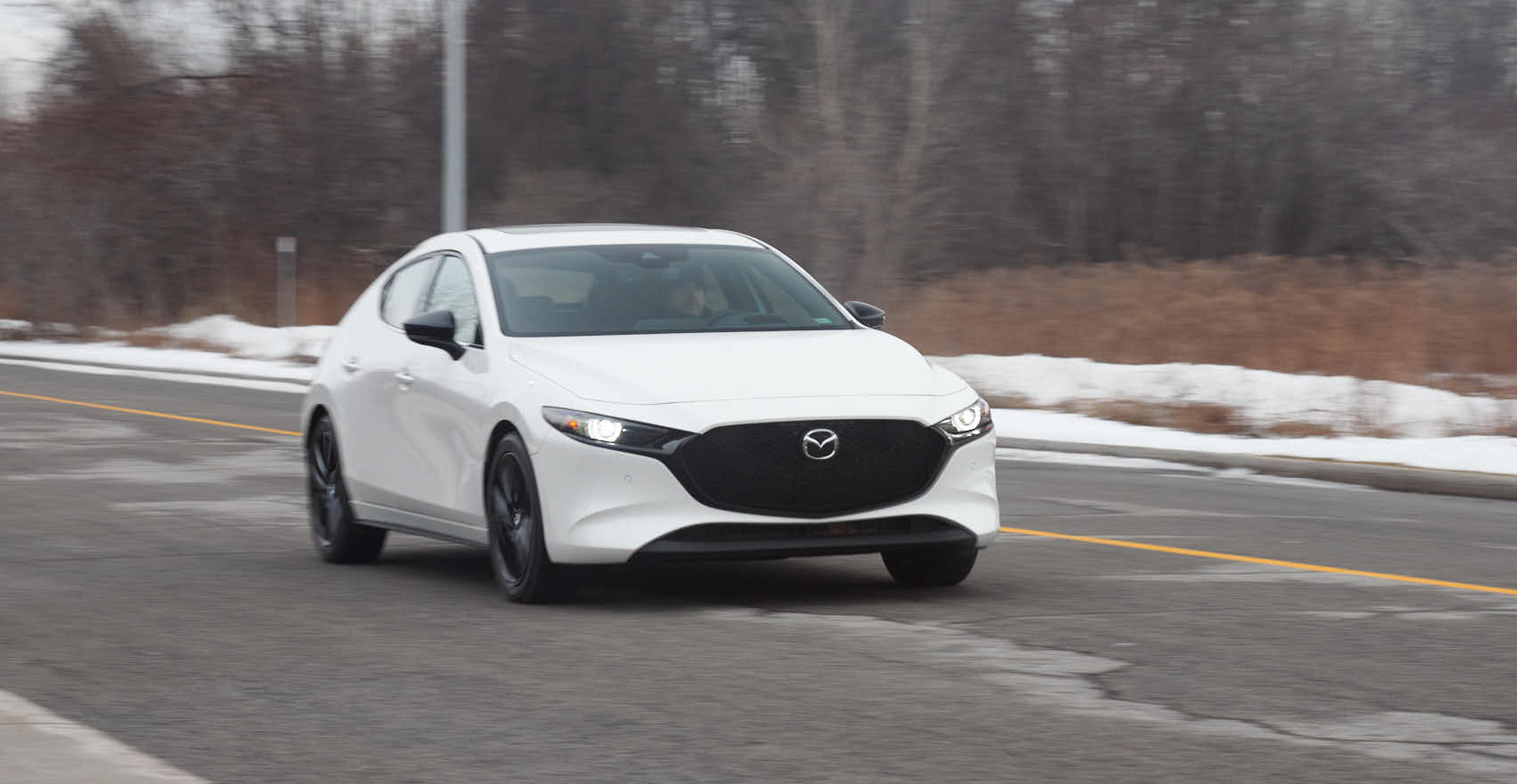 The 2023 Mazda3 Turbo could have been a serious contender to the Honda Civic Type R, the Volkswagen Golf R and the Toyota Corolla GR. Unfortunately Mazda doesn't want to qualify this thing as a Mazdaspeed 3 replacement and, honestly, I don't get why. Because there isn't much missing here to make it one of the best hot hatchbacks currently on sale.
Properly Well Designed
I'm not a fan of this white paint job, but I'm definitely still of fan of the way the 2023 Mazda3 Turbo looks. Four years in, this is still a clean, uncluttered and sensual design, proof that Mazda still cares about what cars should look like, even if they're cheap. Fun fact, when I was assisting the unveiling of this car at the LA Auto Show back in 2019, the folks at Mazda were telling me that it's not because a car is affordable that it can't be well designed.
That resonated with me, because, well, most small cars, the Corolla, the Civic, the Forte or the Elantra for instance, are not exactly pretty. They always end up looking like a soap bar that spent way too much time in the microwave.
But with the Mazda3, there's a coherent design all around, especially in hatchback form (called the Sport), where that rear end beautifully tapers around, appearing to have wide hips and a sports-car-appropriate fat ass. The side profile is a bit weird, appearing like Santa's Little Helper, Bart Simpson's dog. But the front end is all business, sinister, mean and properly sporty. All that's left is a big wing and a more aggressive body kit for this to be truly hot.
The 2023 model year doesn't bring much to the Mazda3's lineup. The Turbo still sits at the top of the trim hierarchy as the fastest, most powerful model you can buy. Power comes from a turbocharged version of Mazda's ubiquitous 2.5-liter four-cylinder. It's rated at a hot-hatch appropriate 250 horsepower and an absolutely bonkers 320 lb-ft of torque.
That's, of course, if you feed the damn thing with 93 octane fuel or higher. All turbocharged Mazda3s come standard with all-wheel drive. Sadly, you can't get these things with a manual gearbox, which is kind of where things start falling apart. The only available transmission is a six-speed automatic. How much does it cost? The sleek white bubble you see in these photos stickered for $37,000. That's still a lot cheaper than a Civic Type R or a Golf R. Then again, it's not exactly those cars neither.
Mature Quick
The 2023 Mazda3 Turbo won't make your heart beat like a Type R or get your adrenaline running like a Golf R, but it is quick and still massively fun to drive. At best, this feels more like an upscale compact car, something like an Audi A4 or a BMW 330i. Mazda claims a 0-100 km/h acceleration time of 5.6 seconds, making this considerably quicker than, say, a Honda Civic Si or even a Volkswagen Golf GTI. Shit, this is actually faster off the line the now gone Subaru WRX STI.Except it's all wrapped up in a nicely packaged hatchback, for better or for worse. Because you see, while the Mazda3 looks like a million bucks from the outside, that design sadly compromises interior ergonomics. For instance, if you're tall, you might hit your head on the aggressively raked A pillar when climbing inside. And when you'll be strapped into the driver's seat, good luck seeing around the damn thing. Visibility in a Mazda3 Sport is absolutely awful. Why the fuck is that tiny rear window so high up on the hatch?But once you've understood that a Mazda3 is a car you don't ride in, but rather one that you wear like a tight piece of clothing, your focus will turn back to the drive, in which case is absolutely fantastic.Steering is impeccably precise and quick to react, while turn in is sharp. The entire chassis feels rock solid, the kind of rock solid you normally expect from a German car. Enter a corner quickly with it, and you'll never know that Mazda replaced the independent rear suspension for a torsion beam. I mean, sure, you will feel some lift back there, but only when truly committing and lifting off, where it gracefully oversteers. In other words, it's a driver's car, but only if you dig deep enough.Average, everyday Mazda3 drivers will mostly appreciate this car's fantastic build quality and feeling of craftsmanship, making them feel like they're driving a much more expensive machine. I mean, check out that red leather! It does indeed look dashing and most of the Mazda3's touch points feel upscale, but there are some ergonomic downfalls, mostly coming from the infotainment system.To manipulate, this system is brilliant in the sense that it allows you to use touch controls when parked and a centrally mounted physical knob when driving. It's very similar to BMW's iDrive system in the sense that it's easy to comprehend and quite intuitive while driving.The problem relies in the fact that, unlike the last generation interface which was actually easy and simple, this one is way too cluttered with information, adding unnecessary complexity in its operation. The Mazda3 also has very intrusive driving aids, which require you to deactivate them each time you drive the car. And the only way to do it is by using the navigation system. That gets annoying, quick.Lastly, while this is a hatchback, making it considerably more practical than the sedan, the Mazda3 Sport isn't exactly a cargo space leader in its respective segment. Open up that hatch and you'll only get 374 liters of cargo space. This puts the Mazda3 at the bottom end of the hatchback spectrum.So let's wrap this up. The 2023 Mazda Turbo looks amazing, drives great and pulls hard, but doesn't attract too much attention to itself while doing it all. It's however not the most practical hatchback on sale and sort of ergonomically challenged. You might also hate it if you're big like me. But then, there's also a lot to like about a stealthy hot hatchback. Sure, Mazda should stuff a manual transmission in this thing and fit it with a larger wing. But hey, at least Mazda stills offers power at a decent price. At the end of the day, isn't that what enthusiasts really want?
Clavey's Verdict
Review of the 2023 Mazda3 Sport GT Turbo by William Clavey
Sport Compact Cars
Quick off the line
Killer looks
Premium build quality
Deserves to be louder
Ergonomic downfalls
Not the most practical hatchback on sale
Clavey's Corner is located in Montreal, Quebec, Canada. Prices and trim levels discussed in this article reflect the Canadian car market.
Special thanks: Mazda Canada
Photography: Guillaume Fournier
Contact the author: [email protected]