Remember when we were all locked up at home at the start of the great pandemic? That's when I bought the 2006 MINI Cooper. And not because I had been dreaming of owning one for some time. I didn't even know I wanted a car before the virus invaded our civilization. Plus, due to my job, I don't really need to own a vehicle. The old Camry does the day to day heavy lifting. Add to that the fact that one, sometimes two press cars are parked in my driveway each week, and it's fair to say my girlfriend and I are well served with cars. Yet, here I am owning a first-gen MINI Cooper. Here's how it happened.
Actually MINI
I chose to park my 2006 MINI Cooper next to the electric MINI Cooper SE during its photoshoot just to show how mini it actually is. Obviously my car is a bit further behind the SE in the picture above, but you get the idea. New MINIs are enormous next to the R50, which is  part of the reason why I bought it.
The more new cars I drive, the more I feel a desire to look back at older, simpler machines. And the more I drive ultra powerful vehicles, things like BMW M5s or McLaren 600LTs, the more I appreciate slow, underpowered automobiles. More importantly, in a world of automatic transmissions, complicated traction control systems and electrification, I'm more and more attracted to cars that make me smile, cars that let me drive the shit out of them and that transmit some form of emotion through their steering wheels. New cars may be fast, but very few of them are actually rewarding to drive, let alone small and lightweight.
My search for a weekend toy came up during the darkest hours of the pandemic, when everything was shut down and many of us, including myself, wondered if we'd ever get back to our jobs. In my case, the lockdown meant all of my writing gigs had been put on hold and carmakers were no longer loaning me press units to review. So I started panicking and began shopping for a car.
I didn't have a very big budget. I wanted to pay cash, so I limited myself to a $6,000 price cap. I figured there could still be something interesting in that price range that could suit my fancy. I found some old BMWs, some rusted out Hondas and high mileage Golf GTIs at times. I even came really close to buying a late eighties Mazda MX-6 Turbo, until the seller chickened out due to the COVID-19 restrictions. He just didn't want me to come over to his house, even if I told him I was ready to buy.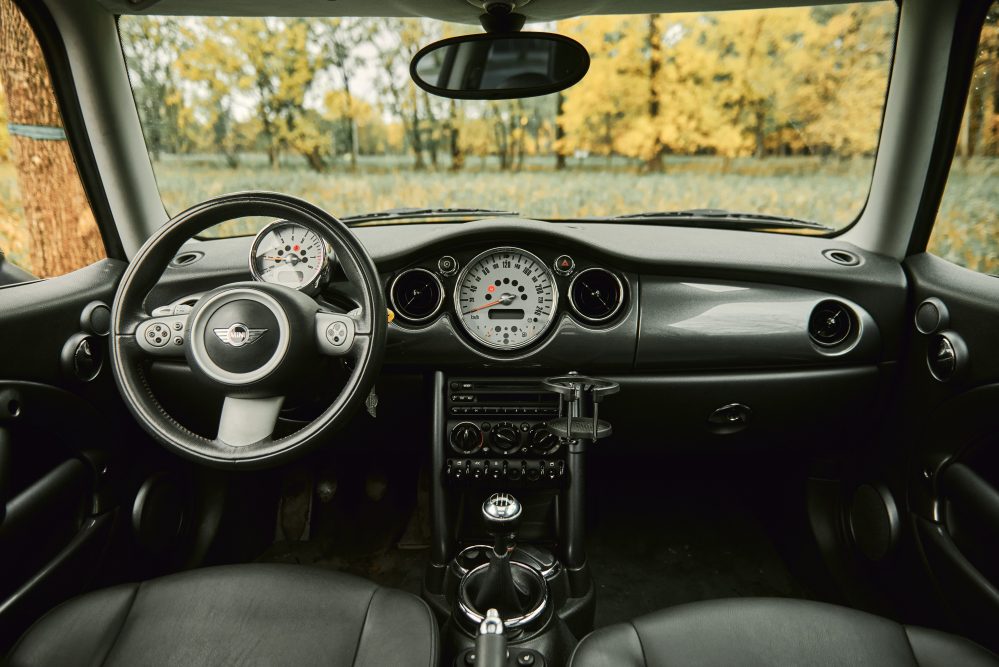 Anyway, as I cycled through the ads, I often spotted some clean MINI Coopers for sale. Some were S', some were not. I've always had a soft spot for the first-generation Cooper. When BMW rebooted the MINI nameplate in 2002, it had hit the nail right on the head by offering a truly small (for its time) hatchback with retro-inspired styling and engaging driving dynamics.
It also helped that the car had been designed by renowned designer Frank Stephenson, the man also behind cars like the Ferrari F430 and the Maserati MC12. And the more of these car I would see on the road, the more I became fond of them for being so small, so cute and so damn British, even if they're actually German. My job has me sold on MINI in general. All of its cars are fun and engaging to drive, even the Countryman SUV. So I ended up finding this Astro Black example (which is actually dark blue) with only 110,000 km on tap, always garage-kept and never winter driven.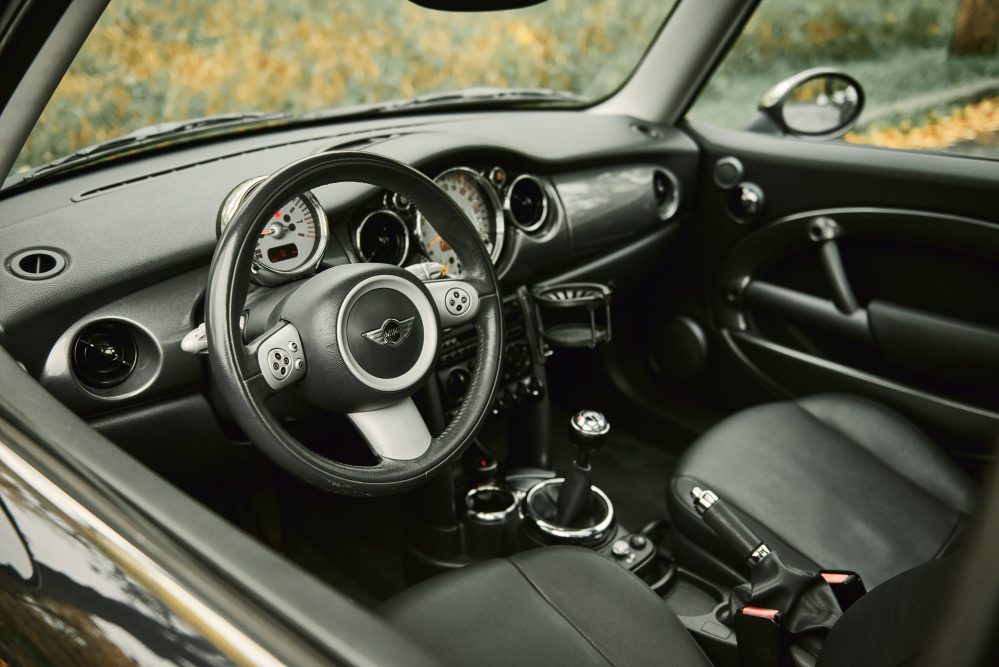 After doing a lot of research on these cars, I learned that they're not the unreliable pieces of shit people have associated them with. You just need to know which one to get. If you can avoid an S altogether, you'll be freeing yourself from most of the known issues. While it's tempting to go towards that 160-horsepower supercharged engine, the cars tend to have been beaten to hell. The supercharger and intercooler setup is also not easy to work on, with several issues related to oil cooling and the blower itself being a royal POS. Naturally aspirated Coopers, while considerably less powerful than their S counterparts, are much more reliable and easy to work on.
Then there's the year. In 2005, BMW overhauled the entire Cooper lineup and fixed much of the badly designed components. The car also got a slight facelift which made it look even nicer, especially from the front due to a different bumper and headlights. All models, including the non-S Cooper got a new and much more solid Getrag manual transmission which replaced the old and god-awful Rover unit. Also, try to avoid automatic cars as the CVT was a ticking time bomb.  My car is precisely the sweet spot of the first-gen MINI Cooper: a 2006, the last year that generation was produced, and with a manual transmission.
Power in these things came from a naturally aspired 1.6-liter single overhead cam four-cylinder good for a lukewarm 120 horsepower and 110 lb-ft of torque. There's absolutely nothing impressive about this engine, and the only thing separating it from an S is the lack of a supercharger. There isn't even any form of variable valve timing in this thing, but it does have a cast iron block which makes it very easy to boost using either a blower or a turbo kit. There's also a wide variety of aftermarket support for this engine, with relatively cheap mods that can bring it up to a more respectable 150 horsepower. It's a lighter, simpler setup, as well. Considering that the car only weighs in at 1,038 kg with the panoramic roof, you don't need much to turn these things into fire-breathing pocket rockets.
Driving a 2006 MINI Cooper is loads of fun, even if its heavily underpowered. I recently added a few bolt-on parts, a Bilstein B14 coilover kit (not featured in the photos), a cold air intake and a Milltek cat-back exhaust. It definitely helps give the car more pep, but it'll need an ECU reflash, a full header system and an ignition system refresh kit for it to really fly.
Handling is impeccable, with a stiff suspension, very low body roll and a quick, direct power steering system as well as a short-throw manual shifter with crisp cog engagement. And of course, there's the way the Cooper looks as it's driving down the road. It's just one of those timeless designs that's starting to age gracefully. It's the same story inside, where the large circular speedometer stays true to the original 1960s MINI.
I'm not expecting my car to appreciate in value, nor become a collectible. Too many of these cars were built for that anyway. But it's a car I love looking at and driving, one I often prefer taking out for a spin than the $100,000 soulless machine that sits in my driveway. This is why my R50 will always hold a special place in my heart.
Clavey's Corner is located in Montreal, Quebec, Canada. Prices and trim levels discussed in this article reflect the Canadian car market.
Photography: Guillaume Fournier
Contact the author: [email protected]