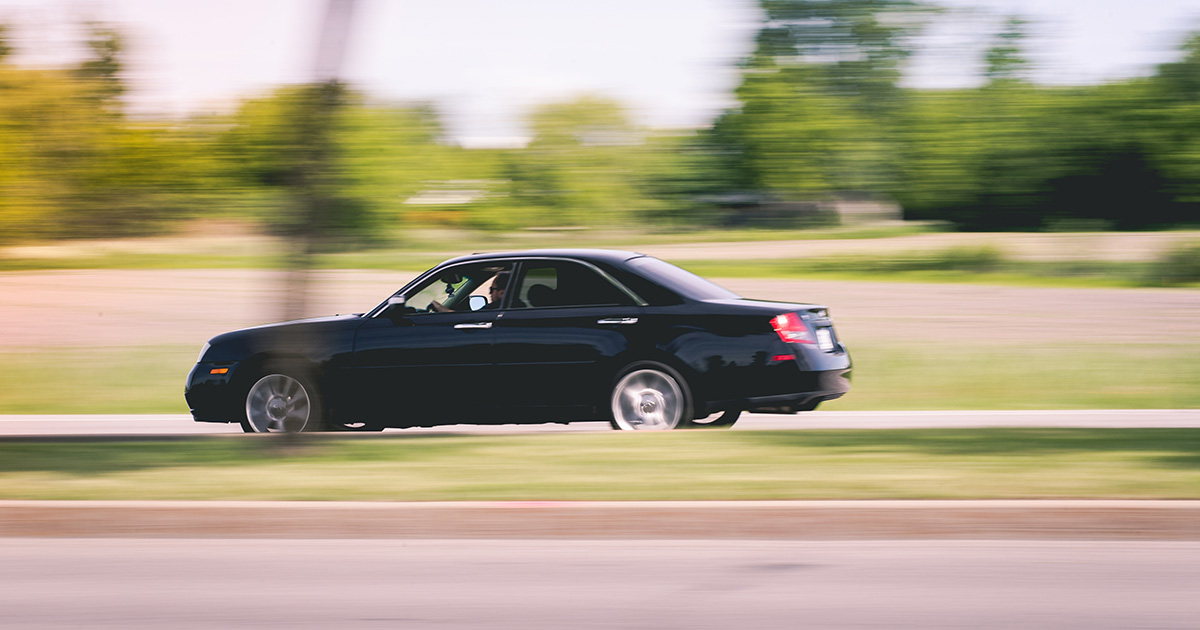 The 2003 Infiniti M45. It's one of the best used sedans you could buy right now, and I bet you never heard of it. By far, it is one of the most intriguing cars to have ever come out of Japan – and Jalopnik would agree.
So what makes this thing so special?
Well… simply put, the M45 is a prime example of what happens when a carmaker becomes desperate – when the engineers push over the bean counters and make the decisions. It's also proof that a good car launched by the wrong brand at the wrong time can still become a sales disaster.
The 2003 M45 wasn't created because a board meeting demanded it: it existed because it had to.
Anything with a V8 Wins
Before I actually start reviewing the car, let me begin with a bit of history.
You see, 2003 was a glorious year for Nissan/Infiniti. Just the year before, they had revived their iconic Z car with the return of the 350Z. Built on the flexible FM platform, the Z then gave birth to the exquisite G35 in both sedan and coupe trims; a car that quickly became the official first serious Japanese alternative to the BMW 3-series.
Then came along the FX35: a weird car/truck/moon vehicle contraption based on the same platform as the Z and G35. It combined SUV practicality and sports car performance, and was the inception of the entire luxury sports crossover segment we all take for granted today.
Needless to say, Infiniti was on a roll. But a key element was still missing in their lineup: a midsize sedan.
Sure, the brand did have a flagship: the full-fat, schizophrenic, machine-gun headlight, V8-powered Q45. An impressive car from Infiniti, but a 5-series competitor it was not. That's when Infiniti lost their marbles and pulled one of the most ego-fuelled rushed jobs ever seen in the automotive industry.
What they did was call over a midsize sedan from Nissan's JDM range of vehicles. It was named the Gloria, or the Cedric depending in which dealership you bought the car. The Gloria was nothing special. It was a ho-hum sedan packing a meagre V6 under its hood and styling that, as Car and Driver magazine so eloquently put it, looked like "one of those anycars patched together for bank ads".  But I disagree. I'll get back on the  styling later.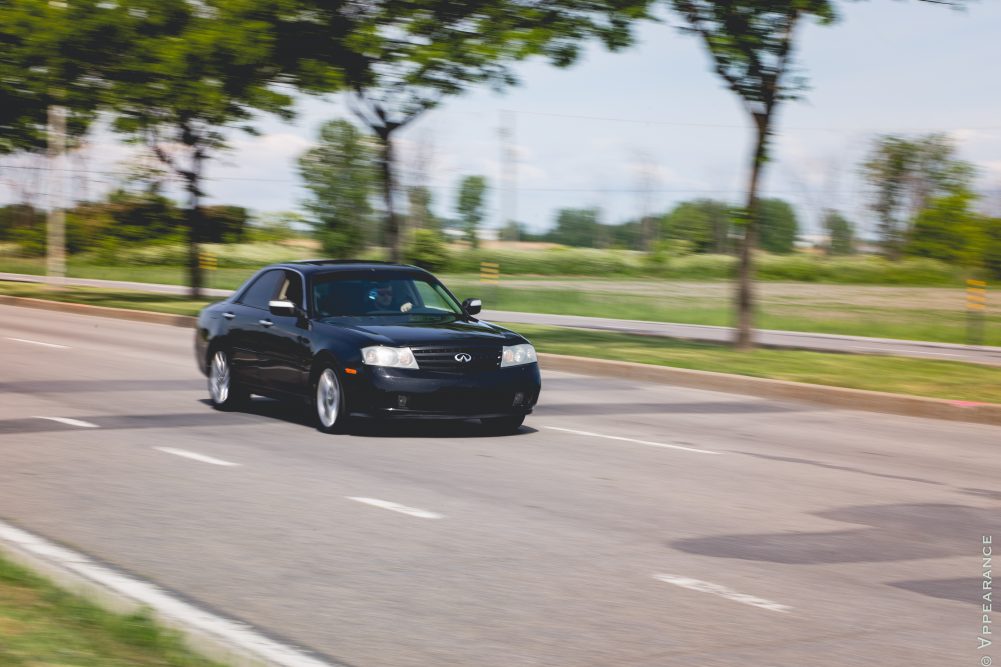 What's important to know is that the Gloria, like the G35 and 350Z, was also built on the FM platform. That means it was rear-wheel drive.
But here's the really juicy bit: after the car was shipped over to North America, Nissan/Infiniti ripped out the crummy V6 engine and replaced it with the Q45's 4.5L V8 (VK45DE).
And boom. Suddenly, the M45 was born.
A Japanese Muscle Car
Let me make this very clear for you: the Infiniti M45 is fitted with a 4.5L Japanese V8, pumps out 340 hp, 330 lb-ft of torque, sends the power to the rear wheels via a 5-speed automatic, and accelerates to 100 km/h in under 6 seconds.
Still not convinced this is a future classic?
Check out the way this thing looks. Sure, critics might have called it bland when it was released, but they were wrong. Or quite possibly drunk. I have always loved the design of the M45, and it has aged beautifully.
It just looks so different.
There's something about that strong, angular, and simplistic design–long hood, squared-off cabin, and drop down rear end–that really gives it the proper gangster treatment.
Actually, the M45 feels like a vehicle that came from another dimension. I'm thinking Grand Theft Auto or something. You know how some cars in GTA don't look like anything you've ever seen on the road, but still look awesome?
That's the M45. The car from another world.
And in a sense, it kind of is from another reality, because it was only produced for 2 years, from 2003 to 2004. So yeah, good luck finding one.
And then, there's the way it drives.
Unlike the Japanese-only Gloria, which uses the same suspension setup as the 300ZX, the M45 is fitted with the 350Z's more sophisticated suspension layout with springs that are mounted independent from the shock/strut, and sit directly on the lower arms.
This all basically means that when you switch traction control off and slam the go pedal, the M45 happily wags its tail and will easily take part in massive burnouts and powerslides.
And unlike modern Infiniti models, traction and stability control can be completely turned off in this one.
Transmission wise, it's a straightforward 5-speed automatic with manual mode that, I'm surprised to say, does a fantastic job for a 13-year old setup. Just leave it in D, and forget the manual mode. It goes about its business wonderfully, downshifting precisely when you need it the most, without any of the frantic downshifts normally associated with auto boxes from that era.
That Orange Interior Though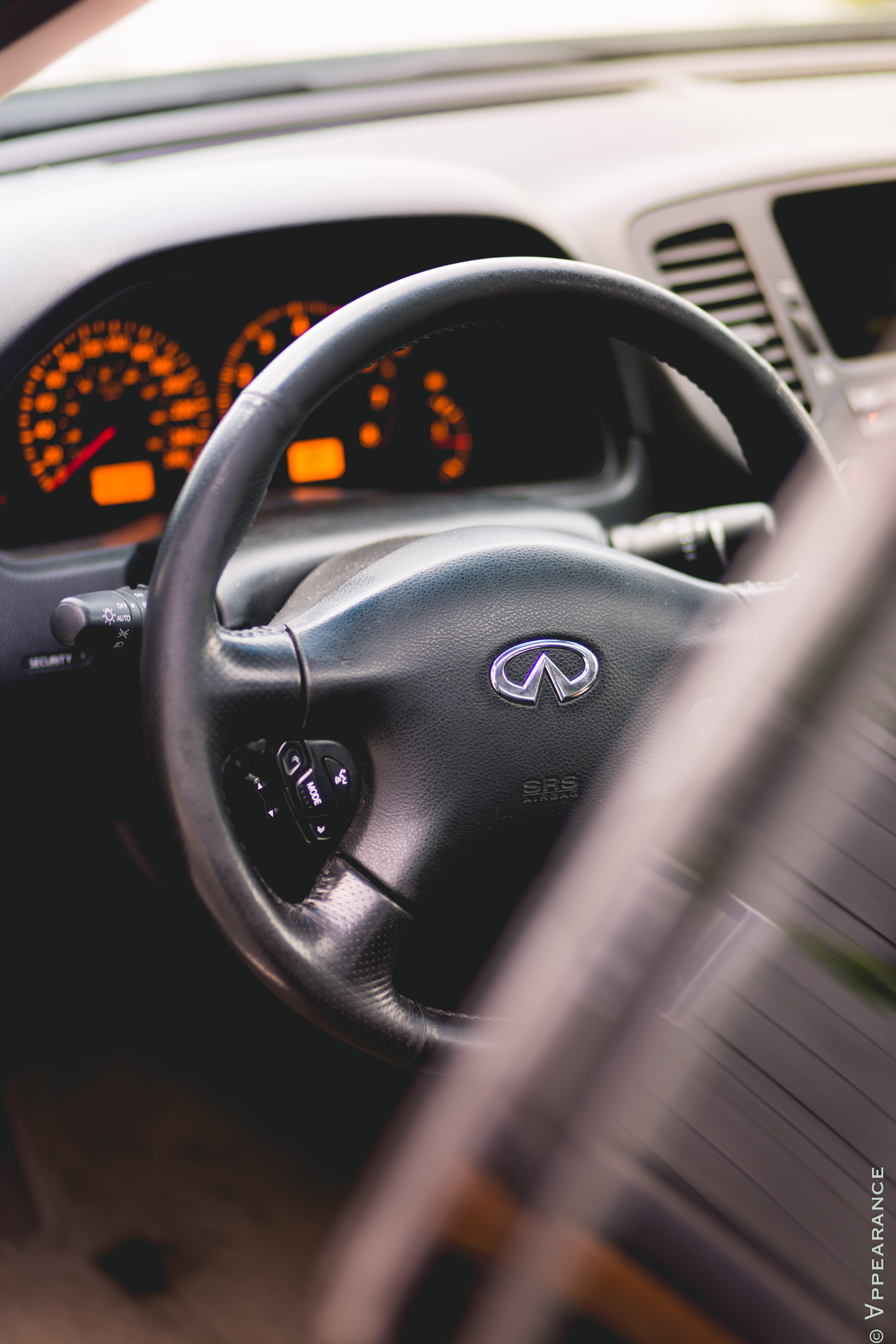 Where the M45 failed to impress in 2003, was in its interior and overall refinement. The centre stack is a mess. Taken from the Q45 , it's a mashup of unintuitive buttons, unreadable readouts, and an overall awkward layout that doesn't make much sense.
Then there's the LCD screen whose graphics have aged horribly, of course. Perhaps if Infiniti hadn't used orange on black illumination with a font taken from The Nightmare Before Christmas, it would have aged a bit better.
It's impressive how much technology you'll find in a 2003 Infiniti M45. There are heated and cooling seats, voice command, steering-mounted volume controls, radar-guided cruise control (!!), navigation, satellite radio, and an integrated 6-disc CD changer (not that you'd care now with all the Bluetooth gizmos, but still impressive considering its age).
There's even a tape deck. A freakin tape deck. For those old school Eazy-E tapes maybe? I said it, gangsta treatment.
On the road, the M45 feels solid and well planted, but you do feel its size as it wallows about over road imperfections. The suspension leans more towards comfort than German sports sedan stiff.
But who cares right? There's a 340hp Japanese V8 under the hood.
Find One and Keep it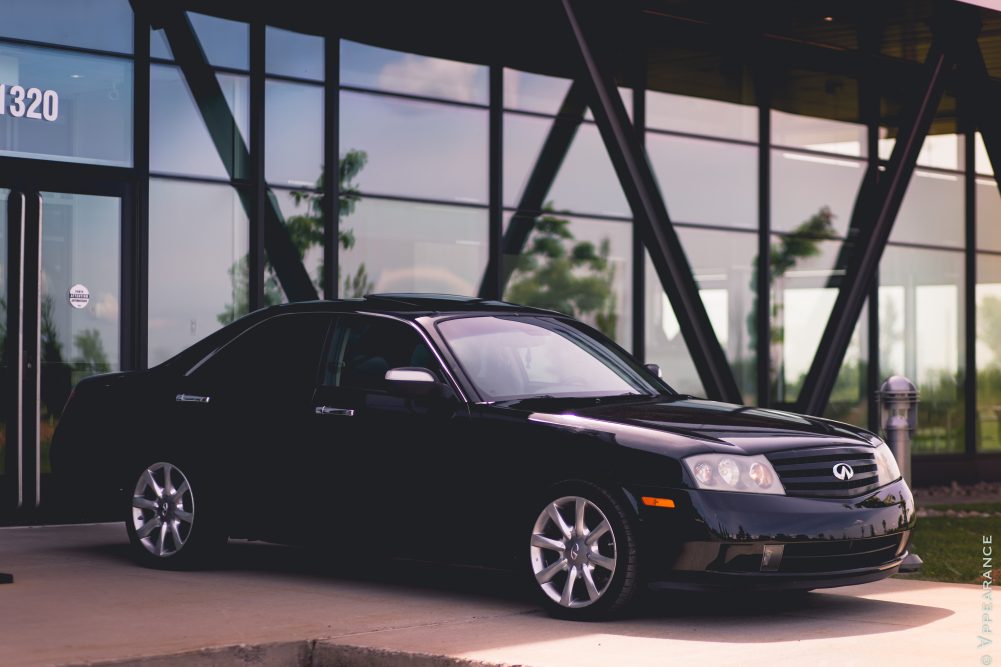 I think as automotive enthusiasts, we all must do our best to find a 2003 Infiniti M45 and keep it alive. Or contact Rémy, the owner of this fine black specimen. Who knows, it could be for sale.
Here's another interesting fun fact about the future classic M45: it's Japanese, which means it doesn't break down, unlike a BMW or Mercedes. This particular example has 222 000 km on tap, the leather seats still look as sharp as day one, and so does the rest of the interior in general. The body is rust free, the engine still pulls hard, doesn't burn oil, and apart from an air conditioning compressor and a rear tire rod that need to be replaced, the rest of the car is in surprisingly good shape.
Prices for a 2003-2004 Infiniti M45 are all over the place at the moment but tend to hang in the 10k to 15k range, which is a hell of a deal considering the performance, luxury, and presence the car will bring you.
To sum it all up, if you're looking for a used performance sedan that will fly under the radar and make a Ford Mustang omelet for breakfast, you need to get a 2003-2004 Infiniti M45. It's the best performance sedan you've never heard of.
---
Clavey's Corner is located in Montreal, Quebec, Canada. Prices and trim levels discussed in this article reflect the Canadian car market.
Special thanks: Rémy Deschênes – 2003 Infiniti M45
Photography: Appearance
Contact the author: [email protected]
Like Clavey's Corner on Facebook
Instagram: claveys_corner