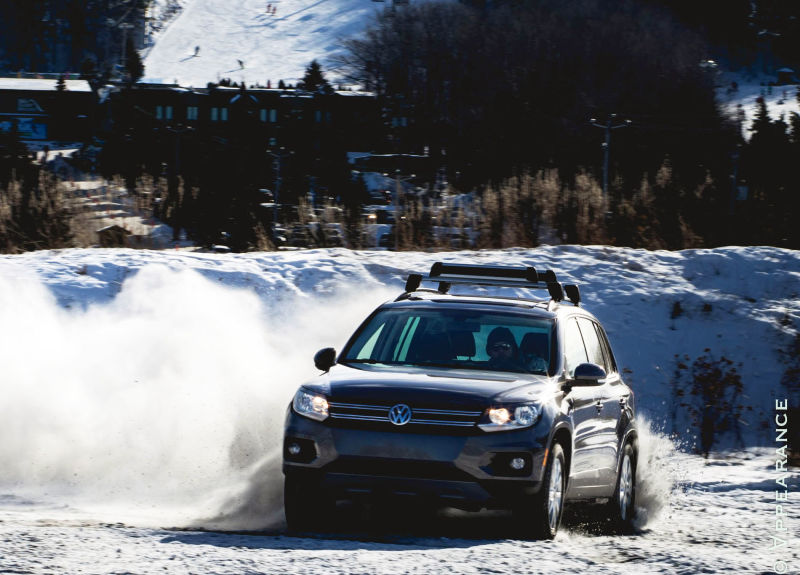 Clavey's Corner is pretty familiar with the Tiguan, as it just so happens to be our camera car. Yes, those YouTube videos and blurry driving pictures are shot in a 2011 VW Tiguan which carries everything from camera equipment to laptops and serves both as an office and a Tim Horton's coffee cup recycling bin. We've come to appreciate the Tiguan's practicality and fun to drive demeanour. And thanks to an APR ECU upgrade, our Tiguan does a surprisingly good job at keeping up with Alfa Romeos and M3s.
So, what has changed since 2011? The Tiguan has had a facelift since then, and 2016 will be its last year of production. A new Tiguan built on VW's MQB platform is scheduled to arrive early next year. Until then, the question is: does the ageing Tiguan still have what it takes to remain competitive in the quickly evolving compact SUV segment?
Showing its Age
The automotive industry is evolving at such a rapid rate that it's hard to remain fresh nowadays. A model that spans for over 5 years is now considered old for any carmaker. When the Tiguan came out in 2009, it was almost a unique breed. Today, the compact and new sub-compact SUV segments have exploded for all carmakers. Mazda, Honda, Jeep, Fiat, Chevrolet, Nissan, and even Mini now offer an aggressively priced and well-equipped cute-ute based on a successful car platform.
That being said, after spending some time in a fun and cheerful Jeep Renegade a few weeks back, one of the Tiguan's recruit competitors, the first thing that strikes you when you sit inside the Volkswagen is how much it's already showing its age. While the Jeep's interior was all about "cool," "check this out", and "well-played", the Tiguan's interior is more about "meh", "boring", and "why so serious?"
However, fit and finish as well as build quality are still the Tiguan's tour de force, with high-quality materials and an all-around solid fit and finish feel. But with its grey on grey colour combination, vertically stacked ventilation vents, and unintuitive infotainement system, that interior feels incoherent and bland.
There's also a problem with the way you're sitting in the Tiguan, where that awkwardly slanted dashboard makes you feel like you're driving a milk truck with a weird seating position that makes you feel like you're sitting on top of the seats rather than inside them.
What I'm all about is this: when you're sitting behind the wheel of a German vehicle and you're thinking: "the Jeep's interior was more comfortable and better appointed," something is definitely not right.
Especially if you've sat in Volkswagen's most recent offerings, such as the MQB Golf or new Passat. These cars are fitted with some of the most beautiful interiors in their respective categories.
Simply put, when you sit inside a Tiguan, you realize that it comes from a completely different generation of Volkswagens.
Essentially a GTI on Stilts
Thankfully, the Tiguan makes up for that with the way it feels on the road. Still using the Golf V's platform (called the Rabbit back then) and powered by the same 2.0-liter, 200-hp turbocharged engine as the GTI, the Tiguan essentially feels like just that: a Golf GTI with a suspension lift.
Road manners in the Tiguan are traditional Volkswagen solid, with a compliant and sporty feel and enough athleticism to make the driving experience entertaining in all possible situations. This is a solid German vehicle with a stiff chassis (sometimes a bit too stiff). Road and wind noise are also rather well subdued, but once again, I've heard better in some of the German automaker's fresher offerings.
My tester was equipped with Volkswagen's 4Motion all-wheel drive system, which comes mated to a 6-speed automatic transmission with sport and manual modes. It's a system that operates smoothly without attracting too much attention to itself. However, it's important to mention that although Volkswagen builds one of the best 6-speed dual-clutch transmissions on the market, it somehow decided the Tiguan didn't deserve it.
Thanks to the turbocharged engine's ability to deliver its 207 lb-ft of torque down low in the rev range, the Tiguan sprints off the line rather quickly and gets around with much-appreciated pep. Enter a bend too fast and you'll feel that 4Motion system pulling the Tiguan back into place, making for a confidence-inspiring driving experience that adds depth to its already well-sorted out chassis.
This little SUV, albeit running on a defunct platform, still feels fresh in the way it drives, making it feel more like a sports car than a truck. That's a refreshing trait in a world filled with soulless automotive appliances.
Find Some Snow
The most impressive feature of the Tiguan is its ability to maneuver in snowy conditions.
Using a Haldex coupling system to transfer the power from front to rear, Volkswagen's 4Motion system in the Tiguan can transfer up to almost 100% of the available power to the rear wheels upon demand. It's essentially the same system found in the Golf R. Remove traction control at standstill on a snow-covered surface, hit the accelerator, and you'll feel that torque being transferred to the rear, allowing you to engage the Tiguan in entertaining and perfectly controllable powerslides.
Furthermore, there are no annoying stability control systems to prevent you from having some good old fashion fun.
Unlike the Renegade's system, which boasted serious off-road capabilities, the Tiguan's system is more of a car-based system and is more focused on stability in slippery conditions. And thanks to that raised suspension, you can still count on it to plow through that snowbank during occasional winter blizzards.
Facing Some Serious Competition
Standing on its own, the Tiguan is quite a compelling vehicle. But it unfortunately faces some very stiff competition. Back when it was released, it offered some of the traits of high-end luxury SUV's with a more "mainstream" sales price. The problem is that today, mainstream brands have caught up to the Tiguan's refinement and still sell them with more attractive price tags. I'm expecting the next Tiguan to fix this problem.
Plus, with Dieselgate, the Tiguan has suddenly become a lot more important for VW than they had themselves anticipated.
A 2016 4Motion Special Edition Tiguan like my tester starts at $29 998. It's the entry level all-wheel-drive model. Go for the top trim Highline version with the fancy LED headlights, leather seats, and other shenanigans, and you'll top out at $36 998.
Now, while the Tiguan did get a price drop for 2016, it's still sold for roughly the same price as a larger, more comfortable and better equipped Honda CR-V.
Furthermore, the Tiguan's interior dimensions resemble more those of sub-compact competitors such as the HR-V or Juke rather than those of a RAV4 or a Rogue, compact SUV's who the Tiguan is priced to rival against. The Tiguan also suffers from a mediocre cargo area and rather cramped rear seats. Did I mention how hard those seats are? Even with the rear bench pulled all the way back (very cool feature btw), if you're over 6-feet tall, you'll find your knees hitting the front seats all the time.
To wrap it all up, if what you're looking for in a compact SUV are dynamic driving characteristics, sports car like handling, and German refinement, the 2016 Volkswagen Tiguan still has what it takes to have you served. It's as fun to drive on dry pavement as a Golf GTI and will let you drift it like a rally car on snow-covered surfaces.
However, if value is what you're after, which is usually a strong argument in this segment, the Tiguan unfortunately doesn't deliver. You just don't feel like you get a lot for the price. Truth be told, the American, Japanese, and even Korean competition will sell you much more compact SUV for your dollar.
Clavey's Verdict
Review of the 2016 Volkswagen Tiguan 4Motion by William Clavey

Compact Crossovers

+
+ Sports-car driving characteristics.
+ Impressive all-wheel drive system.
+ Solid German construction.
–
– Disappointing interior, hard seats, and weird driving position.
– Limited rear leg room and cargo space.
– Still rather expensive compared to competition.
---
Clavey's Corner is located in Montreal, Quebec, Canada. Prices and trim levels discussed in this article reflect the Canadian car market.
Special thanks: Park Avenue Volkswagen
Photography: Appearance
Contact the author: [email protected]
Like Clavey's Corner on Facebook
Instagram: claveys_corner