During the week I had my Acura TLX press car, the greater Montreal area was hit by two consecutive snow storms, one ice storm, and probably the harshest cold wave we've experienced this year. The day of our photo shoot, the weather network recorded a face-cracking -38 degrees Celsius after windchill.
Thankfully, my tester was equipped with Acura's remote starter, which worked every single time I asked it to crank over the bulletproof 3.5-liter Honda V6. Acura's SH-AWD system was also put to the test more than once during the storms. With this in mind, I can safely say that the TLX was driven in some of the most demanding conditions Mother Nature can throw at a car.
One Model to Save Two
In case you haven't been following, the TLX replaces two outgoing models in Acura's lineup: the TL and the TSX, two excellent cars which had unfortunately aged into a painstaking mess of incoherent designs and unjustifiable price ranges.
Even Acura didn't know what to do with them anymore.
So, the TLX then. It's here to save the lineup and the first thing you should know is that it's built on a platform that measures the same length as the old TL, but with shorter front and rear overhangs, bringing its exterior dimensions closer to those of the third generation TL (2003-2008), a model which, let's be honest with ourselves here, was the best looking TL ever.
The design language of the TLX is also typical Acura, meaning it's elegant, graceful and understated. Love it or hate it, I find this car to be a rather attractive luxury sedan, much more attractive in fact than the outgoing TL. This is a Honda-typical conservative design, not one that will strike you at first glance, but that you'll learn to appreciate the more you'll look at it.
Up front, you're greeted to Acura's now signature jewel light treatment which not only looks fantastic, but also reinforces the brand's identity.
The Acura chrome shield beak has also been toned down to give the TLX a more coherent front end. I also love the subtle integrated spoiler on the trunk, a hint to the TLX's "performance sedan" claims.
Fantastic Drivetrains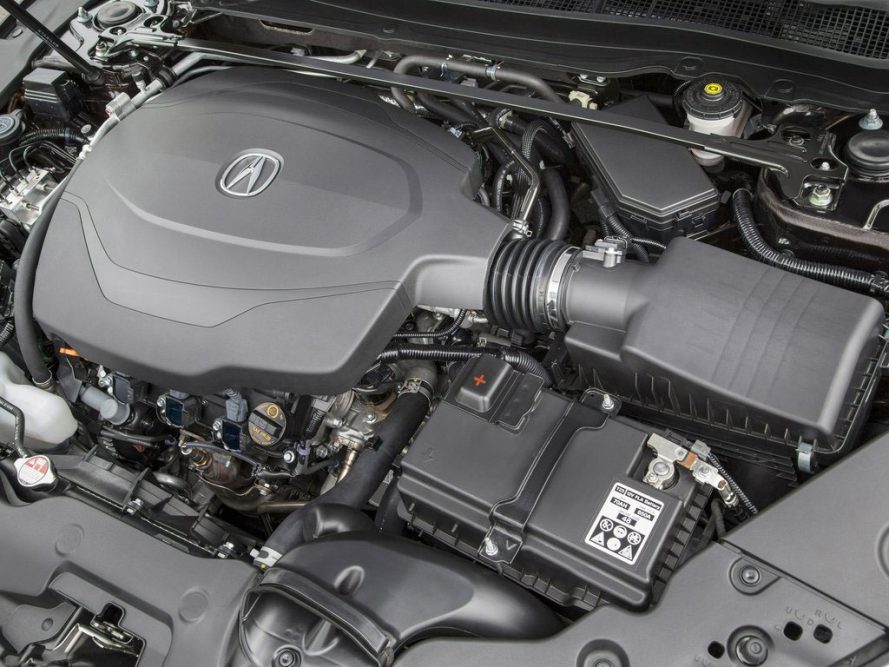 The TLX comes with two available engines. Entry level cars, aimed mostly at TSX customers, are powered by a naturally aspirated 2.4-liter 4-cylinder good for 206 hp and 182 lb-ft of torque. It's mated solely to a dual-clutch 8-speed transmission.
My tester was the top of the line SH-AWD Elite model, equipped with Acura's super-handling all-wheel drive system. SH-AWD comes with only one engine choice, in this case it's Honda's superb 3.5-liter direct-injection V6 that cranks out a respectful 290 hp and 267 lb-ft of torque.
And what an engine.
Not only is it smooth, refined, and energetic, it also sounds terrific, especially when it starts to bark past 5000 rpm when it hits VTEC. It also loves to rev, a traditional trait of Honda engines.
In a world dominated by turbocharged propulsion, the instantaneous throttle response of a naturally aspirated V6 is indeed very satisfying.
Overcomplicated Transmission
Unfortunately, the same can't be said about the ZF-sourced 9-speed automatic transmission, which, because of an unintuitive push-button system and way too many gears, takes away some of the fantastic engine's potential instead of improving on it.
There's Acura's Integrated Dynamics System (IDS), which allows the driver to toggle between Econ, Normal, Sport, and Sport+ modes. Sport and Sport+ stiffen up steering response and recalibrate the transmission to a more aggressive setting. These modes also unlock manual shifting thanks to wheel-mounted paddle shifters, but the system annoyingly still shifts for you when approaching redline and remains somewhat laggy even when the most aggressive Sport+ setting is selected.
In every day driving, when set in Normal mode, the transmission is smooth and refined, perfect for a luxury car. But it's when you try to tap into the TLX's so-called sport sedan credentials that the system seems to take a few seconds to find the right gear when flooring the throttle. I remember the TL being much more reactive to throttle applications.
Once the stupid transmission eventually finds the proper gear though, the TLX does get up and fly. 0-100 km/h for an SH-AWD V6 model takes just 5.8 seconds according to Acura. Now, while these are more than decent figures for the category, it's important to mention that the last generation TL with the 6-speed manual transmission would pull the same stunt in just 5.2 seconds.
Aces Up its Sleeve
Step inside the Acura TLX, and you're greeted to a beautifully appointed interior, exquisite leather seats and Acura-traditional superior fit and finish. Like its exterior design, the TLX's cabin is not one that strikes you with gimmicky design cues, but rather with a sense of functionality, high quality, and precision engineering. This is an interior that will definitely age well.
The cabin is comfortable and surprisingly quiet, where wind and road noises are almost completely subdued, leaving only the wonderful growl of the V6 engine to be heard. It's also very easy to see out of it, making the TLX easy to maneuver and park.
I'm not a big fan of the infotainment system though, with its two-screen configuration and complicated controls which, after a while of cussing at the navigation system when I tried to enter a friend's address, I simply reverted to my smart phone for directions.
On the road, the TLX feels light, agile, and extremely well put together. Road imperfections are absorbed through the chassis without drama. Acura's SH-AWD system is also fantastic, giving the TLX agile reflexes around bends and serious all-weather capability. Give it the micky on a snow-covered surface with traction control off and, thanks to the Michelin X-Ice Xi3 tires Honda Canada had equipped my TLX with, the system immediately finds traction, pushing the car forward with grace. Never once did I feel the TLX running out of grip in the snow.
It will also happily wag its tail under hard throttle over slippery conditions, making for some rather enjoyable drift maneuvers – until the stability control – which can't be completely turned off – comes in and ruins the party.
Also, since this remains a front-wheel-drive biased system with a heavy V6 sitting on its front axle, the TLX does tend to plow forward upon throttle lift off. Even with the engineers' efforts of balancing weight distribution with the all-wheel drive system, the TLX sadly always defaults back to understeer, ruining some of its otherwise dynamic charm.
A Value-oriented Luxury Sedan
So, does the Acura TLX make enough of a ripple in the segment for its German competitors to take notice?
Not exactly.
This thing still needs some calibration to be considered a serious luxury sport sedan. What's most frustrating about the TLX, is that we know Honda can do better. If it were up to me, I'd mount that glorious V6 longitudinally and send the power to the rear through a 6-speed manual gearbox.
Nevertheless, I must confess, I really enjoyed this car, one that I would myself consider buying, even with its flaws. The TLX remains a solid argument in the mid-size luxury car segment; a return to form and a big step forward for the Acura brand. It's smooth, comfortable, fast, fantastically well put together, loaded with luxury amenities, and above all, offers a lot for the money.
Prices for the TLX range from $35 290 for a well-equipped 2.4-liter model and tops out at $47 790 for the top-flight SH-AWD V6 Elite version, which comes equipped with an array of advanced technology such as Acura's Lane Keeping Assist System (LKAS), adaptive cruise control, cross-traffic monitoring, and the Collision Mitigation Braking System (CMBS), just to name a few.
Now, consider that an Audi A4 comes naked at $43 200 and a similarly powered BMW 3-series with xDrive begins at $46 850 before options, none of which by the way can boast Acura's stellar reliability record, and the TLX suddenly becomes a very desirable proposition.
Clavey's Verdict
Review of the 2016 Acura TLX SH-AWD by William Clavey

Midsize Luxury Sedans

+
+ Wonderful V6 engine.
+ Comfortable and quiet interior.
+ SH-AWD: impressive in all weather conditions.
–
– Laggy push button 9-speed transmission.
– Unintuitive and complicated infotainment system.
– Front-wheel drive biased drivetrain defaults to understeer.
---
Clavey's Corner is located in Montreal, Quebec, Canada. Prices and trim levels discussed in this article reflect the Canadian car market.
Special thanks: Honda Canada
Photography: Appearance
Contact the author: [email protected]
Like Clavey's Corner on Facebook
Instagram: claveys_corner