Last year, only 55 people bought an Acura RLX in Canada. Fifty-five. Imagine, this means that Acura's flagship sedan is rarer than a Porsche 911, or a Ferrari 488. It's even more ridiculous when you consider that Honda's own NSX supercar is almost just as popular. And that's sad, really, because the RLX is an interesting sedan. It has NSX-inspired hybrid tech. It's properly quick. Comfortable, and reliable, all at a more attainable price than its European rivals. Yet, people don't give a crap.
Last year, the car got a major facelift. I'm not sure if that's going to help it stay alive, but I do know the RLX deserves more attention.
Hidden in The Corner

Now, I know sedans are taking a beating to SUV's these days, but if Acura made more publicity about this car, people would probably take it a little more seriously. There are no commercials, no online promotions, barely no cars on the press fleet for journalists to review, and good luck finding one at your local dealership. If you happen to spot one, it's probably been collecting dust for quite some time.
Also, why isn't this car called the Legend anymore?
Anyway, when the RLX was released in 2013, it was a big deal. It was one of the first examples of electric motors doubling down as an environmentally friendly solution and as torque vectoring all-wheel drive. Sadly, the sedan wearing the tech was way too subtle for consumers to take notice.
The facelift at least tries to make things a tad more interesting. The RLX now gets Acura's new face, with larger headlights, a reshaped hood, and a now opened-up grille, which, let's face it, is much prettier than that ghastly chrome beak from past Acura's. The wheels are bigger, prettier, and the entire rear end was redesigned, while the interior got a series of cool new contrasting color combinations.
It's a clear improvement, but the RLX sadly still resembles some generic no-name automobile you'd see in a car insurance commercial.
Look Underneath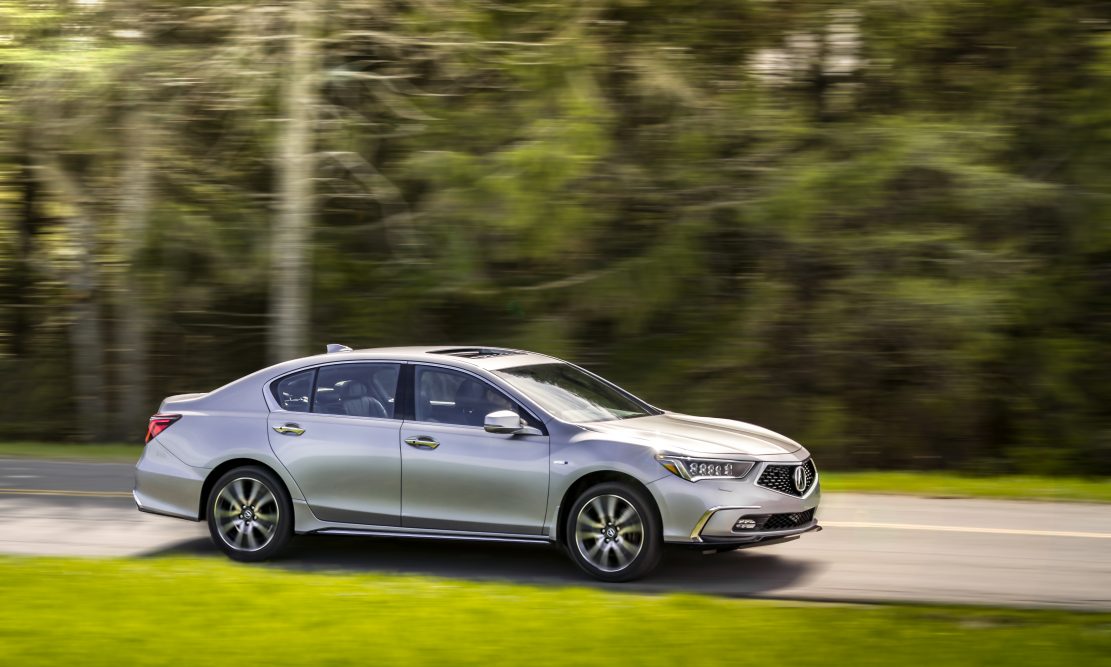 The thing is, to understand the RLX, you need to drive it. Or remove the body to see what's underneath it. Since you can't do that, allow me to explain how brilliant this bit of engineering is.
Located over the front wheels sits Acura's tried and proven 3.5-litre V6, essentially the same one you'll find in the NSX, but without a pair of turbochargers. Squeezed between it and the seven-speed dual-clutch automatic gearbox is a tiny electric motor.
Then, there are two extra motors sitting on the rear axle, one for each wheel. Total power is rated at 377 horsepower and 341 lb-ft of torque, fuel economy; 8L/100 km combined, and Acura claims a 0-100 km/h time of roughly five seconds. Fun fact, Acura used the RLX as a test mule for the NSX. When you look at these two cars closely, they're essentially the same vehicle, except their drivetrains are positioned in different directions. Clever. Cool. But you don't give a shit.
What I like the most is how seamless the entire system is. The RLX is an autonomous hybrid, which means you don't need to plug it in to recharge its 1.1 kWh battery. The car essentially decides when it wants to run in full electric mode, which can be performed up to a speed of 60 km/h, or when coasting on the highway. The transition from gas to electric is seamless.
In a bend, the rear motors apply torque vectoring to minimize understeer. They'll even reduce their rotation speed, or in some cases, turn in the other direction to create yaw while returning energy to the battery. It's the kind of geeky tech I like from a car, innovative thinking that made Honda become what it is today. Too bad it prefers focusing on selling lame crossovers instead…
Just A Damn Good Car
On the road, there's no denying the RLX's hyper smooth and immensely comfortable cabin, both front and rear. Accelerations are quick, but never brutal, it's all impeccably buttoned down. In the bends, the RLX simply claws its way around, and gunning the throttle on corner exit will make that rear end pivot. It's all frankly brilliant, and quite fun.
But don't expect this thing to be a sports sedan, because it's isn't. While that V6 makes pleasing sounds, the gearbox shuffles through gears seamlessly, and the witty all-wheel drive system keeps things well planted, the suspension remains soft. I still don't get why the Honda Civic Si and the Honda Accord get adaptive dampers, but this doesn't.
Then there's the sad reality that up to 57% of the car's weight sits underneath the car's nose. Even with a battery pack squeezed between the rear seat and the trunk, the RLX constantly seeks to dive forward. It'll basically always defaulting to understeer, even if it has Super Handling All-Wheel Drive.
I got to say though, the RLX has a damn fine interior. Subtle – like the car itself – but well put together, hyper comfortable and just the right amount of luxurious. I'm not sure about the fake wood trim here and there, but that Krell sound system not only looks solid, it sounds nuts. Except, it's all controllable via one of the worst infotainment systems ever fitted to a car.
Not only is Acura's two-screen interface an ergonomic mess, it's dated and hyper complicated. Controls are unintuitive, menus are set up in nonsensical manner, and there's no Android Auto / Apple CarPlay compatibility. Also, while that rear bench is roomy for two tall adults, the trunk is tiny for the segment because of that battery pack.
Listen, I know you'd prefer buying that MDX because it makes more "sense", because that's what "everyone" buys, because you want to feel "safe" behind the wheel. But trust me when I say this, the day the RLX will leave us because nobody gave it the attention it deserves, we'll all be complaining that Honda has lost its mojo from selling lukewarm mom-mobiles. We had we wanted. It was the RLX, probably the most Honda car Honda has ever made. If, like me, you still actually care about this thing, you'll be making one hell of a good purchase.
Clavey's Verdict
Review of the 2019 Acura RLX by William Clavey
Midsize Luxury Sedans
A technological tour de force
Impressive handling and acceleration
Comfortable and well put together interior
Generic looks
Awful infotainment system
Small trunk
Clavey's Corner is located in Montreal, Quebec, Canada. Prices and trim levels discussed in this article reflect the Canadian car market.
Special thanks: Acura Canada
Photography: Caleb Gingras
Contact the author: [email protected]