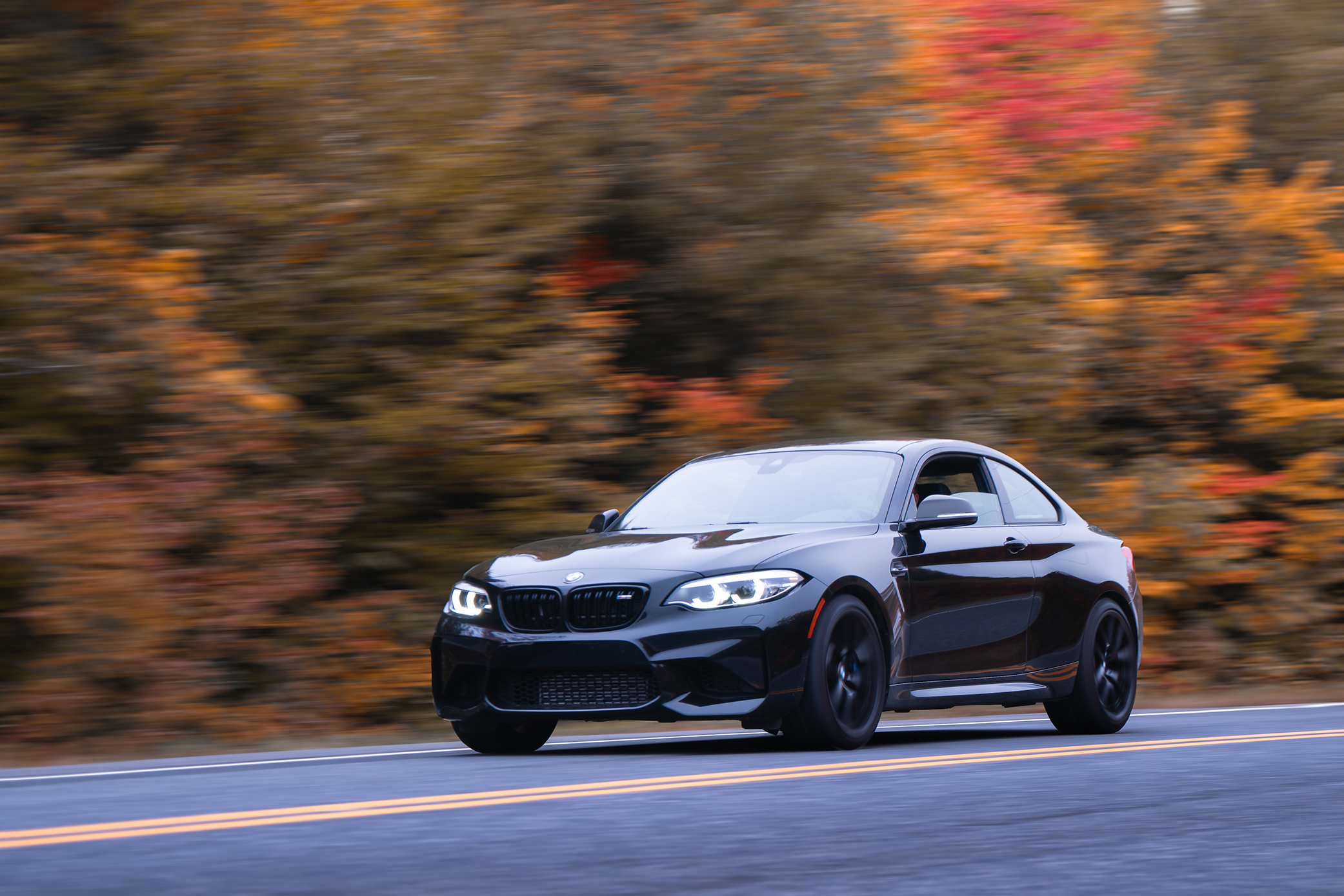 I could sum up my review of the 2018 BMW M2 in one simple sentence: it's brilliant, and you should buy one tomorrow.
Obviously, no one will be surprised to read this, because ever since BMW's baby M car hit the road in 2015, the automotive press has been smothering it with praise, calling it a true return to form for BMW, paying homage to the small and nimble driving machines of the past, what nostalgic automotive enthusiasts constantly nag about on internet forums and Facebook pages.
If you count yourselves among the people who claim BMW has lost its edge in recent years, I strongly recommend you take the M2 for a spin. It's hands down one of the best performance tools currently out there.
All the Transmissions
You got to give credit to BMW; even though the take rate for manual transmissions was only 3.6% last year among North American consumers, you can still get an M car with a stick. Granted, we recently found out that the upcoming BMW 3 Series will only come with an automatic (yet I wouldn't be surprised to see a stick option come later), but there's still hope in Bavaria, because you can get your M2 with three pedals. It actually comes standard on this car.
So when I approached this mean-looking, Black Shadow Edition wide-bodied coupe, adding to an already expensive compact ($65,200) 19-inch blacked-out M Performance wheels, carbon fibre mirror caps, black chrome tailpipes and a carbon fibre rear diffuser, my expectations had automatically defaulted to a stick shift and a clutch.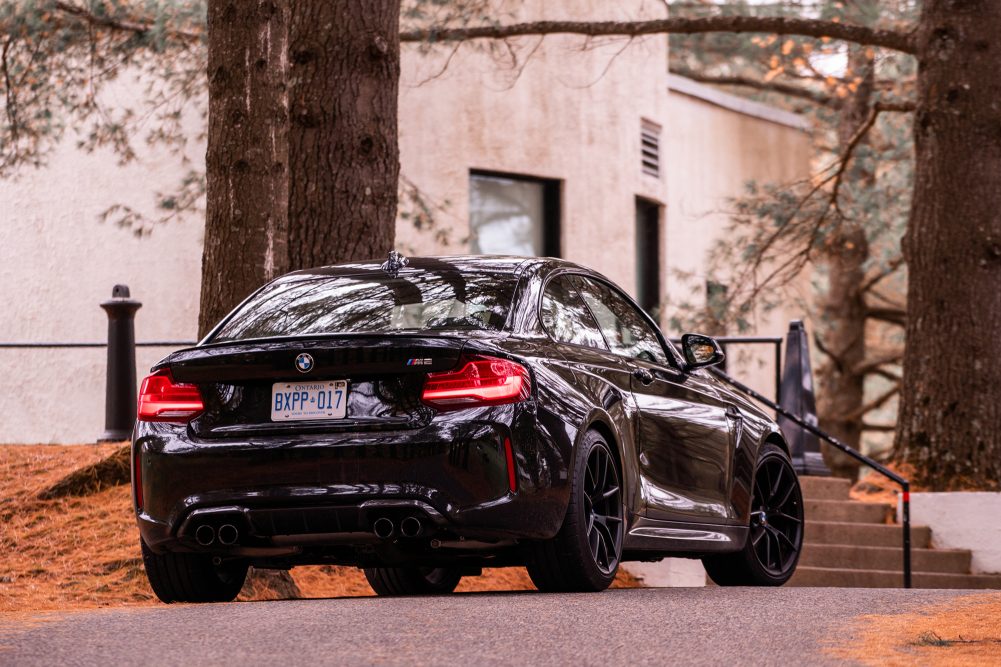 To my astonishment, the press car I picked up was fitted with an automatic gearbox. Immediately, I felt like when I was nine, expecting to receive the super cool Tyco remote control off-road truck for Christmas, to find out that what I had unwrapped was the cheesy, Radio Shack version. Remember the ones that only turned their wheels when going in reverse? That one.
Needless to say, I was disappointed.
But not for long, because the M2 gets a seven-speed, dual-clutch unit. Any automotive enthusiast that enjoys driving will agree that such a gearbox ranks among the best on the market. In some cases, it's even better than a manual for its willingness to shift fast, downshift in an eye blink and not creep forward at an intersection.
When set to manual mode, BMW's DCT can be manipulated with paddle shifters, or the actual gear lever, which conveniently resembles a manual one. Ironic.
For 2018, the M2 receives slight revisions. The car now gets full LED headlights and taillamps, the dashboard gets new materials, there's a updated gauge cluster, and the iDrive infotainment system inherits the 6.0 version, which now comes with touchscreen functionality and improved voice recognition. It's also one of the best systems I've sampled in a car, but I don't get why it's still not Android Auto compatible.
Under the hood, nothing changes, which means the M2 is still powered by BMW's 3.0-litre, twin-scroll turbo straight six good for a claimed 365 horsepower and 369 lb.-ft. of torque. Rear-wheel drive is the only way to go—because M car—and BMW claims it'll sprint from 0-100 km/h in 4.3 seconds with the M DCT gearbox.
War Machine
Everything about the M2 was designed to focus on driving. The seats, the cockpit, the way the shifter's shape slots comfortably inside the palm of your hand, it's all impeccably thought out to put you in absolute control.
Sure, the 2 Series in general suffers from a spartan interior, where you don't get the fancy materials and sumptuous feeling of luxury as in the larger BMW models, but it's still impeccably well put together in there, functional and rock-solid.
This car's best asset really is its almost impossible-to-describe balance between drivetrain and chassis. Set the thing to Sport Plus mode, and the M2 accelerates with unbridled ferocity while your eardrums dance to the beat of a rumbling drum. That engine, obviously, is a masterpiece. Thanks to twin-scroll turbocharging, it responds now—you'd never know it was force-induced—and remains butter-smooth throughout the rev range, providing a linear power delivery, constantly asking to reach its redline.
As you enter the next corner during your favourite back-road drive, you blip the shifter upwards to drop a gear, maybe two. The exhaust snarls and crackles as the car's auto rev match prepares you for the best possible RPM. This is the first time I preferred shifting a dual-clutch gearbox with the actual shifter. It's just so good, and feels so right.
The car grabs the tarmac as it plunges into the bend, as if those massive tires up front were arms extending to each side, anchoring you to the road. You pass the apex, you dig the throttle. The rear end acts up, not in a scary uncontrollable manner, but in an adrenaline-inducing, properly balanced and efficient dance that somehow still manages to propel you forward with angst, slight tire chirps along the way.
The M2 is always telling you what it's doing. Its rear wiggles and the entire car jiggers left and right on rough tarmac, revealing a short, stubby and overpowered platform. Steering is good, turn-in is sharp, but there's less feedback than I would have liked. The ride is stiff all the time, and the sheer fact that BMW will sell you an M240i with almost as much performance for nearly 20 grand less makes you think twice about getting the full-on M car.
Trust me though, this car gets it right. It's worth every penny.
It's rare that I base my review on driving dynamics alone. Most people don't care, don't understand, or won't even actually drive their automobile that way. We live in a world where the car is constantly bashed for being loud, dirty and cumbersome. People buy EVs now. Use Uber to go places, grab the bus or the subway. Because cars have become evil.
The BMW M2 is a rare animal built for individuals that still yearn sensations behind the wheel of a powerful thing, seeking the freedom of driving far without owing anyone apologies, making one with the machine, getting the adrenaline rush of testing the limits and hearing the sounds of what is arguably the best driving machine BMW has ever conceived.
Clavey's Verdict
Review of the 2018 BMW M2 by William Clavey
Sport Coupes
Impeccable chassis tuning.
Furious forward thrust.
Still comes with a stick!
Stiff ride.
Gets expensive, fast.
The more affordable M240i exists.
Clavey's Corner is located in Montreal, Quebec, Canada. Prices and trim levels discussed in this article reflect the Canadian car market.
Special thanks: BMW Canada
Photography: Caleb Gingras
Contact the author: [email protected]