Here's something you probably don't know about the Buick Verano: it's available with a 250-hp turbocharged engine coupled to a 6-speed manual transmission.
Now, that's something none of its newfound competitors can brag about, including the Acura ILX, Audi A3, and Mercedes-Benz CLA.
Of course, this is all part of General Motor's strategy to rejuvenate the Buick nameplate and attract younger buyers into showrooms. The Verano is the poster child for this new brand image of smaller, firmer, and more compelling Buicks.
But there's a problem with the Verano. The gen-y's; the target clientele of young professionals isn't exactly buying Buicks, right? Now why is that?
No Longer Alone
Introduced in 2012, the Verano was once alone in a segment previously unheard of. Today, the compact luxury sedan segment has exploded with fresh new arrivals from Acura, Audi, and Mercedes-Benz.
That being said, the perfectly proportioned and beautifully styled Verano suddenly faces some serious competition. That's why Buick plans on releasing an all-new model some time next year.
Until then, the current car is still based on the last generation Chevrolet Cruze. Now although GM admits that the Verano is built on the same Opel-developed Delta II platform as the Cruze and Volt, it shares absolutely no body panels with its cousins and comes with its own share of Buick-exclusive drivetrains.
In present case, it's the same 180-hp, 2.4 L, direct-injection 4-cylinder as in the larger Regal, mated solely to a traditional 6-speed automatic transmission.
Now, although I would have loved to try that 2.0 L turbo with the stick, the base engine is not as bad as one would imagine. To my surprise, during the 4 days I had this car, the 2.4 L got the job done fantastically well, providing smooth and linear power throughout the entire rev range, plenty of torque down low (170 lb-ft), and more than decent acceleration.
The automatic transmission is also smooth and goes about its business with very little drama, with only occasional frantic downshifts when flooring the throttle.
Unfortunately though, fuel economy is not this engine's strongpoint. I was barely capable of keeping the Verano below a 9.5 L/100 km consumption average.
Whisper-quiet Interior
The first thing you immediately notice when driving the Buick Verano is how smooth and quiet it feels on the road. In fact, Buick has gone through great lengths to make this one of the quietest cabins in the industry with a patent called QuietTuning.
Yes, QuietTuning is actually a thing.
It's essentially a Buick-exclusive engineering process that includes both physical and virtual tests in wind tunnels with thermal and cold chambers and a four-post shaker rig, like the one used in NASCAR.
For the Verano, Buick has fitted the car with an acoustic laminated windshield and side glass, acoustic insulation material on both sides of the steel dash panel, under the hood, in the doors, and in the headliner. There's also a dual-density carpet on the floor as well as triple-sealed doors.
– Woah.
As if that wasn't enough, Buick adds underbody paneling that lowers wind and road surface noise. There are quiet-tuned tires, isolated chassis components, hydraulic suspension bushings, an isolated engine cradle to reduce vibrations, as well as high-strength steel to help eliminate squeaks and rattles.
It all sounds nice and geeky, and actually works, translating into a butter-smooth and soothing experience behind the wheel. In fact, the Buick Verano is by far the quietest car I've driven so far.
Here's another Buick fun fact you probably don't know: Buick ranks as one of the top brands in JD Power Associates' 3-year dependability study.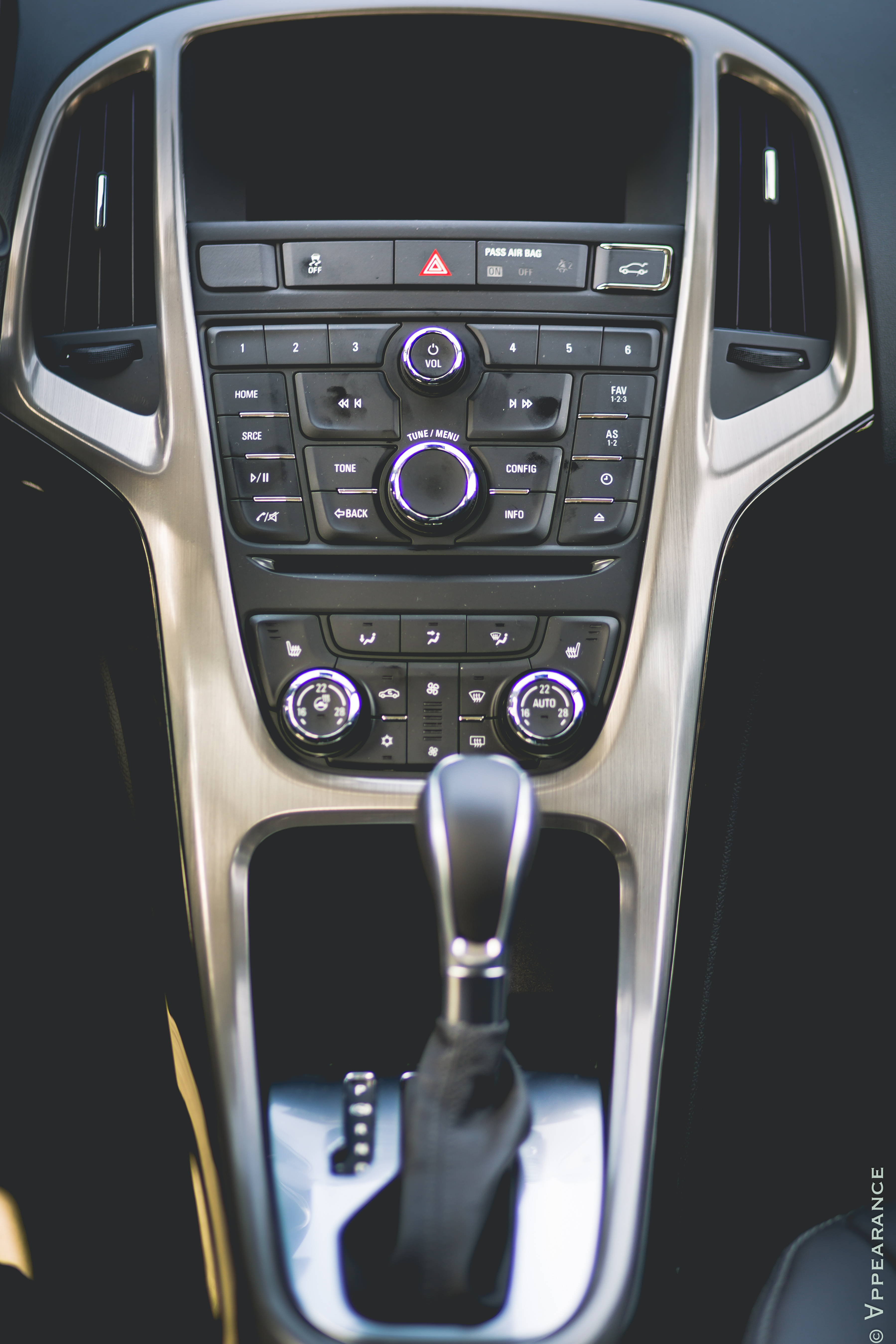 Inside, the Verano is also rather pleasing, with good-looking and comfortable leather seats, satisfying fit and finish, and a button-filled, but easy-to-use center stack. The infotainment system is easy to operate, everything is straight forward, but there are, however, some redundant controls and the graphics can be a tad too intense with their vivid blue color tone.
Forward and rear visibility are also not the Verano's best assets, due to a second A-pillar and a sail window that make it hard to see when turning at an intersection. There's also a rather high rear deck lid that limits the rear view. Luckily, my tester was fitted with a backup camera.
Then, there were the very annoying bits, such as automatic door locks that insist on locking you inside the car, even after disabling the function. There's a very cramped back seat, which is ironic considering the huge trunk. And although the quality of the materials is good, there are occasional hard plastics here and there taken from the Cruze that awkwardly stick out from the door assembly and happen to be perfectly placed to destroy your knees when you get out of the car – ouch!
Polarizing Chassis Dynamics
On the road, the Verano exhibits surprisingly Germanic handling characteristics. Again, I was impressed by how well it drives and behaves on the road. The Verano is actually fun and easy to drive, with quick turn in, ample steering feedback, solid brakes, and an ability to carry speed effortlessly. You get the sense that there is a seriously competent chassis underneath this car that can handle much more power.
But there is also the polarizing stuff. The Verano will enter a corner quickly and stick to the pavement alright, but since the suspension is tuned for comfort, it exhibits rather high body roll and unwanted body motions during hard braking and cornering, preventing it from being a serious sports sedan.
Also, even with Buick's efforts of making this car rock solid, the chassis seems easily unsettled. More often than not, the Verano would quibble and bounce over rough surfaces.
It all basically feels like the people at Buick couldn't agree on how to tune this car's handling. Were they afraid of scaring away the 75+ year-old demographic that's been keeping the brand alive for the past decade?
Cheaper Than Its Rivals
Where the Verano really stands out from the crowd is in its price tag. With a starting price of $26 140, and topping out at just under $35 000 for a fully loaded 2.0 L turbo manual, this little Buick is quite a luxury bargain.
My tester was the Leather 1SL trim, which sells for $31 040. It comes equipped with leather everything, a backup camera, Buick IntelliLink connectivity with, which offers neat features like XM radio and the option of reading your text messages for you; GM's OnStar with 4G LTE Wi-Fi, navigation, electrically adjustable and heated seats, a heated steering wheel, the upgraded 18-inch wheels, and a seriously awesome-sounding Bose 9-speaker sound system.
In comparison, the Acura ILX, the Verano's most direct competitor, starts at $29 490, while its German rivals; the Audi A3 and Mercedes-Benz CLA, both start well over $30 000 before options.
All in all, I can't say I disliked the 2016 Buick Verano, because it does offer a mixed bag of likable attributes. Yet, at the same time, I was left with a lukewarm feeling when I returned it. Somehow, it felt more like a car I'd rent to leave the airport than one I'd actually aspire to own.
There's just something missing to truly make it a desirable compact luxury sedan and in some ways, I felt kind of bad for the little Buick, because there is serious potential here. General Motors just needs to sort this car out, and above all, find a way to sell it to the people it was actually designed for.
Whatever you do Buick, don't get rid of that 6-speed manual.
Clavey's Verdict
Review of the 2016 Buick Verano by William Clavey

Compact Luxury Sedans

+
+ Very quiet and comfortable ride.
+ Competent handling.
+ More affordable than similar-equipped competition.
–
– Dissapointing fuel economy.
– Limited front and rear visibility.
– Lacks the general refinement offered by the competition.
---
Clavey's Corner is located in Montreal, Quebec, Canada. Prices and trim levels discussed in this article reflect the Canadian car market.
Special thanks: Alliance AutoGroupe
Photography: Appearance
Contact the author: [email protected]