The Chevrolet Bolt EV has been with us for three years and people don't seem bothered from driving it in winter.  At least, not here in Québec, where incentives for electric cars are quite high, and the entire province is fitted with easily accessible charging stations.
But fundamentally, the Bolt is selling well because it remains a great value. For roughly $45,000 (before incentives), GM's electrified egg-shaped subcompact will get you 386 km of range on a full charge. It's also rather quick off the line thanks to 200 horespower all while being quite spacious inside. But what is it like to drive during Québec's coldest winter month? I took one out to find out.
Keep Those Batteries Warm
It's no secret that electric cars lose a fair amount of range during extreme cold temperatures, up 30 to 40%.  Now, in all fairness, so does a gasoline-powered car; the engine will consume more fuel once temperatures drop, but those cars have fueling stations at every street corner. Electric cars don't have that luxury, at least not yet.
Chevrolet says the Bolt EV will cover almost 400 km on a single charge, but when I picked up my press unit, the car's onboard computer told me I could only do 225 km. Once the heater, the heated seats, and the rear defroster were turned on – you know, things you turn on in a car in winter – I had only 175 km left.
The trick to maintaining range is to keep your electric car plugged in as much as possible, or if you can, leave it parked inside a heated garage. Unfortunately, that's not everyone's reality, at least not mine. I don't have a garage, nor a home charger, and even if I bought one, I don't have the room at my appartment building to install it.
General Motors does supply a 120V charging cord, but out here in the cold, it's barely enough to keep those batteries warm. Plus it would take 50 hours to charge up my Bolt. Fifty!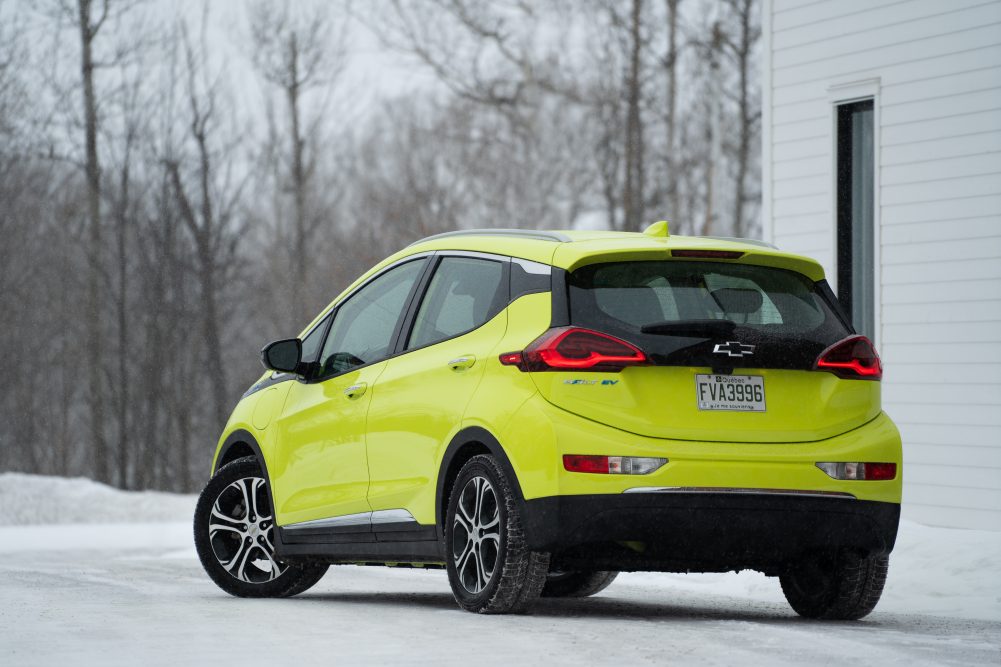 I therefore had to rely on Quebec's clever Electric Circuit network, which helps you find the nearest charger. Luckily, I live just 500 meters from a Level 2, 240V public charger at the cost of $1 an hour. It would take my Bolt nine hours to charge.
The Run
The next day, confident I had a fully juiced electric car waiting for me in the cold, I checked out the onboard computer.  It told me I had 225 km of range available. Well shit.
Still, that would be enough to get me to my destination, which was about 120 km east of Montreal. Plus, my app told me that halfway there, in the town of Bromont, there would be a fast-charging station (400V). So I was fine.
Range issues aside, the Bolt itself is actually pretty fun to drive. That's if you can get past the flimsy plastic interior and questionable materials used to cover its dashboard. But there's a lot to like here.
The low-end torque provided by the electric motor means it's rather punchy when you slam the accelerator, and the little trigger sitting at the left of the steering wheel that enables regenerative braking is strong enough to immobilize the car entirely. There's something pleasant about driving a car with only one pedal.
Now, traction was a bit of an issue on ice. That's inevitable when you're sending this much instant torque to the front wheels. It also didn't help my range situation. But thanks to an extremely low center of gravity due its battery sitting on the car's floor, the Bolt EV is surprisingly well-planted and secure on a slippery surface, which adds confidence when plowing through a storm.
Finding that public charger through my app was a breeze. When I got to Bromont, it promised an 80 percent charge at $10 an hour within 50 minutes. So I got working.
But during that 50 minutes, other EV owners wanted to use "la borne". LEAF owners, Bolt owners, Tesla owners. People basically come up to your window as you wait there in your misty, electrified pod of you, hoping to one day get back on the road, asking how much time you've got left, or straight up demanding, "Can I use it?"
I gazed longingly at the people at the gas station across the street, fueling up in minutes. Once I finally got my Shock Yellow electric car filled up with fresh electrons, I hit the road.
In the Woods
My final destination had no charging station this time. Deep inside the humid wilderness of Canada's Appalachian region, my electric car would have to rely on the electrical circuit of a cottage house built in 1972. With only 56 miles of range remaining, I started worrying the 120V charging cord wouldn't suffice to get me home.
When I woke up the next morning, the cord had somehow worked, and my glowing Chevy told me it could travel 174 km. It was barely enough for me to make it back to Montreal, but at least, I could.
As I sat there by a fire, preparing my body and mind to head back into the persistent clutches of old man winter, I contemplated on the freedoms gasoline-powered automobiles have provided us for over a century.
Electric cars are the future, I have no doubt. My entire adventure had only cost me $16 of electricity, and I had released zero emissions along the way. But as alluring as they are, these cars still have a long way to go before they can convince consumers they're a more reliable source of propulsion than petrol, at least up here in the cold and not in eternally-temperate Silicon Valley enclaves. We've been spoiled by gas-powered cars that can sit outside in savage conditions for days, yet still provide enough freedom to bring us to our destination quickly. EVs can't do that yet, not up here.
Meanwhile, I continue to believe that the Bolt EV is the cleverest car GM has ever built.
Clavey's Verdict
Review of the 2019 Chevrolet Bolt EV by William Clavey
Electric Cars
Good driving range for the price.
Punchy acceleration.
Ample cargo space.
Low-rent interior materials.
Uncomfortable seats.
Significant loss of range in cold weather.
Clavey's Corner is located in Montreal, Quebec, Canada. Prices and trim levels discussed in this article reflect the Canadian car market.
Special thanks: Chevrolet Canada
Photography: Caleb Gingras
Contact the author: [email protected]