Of course, you guys know all about Chrysler's 300. It's been on the market for over 10 years now, featured in virtually every freaking rap video, bling-blinged, stanced, or air bagged. It also happens to be driven by Walter White.
We can safely say that the Chrysler 300 is the official car of bad.
But you already know all of that, it's old news. What you probably don't know is that ever since Sergio Marchionne and the Fiat group took over Chrysler, the 300 has been completely re-engineered into a surprisingly competent machine.
"S" is for Sport, not Shoot
The 300 is now at its third generation, but still sits on the same LX platform that once underpinned the early 2000 Mercedes E-Class.
SRT trims are now out of the picture at Chrysler, for now at least. That's left over to Dodge, which makes sense if you ask me. Instead, the 300 lineup has been cleaned up, sharpened, and split into two distinct trim packages: C and S.
Starting at $42 695 , the 300C is the comfortable, or classic 300. It's designed for those who enjoy the car's Bentley-esque good looks and favor a luxury cruiser over a sport sedan. It's also the model that tops the lineup in Platinum trim at $44 695.
The 300S, which costs $41 695, is of course the sport version, adding a fresh dose of athleticism to the 300.
Two engines are available for both trim levels. The 5.7 liter, 363 horsepower Hemi V8 remains, while entry level cars make do with the much praised and frankly impressive Pentastar 3.6 liter V6 good for 290 hp in C trim, and 300 hp and 264 lb-ft of torque in S trim. Rear-wheel drive is standard; all-wheel drive is optional.
My tester was a V6 AWD S model that had been given the gangster treatment thanks to the gloss black paint job, blacked-out 19 inch wheels, and black leather interior, which not only made my 300 look properly sinister, but instantly made me want to open up a meth lab the moment I sat behind the wheel.
Finally, a Real Interior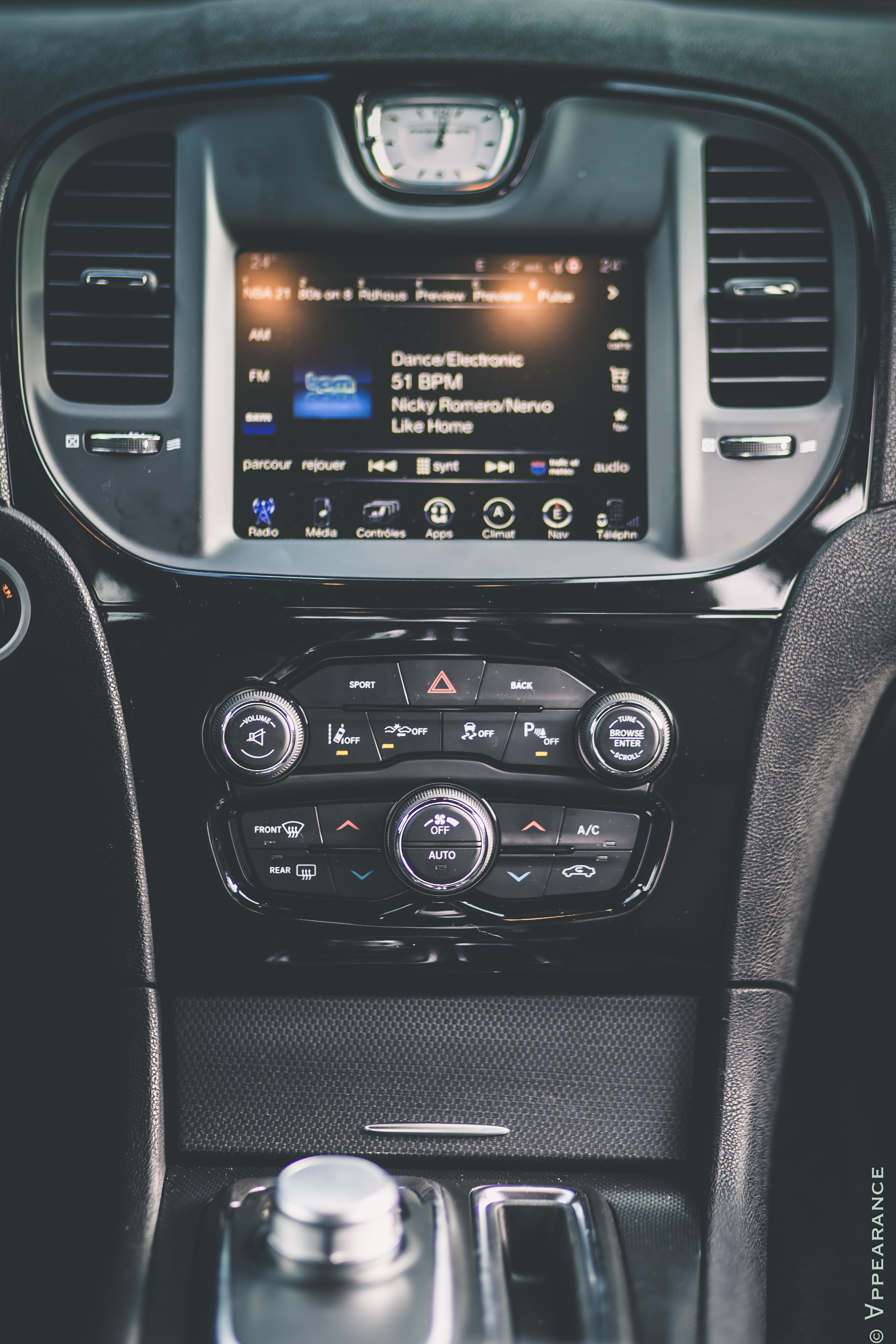 Among FCA's (Fiat Chrysler Automobiles) checklist for updating the 300 was a complete redo of the interior, and they've done an impressive job at that. Where past 300s were plagued with cheap plastics and communist-level build quality, the 2016 300's interior is now rather attractive. Yes, it's still a bit flimsy in there, but most materials are soft to the touch; I particularly enjoyed the spongy stuff surrounding the steering wheel.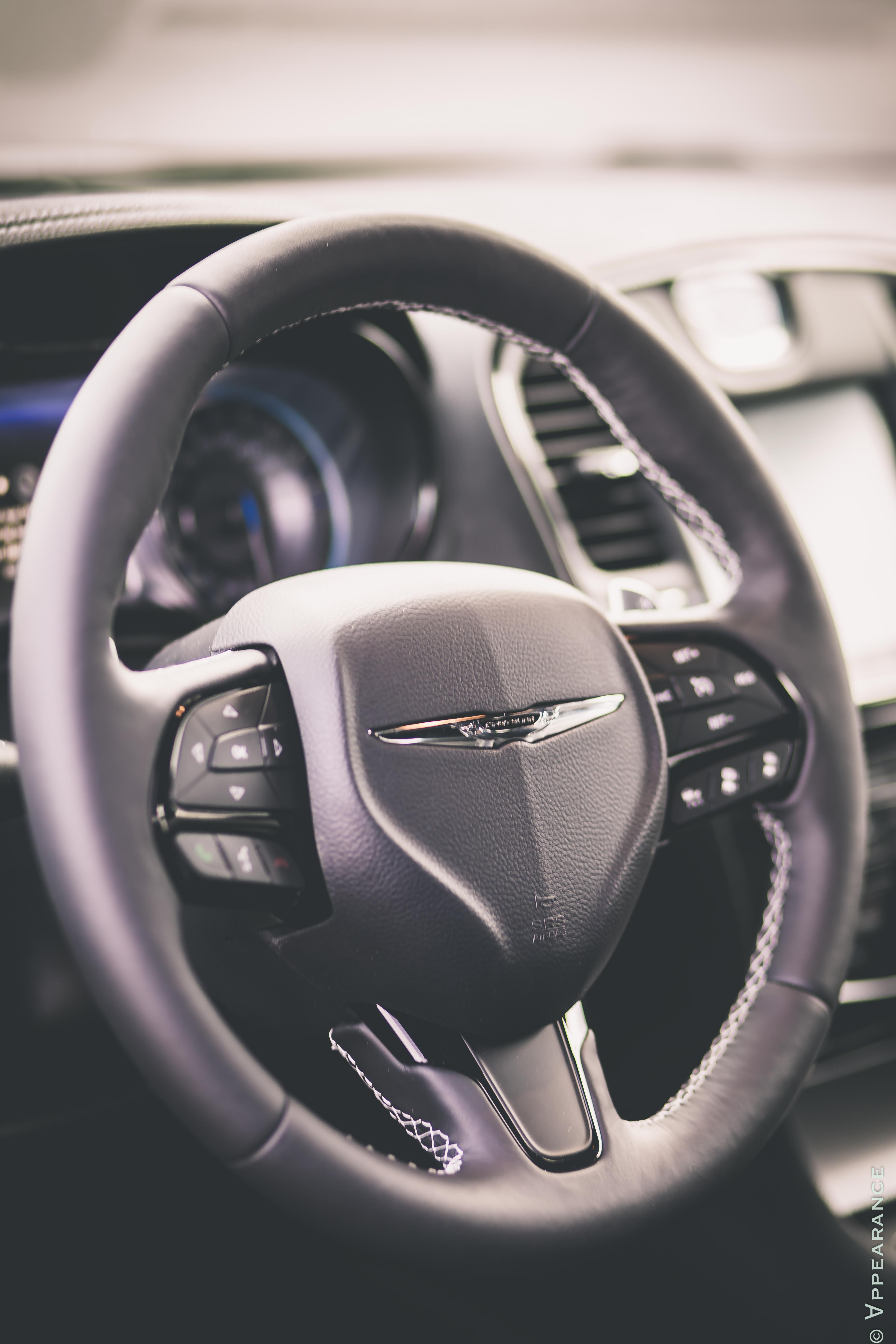 There's a nice LCD screen between the RPM and speedometer gauges, and a large, somewhat intuitive touch screen display in the center to control everything from heated seats to the rear sunshade visor. Fit and finish inside is good, but not great, and the overall first impression is of a clean and functional place to be.
In S trim, black is the shade of choice where, well, everything is essentially black, except for the grey stitching around the steering wheel and seats. Fake carbon fiber and piano black plastics replace the 300C's wood trim. It looks good though; properly sporty, but I would have added a bit of chrome or red stitching here and there to contrast the black interior.
It feels Spartan in there. Not ugly, but Spartan.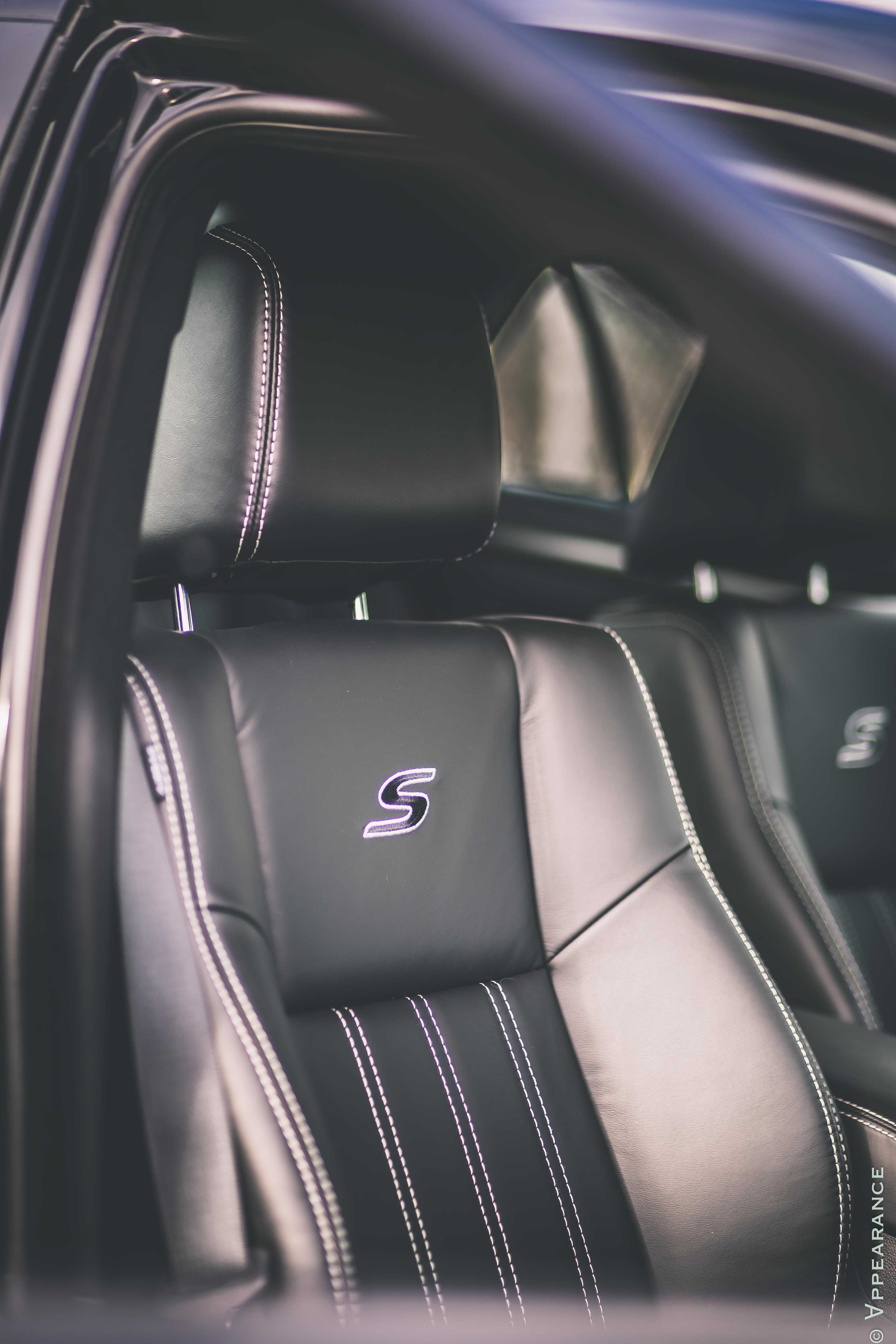 Nevertheless, kudos to Chrysler for making the 300's interior an inviting place for its occupants. The leather seats are also superb; I love the S badge smacked right in the middle, again, painted black. Those seats are comfortable, offer plenty of support, and yet remain properly bolstered for the occasional aggressive drive.
Even the Transmission is Badass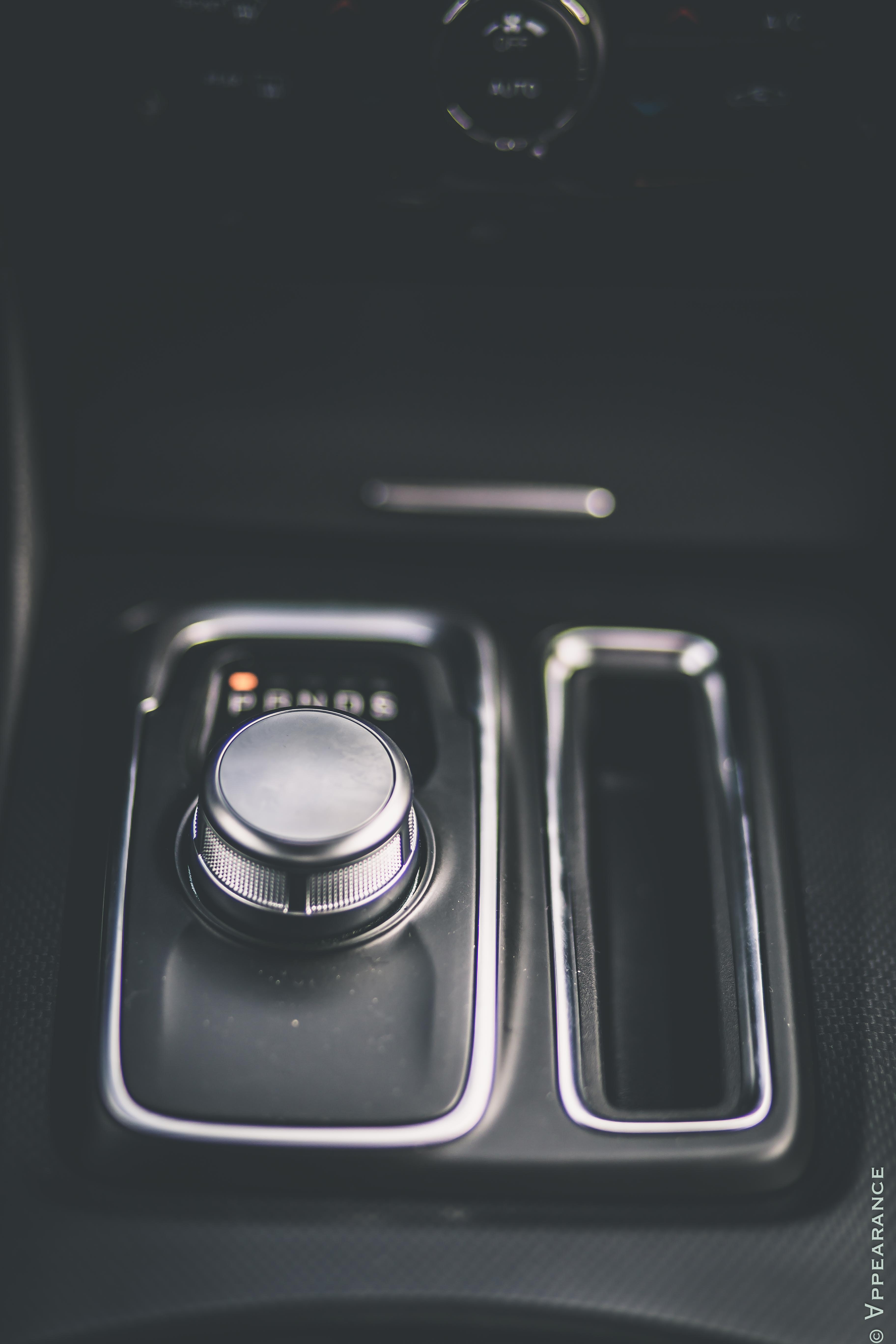 The 2016 Chrysler 300S puts its power down through an 8-speed, TorqueFlite, automatic transmission, and before I go any further about the tranny, let me say this:
[adrotate banner="5″]
Its name, TorqueFlite. It's one of the gnarliest names I've ever seen given to a transmission. It sounds like the vocabulary of a 1960s alternate universe sci-fi novel.
"Activate the TorqueFlite reactors, prepare for warp speed!"
And that's plain cool.
It also works tremendously well. In the 300S, you get two drive modes: D, which is conventional drive, and S, which is, you guessed it, sport mode. In S mode, you actually feel the transmission's character changing, it holds on to revs longer, shifts faster, and will even compress upon downshifts like a manual transmission.
It also emits a TorqueFlite-appropriate whining sound when pushed hard.
There are paddle shifters which, despite the stupid audio controls placed right underneath which more often than not had me changing radio stations instead of, um, shifting, do operate smoothly and add driving excitement to the car.
Yes, driving excitement.
Because the 300 is actually fun to drive. In fact, it always has been, but was kind of rough around the edges. Now though, with this new S trim, and its available Sport button that stiffens up steering response and improves engine mapping, it suddenly feels more like a BMW 5-series than a Lincoln Town Car. Yes, at first glance, this is a big soft barge, in which you do feel the heft every time you enter a corner or stomp on the accelerator. It also flexes undesirably when hitting road imperfections.
These are, unfortunately, symptoms of the ageing LX platform.
But it remains a very smooth operator. Road and wind noises are nonexistent, and it's tremendously soothing to drive.
And thanks to its rear-wheel drive biased chassis and well-planted road habits, the ingredients for fun remain intact even with AWD. The 300 is rather athletic, quick on its feet, with responsive steering feel and a capable chassis, allowing you to push it hard without it complaining too much. Remember, this car was never designed for the track, but if you happen to hit the drag strip over the weekend, or run away from the cops after robbing a bank for that matter, it won't let you down.
Even with the V6
How About That Pentastar?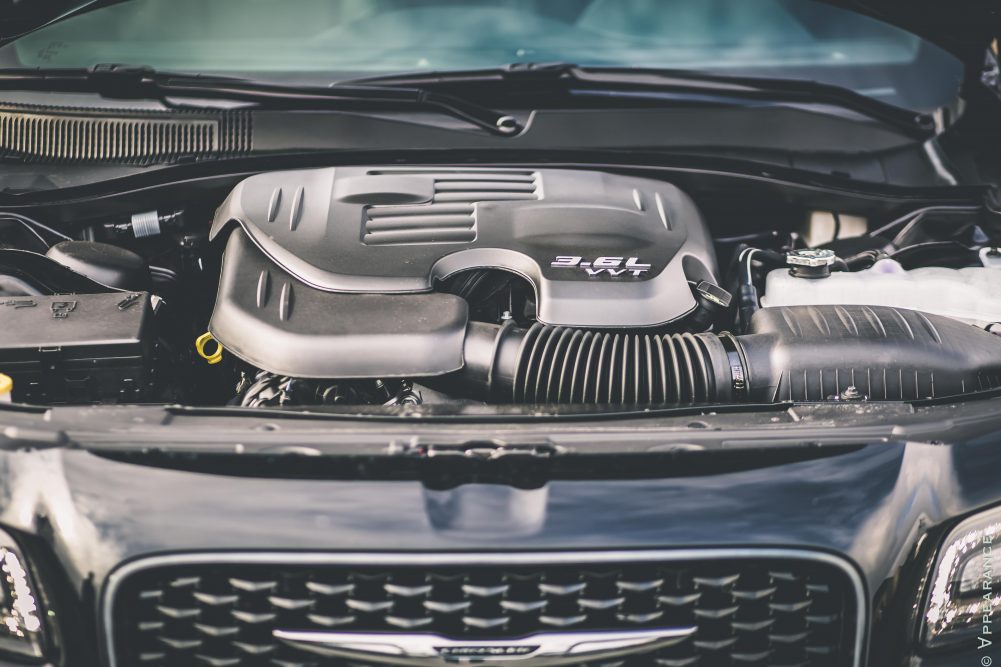 There used to be a time when the V6 option in the Chrysler/Dodge lineup was punishment. Now, it's actually a smarter choice than the Hemi.
It may be down on power compared to its V8 counterpart but that 3.6 liter Pentastar V6 is a jewel of a motor. It has received many awards, and powers everything in the FCA lineup from Wranglers to Caravans.
The first thing you notice is how smooth and quiet it is during casual driving. It's also rather rev happy, spinning easily up to its 6500 rpm redline. It even sounds amazing while doing so, emitting a satisfying snarl as it hits 3500 rpm where it really gets up and moves. Honestly, never once did I find it lacked power. Granted, a car like this was built around a V8 engine, but rest assured, the V6 delivers more than satisfying numbers.
According to Chrysler, 0-100 for an AWD model takes 6.5 seconds.
Very Flawed, but Still Lovable
Compared to the V8, the V6 may be the "fuel-efficient" option, but unfortunately, the Chrysler 300S is not a fuel-efficient car.
[adrotate banner="1″]
During my test run, the best consumption average I could muster was 9.5 liters / 100 km, and that was in D mode, feathering the throttle, and driving like my dad. The moment I'd drive the 300 normally, as in I'm 32 and I want to drive this car in S mode with all driving aids off all the time, I would average 12 L/100 km. That's not exactly thrifty for a V6.
Another important flaw about this car is the lack of actual rear headroom – ironically.
It's spacious back there, but for some reason, your head touches the ceiling fairly easily due to the way the roof is shaped. For a car of such massive exterior dimensions, that's just plain weird.
But these flaws are minor compared to how satisfying the 300 is to drive. Add to that a seriously well-equipped trim package that includes pretty much all the tech in the book, from adaptive cruise control to lane departure warning, and a gangster-appropriate Beats by Dr. Dre sound system with a trunk-installed sub-woofer, and the 300S comes through as quite an attractive sport sedan for the money.
What I enjoyed the most about the 300 is that it felt American, but in the good way.
It may be unrefined and running on a defunct German platform, but it has character, plenty of brawn, and one hell of a presence on the road. Above all, it makes you feel like the bad guy when you sit behind the wheel. And that, right there, is enough for me to fall in love with it.
Clavey's Verdict
Review of the 2016 Chrysler 300S by William Clavey

Full Size Sedans

+
+ Great engine and transmission.
+ Compelling and well-priced trim packages.
+ Still looks seriously cool.
–
– Unrefined and rough around the edges.
– Limited rear head room.
– Not the most fuel efficient car.
---
Clavey's Corner is located in Montreal, Quebec, Canada. Prices and trim levels discussed in this article reflect the Canadian car market.
Special thanks: Alliance AutoGroupe
Photography: Appearance
Contact the author: [email protected]