Up until this January, the Shelby GT350 was the kingpin within the Mustang lineup. That's about to change, as Ford is putting together an all-new GT500 which, apparently, will crank out more than 700 horsepower.
While all the attention is riveted towards that car, Ford has secretly updated its "baby" track car. I was flown down to Detroit to drive the 2019 Ford Mustang Shelby GT350 on Michigan's M1 racetrack alongside Carroll Shelby's grandson and an original GT350 from 1965. Not only was it an epic experience, Ford has put together the best track-focused Mustang to date.
Let's get geeky
Since the updates applied to the 2019 Ford Mustang Shelby GT350 are purely mechanical, this review will focus solely on the tweaks and how they've significantly improved the car's track composure.
What doesn't change is the car's drivetrain. While the GT500 will make do with a dual-clutch automatic gearbox – a decision that has enraged many Mustang faithful –, the GT350 comes strickly with a manual, a Tremec TR-3160 six-speed unit fitted with reduced mass shafts that integrate hollow-core sections. That's to save weight, part of the GT350's promise of being a much more agile machine on the track than any other Mustang in the lineup.
Power is unchanged. The GT350 is still powered by a 5.2-litre flat plane crank V8 good for 526 horsepower and 429 lb-ft of torque. Again, such a configuration lowers the engine's overall weight all while allowing it to rev higher and more eagerly. While the standard GT's 5.0-litre V8 stops pushing at 7,000 rpm, this one keeps singing up to 8,250. Yes, it's one hell of a V8.
The changes were mostly applied to the car's suspension tuning, brake calibration and aerodynamics. There's also an all-new Michelin Pilot Sport Cup 2 tire package engineered specifically for the car. In case you care, all 2019 GT350's now come with an eight-inch infotainment screen as standard. There are two new colors; Velocity and Ford Performance Blue. And no, the Shelby still doesn't get the Mustang's new face and full digital gauge cluster.
Pricing kicks off at $75,600. There's a Handling Package ($1,000) which adds a Gurney flap on the new for 2019 rear spoiler (more on that later) and adjustable strut top mounts. For those wondering, yes, the Shelby GT350R is still available. You'll need to dish out $86,600 for that one, which gets a slight weight reduction treatment by way of a removed rear seat. It comes by default with the Handling Package, 19-inch carbon fibre wheels, a front splitter, those new Michelin tires, and subtle red stitching here and there. My drive focused mostly on the standard GT350.
On The Track
Michigan's M1 Concourse is a tight and technical track. There are only two back straights on which you're lucky to make it to fourth gear. The rest is filled with tight hairpins and high-speed corners, making it a handful when you're driving a 500-plus horsepower rear-wheel drive sports car.
Yet, the Shelby was supremely agile and capable around this circuit. Essentially, Ford's tweaks have been made to better accommodate the new set of tires and the new rear wing. The main goal was to improve the car's out of corner grip, increase its stability during high speed braking and reduce the car's tendency to default to understeer upon corner entry.
Hence, the MagneRide adaptive suspension was retuned; 6% softer rear and 10% stiffer front. Then, Ford's engineers shoved the GT350R's rear sway bar as standard equipment. The bar itself is 24 mm thick, with a 3.6-mm wall thickness. The Brembo brake system was recalibrated to match the new suspension setup, so was the ABS and electric power steering system. Ford also closed off a bit of the front grille to reduce front lift and drop the drag coefficient by about .010.
All that, combined with the new wing's reduced drag, and the Gurney flap's added downforce, translates into observable improvements at the track.
Once those tires were nice and warm, I could get on the throttle quicker on corner exit. The GT350 squats down and jolts forward with little hesitation, there's a significant increase in grip now. Same thing when came time to smash those enormous brakes at the end of the straight, the rear was a lot less prone to wiggling itself to the side, hence increasing my confidence to push harder.
And hard I pushed. Never did I get bored of hearing that melodious V8 rev to astronomical speeds, rear exhaust belching its way down the straightaway. I was also immensely impressed by the Tremec gearbox' ability to take the hits, with solid and precise cog action from one of the most satisfying shifts knobs in the industry. Meanwhile, the clutch remains just as buoyant and soft-edged as in the Mustang GT. The good news is that it's effortless and won't destroy your calf muscles when sitting in stop and go traffic. I would have appreciated a tad more bite though.
Shockingly Well-Mannered
On the road, I was pleased at how tamed this Shelby can be. Very much like the standard Mustang, the suspension is tremendously compliant over the rough stuff, and that V8 will bury itself underneath higher gears, casually trotting around town.
The sounds emitted from that flat plane crank never get old, with passers-by noticing and shooting positive thumbs in your direction. It would put any Italian exotic to shame.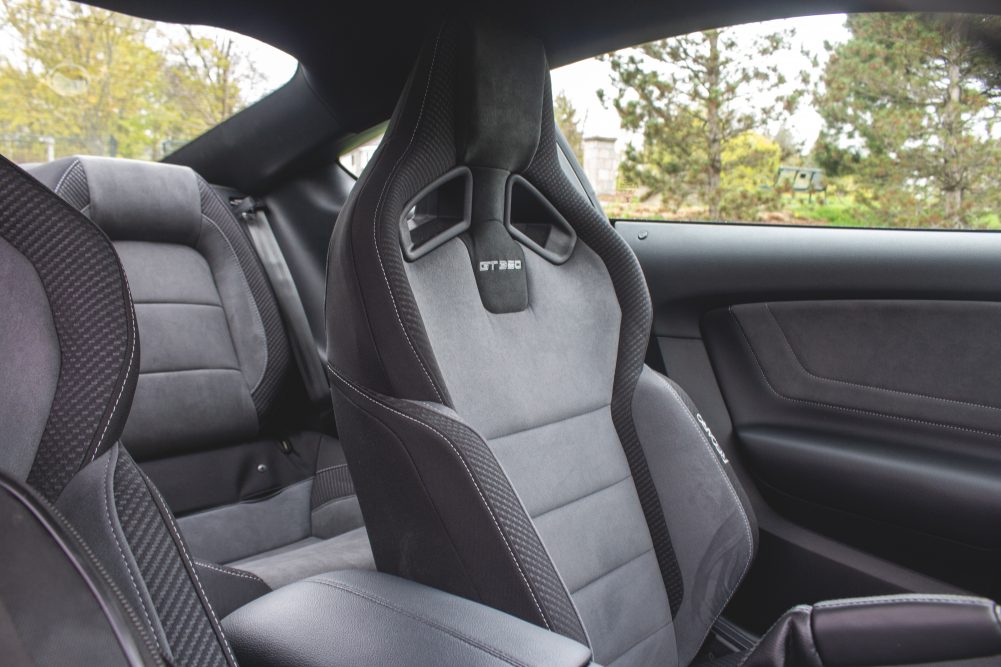 Sadly, such an engine configuration also leads to unwanted cabin vibrations the Five-O lives without. Same thing for those Recaro seats. Out there on the road, they quickly become irritating with their hard bottom and infuriatingly tight bolsters. And that steering and brake tuning may improve your lap times, but they're a handful to manage in traffic and uneven pavement. As far as street-tuned Mustangs go, I'd get a Bullitt over this, which I'll be reviewing next.
With its 2019 Shelby GT350, Ford promised a track-ready pony car, and that's exactly what you're getting. It doesn't apologize for what it is, and if you're not happy with its big balls attitude, Ford will be happy to sell you any of the multiple Mustang variations within its lineup.
With such a frenetic engine raising the hair on your forearms as its running full swing, and new chassis tweaks that improve its track ability, I reckon you could give a Porsche 911 GT3 a run for its money on the right track. Until the GT500 shows its face this Fall, this is the most track-capable Ford currently on sale.
Clavey's Verdict
Review of the 2019 Ford Mustang Shelby GT350 by William Clavey
Sports Cars
Out-of the box track performance
A gem of an engine
Undeniable presence and character
Expensive
Hard to live with on the road
Flat plane crank vibrations
Clavey's Corner is located in Montreal, Quebec, Canada. Prices and trim levels discussed in this article reflect the Canadian car market.
Special thanks: Ford Canada
Photography: William Clavey
Contact the author: [email protected]