I can't stress enough how good the new Honda Civic is. Ever since I drove that grey sedan last spring, I've literally compared it to every car I've reviewed, even when it was a Lexus. Truth be told, the 2016 Honda Civic isn't just a fantastic Civic, it's the new benchmark for the entire compact car segment, and raises the bar for what we should expect from a $25 000 car. And now, Honda's presenting us chapter two of its opus to once again dominate a segment it used to own. Introducing the Civic coupe; the sportier, more attractive and definitely better proportioned variant of the Civic. And this is just the tip of the iceberg. Soon, we'll be getting an Si, and later, a Type R. Both will be powered by an all-new 2.0L turbo engine. We're also getting a hatchback later this year, and the 1.5T will finally be available with a 6-speed manual in sedan, coupe and hatchback configurations.
Great things are definitely coming our way.
But for now, the only Civics available to us are the "normal" sedans and coupes.  Honda is taking its time to let us properly appreciate each one of the Civic's variants, which makes sense, because after all, this is the most important car in its lineup. That said, while Honda is making us salivate at the idea of a Civic Type R,  I decided to spend the week in this sexy new coupe hoping it would quench my thirst a little longer.
Wider, Shorter, Lower
The moment you set sights on this all-new from the ground up Civic coupe, you instantly notice that Honda has done more than simply take out the rear doors from the sedan. While the sedan feels bloated and way too long for a Civic, this coupe returns to the tightly wrapped and perfectly sized Civics we've all grown up with. This is definitely a better design than the sedan, with a sloping roof, sexy bulging hip-like rear fenders, and a tightly wrapped rear end that's accentuated by a short overhang.
This is a good-looking little coupe.
Then, there are the bits you don't notice on photos. The coupe sits 2.5 cm lower than the sedan, but remains just as wide. It's also a whole 14 cm shorter than its 4-door sibling, resulting in a Civic that looks more aggressive and hunkered down from every angle. In fact, this coupe is 2.5 cm shorter and 4.5 cm wider than its predecessor. It also has a much wider track, with the rear being wider than the front. Now these are qualities you usually find in a sports car, not a compact economy car.
How cool is that?
Of course, these shortened dimensions do impact overall practicality. Rear seat headroom is somewhat sacrificed due to the sloping roof, and the trunk cargo space has been slightly diminished, but it's nothing that will prevent you from enjoying the Civic's habitual practicality. I sat in the back, and my 6-ft. frame felt rather comfortable. Even in coupe trim, the Civic remains a formidable daily driver.
Waiting for the Stick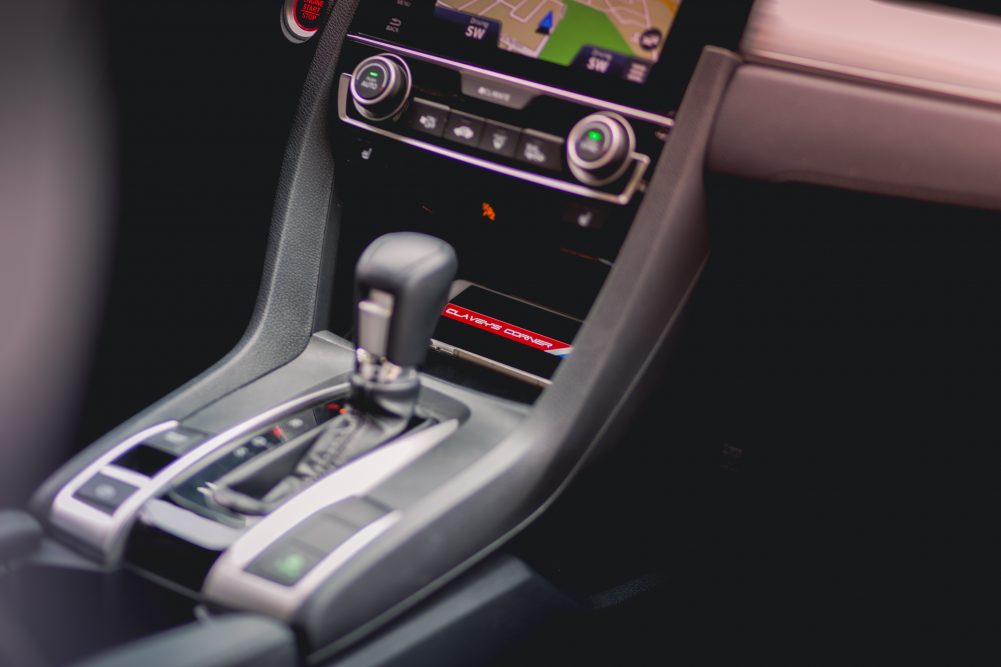 Powertrain-wise, the 2016 Honda Civic coupe gets the same set of hardware as the sedan. Base Civics come with a naturally aspirated 2.0L four good for 158 hp. My tester was the Touring trim with the upgraded and simply fantastic 1.5L turbo. It cranks out 174 hp and 162 lb-ft of torque. Unfortunately, just like in the sedan, the larger engine can only be coupled to a CVT transmission; only the base engine can be ordered with a slick-shifting 6-speed manual – but we all know that's about to change.
And here is the frustrating part: I had actually asked Honda to prepare me 2.0L manual. Even though I love the 1.5T, I was curious to see how the smaller engine stacked up. More importantly, I was happy to finally drive something with a stick. Believe it or not, that's becoming a rare breed in this day and age. Unfortunately, Honda Canada mixed up their press cars, and I ended up with the CVT. Mistakes happen, and I'm not blaming Honda for this confusion. What I'm unhappy about is the fact that it has become increasingly difficult to order any car with an actual manual transmission.
This is a Honda Civic: its core buyers are the gen-y's who grew up beating the snot out of a manually shifted Civic or Accord. It simply doesn't make any sense that in an effort to bring life back to this nameplate, Honda doesn't offer the stick with its new power plant the moment it is launched. Not everyone is patient, and while we know Honda has gotten the memo for next year, Mazda does sell a very fun to drive compact car, right now, that's available with a stick in all trim levels.
Then again, it's not like the CVT / turbo engine combo is unpleasant to live with. Just like in the sedan, and the Accord I drove earlier this summer, Honda's CVT is among the best I've ever tested. In the coupe, you get the added benefit of steering-mounted paddle shifters to navigate through 6 artificially programmed gears. And with the Turbo engine's ability to deliver good low-end punch, the whole setup feels more like gunning the throttle on a snowmobile. There's a delay before power builds up, but never to suddenly shove you in your seat like in other vehicles equipped with a CVT. It's more of a smooth, linear, and exponential power band. It's all rather addictive and, well, I never thought I'd say this about an automatic Civic: very fun to drive.
Here's a fun fact: Car and Driver magazine logged the 4-door turbo sedan, with the CVT transmission, at 6.8-seconds for the zero-to-100 sprint. That's just 0.3 second behind the last generation Civic Si, and Honda insiders say that in development testing, the coupe has been a little quicker than the Si. This is exciting, and I can't wait to see the numbers come out for the next Si – or even the Type R.
In the Civic, the CVT transmission also has a fuel economy advantage. During the entire time I had my Civic coupe, I averaged a decent 7.5L/100 km, and believe me, there was massive hooning the entire time. Because I happen to be one of those kids that grew up beating the snot out of a Honda Civic.
It's a Handler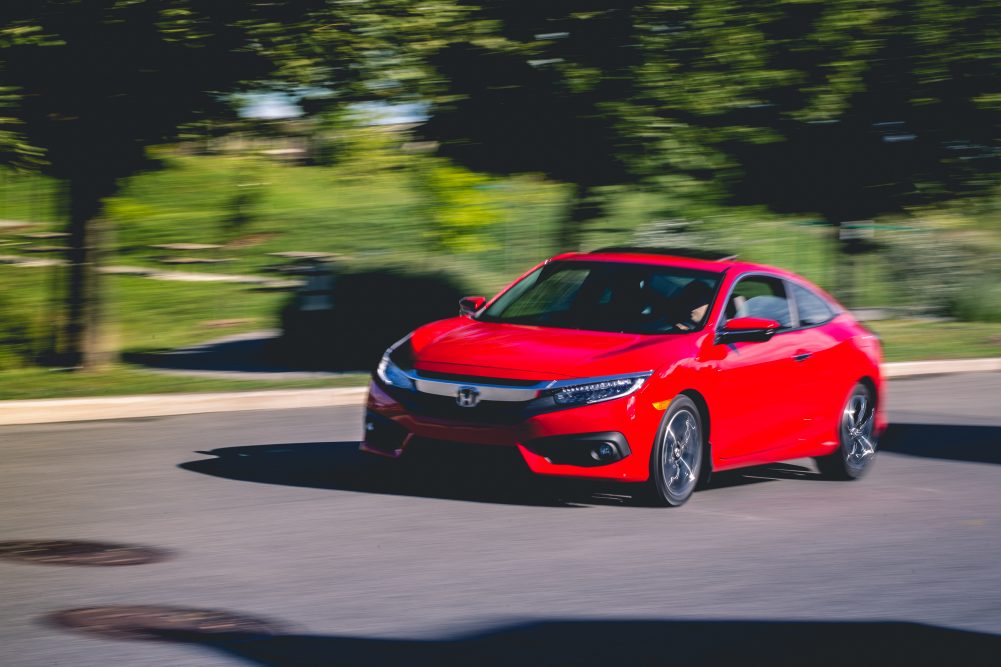 The 2016 Honda Civic's fun factor is more about its ability to attack corners like a champ. Suspension-wise, the coupe receives stiffer dampers and springs. There's also increased spring rates and more authority in the dampers.  Touring trims receive hydraulic rear bushings and lighter wheels to reduce unsprung weight.
These are obviously very subtle changes, but they do make a difference behind the wheel. The coupe feels livelier and lighter overall. It's a rather agile little machine, one which will let itself be flung around through an interstate offramp, but will quickly default to understeer if pushed too hard. Although it's no Type R, this chassis is definitely a great place to start. Overall though, it's the level of refinement that impresses. It's quiet in there, unlike the Civics of yore which were plagued with excessive road noise. Moreover, the overall smoothness of the chassis, and the way it absorbs road imperfections leans more towards Audi territory than Civic nation. At the end of a day hooning around in the coupe, you realize you're driving the same fantastic machine as the sedan, except everyone is checking you out.
The Civic coupe gets a lot of attention, especially in Rallye Red.
As for the rest, the coupe unfortunately inherits the same frustrating shortcomings as the sedan. That infotainment system remains utterly useless. There's no volume button, and even with Honda's efforts to add a quasi-touch-sensitive volume slider on the steering wheel, I still yearn for a physical knob. The Lane Watch system is a fantastic idea, but good luck changing radio stations while using it. And although the system's overall operation seems more fluid in the Civic than in the Fit and Accord, it remains laggy, unintuitive, and confusing.
Prices for a 2016 Honda Civic hover in the same ballpark as the sedan, but slightly more expensive. A base LX model sells for $21 206, while the top flight Touring trim tops out at $29 306 and includes some pretty high-end equipment such as full LED headlights, leather seats, and wireless Bluetooth charging. Same as with the sedan, the model Honda wants you to buy is the EX-T, which sells for $26 306 and offers all the benefits of the turbo engine as well as a variety of enjoyable equipment for the price.
In conclusion, if you're looking for a little more sex appeal from your Honda Civic, the coupe should have you served. It delivers the same practicality, refinement, and superior quality as the sedan in a tighter, sportier package. It's definitely a step in the right direction for us enthusiasts, but I'm still waiting for a properly fast Honda I can shift on my own. Luckily, that's just around the corner.
Clavey's Verdict
Review of the 2016 Honda Civic Coupe by William Clavey – *2016 Top 10 Contender

Compact Coupes

+
+ Punchy and efficient turbo engine.
+ High levels of comfort and refinement.
+ Fun to drive – even with the CVT.
–
– Lack of a volume knob.
– Unintuitive infotainment system.
– No manual transmission option with the turbo engine.
---
Clavey's Corner is located in Montreal, Quebec, Canada. Prices and trim levels discussed in this article reflect the Canadian car market.
Special thanks: Honda Canada
Photo credit: Appearance
Contact the author: [email protected]