If you would have told me a few years back that I'd one day be hooning a Korean car on a country road and loving it, I would have told you to GTFO. Sure, Kia and Hyundai have been around for quite some time now, selling sensible and affordable people haulers, but they've never been – except for a few notable exceptions such as the Tiburon or the Genesis coupe – associated to canyon carving, seat of the pants motoring. Until now.
The 2019 Kia Stinger is Korea's response to the numerous bashings automotive junkies have inflicted on its cars. Simply put, this one kicks ass, no matter what engine powers it.
Get Over it
The number one response I get from people when I talk about the Stinger is: "yeah, but it's a Kia", and that gets on my nerves. Because as a gearhead you have absolutely no reason to hate this vehicle.
Allow me to explain. First, it's a car, and not some useless fuckin' SUV. There, I said it. I know that's what people "want", and I know that's what sells these days. But I, as well as several other automotive journalists, are totally fed up of reviewing, let alone giving purchasing advice about those god-awful contraptions.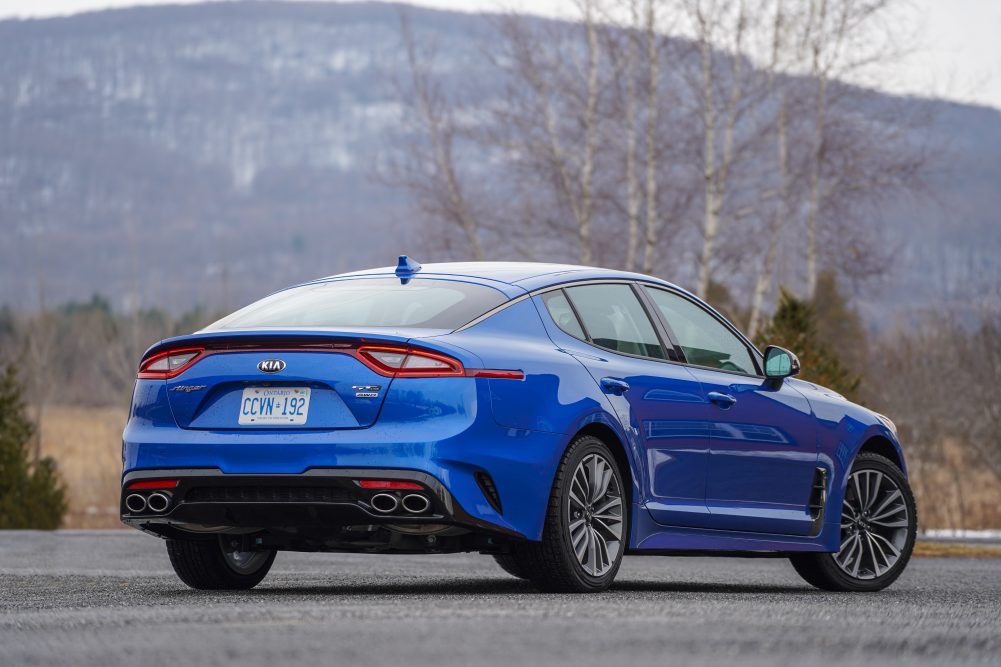 Having a sedan looking so sharp and feeling so good from a car company normally associated to normality feels absolutely fantastic.
Then, there's what you get for your money. Not only does that sportback configuration give the Stinger an Audi A7-like demeanor, it's an astonishingly practical car. It'll engulf 1,158 liters of your gear for Christ's sake, that's on par with some of those compact luxury crossovers that sell for about the same price.
Speaking of price, a base Kia GT-Line, like the one you see here goes for $41,895. Sure, it's not the fire-breathing, 365-horsepower V6-powered GT model. That one stickers for $46,895. But you're still getting a hell of a lot of car for your buck.
It's powered by a 2.0-liter turbocharged four, essentially the same engine found in the base Genesis G70. It's good here for a healthy 255 horsepower and 260 lb-ft of torque. All Stingers sold in Canada come fitted with all-wheel drive, but it's the good kind of AWD,  the one that sends power to rear wheels first. An eight-speed automatic with launch control sends it all to the ground. 0-100 km/h is rated by Kia at a brisk six seconds flat.
So instead of finding excuses to hate this thing because it's a Kia, why not congratulate the Koreans for selling us exactly what we want in an automobile? That's what I'm doing with this review.
More Than a Pretty Face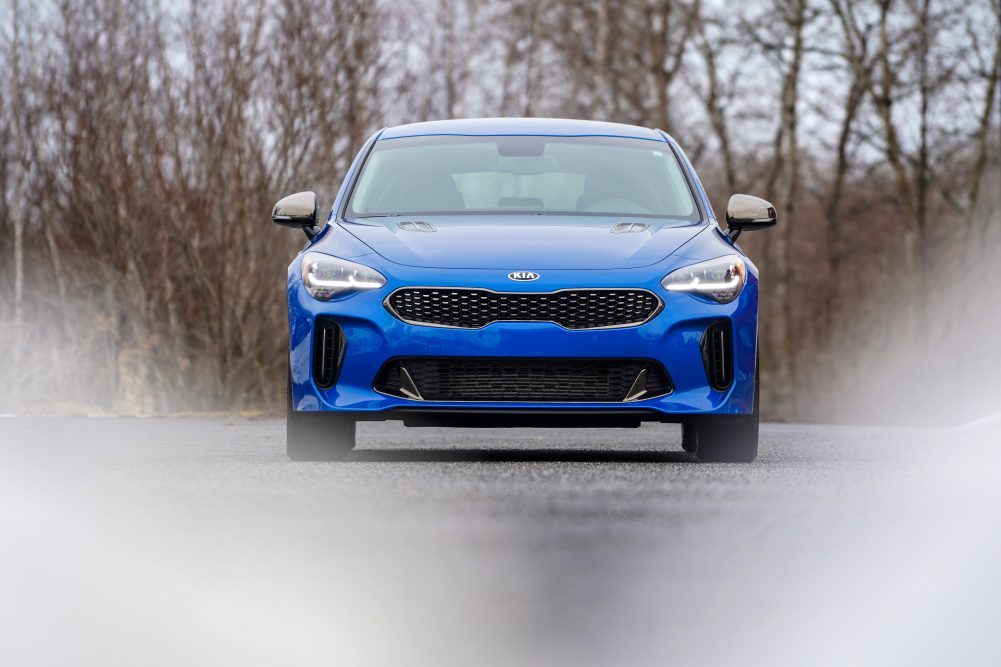 Of course, being penned by renowned automotive designers Peter Schreyer and Luc Donckerwolke certainly explains why the Stinger looks this good. But what about the bits that matter, like chassis dynamics, suspension geometry, and braking performance? Don't worry, the Stinger's got that covered as well.
Because the Kia-Hyundai group (never tell a Kia or a Hyundai employee that they work for the same company, they'll rip your head off) have hired one of the best chassis engineers in the business. His name is Albert Biermann, and the dude happens to have been responsible for calibrating BMW M cars in the past, essentially the best handling cars in the world. That's one hell of a CV.
So, when given the Stinger and the Genesis cars to work on, our man Albert made sure that important sports-car elements such as weight distribution, over/understeer, braking, and drivetrain-chassis harmony all ckecked out alright. And boy did he do a good job.
While riding on the same platform as the G70, the Singer is a significantly longer and heavier car, which gives it a more-or-less grand-tourer feel. I assume that's why the GT letters were glued on its trunk. The Stinger feels well planted to the ground, especially upon corner exit where its fat ass simply squats and permits formidable out-of-apex launches. I'd know, because at the media outlet I work for during the day, we pitted a Stinger GT against yes, a Genesis G70, but also an Audi S5 Sportback and Mercedes-AMG CLS 53. The Stinger's on-track behavior was downright impressive. Fast too.
The Baby Stinger
Now, the GT-Line doesn't get the GT's adaptive dampers, nor the Brembo brakes, so it's not as athletic when pushed to its limit. The dampers are simply softer, more tuned for everyday driving than AMG-hunting lap times. This all makes the car feel a little soft compared to its big brother, but the fact that there's significantly less weight sitting on the front wheels gives the GT-Line a light, nimble feel when thrown into a corner, let alone gracious powerslides on snowy surfaces.
The four cylinder makes good power, but only when boost is on, as it essentially runs out of puff once the turbo stops doing its thing. It's also not the best sounding engine out there. Kia attempted to muffle it all with active in-car sound enhancement, but it's still missing character. Let's just say it gets the job done.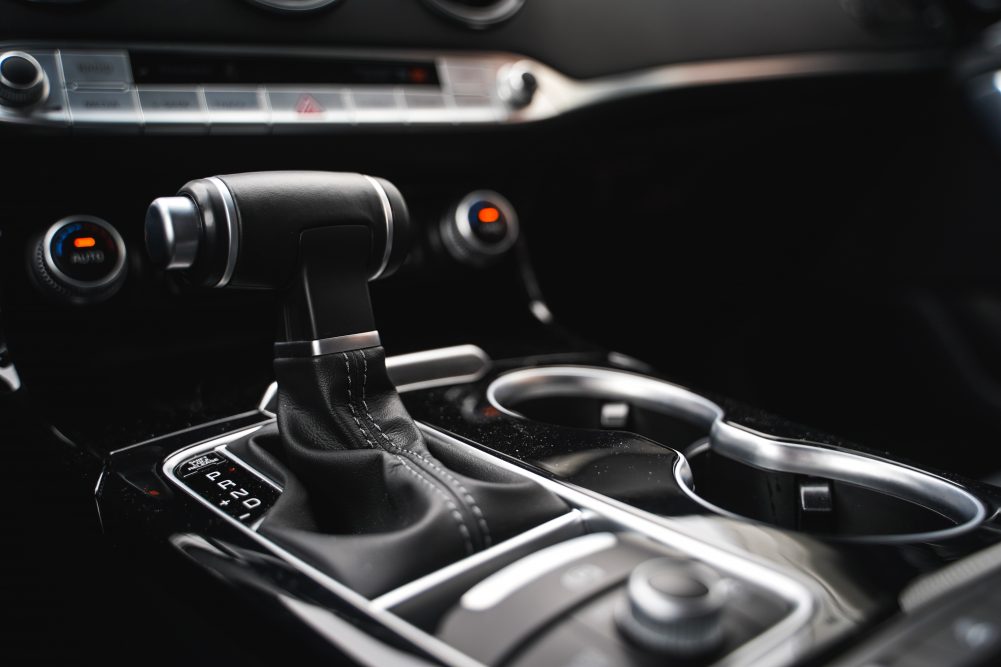 Nothing to say about the way the eight-speed slushbox smoothly shuffles from one gear to the next. Launch control allows for hurried accelerations. I personally dig how the car simply sits there spinning its rear wheels until you drop the brake pedal. The only other all-wheel drive car I witnessed doing that under launch control was a BMW M5, so that says a lot about the Stinger's brilliance.
Steering feel is good, but not great, providing ok feedback and resistance, but still feeling a little numb. Overall though, chassis motions are well controlled, and body roll is kept low. There's a lot to like about the way the Stinger drives because it encourages you to drive it hard.
And as is the case with pretty much all Kia-Hyundai products of late, ergonomics are spot on, with simple, well laid-out controls, as well as an infotainment system that would put any Lexus to shame due to its quick and concise interface and redundant physical controls that can be operated with a pair of gloves. I personally dig the three air vents in the center of the dash, it's all very vintage fighter-plane like.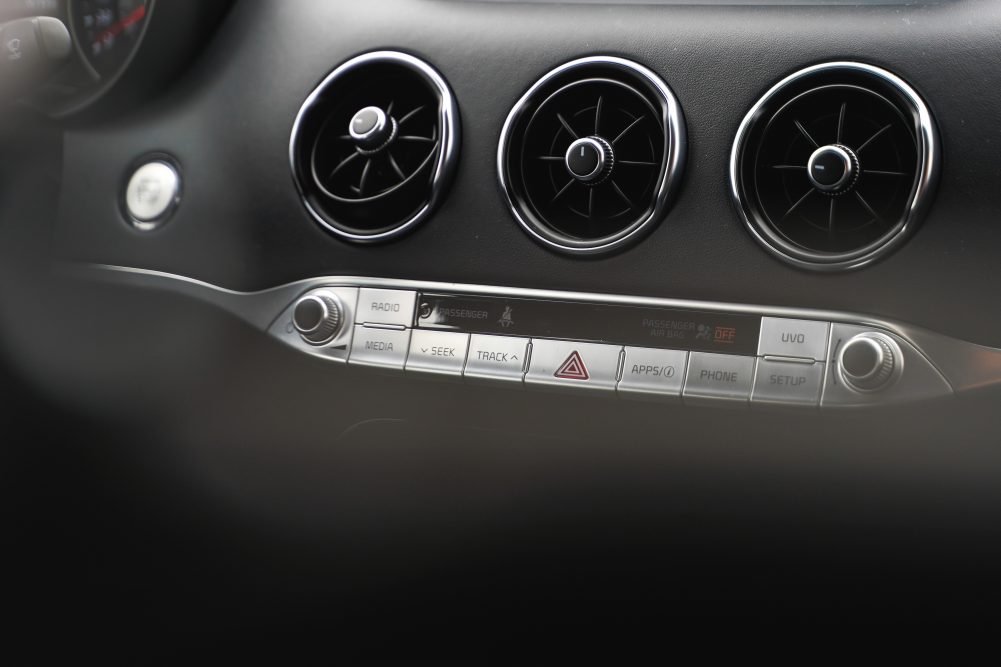 Sure, you get fake air intakes on the hood, and some gimmicky plastics here and there. The rear hatch also constantly rattles over rough surfaces, although Kia is aware of the problem and will take your car in the shop for a free fix no sweat. I also didn't have a sunroof in my 42-grand car, which is odd.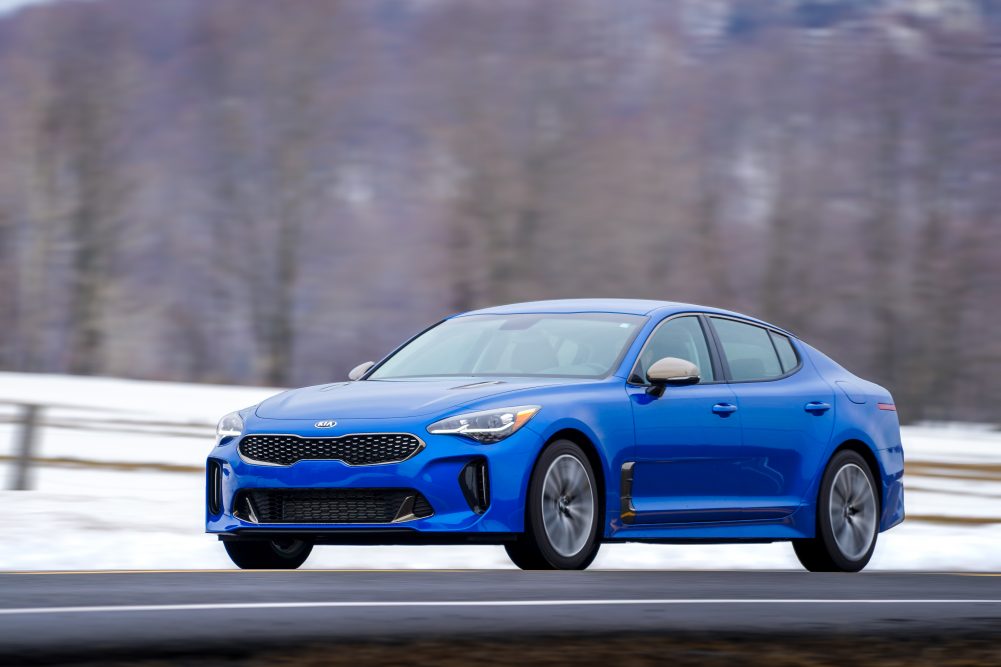 But as a total package, the Stinger is a well-executed product no matter who it was made by. Don't see it as a German sedan fighter, but more as a better-built and much more sophisticated alternative to a Dodge Charger. Because Charger owners are essentially the kinds of customers that will cross-shop for a Stinger.
No, the Stinger isn't only good for a Kia. It's good. Period. I call that a game changer.
Clavey's Verdict
Review of the 2019 Kia Stinger GT-Line by William Clavey
Sport Sedans
Solid design
Impressive handling and performance
Practical, spacious and comfortable
Four-cylinder engine lacks character
No sunroof
Rattling trunk
Clavey's Corner is located in Montreal, Quebec, Canada. Prices and trim levels discussed in this article reflect the Canadian car market.
Special thanks: Kia Canada
Photography: Caleb Gingras
Contact the author: [email protected]