After driving the Golf R for Jalopnik, I couldn't help but wonder what the GTI would feel like. And since several people asked me in the comments which one I'd prefer to own, I can tell you right away that although I have massive respect for the R's performance and sophistication, if it were up to me, I'd stick to the hu-hum, plaid seats, front-wheel-drive Golf GTI.
I've always had a secret love affair with the Golf, and the GTI has always been the hot hatch I wouldn't be ashamed to introduce to my parents. Volkswagen's modded compact is not only a blast to throw around on a country road, but it's one of the rare automobiles that transcends all social classes. Wherever you'll drive a Golf GTI, whether it be to the country club golf course, or the university campus parking lot, you'll fit right in. Most importantly, whatever roads you'll devour with your little hatch, you'll have a big fat grin plastered all over your face, because this thing is absolutely epic.
The Two-Box Icon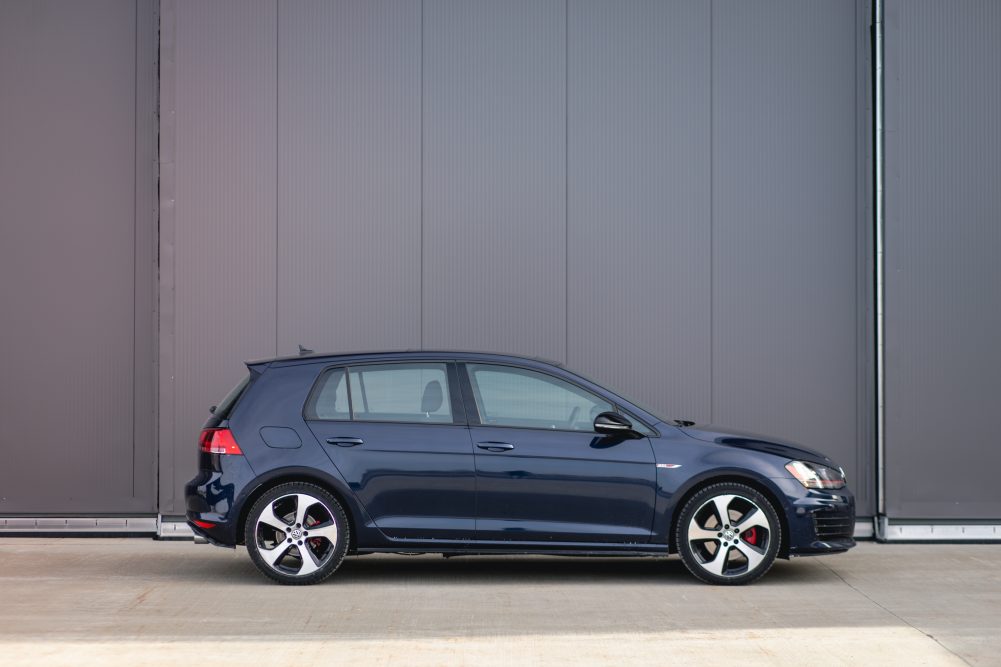 What you're looking at is the seventh generation Golf, or the MK7. Riding on the Volkswagen group's MQB platform, the same one that underpins several vehicles at Audi as well, this latest generation Golf is, simply put, one of the best automobiles in the world right now. No joke. In all its different forms, from the base Trendline with the 1.8T, to the Sportwagen Alltrack, and all the way to the almighty R, the Golf is an overachieving small car that will give larger, more expensive vehicles a run for their money.
And this model is absolutely gorgeous. For its seventh opus, the classic two-box design, distinctively similar to the original Rabbit introduced over 40 years ago, has been stretched, widened, and solidified, but not so much as to lose its charming proportions. This is still a humble, understated little car, one that will easily engulf a mountain bike through its rear hatch and fit a baby seat across its rear doors. In GTI trim, the Golf wears a stylish set of 18-inch running shoes, GTI lettering across its body, a different set of headlights, and a sportier, more menacing face.
Let's not forget a subtle strike of red lipstick that gives it that extra edge of charm.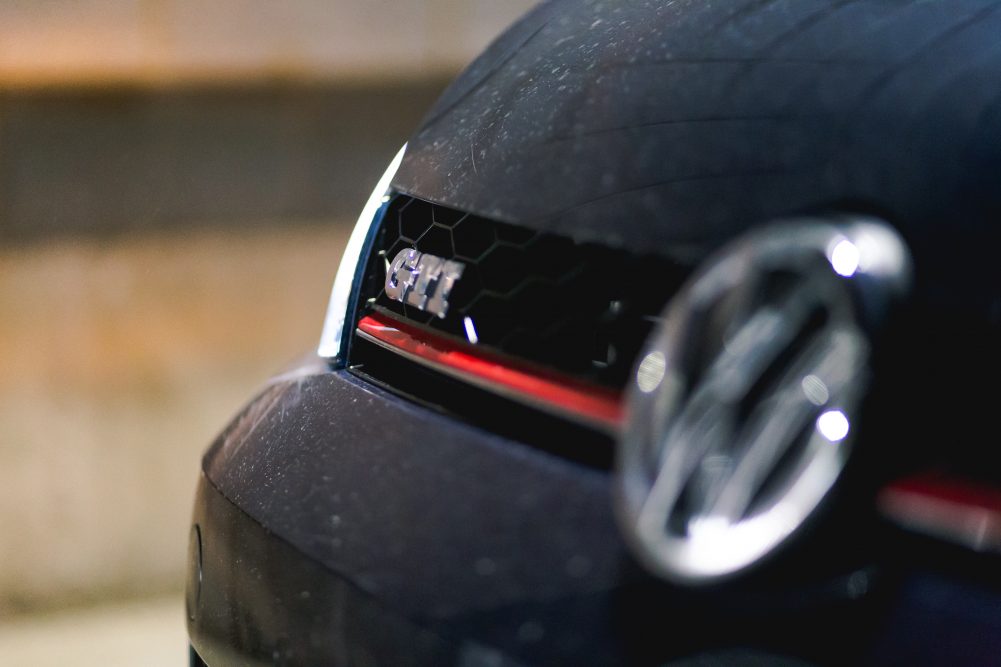 All Golf GTIs can be had in a three- or five-door configuration. But hurry up, because 2017 is the last year you'll be able to buy a 3-door GTI in Canada, which is a big downer. My tester was the five-door, which not only proved to be more practical for the everyday bro-ride-sharing duties, but also gave my GTI a more mature demeanor, especially painted in the absolutely elegant Night Blue Metallic paint job.
Just Enough Power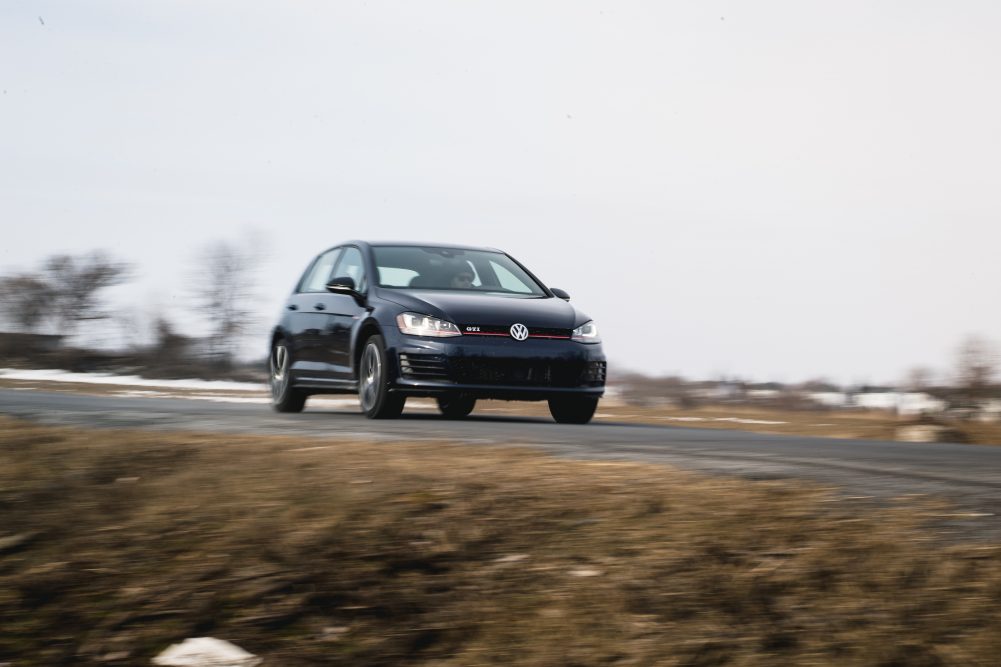 Many people will argue the Golf R is superior to the GTI in every way for its increased power figures and the fact that it's all-wheel-drive. But I beg to differ. There are far more important things to consider when shopping for a sports car than the amount of power that's sent through its wheels, and in the GTI's case, it definitely doesn't tell the whole story.
Mind you, the GTI shares many mechanical components with the R. Under its hood lies the same 2.0-liter, turbocharged, direct-injection four cylinder. In this application, however, it pumps out, according to VW, 210 horsepower and 258 lb-ft of torque. Opt for the Performance package, and you'll get an additional ten horsepower from your GTI, along with upgraded brakes and a torque-sensing limited-slip differential. My tester was dressed up in the Autobahn trim, without the added Performance package.
The GTI sends its power to the front wheels via a 6-speed manual, or, in this case, the same excellent 6-speed dual-clutch, DSG, automatic as in the R. Actually, this is one of the rare cars I wouldn't mind having with an automatic. The system is quick to respond, either in manual or automatic mode, and while not as aggressive as the R with slightly toned down exhaust farts, overall operation remains simple and efficient, with significantly improved performance. I don't think there's another car in this price range that can top the precision of this transmission.
Maybe the Acura ILX comes close.
Just like in the Golf R, or any other versions of the Golf for that matter, the first impression behind the wheel of the GTI is how solid and buttoned down its composure feels on the road. This is a formidably well put together little car, and the suspension calibration, although not adjustable like in the R, is impeccably well sorted out, never too stiff, never too soft. The entire time I had my GTI, it absorbed Québec's garbage roads like a champ, free of unwanted chassis quibbles or cabin rattles. Power delivery is equally impressive: while not as visceral as the R's, that 2.0-liter turbo remains a gem, maintaining a solid, flat line of torque all the way to its 6,000 rpm redline once it gets rid of that dreaded turbo lag.
What you need to know is that the GTI feels much more powerful than its numbers suggest.
Volkswagen claims a 0-100 km/h acceleration time of 5.6 seconds when equipped with the DSG. Like in the R, there's a launch control feature, and when tuned to its Sport setting, that transmission changes the speed at which it shifts its gears, hangs on the revs longer, and the electric power steering stiffens up, providing just enough heft to make it feel sporty and engaging. Sadly, there's very little feedback that transcends through that steering wheel.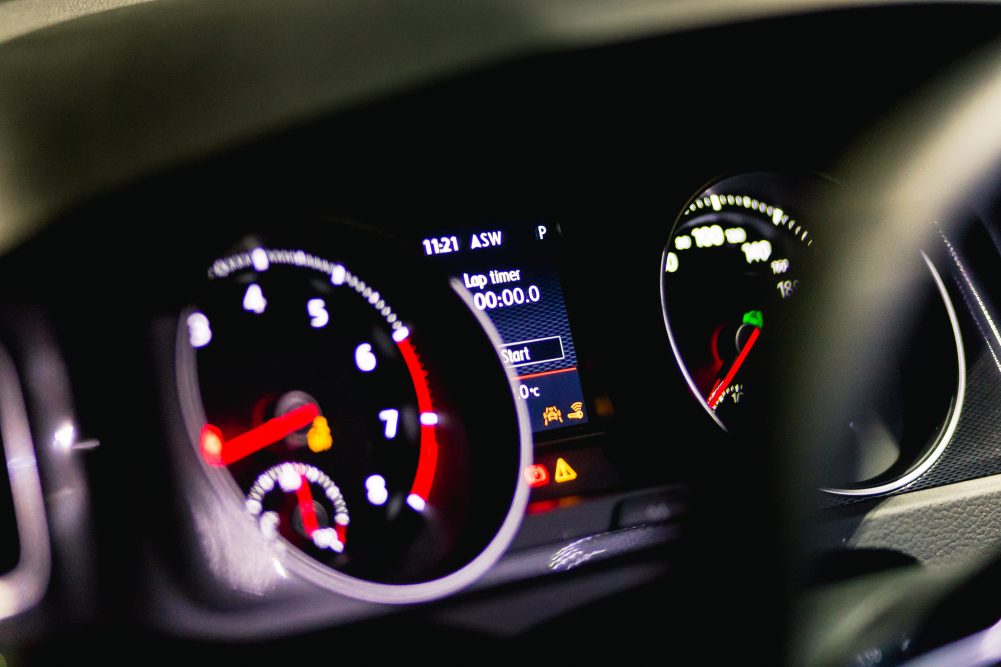 But my, oh my does this little GTI go! And not only in a straight line, but in the bends as well. It never feels unsettled and simply takes it in, all the time. Is there understeer? You bet there is, but it's easily corrected through slight throttle lift-off, and the Golf's tight little chassis moves its tail back into place for you to carry your line. The GTI feels dialed in, and the handling (and braking) is impeccable, and it never misses a beat, as if professional grade chassis engineers took the time to sort this thing out until it was perfect.
Come to think of it, that's actually what happened. It just so happens that the man in charge of chassis and suspension tuning for the GTI is the same dude that fiddled with the Porsche 911 GT3. Not a bad resume to begin with.
The Best Daily Driver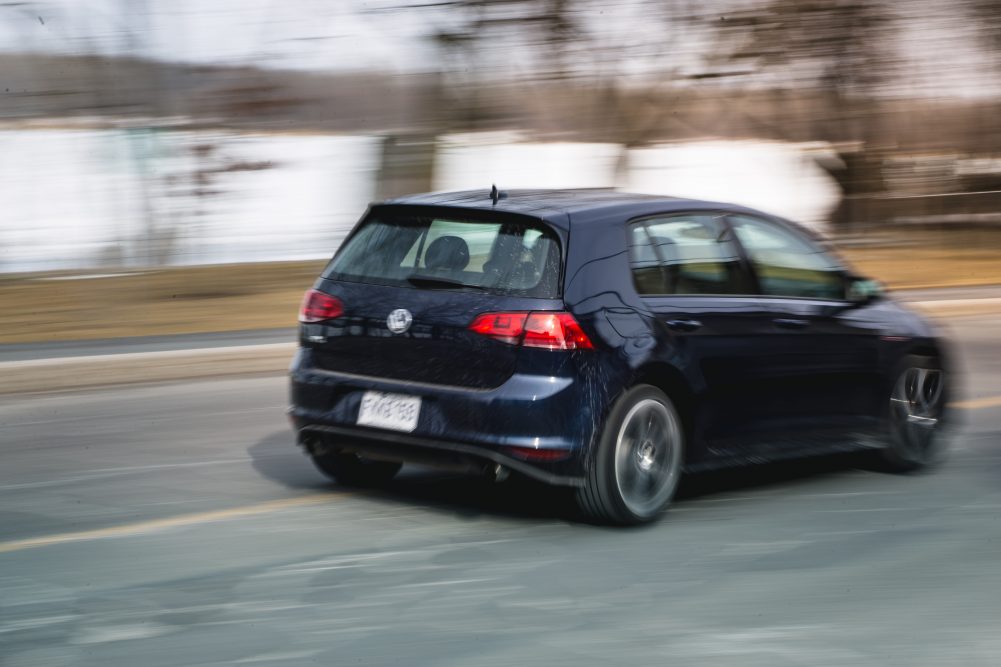 But the GTI's best asset is not its ability to get your pulse running on a country road, although it does this fantastically well, as expected, but rather how it gracefully accomplishes the everyday duties of our lives. This is, above all, a Golf, which means it's insanely practical, smooth, comfortable, and quiet during casual driving. Fold those rear seats flat, and your GTI will engulf 1492 liters of cargo.
That's more than some crossovers.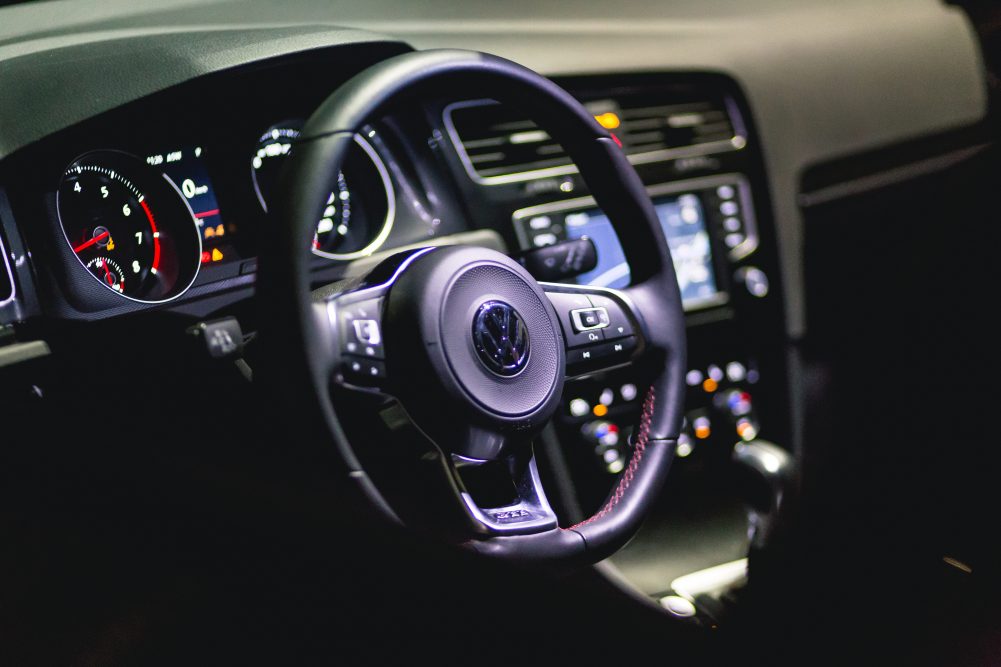 Step inside the 2017 Volkswagen Golf GTI, and you're greeted to one of the most beautiful interiors this side of a luxury sedan. My tester had the instantly identifiable plaid cloth seats, a reference to the original GTI, and I absolutely adore them. If the flannel look isn't your thing though, you can order your Golf with leather.
No matter the fabric, however, these are a massively comfortable and supportive pair of benches. Instrumentation in the Golf GTI is simple and well laid out, with a pair of traditional analogue gauges sitting in front of you, and a tiny LCD screen in the middle for additional information such as fuel consumption or music selection. This is a no-frills, functional interior that manages to remain elegant through the use of high-grade materials, above-average build quality, and subtle GTI touches inserted here and there such as red stitching and attractive red LED lighting at night.
The flat-bottom steering wheel, which absolutely looks bitchin' and a peach to hang onto, houses most of the car's infotainment and driving controls. I'm a big fan of how the GTI's semi-autonomous tech hides in the background and is quickly accessible via a tiny button located on the blinker stalk. Never did the systems feel obtrusive, and that lane assist system is among one of the best I've tested so far.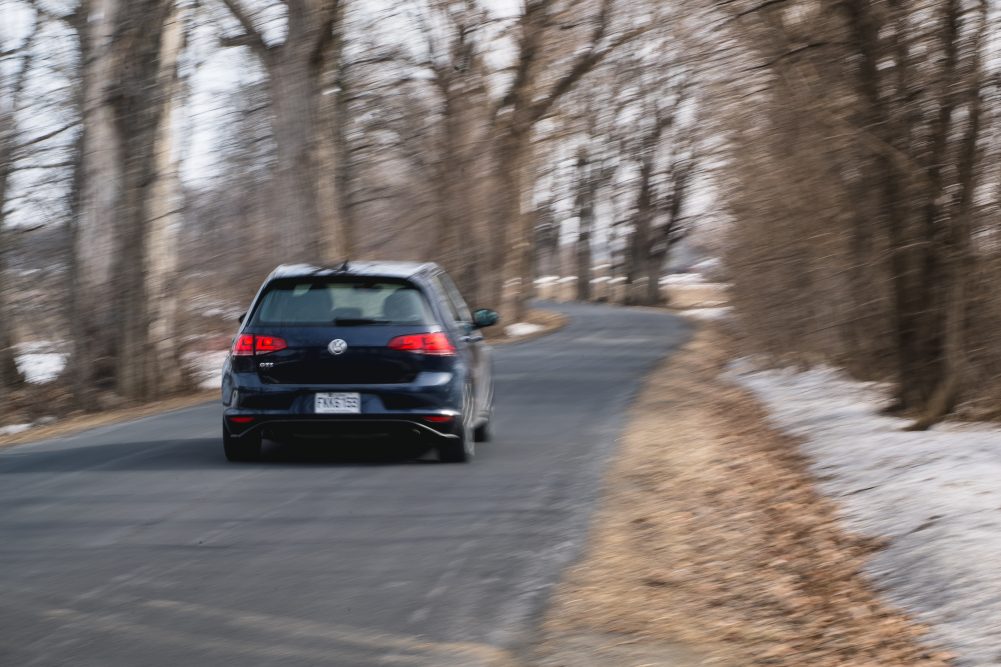 Yes, I'm actually praising the semi-autonomous tech in a Golf GTI.
That's because the GTI is a car that does everything impeccably well, and makes an argument as to why you'd buy anything else. While the Golf R pushes the boundaries of the kind of performance that can be had in a Golf, the GTI wraps it all up in a beautifully crafted all-around package that feels more like a precision tool than an actual automobile.
The Premium Hot Hatch
As perfect as the GTI may seem, and trust me, it's very hard to find faults to this car, it still has its share of shortcomings. As I had mentioned in my review of the R, that simulated Soundaktor engine sound is downright infuriating. It's not as intense in the GTI, but it still annoyingly vibrates throughout the cabin. What's more, since it's essentially a large vibrator that shakes the windshield with the engine's decibels, once that windshield is covered in ice during a nail-biting winter day, it sounds completely off, as if the car were a huge digital device, glitching away like a malfunctioning android.
Then, there's the GTI's price, which isn't exactly cheap. Stick to a base three-door model with a manual and things do remain somewhat acceptable. GTI prices kickoff at $29 495. Add an extra set of doors to your GTI, and the pretty wheels you see here, and you're already at $34 845. But that's not the end of it. If you want the full GTI experience, with the added performance package, increased horsepower and that cool trick differential, your hot Golf will set you back $38 695. At that price, you could be knocking on Audi's door, which doesn't make much sense if you ask me.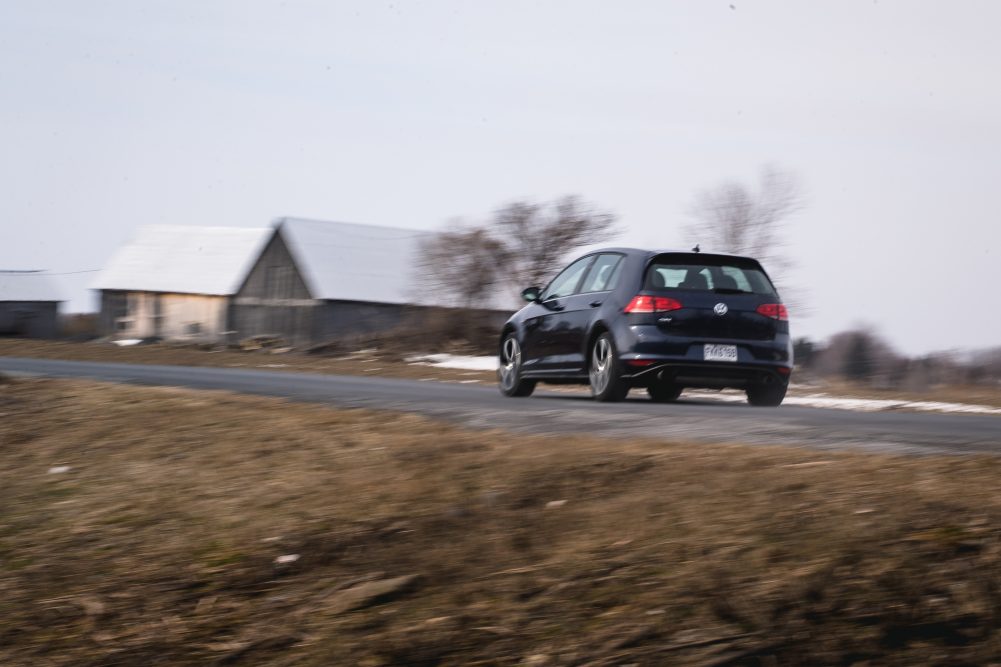 The thing is, as premium as the Golf GTI feels, if I were Volkswagen, I'd leave the fancy expensive stuff to the R, and keep the GTI's price down. Because the idea behind this car has always been to deliver cheap performance to the masses, and at 40 grand, I don't consider this to be a smart purchase. Also, don't forget Volkswagen's higher than average maintenance costs.
My recommendation would be to stick to the base GTI trim levels. You'll get the same massively fun, excessively refined, and insanely practical little hatchback as in higher trims at a more affordable price. Pricing aside, the 2017 Volkswagen Golf GTI is a stellar vehicle in every respect, one which will satisfy both your inner boy racer and your new parent status without attracting too much attention.
At the end of the day, aren't these undeniable qualities that are worth paying a lot of money for?
Clavey's Verdict
Review of the 2017 Volkswagen Golf GTI by William Clavey 
+
+ Impressive performance and handling.
+ Sophisticated and efficient dual-clutch automatic.
+ Very practical and comfortable.
–
– Soundaktor engine sound amplifier.
– Can become expensive with options.
– Higher than average maintenance costs.
---
Clavey's Corner is located in Montreal, Quebec, Canada. Prices and trim levels discussed in this article reflect the Canadian car market.
Special thanks: Volkswagen Canada
Photography: Appearance
Join the Tribe
Contact the author: [email protected]