When the new Acura NSX was released to the world back in 2016, I remember thinking how hard it would be to top the original car. I'd know, because my own brother owns a 1994 example. So when Honda announced its halo supercar would return in hybrid form, I was sitting at the edge of my seat hoping it wouldn't mess it up. Three years later, I can finally have a go at the thing to assess if it's anything like its predecessor. I'm here to tell you it is, but in a very different form.
A Mashup Of Designs

It took me a while to grasp the new NSX's design, but after spending a few days with it, I can finally say it. This is an attractive car.
For those wondering why my tester has a chrome beak, that's because, for some unknown reason, Acura Canada loaned me a 2018 model, and not the 2019 facelift variant, which replaces the chrome for a body colored unit. The 2019 model also got slight revisions to its suspension tuning, hybrid system and available packages. But overall, the core remains the same.
Designed by Michelle Christensen, the second-generation Acura NSX is visually more angular, shorter, but also larger overall than the original Pininfarina design of the late-eighties. There's a bit of everything here; a hint of Audi R8, and a dash of McLaren 570S. Overall though, the NSX has a wide, modern and technically advanced look on the road which nevertheless works at giving it a distinguished appearance. I personally find its best angle is the rear three quarter view.
Obviously, the big surprise is what powers it, a hybrid system coupled to an  automatic gearbox that not only adds tremendous weight to the car, but also enraged fans of the original lightweight machine. After all, the first NSX is still regarded today as one of the most connected driver's cars ever built, so for Acura to come out of the dark with a machine as complex as this is indeed shocking.
While, yes, the new NSX shares the mid-ship configuration and aluminum construction of the original car, as well as a V6 engine, this modern beast shares absolutely nothing with its ancestor. At least, not from a mechanical standpoint.
For starters, its body is an intricate mix of aluminum and carbon fibre. That V6 engine has also grown in displacement, from 3.0-liters (or 3.2 liters for more recent models) to 3.5 liters. It's also turbocharged, and couple to a tiny electric motor that's also bolted onto the nine-speed dual-clutch automatic gearbox.
But it doesn't end there. The NSX inherits two extra electric motors on its front axle, one to power each wheel. So it's all-wheel-drive, a system shared with both the Acura RLX and Acura MDX Sport Hybrid. There are no driveshafts or differentials here to transfer power. It's all done electronically, so weight is significantly reduced. It also exercises the art of torque vectoring, allowing available torque to be shifted from side to side. Even more impressive is the car's ability to rotate its electric motors in the opposite direction for increased rotation in corners.
Total combined horsepower is claimed by Acura at a supercar-appropriate 573 horsepower and 476 lb-ft of torque. Acceleration from 0 to 100 km/h is achieved in less than 3.3 seconds thanks to launch control. And yes, the NSX will drive in full electric mode, but only for short distances. Its lithium-ion battery pack is self-sufficient, which means it doesn't need to be plugged-in. My tester had a couple of options grafted onto it, like a carbon fibre roof and rear spoiler, as well as upgraded wheels. It stickered for a not-so-cheap $210,795.
Quiet Mode And Warp Speed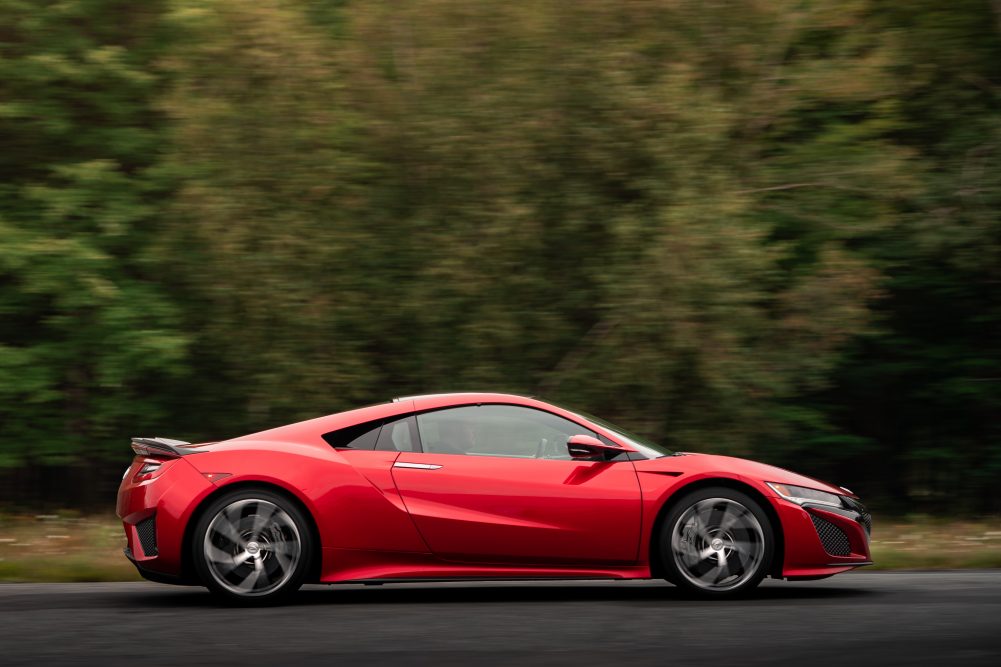 The immediate thing you notice when sitting inside the NSX' confined interior is how comfortable it actually is. Yes, getting in requires a bit of back-bending, head-bumping and shin-knocking, but it's miles more easy to live with than, say, a McLaren 600LT.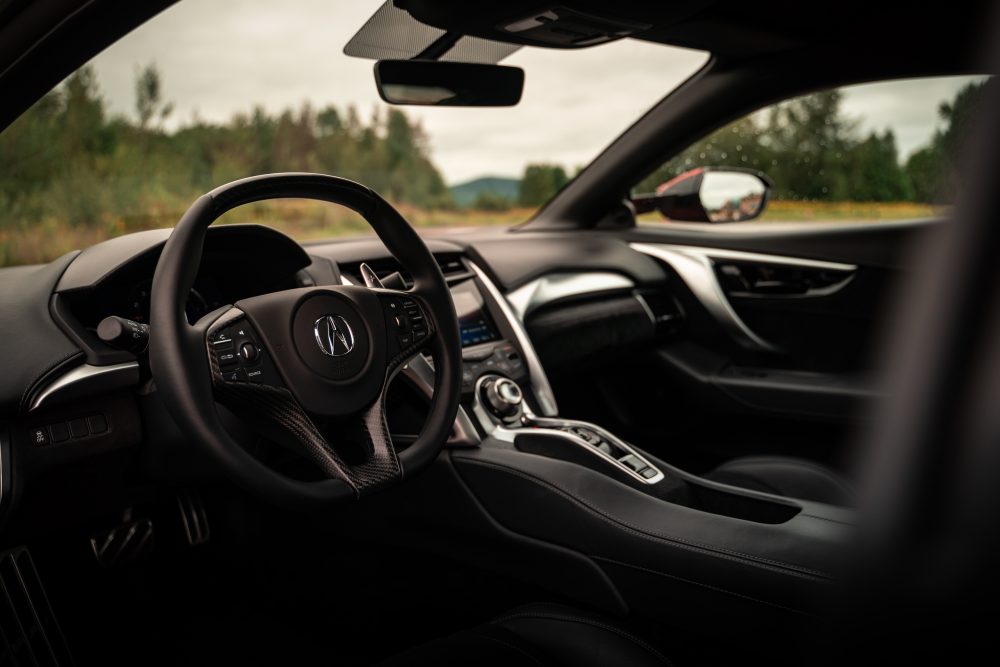 Seats are supportive, if not a little too wide. Head and shoulder room is actually excellent, so is forward visibility thanks in part to super thin A pillars. In that respect, Acura has done a bang up job of maintaining the original car's qualities. But I'm not going to comment on the car's god-awful infotainment system. It's a total mess.
The NSX gets a series of drive modes, as a modern supercar should. Being a hybrid means it can alternate between electric and gasoline propulsion for optimal fuel economy or performance. Quiet mode is the most intriguing configuration, as it allows you to creep in all electric propulsion up to about 50 km/h. Sport mode is a standard hybrid system, similar to what powers a Toyota Prius. But the end result is somewhat disappointing as it was hard for me to get decent fuel economy. I had trouble staying under 11L/100 km.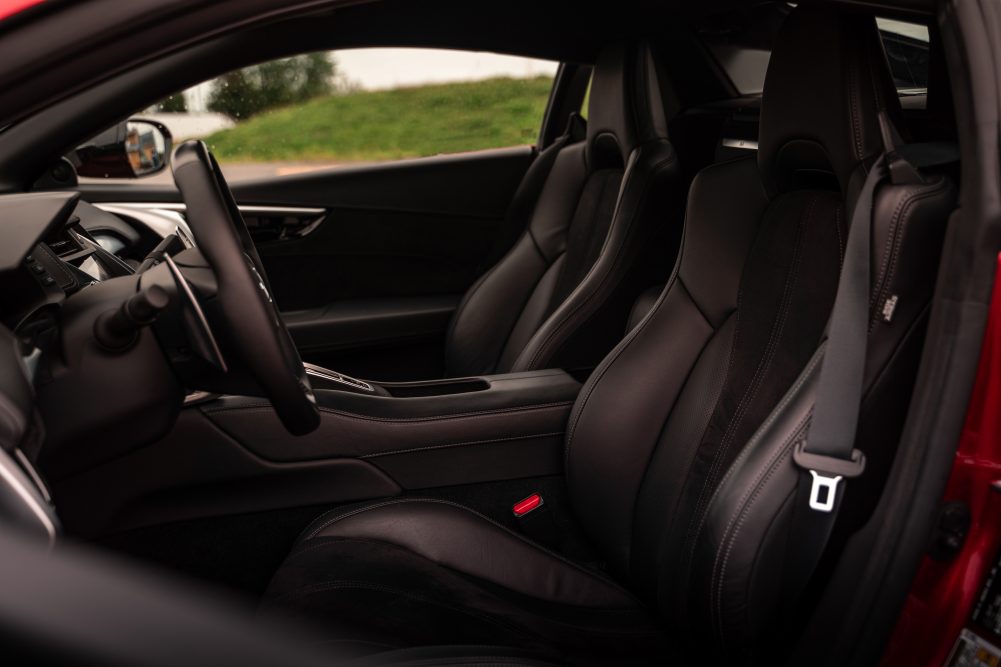 What you want is to calibrate your NSX is Sport+ or Track mode, where all motors work in unison for ultimate thrust, and handling. In Track mode, the NSX removes its traction control system and makes launch control available for super sonic acceleration times.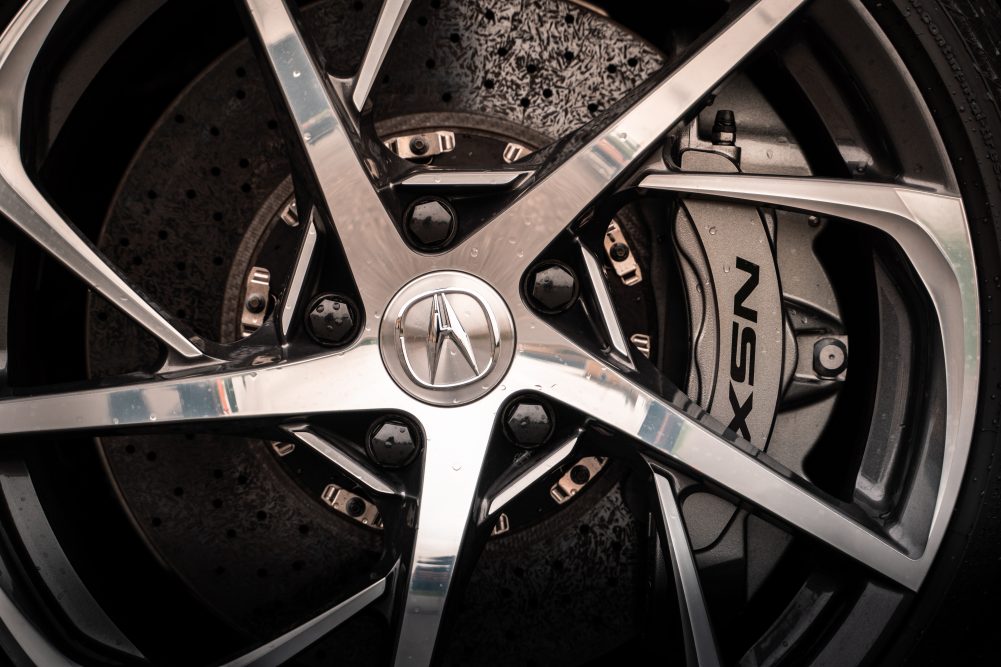 The NSX is very fast. Eye-watering fast. Release the brake pedal once launch control is fully engaged, and the NSX simply squats down, figures out the best possible way to get out of the hole, and jumps furiously into the distance, shifting gears in an almost robotic fashion while you hold on to its thick meaty steering wheel for dear life.
While all of this is going on, the V6 engine belches an organic if not a tad digitized melody behind your head, encouraging you to keep pushing the beast to its limits. But the area where the NSX surprised me the most, was in its ability to feel mechanical and light in the corners. Never does its hybrid wizardry feel cumbersome or heavy per se.
Instead, it all adds to the car's agility. As a matter of fact, the NSX's capability has depth to it, allowing you to discover different facets of its personality. Yet, never does it scare or intimidate you. All of it is easily approachable and easy to control. Analog. Mechanical. Alive.
So yes, Acura has managed to recreated the symbiotic sensation of the original car all while filling it with clever modern technology. The only problem is that the hybrid stuff doesn't actually work at improving the car's fuel economy, but that's not the point. While it would be impossible in this day and age to recreate the simplicity of the original NSX, the reality is that if the old car had been projected 30 years into the future, this is precisely what we'd get.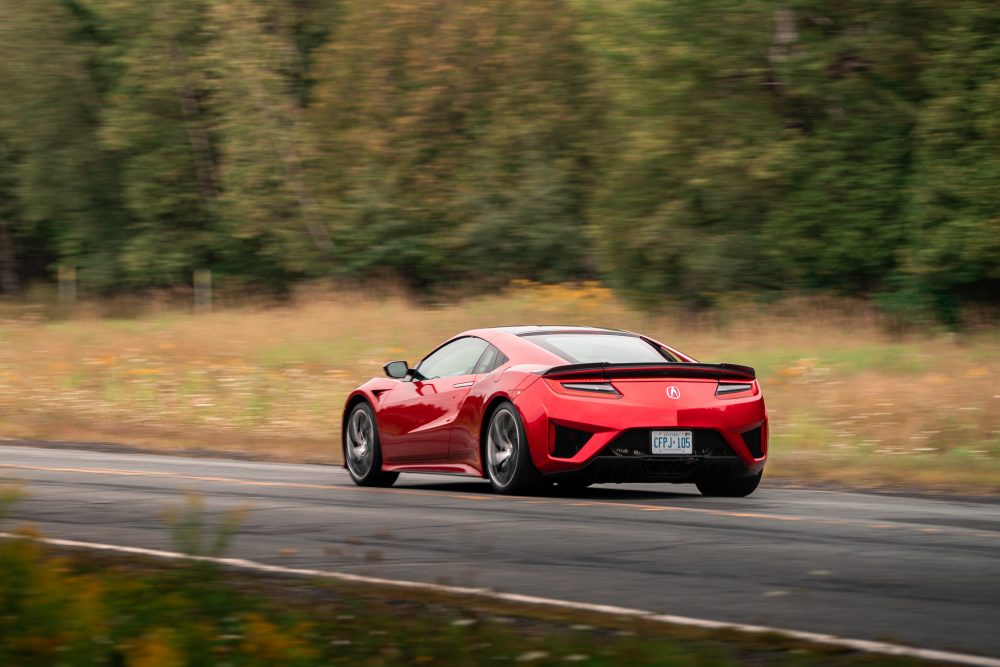 I guess at this point the most obvious question is if the Acura NSX is worth its $200,000 price tag. Because, yes, in this bracket, you could get an Audi R8 or a Porsche 911 Turbo S, cars with much more prestigious nameplates, and equally if not more athletic performance. My answer to that question is that the NSX isn't a car to be compared. It's a technological showcase, a tradition that dates back to the very first Honda S500 roadster of the early 1960's. If you're looking for a different kind of supercar, a rare and exclusive machine that dares to dance to the beat of a different drum, then yes, the Acura NSX is worth your hard-earned money.
Clavey's Verdict
Review of the 2018 Acura NSX by William Clavey
Supercars
Extremely fast
Impressive handling
Feels surprisingly analog
Awful infotainment system
Mediocre fuel economy
Expensive, even for what it is
Clavey's Corner is located in Montreal, Quebec, Canada. Prices and trim levels discussed in this article reflect the Canadian car market.
Special thanks: Acura Canada
Photography: Caleb Gingras
Contact the author: [email protected]