Yes, the 2022 BMW M4 is a mechanical clone to the BMW M3 I drove earlier this year. Except, it's got two less doors and looks even more interesting. I'm being polite here. This is the Competition model though, which adds extra horsepower and torque, an automatic transmission and even more badshit crazy performance. I just had to give it a try now didn't I?
Choose Your Poison
That's probably the new BMW M3 and M4 sisters' best quality: variety. They've never done so much to satisfy performance enthusiasts. What I mean by that is you can really choose your poison with the M3 and M4. Want a rear-wheel-drive stick-shift sedan? No problem, BMW will sell you a base M3. Prefer the sensation of a quick-shifting automatic gearbox instead? The M3/M4 has that as well. You'd feel more secure with all four wheels channeling power to the ground? Yup, the M4 offers that too now.
It's interesting that I'm driving the 2022 BMW M4 Competition at the end of the year, because I actually kicked off 2021 behind the wheel of a standard 4 Series coupe in M440i form. Back then, I had said that the 4 Series has finally morphed into its own bespoke model the way BMW has always intended it to be. It honestly drives different than a 3 Series. I also admitted being more at piece with the enormous grille. It's the same story with the M4, but I still prefer the M3 overall. The M4 just looks bit too long and narrow for my tastes.
But that's all subjective. What's important is what's underneath the hood, and that, BMW delivers without fail. Yes, the M4 Competition gets the same twin-turbocharged 3.0-liter inline six as in the M3, but with an extra little something. Power climbs from 473 to 503 horsepower, while torque also sees a healthy upgrade; from 406 to 479 lb-ft.
My tester had BMW's excellent ZF-sourced eight-speed automatic. It's so good that it you'll never really miss shifting for yourself. Between you and me though, a BMW M car should is better served with three pedals and a stick. Unfortunately, the Competition models only come with the automatic transmission.
My tester was rear-wheel drive, which meant driving it during the cold, damp fall weather was a hell of a challenge. My car also had the optional $8,500 M Carbon Package, which allowed this black example to look even more badass thanks to an added carbon fiber trim. Sadly, that package also adds a set of carbon fiber seats, which I'll get back to in a bit.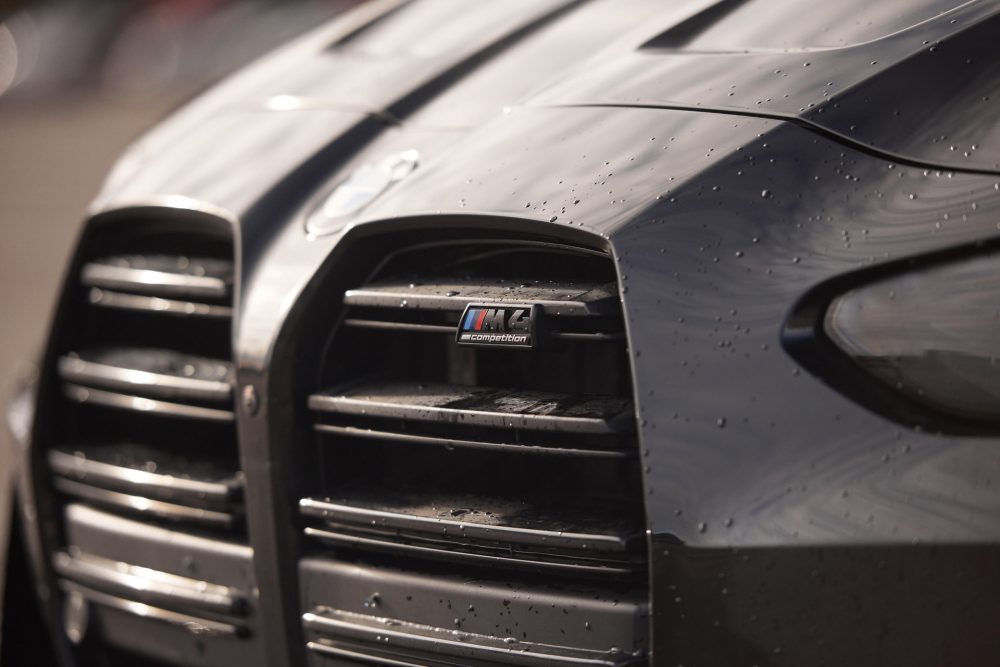 Pricing for a BMW M4 kicks off at $90,954, about $5,000 more than an M3 sedan. You need to add $4,850 for the Competition model, and then an extra $2,500 for xDrive all-wheeel drive. The rest is all optional packages, colors and upholstery. And in typical BMW fashion, none of them are cheap. My car topped off at a whopping $108,145.
The Drive Is On Point
BMW may be getting a lot of criticism for its designs lately, but it sure as hell hasn't lost its ability to make thrilling driving machines. If anything, the current generation of M3 and M4s are the best to have ever come out of Bavaria. And that's coming from someone who owns an E39 540i Sport.
The thing is, no matter which configuration you choose for your 2022 BMW M4, you're sure to be in for a fantastic driving experience. There's a level of sophistication and precision, as well as relentless dedication to performance here that's unmatched by any other European carmaker. Except Porsche. Only Porsche manages to step up over the current crop of fast BMWs. But not by a lot.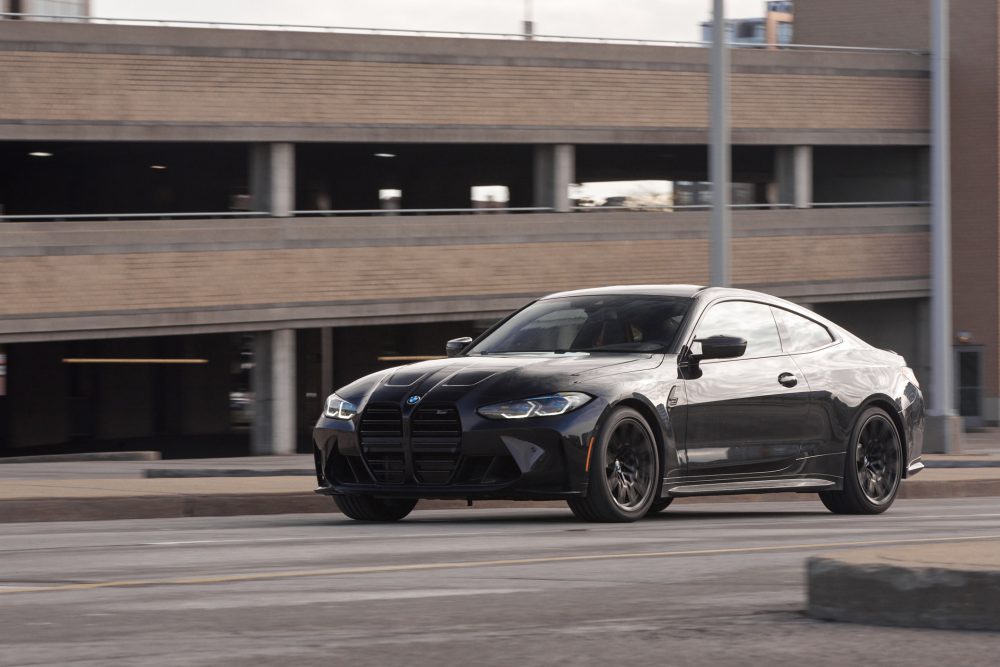 What the M4 does best is utilize all of its available power. It may only be powered by a six cylinder engine, but the moment you put your foot down, it feels like it has eight cylinders from the way it urgently delivers its power and torque. The M4 is alive, visceral, loud and charismatic, almost as though it's only waiting for you to release it from its cage. When running full boil, BMW's S58 engine always remains as smooth as a baby's butt, allowing you to extract every single last drop of power it has in stock. This thing will pull all the way to the last increments of its redline.
And it sounds properly mean too. Sure, modern sports cars can't sing the same melodies as before due to extremely strict sound regulations, but BMW has still managed to give the M4 a highly satisfying bellow, with a hint of high pitch snarl at higher revs. It's the kind of sound you want from a straight six engine. Yet, in Comfort mode, the M4 dials everything back and transforms back into a highly civilized luxury coupe.
Being a rear-wheel drive example meant I could really have a lot of fun with the M4's drift analyzer technology. Using its electronically controlled rear limited-slip differential to modulate how much rear rotation the car creates, the driver can adjust the system to the tune of a scale from 1 to 10. Select the feature to 1, and the M4 will barely budge when attempting to perform a power slide. Turn things up to 10, however, and your M4 suddenly turns into a professional drift machine. The system then rewards the driver with a star system. Tires love that feature.
Launch the M4 Competition at full throttle on a damp, cool surface like the one I was driving on, and you'd better be alert. That rear end wiggles and slips from left to right. But the M4's stellar chassis and quick, precise steering allow a good driver to keep things in check. The M4 is a car that listens, feels and understands what its driver asks of it. Respect its performance, and command it with focus and determination, and you'll do fantastic things with the car. Even if it's grown in size and weight, this really is one of BMW's best driving machines. Ever.
Alright, so those seats. Yes, they look absolutely superb, especially since my tester had the optional Kyalami Orange upholstery interior. The problem with the seats is that, one, they make entering and exiting the car almost impossible, and two, once you've dumped your butt inside them, you're not going anywhere.
Now, don't get me wrong, I love high-performance seats just as much as the next automotive enthusiast. If I were to constantly drive my M4 Competition on a track, I'd be more than happy to have them. But people don't drive BMW M4s on the track all the time. Heck,  most M4 owners will never even approach a closed circuit with their car. So those seats, as bitchin as they look and feel, I'd personally skip them and default back to the original leather units. The problem is that you can't individually remove them. They're part of the Carbon package. And that kind of sucks, because the rest of that package really gives the M4 a more sinister look.
Those seats aside, BMW's interiors continue to satisfy me due to their impeccable ergonomics, fantastic fit an finish and downright common sense in its controls. Its iDrive infotainment system continues to be a leader in user-friendliness and ease of operation. Everything works flawlessly and with an elegant touch of quality.
The steering wheel controls are simple and easy to comprehend. BMW also offers the ability to completely remove all driving aids, including adaptive cruise control so you can go back to a classic cruise control system. I also love the fully customizable readouts. You can really display precisely what you want, and hide the rest in the background, My only gripe with BMW's current set of M cars, is their highly complex and redundant drive modes. There's just way to much fiddling required to set the car up.
If you don't mind the way the 2022 BMW M4 looks, you'll definitely be getting a lot of M car for you money with this one. From the driver's seat, this is up there among the best sports cars currently on sale. The great thing about the new M3 and M4 twins is that you can now tailor that performance to your liking.
Clavey's Verdict
Review of the 2022 BMW M4 Competition by William Clavey
High-Performance Coupes
Fantastic drivetrain
Spine-tingling driving experience
A variety of different configurations
Finicky drive modes
Larger and heavier than ever before
Carbon seats don't work in the real world
Clavey's Corner is located in Montreal, Quebec, Canada. Prices and trim levels discussed in this article reflect the Canadian car market.
Special thanks: BMW Canada
Contact the author: [email protected]