"How did you find it?" – my local GM Canada rep asked worryingly as I handed him back the keys for the 2020 Chevrolet Trailblazer. He wasn't worried that I'd find the Trailblazer to be a bad CUV, he was worried because he knows it's swimming in a sea of hungry rivals. One minuscule slip-up could potentially flush Chevrolet's latest attempt at grasping the highly lucrative subcompact SUV segment down the toilet.
The good news for GM is that Trailblazer sales are off to a good start, both here and in other markets. So it's at least doing something right. I'll say that yes, it hits the mark on many levels, but the Trailblazer is still missing two important elements for it to truly be a segment leader.
Let's Talk About That Name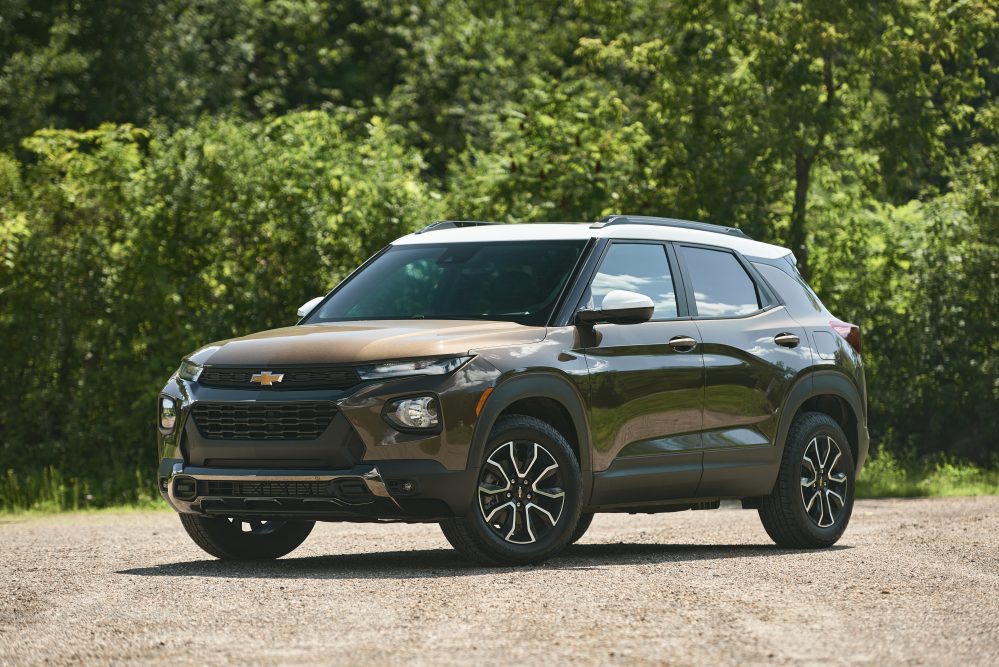 Just like it's big brother, the Chevrolet Blazer, the 2020 Chevrolet Trailblazer resurrects a name that hasn't been slapped onto a Chevrolet-badged vehicle in over a decade. Mind you, the Trailblazer nameplate doesn't hold the same heritage as the Blazer's, but the last car to carry the badge was an entirely different vehicle than this one; a much beefier midsizer that was powered by a choice of six and eight-cylinder engines.
This new generation is an entirely different story as it squeezes itself within a new small crossover micro category. Sitting somewhere between the subcompact Trax and the compact Equinox, the Trailblazer aims to take on the latest crop of in-betweener CUVs like the Jeep Compass, Kia Seltos, Mazda CX-30 and the upcoming Ford Bronco Sport.
Many accuse GM of not capitalizing on Ford's Bronco strategy of exploiting the nameplate and give birth to two off-road-ready vehicles. Like the Blazer, the Trailblazer is rugged in name only. This is a subcompact all-wheel-drive hatchback with a lifted suspension. If it were up to me, I would have slapped the Tracker name on it and called it a day.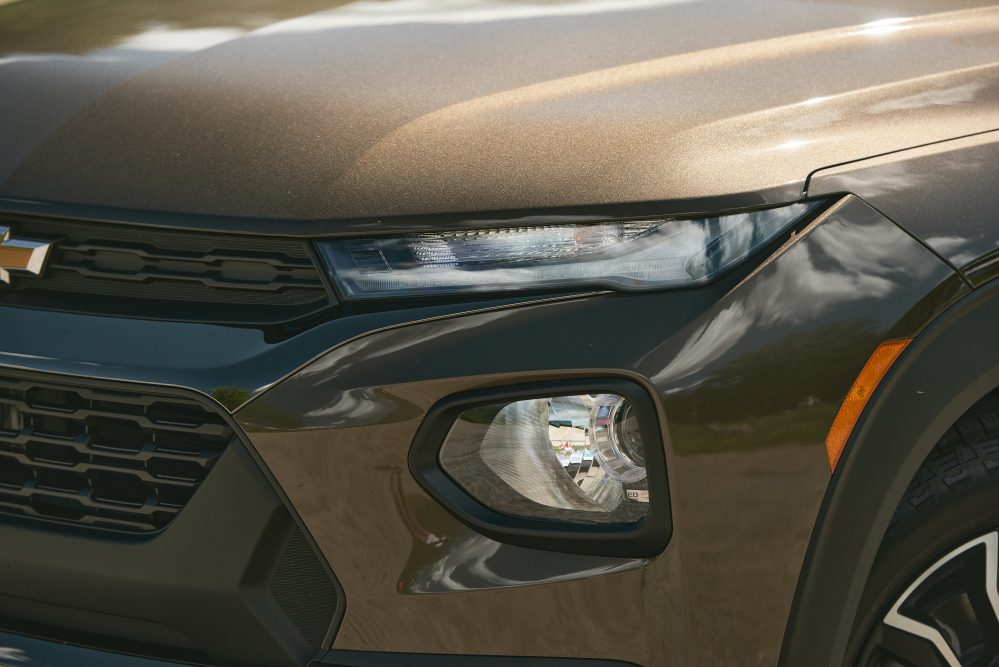 But it's not up to me, and the reality is that GM is aiming big with this thing. It's not even an American effort, as this all-new Trailblazer was designed, developed and built by GM Korea, also known as Daewoo. In other words, it's more targeted at Asian markets – specifically China – than ours. This also presumably explains its peculiar choice of powerplants.
Two all-new turbocharged three-cylinder engines power this thing. Entry level front-wheel-drive models make do with an itsy bitsy 1.2-liter unit good for 137 horsepower and 162 lb-ft of torque. This engine can only be mated to a continuously variable transmission (CVT). Once you tick off the all-wheel-drive option, engine displacement is bumped to 1.3 liter, with horsepower climbing to 155 and torque set at 174 lb-ft.
The transmission also changes for something a bit more interesting, in this case it's a conventional nine-speed automatic developed in-house by General Motors. The 1.3-liter engine is also available with front-wheel-drive. Pricing kicks off at $26,193 for a base front-driven LT model and caps off at $32,893 for a top-shelf Activ (as tested). There's also a "sportier" RS model that sells for the same price.
Will Blaze Trails
Obviously, the 2020 Chevrolet Trailblazer is not an off-roader, but I gotta say, I had a blast tossing this thing in a dirt trail. The fact that it can in fact blaze the trails is not only a funny pun, but a refreshing take on what these small CUVs can and cannot do.
As a matter of fact, one of the Activ's key features is what Chevrolet calls "Sport Terrain" tires; or if you prefer, light off-road tires that are actually great for dirt roads. Chevy went even further by tuning the suspension accordingly and added a small skid plate to protect the car's front underbelly.
Now, don't expect to take on the Rubicon trail in this thing as Chevrolet clearly stipulates that the Trailblazer remains an urban vehicle with light off-roading capabilities.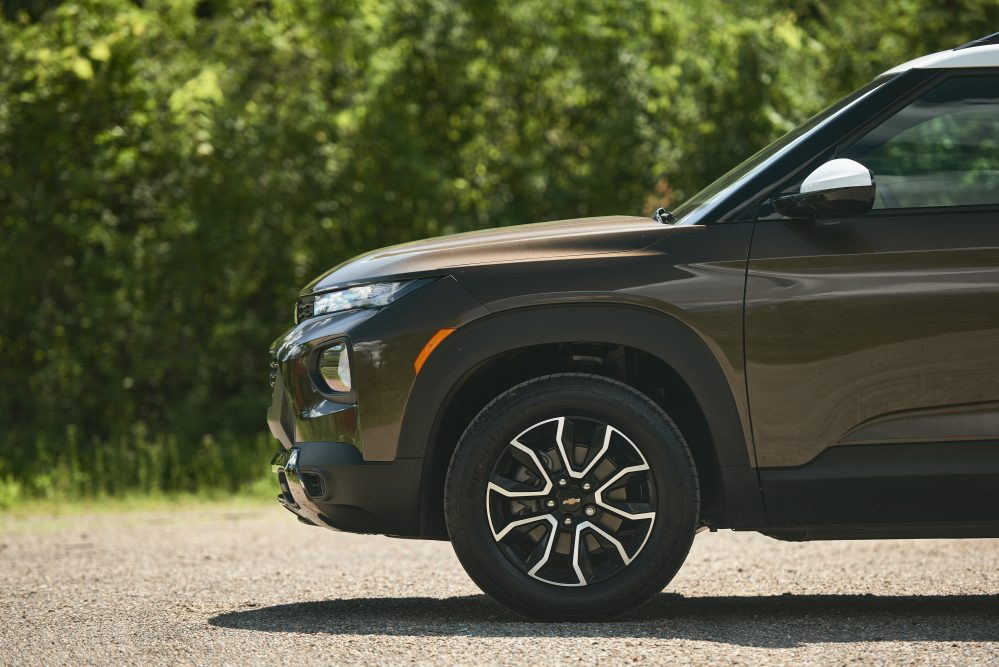 Turn off traction control in the Trailblazer and activate the vehicle's twin-clutch all-wheel-drive system, because yes, GM still allows you to turn the system on or off, and the Trailblazer will happily kick its tail out as you smash the throttle upon corner exit. It's a great system that provides a lot of flexibility for diverse situations, putting the Trailblazer ahead of its rivals in that regard.
The slightly lifted suspension also allows you to thrash it hard in the dirt without fear of hurting it, which is rather fun. In many ways this reminded of my old Chevrolet Tracker I'd throw into snowbanks. Makes you wonder why GM just didn't call it that.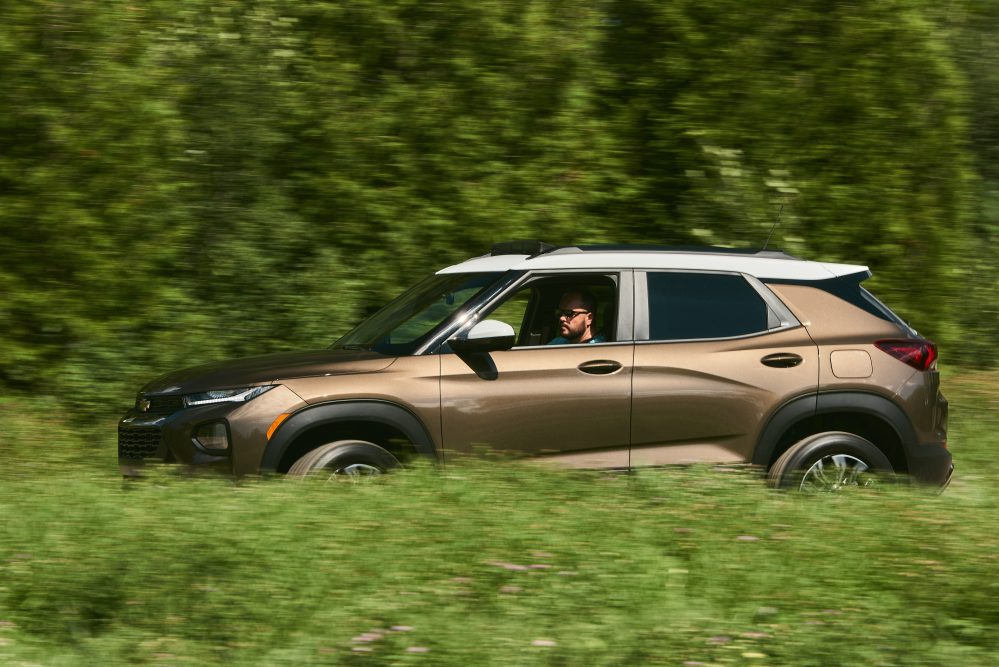 However, the Trailblazer does have a few shortcomings when you drive it on the road. The lifted ride height and short wheelbase do lead to a choppy, bouncy ride, which is a bummer given the otherwise solid platform it's riding on. But the turbocharged three delivers ample low-end torque, makes it peppy around town. And, once again, GM's nine-speed automatic gearbox remains superb here. Shifts fast, and adapts quickly to your driving methods.
That said, while low-end torque is good, power remains hard to find, and the Trailblazer is sadly not very quick. You'll get more oomph from a similarly priced Mazda CX-30 and Kia Seltos.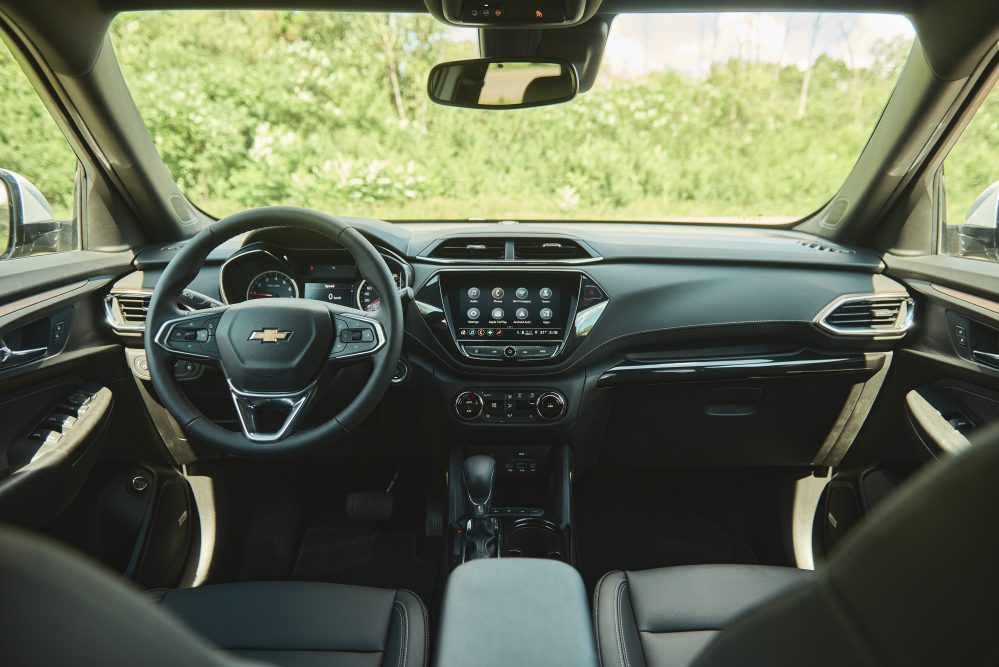 Inside, the 2020 Chevrolet Trailblazer nails what GM typically does best: ergonomics and infotainment. The Trailblazer has a straight-forward approach to the way everything is laid out and I gotta say, build quality is impressive, on par, if not better than competing Japanese and Korean products.
Chevrolet's infotainment interface remains among the best in the industry thanks to a simple, easy to comprehend layout and all the latest tech in the book. While, yes, Wifi connectivity requires a subscription (Chevy pays it in its press units), having it in the car is quite neat as you can stream your Spotify playlist without eating up your data.
Passenger space is also surprisingly good for its size. I'm a big guy and sitting back there proved quite spacious and roomy. I never banged my head on the roof, nor got my knees stabbing the front seats. Cargo space is fine, better than some, but not at the top of the category. At 1,542 liters with the rear seats folded flat, the Trailblazer is good, better than a CX-30 (1,280 liters), but gets eaten alive by the Kia Seltos (1,778 liters), Nissan Qashqai (1,730 liters) and Jeep Compass (1,693 liters).
Here's my final verdict for the 2020 Chevrolet Trailblazer: the product is good, the quality is there and it nails the basics of what CUV shoppers look for. Looks cool too! Sadly, it fails at offering an appealing value proposition. If you want content, you need to up the ante and grab an Activ or an RS model, trim levels that sell well over 30 grand.
Unfortunately, the base models simply don't offer any value, something its competition is currently mastering. Then there's the lack of actual power. That three-cylinder engine gets the job done around town, but fuel economy – in this case an average of about 8L/100 km – isn't necessarily better than the more powerful four-cylinder units found under the hood of the competition. So before buying Trailblazer, I highly recommend driving a Kia Seltos and a Mazda CX-30 first.
Clavey's Verdict
Review of the 2020 Chevrolet Trailblazer Activ by William Clavey
Subcompact Crossovers
Class-leading interior ergonomics
Spirited handling
Clever all-wheel-drive system
Base models offer no value
Mediocre cargo space
Slow when compared to main rivals
Clavey's Corner is located in Montreal, Quebec, Canada. Prices and trim levels discussed in this article reflect the Canadian car market.
Special thanks: Chevrolet Canada
Photography: Guillaume Fournier
Contact the author: [email protected]