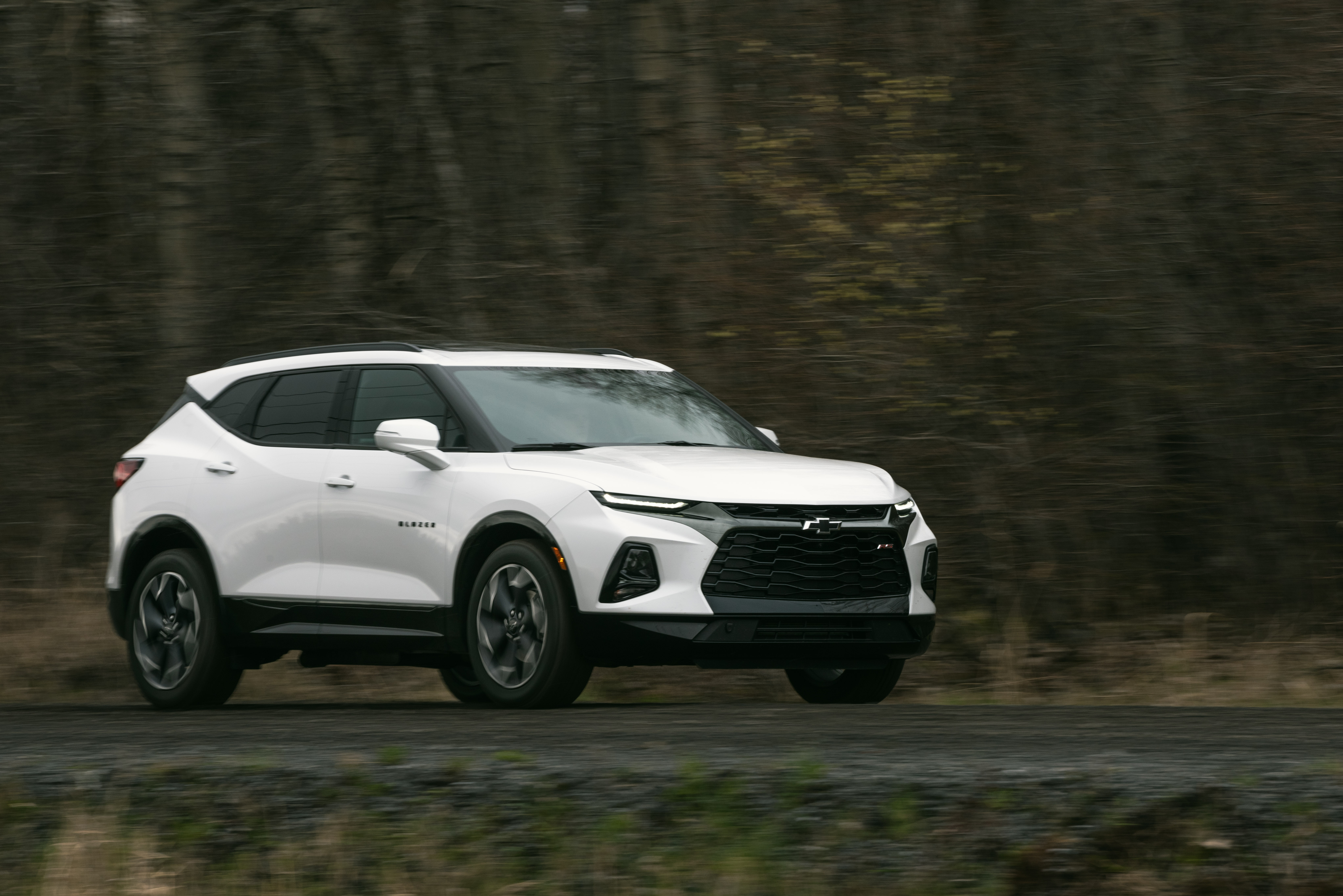 The 2020 Chevrolet Blazer isn't the Blazer of your childhood. Gone is the rugged, body on frame configuration and two-speed transfer case. Instead, this new Blazer is more urban, stylish and refined, built around a unibody shell and created to satisfy an insatiable thirst for sport utility vehicles. Perhaps the first and immediate question that comes to mind when seeing this new Chevy is why? Why slap the Blazer name onto a vehicle that has absolutely nothing to do with its heritage? It took me an entire week behind the wheel of one to figure that out. And I still can't get my head around it.
A Lifted Camaro, Perhaps?
Fine, so the Blazer is wearing the wrong name. But I gotta say, Chevrolet has done a bang up job of not making this crossover appear like every other one on the road.
Contrary to its lame-looking and driving rivals: Ford Edge, Nissan Murano, Honda Passport, Volkswagen Atlas Cross Sport or even the upcoming Toyota Venza, the Blazer actually drives in a "dynamic" way while looking the part. It has a modern, racy, yet functional look to it, with a super aggressive front fascia that somehow mimics the Camaro's, and a wide stance complimented by a low roofline. It's frankly well executed. So much so, that you wonder why General Motors didn't just call this the Camaro Cross.
The 2020 Chevrolet Blazer sits in a highly popular segment at the moment, one the industry calls the two-row midsize SUV category. It was basically created from consumers demanding the towing capability of their large seven-seaters – things like the Honda Pilot or Chevrolet Traverse – but didn't necessarily need that much passenger space.
This is why the Blazer rides on the same platform as pretty much all other SUV's within the General Motors portfolio, but its front track was widened by 158 mm versus a Traverse or a GMC Acadia. Proportionally, the Blazer is about the same height as an Equinox but is as roughly as wide as a Traverse, with the length fitting squarely between those two models.
Three engines are offered for this new Blazer. If you opt for the base model, your only option is a 2.5-liter four good for a not-so-cool 193 horsepower. There's a turbocharged 2.0-liter four-cylinder as well, which is alright with its 230 horsepower.
The one you want though is the Blazer RS, the one you see here, which not only spices things up aesthetically, but also comes standard with  GM's tried and proven 3.6-liter V6. It's good here for a healthy 308 horsepower and 270 lb-ft of torque, enough to launch this lifted Camaro from a standstill to 100 km/h in roughly 6.3 seconds.
All Blazers come with optional all-wheel-drive, but the RS comes standard with a twin-clutch system which can, in theory, create torque vectoring. I'll get back to that one later. A nine-speed automatic gearbox is the only way to get the power down. Pricing kicks off at $37,448 for a front-wheel-drive Blazer. The fancy model you see here stickers for $55,668.
Blazin' Away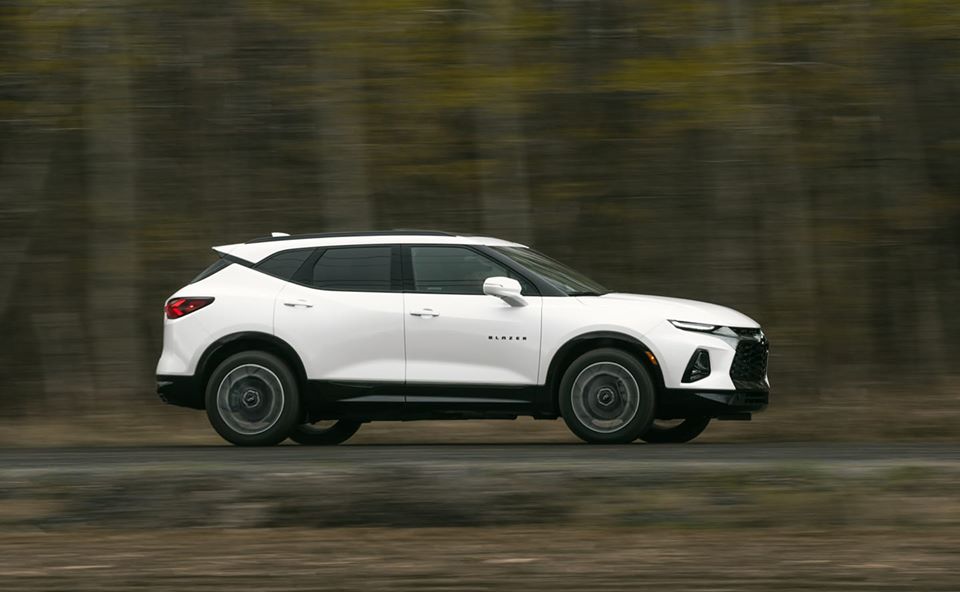 Chevrolet went through great lengths to make the Blazer look, drive and feel like something truly unique. While it borrows all of its mechanical components from the GM SUV parts bin, the Blazer is in fact refreshing, capable and distinguished.
Inside, the Camaro-inspired theme continues with the large circular air vents that also act as fan speed control knobs. The entire dashboard has an upright, contemporary design I quite like, while the red RS interior accents highlight the vehicle's trendy demeanor.
I assisted the Blazer's global launch when it first came out in 2019, and back then, I was surprised by the level of cornering grip I was able to generate in this thing. It truly hugs corners, feels secure and well planted on the road with very minimal body roll considering the lifted ride height.
That mostly all has to do with the trick all-wheel-drive system which has the ability to rotate the right wheels in one direction, while the left ones turn the other way. This creates a yaw effect during cornering, allowing the Blazer to better follow an apex. The system can also be entirely deactivated, where the Blazer becomes front-wheel-drive for improved fuel economy.
The jewel of the experience, however, remains the engine, which churns out a healthy dose of low-end thrust all while preferring its higher stratosphere. It's a rev-happy unit that sings a strong naturally aspirated below. Downshifts are quick from the nine-speed gearbox and throttle response is immediate, but I would have appreciated some paddle shifters or some way to fully maximize this engine's potential.
But at the end of the day, you a sense purpose in the way the Blazer performs, as if there was actually a desire at General Motors to inject its chassis with Camaro DNA. The end result may be weird, but it actually works.
Remaining Utilitarian
Of course, all this performance talk makes you wonder why the Blazer is a sport utility vehicle in the first place if the goal was to make it handle like a Camaro. Above all, this thing is and must remain an SUV or it has no reason to exist, so it must remain practical.
On that front, GM has managed to not sacrifice too much of the Blazer's intended function. When properly equipped, it will tow up to 4,000 pounds, which is within the segment's capability, but some rivals will tow up 5,000 lb.
It's the same story for cargo space, where the Blazer can haul a fully assembled mountain no sweat thanks to its 1,818 litres of total space. For those wondering, yes those bars can be removed, but even then, the Blazer is slightly outgunned by the Nissan Murano's 1,897 liters, and significantly behind the Ford Edge's 2,078-liter capacity.
But the 2020 Chevrolet Blazer is by far my favorite of these weird-looking vehicles. It's also the most interesting one to look at. You all know what I think of SUVs, but when I get behind anything weird, quirky and fun to drive, I'm totally down with the idea, no matter how absorb it may seem. In other words, I appreciate what Chevrolet has done with this new Blazer, but I really wish it had another name. Something along the lines of Street Blazer would be more appropriate.
Clavey's Verdict
Review of the 2020 Chevrolet Blazer RS by William Clavey
Midsize Two-row Crossovers
Interesting styling
Impressive handling and acceleration
Wide range of available engines
Less cargo space than main rivals
Slightly mediocre towing rating
No all-wheel-drive with the base four-cylinder
Clavey's Corner is located in Montreal, Quebec, Canada. Prices and trim levels discussed in this article reflect the Canadian car market.
Special thanks: Chevrolet Canada
Photography: Guillaume Fournier
Contact the author: [email protected]