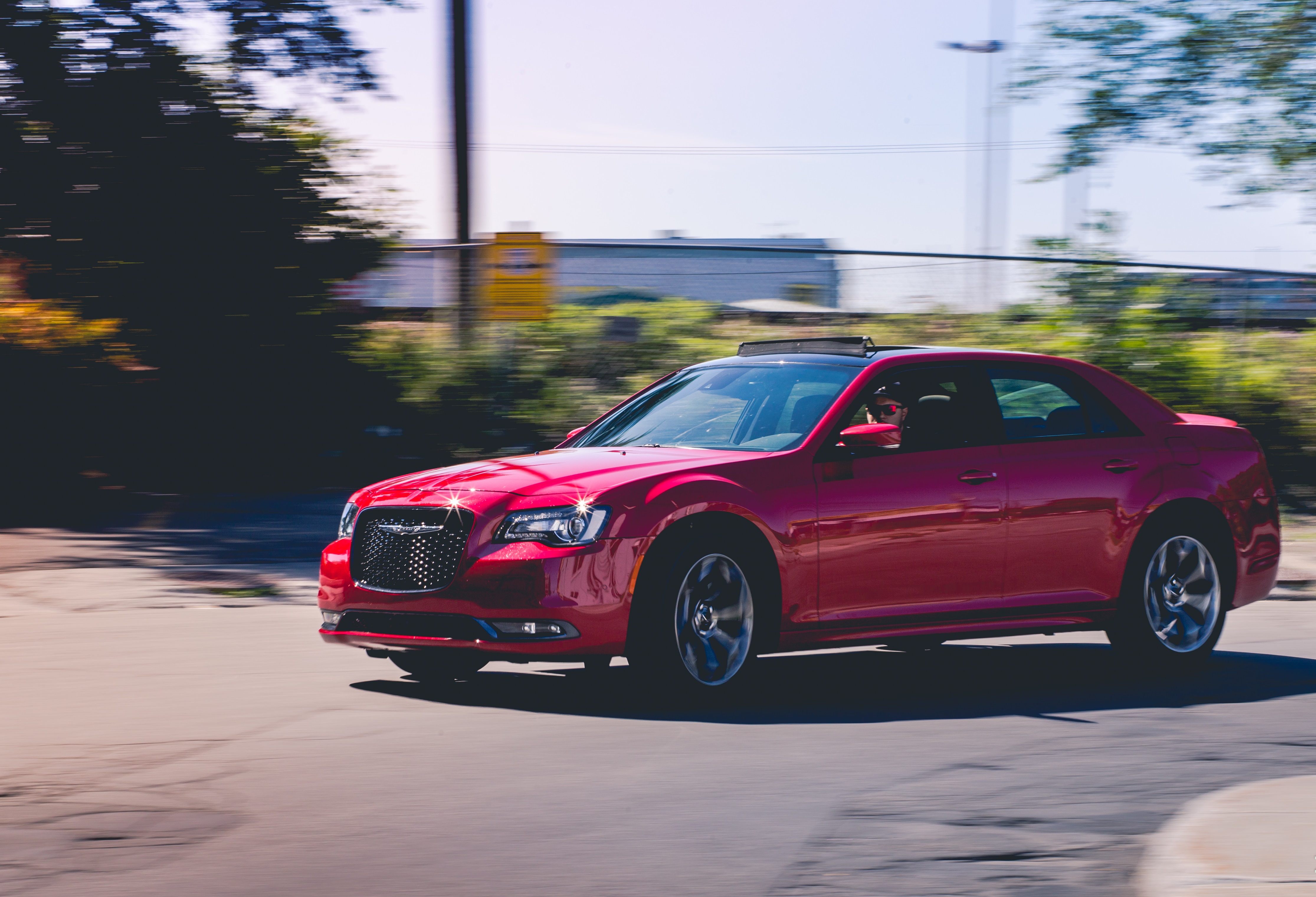 It's funny how some cars can be appealing on entirely irrational levels. Take the 2016 Chrysler 300S for example; it's not really a car you'd qualify as a smart purchase. I mean, nothing in this day and age with a 5.7L V8 under its hood is considered a step forward. Is the 300S at least a sophisticated and efficient machine? Nope. Does it boast an all-new chassis featuring the latest advancements in rigidity? Negative. In fact, this car rides on a 20-year-old platform that was originally developed for a Mercedes-Benz.
So, why the hell am I reviewing this thing, especially given that I've already reviewed a black one with the V6 almost a year ago? Well, simply put, the 2016 Chrysler 300S, specifically the 5.7L HEMI V8, is one of those cars that defies all conventions. There's nothing logical about the way this thing is built; nothing that could possibly make it a rational purchase. Yet, somehow, this 2000 kg brute of a thing that would rather be in a Dick Tracy universe than in our real-world boredom happens to be one of the most addictive cars I've driven this year. And since a more refined, Alfa-Romeo-based Chrysler 300 is just around the corner, I think it's important to take a last in-depth look at one of the last, honest-to-goodness, V8-powered American sedans.
A Lovable Brute
Although it's full of undeniable flaws, there's still so much to love about the Chrysler 300S. First, as I've said before, there's the way this thing looks. Designed by Ralph Gilles 13 years ago, it remains one of the most distinctive designs to have ever been slapped onto a mass-production vehicle. And now, with the added aesthetic revisions the car has inherited last year; especially dressed up in this Redline Tri-Coat Pearl paint job and blacked out roof and grille, the 300S remains, even after all those years, a very attractive sedan.
It's also still the official car of bad.
In this trim, the one Chrysler calls the 26G package, which is only a $2950 option over the V6-powered 300S – a bargain considering it adds V8 power, a performance suspension, seriously bitchin' 21-inch concave wheels, and a rear deck lid spoiler reminiscent of the one found on a NASCAR, the 2016 Chrysler 300S will stand its own next to the best performance sedans Europe has to offer.
But of course, you know all this. You've seen the Chrysler 300S on the road, it's a familiar car. And you've read me rant about that black Pentastar-powered 300S. You've also all seen Breaking Bad by now, and all agree this is the car every gangster and/or rapper needs to buy. What you people came here to read about, is what the 300S feels like with that V8 under its hood.
Simply put, it's a fuckin' HEMI. Granted, it's no Hellcat, and FCA will sell you much more powerful V8 engines in their Chargers and Challengers. But it remains a 5.7L pushrod American V8. This means that in this iteration, it's good for 363-hp and 394 lb-ft of torque. As the saying goes: there's no replacement for displacement. And even if the 300S is a heavy car, it's no slouch off the line. Thanks to that superb TorqueFlite 8-speed automatic transmission, the same as in the V6 cars, this 300S is good for a claimed 0-100 km/h time of 5.3 seconds.
Now trust me, that's fast enough.
What you experience when driving the 2016 Chrysler 300S 5.7L is what happens when the engine makes the car. It's the basis for everything this vehicle represents, and without it, it simply feels incomplete. Far from being refined, the 5.7L remains a fantastic unit. It's responsive, with literally no delay the moment you hit the throttle. There's massive low-end torque and a constant surge of power throughout the entire rev range. There's basically power everywhere, all the time, but not so much to scare you, it's all very controllable at the limit. It also emits a nice, Mopar-appropriate low-end growl through its dual exhaust tips.
I also want to congratulate FCA for cleverly tuning the 300s' traction control system to maximize acceleration. Usually, when systems can't be entirely turned off, I complain. But in here, it's actually the best thing the 300S could have benefited from, because now it doesn't just squat down and peel off its rear rubber off the line. Instead, with the help of the 8-speed transmission, which manages to find the right gear every time, the traction control system hunts for grip immediately. The result is a performance sedan that straight out gets up and goes, while still filling those rear fenders with smoke during the entire process.
Because nothing says HEMI like rear tire smoke.
More about that TorqueFlight 8-speed: it's one of the rare automatic transmissions I've tested that actually understands what you're trying to do. Say you're at half throttle and realize the tranny didn't give you the proper gear, simply give it another hard stab at the throttle, and it'll happily downshift to a lower cog – it never messes around, it just does-exactly-what-you-ask-it-to. Period.
And that's kind of odd because it's ZF-sourced. Like the 9-speed I tried in the Acura TLX; you know, that annoying laggy transmission that wouldn't downshift when I'd ask it to? Who's to blame here?
Getting the Basics Right
Just before I got into the 2016 Chrysler 300S, I was sitting in a Lexus GS350 F-Sport; a car which felt more like a robot than an actual car to drive. Say what you will about them, Lexus vehicles remain benchmarks in terms of material quality as well as fit and finish. That being said, although I knew what to expect from the 300S' interior, I was rather shocked by how horribly it has already aged. Perhaps it's because I'm a spoiled brat, but I've driven a lot of stuff since that black Three Hundred last fall, and I'm sorry to say that this interior is definitely showing its age.
It's not so much that it's unattractive in there, I actually like the way everything is laid out. And that black on black everything actually grew on me. No, the 300S' interior fails to impress by the overall quality of its fit and finish materials. There are cheap and flimsy plastic bits here and there that seem to have been taken right out of a late nineties Daewoo, fake carbon fibre that doesn't really do anything other than look fake, and entire dashboard sections, such as the gauge cluster housing that seems to be holding there with Velcro. I'm sure I could have ripped it off with my bare hands. I mean, I never thought I'd say this, but the $25 000 2016 Honda Civic feels more premium than the 2016 Chrysler 300S.
But.
And it's a big but. There are areas where the 300S completely pulverizes its competition. Areas that actually matter. That Uconnect 8.4-inch touch-operated infotainment system: my god is it perfect and user-friendly. Honda and Toyota, please, buy a Chrysler 300, take apart its infotainment system, and study it, because FCA sure knows what it's doing. The system is intuitive, quick, easy to use, simply and beautifully designed, and unlike the trend in today's automotive industry to converge everything to touch-operated controls, FCA has left actual physical knobs for common-sense controls such as volume and changing radio stations.
Also, I love how all of the car's controls are laid out on the centre stack. Everything is clear. Sport mode, traction control, lane departure assist, you name it, they're all cleverly identified and easy to operate. Then, there's the overall comfort of the 300S. Those seats, not only do they look seriously gangsterish, especially with that black S sewed into the leather, they also offer solid lumbar adjustments and plenty of lateral support when pushing this car through its paces.
Because yes, even if the 300S is a big old barge, it does handle tremendously well.
And at the end of the day, you can't deny the Chrysler 300S' ability to remain a comfortable highway cruiser with a quiet cabin and smooth ride, even with that performance suspension. Yes, it wallows about and exhibits undesirable chassis quibbles over rough surfaces, but never to the point of aggravating its occupants. Instead, these flaws simply add character to the car. It's also enjoyable to drive, or rather addictive I should say. It feels like hustling around with a big football player – you know he could break you to pieces, but he's so kind he'll never dare hurt you. There's also more than ample cargo space in the ginormous trunk for those occasional corpses you may need to haul around, because why not right?
FYI: that rear bench offers more legroom than the Chevrolet Impala, Toyota Avalon, and Nissan Maxima; all cars that benefit from much more modern platforms than the 300's – not bad for an old fart.
A Lesson for All Carmakers
And this brings me to my final verdict, and a very important lesson for all carmakers. This car right here, this unrefined, crude, very red, and almost prehistoric American sedan won over my heart more than any other high-end luxury sedan or Tesla ever could. Now why is that? Because it has character, a soul, and actually feels alive.
Carmakers nowadays are getting so caught up with the technology and safety they're pumping into their vehicles that they've lost the essence of what a car should be. Cars are more than simple appliances that carry us safely from point A to point B. They're an expression of who we are, what we stand for, and how we want to be remembered.
And on that front, the Chrysler 300S wins on so many levels. Yes, it's loud, brash, and guzzles massive amounts of fuel through its eight combustion chambers, but it's an honest-to-goodness, no "f**ks given" machine. It's not trying to be something it's not. It doesn't want to fit into the mould. The Chrysler 300S is the guy that arrives at a fancy suit-and-tie party with his sleeves rolled up, hair slicked back, and a tattoo on his forearm. It doesn't care if you're offended by him – because that's exactly the kind of reaction he's expecting from you.
That said, it's sad to know this car will soon be replaced by something Italian and "more refined".  Is that inevitable? Of course it is, and it's a logical step in the right direction if FCA wants to remain alive in this segment. But man, I'm going to miss this car. The entire car culture will miss this car. And I congratulate FCA for making the most out of that LX platform before it dies out, whether it be in the form of a 300S or a 707 hp tire-shredding Hellcat, kudos for keeping that flame burning strong until the very end.
Prices for a 2016 Chrysler 300S 5.7L start at $45 645. My tester had the 4 available optional packages added on: Safetytec groups 1 and 2, which load the car up with the latest safety technology such as adaptive cruise control, lane departure warning, blind spot monitoring, cross-traffic monitoring, a collision mitigation system with automatic braking and the Park-Sense front and rear park assist system. It was also fitted with Luxury and Light packages with added extra creature comforts such as bi-xenon HID headlights with an automatic levelling system, a rear sunshade, a heated steering wheel, and an auto-dimming rearview mirror – just to name a few. Equipped this way, your 300S will cost just over $50 000.
All in all, it's unfair to review the 2016 Chrysler 300S the same way I'd review any other full-size sedan in this segment, because it feels like it's alone in its own segment. As a big boy sedan, it gets the job done of offering massive interior space, ultimate comfort, and plenty of power for the money. However, unlike its competitors who try to seduce their buyers with electronic gimmicks and, in some cases, questionable designs, the 2016 Chrysler 300S is a car that stemmed from emotion. It was designed by people who actually love cars – and that makes it more unique than any other sedan on the market today.
Clavey's Verdict
Review of the 2016 Chrysler 300S 5.7L by William Clavey – *2016 Top 10 Contender
+
+ Exterior design never gets old.
+ Roomy and comfortable for long distances.
+ Well-tuned 8-speed transmission and traction control combination.
–
– Ageing platform feels rough around the edges.
– Questionable interior build quality.
– Not the most fuel efficient car.
---
Clavey's Corner is located in Montreal, Quebec, Canada. Prices and trim levels discussed in this article reflect the Canadian car market.
Special thanks: FCA Canada
Photography: Appearance
Contact the author: [email protected]