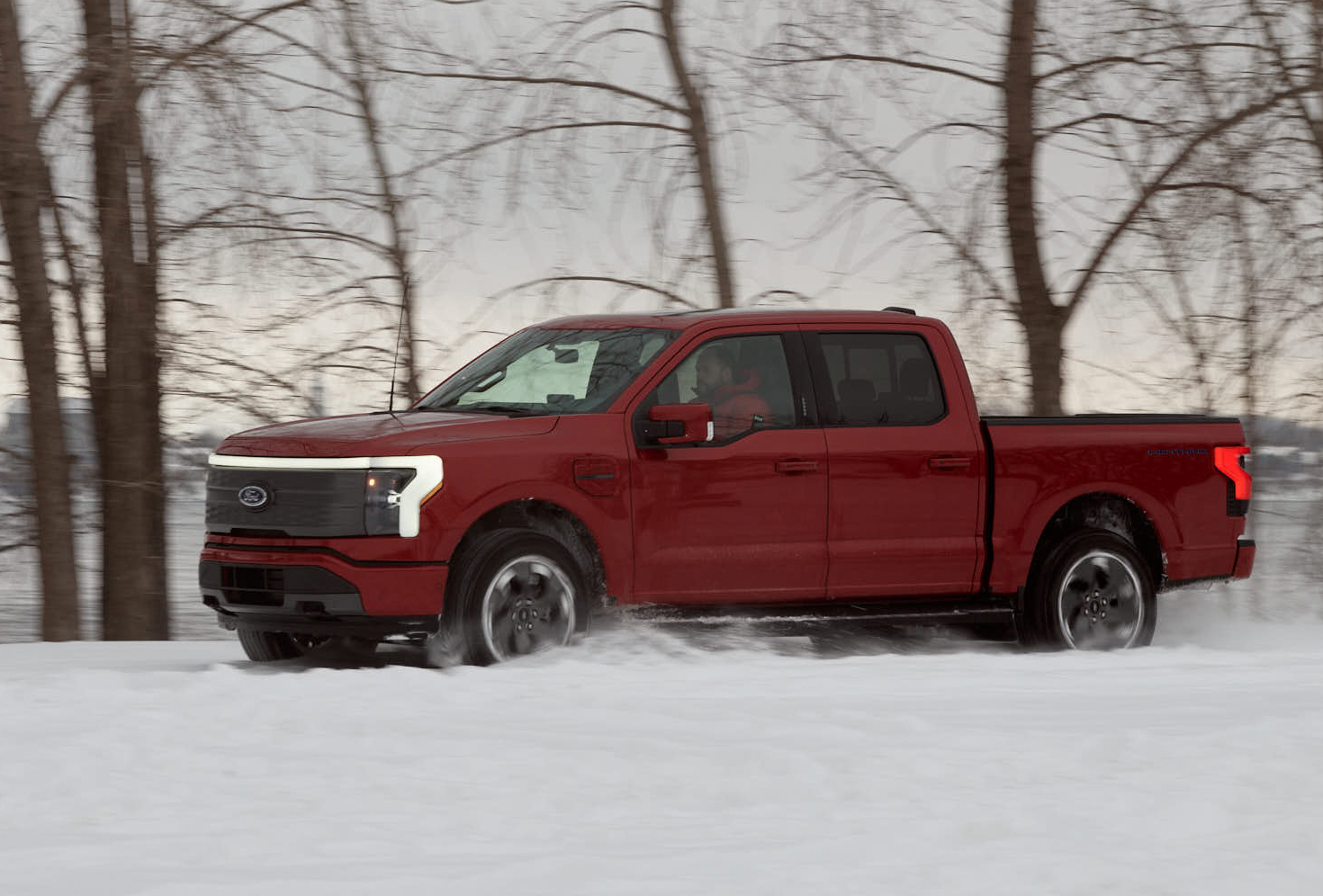 The 2023 Ford F-150 Lightning is a big deal. Not only is it the first mass-market full-size electric pickup truck in history, it needs to prove to truck buyers that it can still be, well, a truck. Yes, I know, Rivian was actually the first carmaker to sell an electric pickup truck, but here in Canada, this F-150 was the first one we could buy. I took the Lightning out on a long, winter journey. I also did a quick towing test to see if it's worth your hard earned money. The quick answer is yes, it's a real truck, but you'll have to deal with a few compromises.
It's Just Another F-150
Unless you really pay attention, you'll never really know this F-150 isn't powered by a gasoline engine. Except for a grille that's obviously not a grille and model-exclusive headlights, taillights and wheels, this is the good old F-150 we all know and love. I personally love the fact that it doesn't attract too much attention to itself, but some would prefer it looked a bit more futuristic. That's why the Rivian R1T is there. There's also the fucking weird Tesla Cybertruck if that's your thing.
What I particularly admire about the Lightning is that it's here. You can buy it at Ford dealer, drive it for a ton of hard-working kilometers and have it serviced like you would any other Ford. Meanwhile, GM is still talking about its "upcoming" electric competition, while Ram really only showed us a concept so far. The Lightning is real. It's a trendsetter.
For the moment, these things come with a choice of two battery capacities of either 98 and 131 kWh. In both cases, the trucks come standard with dual-motor all-wheel drive here in Canada. The small battery yields a total combined horsepower of 426, with 775 lb-ft of torque. Yes, you read that right: 775 god-damn torques. That one will get you up to 386 km of range.
Opting for the larger battery unlocks everything the 2023 Ford F-150 Lightning has in stock. While torque doesn't budge, horsepower climbs to a staggering 563. Range is also considerably higher at 515 km. However, if you select the optional 22-inch wheel package, range drops down to 483 km. In all trims, the Lightning is compatible with a 150 kW fast charger, while its onboard charger can reach a charging rate of 19.2 kW.
Pricing for the Lightning is, rather high. For now, Ford offers it in only three trims, XLT, Lariat and Platinum. The rig kicks off at $81,195 before options, while a top-spec Platinum towers the lineup at a whopping $123,195. The truck I was driving, a well-equipped Lariat with the 131 kWh battery, stickered at $101,035.
Massive Power, Fair Winter Range
Ok so, I drove the Lightning in different situations in winter. During the week I had the thing in my possession, temperatures were ranging between 0 and -15 degrees Celsius. The first thing I did was plug the truck onto my home level 2 (240 volt) charger during a full night. The following morning, it was fully charged at 100%. My plan was then to drive all the way to Quebec city to go see some friends. It's a 253-km drive from where I live.
To make sure I had enough range to get there, I made sure to preheat the Lightning's battery and cabin. I did this using Ford's excellent Ford Pass mobile app. From my phone, I was able to schedule when I would leave. This ensured that when I was ready to go, the truck's cabin would be nice and warm, its windows would be defrosted and its onboard computer would tell me I had 400 km of available range. As you know, range on an EV can drop anywhere between 30 and 50 % at cold temperatures. In this case, I had more than enough for my trip.
However, once out there in the open, at a cruising speed of 118 km/h and with the climate control set to 20 degrees, my truck consumed its electricity at a rate of 38 kWh/100 km. This translates to a theoretical real world range of 345 km. It was still enough to get to my destination.
Once in Quebec, the truck slept outside, in the cold,  unplugged, with 100 km of leftover range. The next morning, I drove back towards home. 45 kilometers later, I stopped at a 150 kW public charger to juice up again.
Because the Lightning's battery is so big, even a fast charger can take quite a long time to fully charge the truck. Since I only needed 214 kilometers to drive back, I unplugged the charger one hour later and the onboard computer read 260 km of available range. That was well enough to drive back.
Except, it wasn't. On the drive home, I hit an area of freezing rain. This forced me to turn on the front defroster full blast. And that's when weird things happened. The range suddenly dropped, to the point where I didn't have enough to make it home. I therefore needed to stop a second time. A 30-minute charge on a 50 kW fast charger gave me enough electrons to keep going. In total, the roundtrip cost me $30,00 in energy.
5,000 Pounds Of Stong Pull
The following day, I hitched a 5,000-pound trailer onto the back of the Lightning. Same weather conditions, with temperatures averaging around -10 degrees. After weighing the truck and trailer to make sure my weights were correct, I ventured out in the cold. At an average speed of 80 km/h, I recorded a 58 kWh/100 km average. This translates to a real world range of 225 kilometers.
So there you have it. During winter, at an ambient temperature of about -10 degrees Celsius, a 2023 Ford F-150 Lightning that's towing a 5,000-pound trailer will get you about 200 km of total range.
I therefore conclude that this truck isn't yet suited for all truck buyers. If you spend your life with your truck, towing a heavy trailer, you may not like this thing. But if you use your truck as a family vehicle, one that occasionally needs to tow a boat or a pair of recreational vehicles, it could very well be the perfect vehicle for your needs.
Oh, and while I still have your attention, allow me to tell you that I absolutely adore this truck. The Lightning is butter smooth, cathedral-like quiet and the amount of instant power and torque is simply astonishing. Not only is this thing ridiculously fast, while towing, you'll never even realize you're hauling something heavy. As a matter of fact, I have never driven a truck that was this capable.
I'll add that in deep snow, the amount of grip is simply astonishing, and my lord does it know how to perform glorious drifts. Lastly, on top of having a usable bed, the Lightning has a frunk (front trunk) about the size of a Honda Civic's trunk. How freaking cool is that?
The 2023 Ford F-150 Lightning is the first chapter to an exciting era in truck history. Considering how capable this first one is, just imagine what's coming next. It's therefore only a matter of time before electric pickup trucks surpass their gasoline ancestors. Some may be complaining about that reality. Personally, I can't wait for the future.
Clavey's Verdict
Review of the 2023 Ford F-150 Lightning Lariat Long Range by William Clavey
Electric Pickup Trucks
Massive power and torque
Looks like any other F-150
Decent winter range during towing
Not cheap
Long charging times
Doesn't yet meet the needs of all truck buyers
Clavey's Corner is located in Montreal, Quebec, Canada. Prices and trim levels discussed in this article reflect the Canadian car market.
Special thanks: Ford Canada
Photography: Guillaume Fournier
Contact the author: [email protected]