The 2021 Ford F-150 finally gets a thorough redesign from the ground up, marking the twelfth generation of the best selling truck in North America. But while it packs a hell of a lot of new technology and capability, which I'll dig deep into throughout this review, its most interesting feature is its all-new PowerBoost hybrid engine, which I had a chance to sample for a short drive in preproduction form. It completely changes the game.
Conservative Design
If you find that the 2021 Ford F-150 looks exactly the same as its predecessor, well that's no coincidence. Ford is pretty vocal about wanting to keep the truck unchanged. Apparently, this is precisely what F-150 owners wanted. That said, pretty much all of its body panels are new, starting with a fresh new grille, wrap-around front bumper and a meaner stance overall, while maintaining the classic C-Clamp LED headlights.
That, the more badass look, is due to widened tracks front and rear, but also because of how high the fenders were placed on the body. Ford also tucked the rocker panels underneath the truck's body to accentuate the wider stance. And frankly, it looks pretty sharp.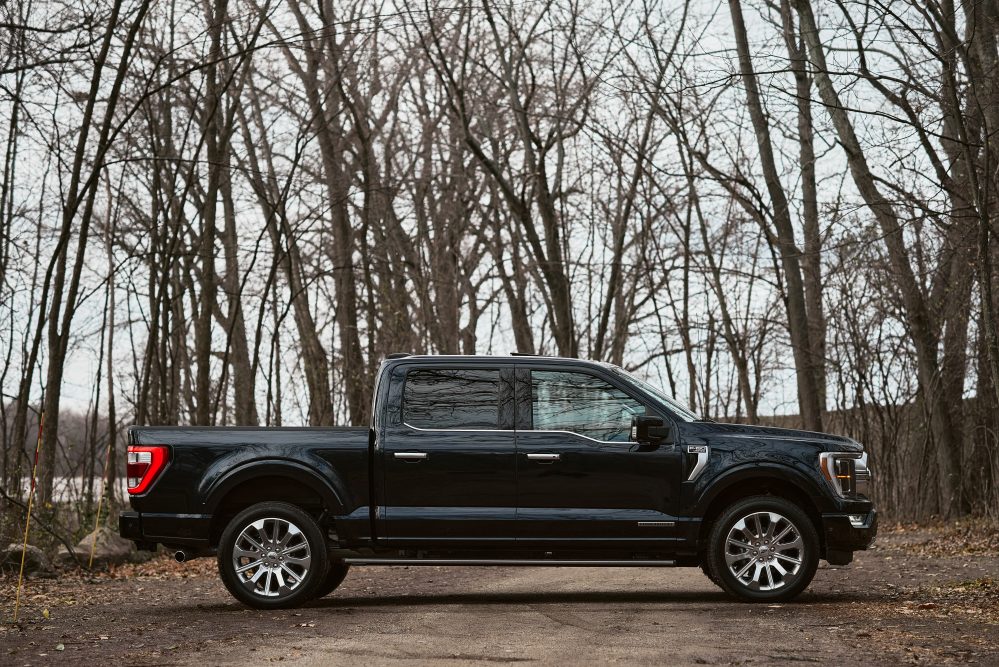 Mechanically, the truck still rides on the same platform as its predecessor, but Ford considerably reinforced it a key places for increased rigidity and toughness. The body is still made of aluminum, and the entire truck has pretty much the same overall dimensions, inside and out.
Six new engines are available, ranging from a bargain basement 3.3-liter V6, all the way to the famed 5.0-liter V8, with two EcoBoost V6's in between, and one diesel. But the crown jewel of the lineup really is this PowerBoost hybrid powerplant, which utilizes the familiar 3.5-liter twin-turbo EcoBoost V6, but adds a 1.5 kWh lithium-ion battery underneath the rear seat.
Ford then integrates a 47-horsepower electric motor inside the ten-speed automatic gearbox for a total combined horsepower rating of 430 horsepower and a staggering 570 lb-ft of torque. As a matter of fact, the hybrid is currently the most powerful engine in the entire F-150 lineup.
Towing ratings are impressive too, ranking just underneath the V8 and the 3.5-liter EcoBoost at a solid 12,700 pounds. Payload, meanwhile, is claimed at 2,118 pounds. Ford claims the 2021 Ford F-150 PowerBoost engine will average 9.8L/100 km when it's not towing, numbers that I'll get back to in a bit.
Pricing, in typical F-150 fashion, is all over the place since this truck can be entirely customized to your liking, ranging from Base XLT model all the way to the range-topping Limited you see here. Entry price is $33,429 for a V6-powered Ford truck, while the one I was driving, with the SuperCrew cab and 6.5-foot long bed, stickers for a mind-blowing $89,725. Add to that an extra $2,500 for the hybrid engine, as well as other neat options I'll focus on later in this article, and the truck you see here ended up costing $92,525. Jesus Christ that's expensive.
Cool Toys, Smooth Power
Before I go into the specifics of how the 2021 Ford F-150 drives, allow me to geek out on some of the cool toys Ford has added to its cabin and bed. Because they're really worth talking about. First, there's the Pro Power Onboard generator, which allows you to connect tools and other electrical shenanigans directly to the truck's bed. The system comes in three possible power outputs, ranging from 2,0, 2,4 and 7.2 kilowatts. My model had the 2.4 kW generator, which offers two 120 volt power outlets that can power up 2,300 watts of accessories simultaneously.
You activate the generator itself from the truck's updated SYNC 4 infotainment system, which not only features an all-new (optional) landscape-style 12.3-inch screen, but looks and feels fantastic, all while incorporating an almost endless list of features and controls. Once the generator is activated, all you need to do is press a button in the bed to turn it on.
While I had it, the gasoline engine kept turning on, so I assume the generator can't run on the truck's electric propulsion system alone. My local Ford rep confirmed this to me as well. But I didn't spend enough time with it to fully test it out. If you guys figure out a way to only get the generator to run on battery power, let me know. I'm genuinely curious.
The other really cool feature that clearly shows Ford understands truck buyers better than its rivals, is the new, $200, Work Surface option. At the touch of button, located next to the shifter, the gear level reclines and hides inside the center console, and lets you install a large, flat work surface in its place. How cool is that?
It's perfect for a laptop, a lunch or taking down some notes. Then there's the Max Recline front seat feature ($500), which allows you to transform your seat into a little bed, ideal for when you've just spent 12 hours out there on that construction site and need to grab a little nap.
On the road, the 2021 Ford F-150 is by far the most refined yet, presenting composed road manners and impeccable sound insulation. Ford even went to great lengths to reduce body motions typically associated with body on frame configurations, and it's all rather convincing. While never as smooth or agile as a Ram 1500, it's definitely better than a Chevy Silverado or even a GMC Sierra. Considering how old this platform is getting, that's pretty impressive.
But it really is that hybrid engine that charmed me the most as it showed virtually no compromises versus its gasoline-powered siblings. Never do you feel the transitions between gas and electricity, and when you smash the throttle pedal, this thing just scoots up and goes, with a smooth and constant power deliver from low to high rpm. However, there is a noticeable delay between the moment you floor it and when the system responds. That's kind of expected given the two turbos, ten gears and an electric motor trying to figure it all out.
As for fuel economy, I didn't spend enough time with the rig to truly test out its claims. I spent most of my time doing city and highway driving, but I only drove about 55 km, 11 of which were in all-electric mode. I ended up with an average rating of 11.8L/100 km. It's good, but I'm sure this big guy can do better.
As for the rest, I must say the new cabin looks rather dashing, especially now that the F-150 gets a full digital gauge readout, which not only brings it up to par with modern times, but gives you a much wider scope of information to look for. I'm a personal fan of the cool little animations as you shuffle through drive modes, or when you need to consult fuel consumption information.
The Limited's blue leather interior, with blue accentuated materials, really popped in this one, coming through as a highly luxurious and serene place to spend some time. It's just one of those cabins where you could basically camp in. Wait, those seats actually let you do that.
The 2021 Ford F-150 PowerBoost is serious business. More importantly, it completely makes you rethink what a truck can and cannot do. Sure, all the hype is around electric trucks these days, with toys like the Tesla Cybertruck or GMC Hummer EV, but the truth of the matter is we're simply not there yet. This hybrid setup bridges the gap between the full size truck segment's past and the future. And I got to say, it's rather convincing.
Clavey's Verdict
Review of the 2021 Ford F-150 PowerBoost by William Clavey
Full Size Trucks
Solid fuel economy
Impressive towing rating
Smartly packaged cabin
Unproven reliability of hybrid system
Can't run the generator on full electric mode
Hybrid system only available on one engine
Clavey's Corner is located in Montreal, Quebec, Canada. Prices and trim levels discussed in this article reflect the Canadian car market.
Special thanks: Ford Canada
Photography: Guillaume Fournier
Contact the author: [email protected]