I've been around the block with the current Honda Civic. When it first arrived back in 2016, I had adored it in sedan form, powered by the then new 1.5-liter turbocharged engine and yes, a CVT gearbox. Then I drove the Si which I enjoyed even more, especially rowing that slick-shifting manual gearbox. Of course, the Civic Type R remains up there among the best driver's cars I have ever driven. In other words, the entire Civic lineup kicks ass.
But there's one Honda Civic that I still haven't driven, and that's the Civic Sport with the base naturally aspirated four-cylinder engine. Or if you prefer, the Honda K20.
Tonic Yellow Anyone?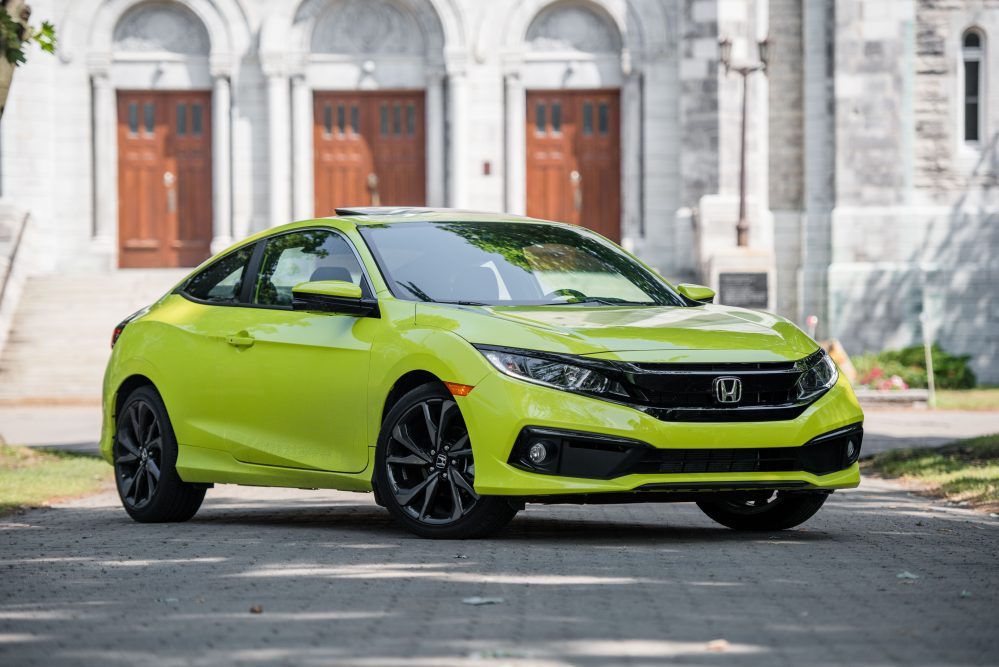 This is actually not a 2020 Honda Civic Sport, but rather a 2019 Honda Civic Sport. I drove it last summer and I just didn't get to post it on here. I specify this because the Tonic Yellow paint job you see here is no longer offered, leaving us with red, black or white only. That's because the current-generation Civic is on its last leg. It'll be replaced in 2021.
Will anyone miss Tonic Yellow anyway?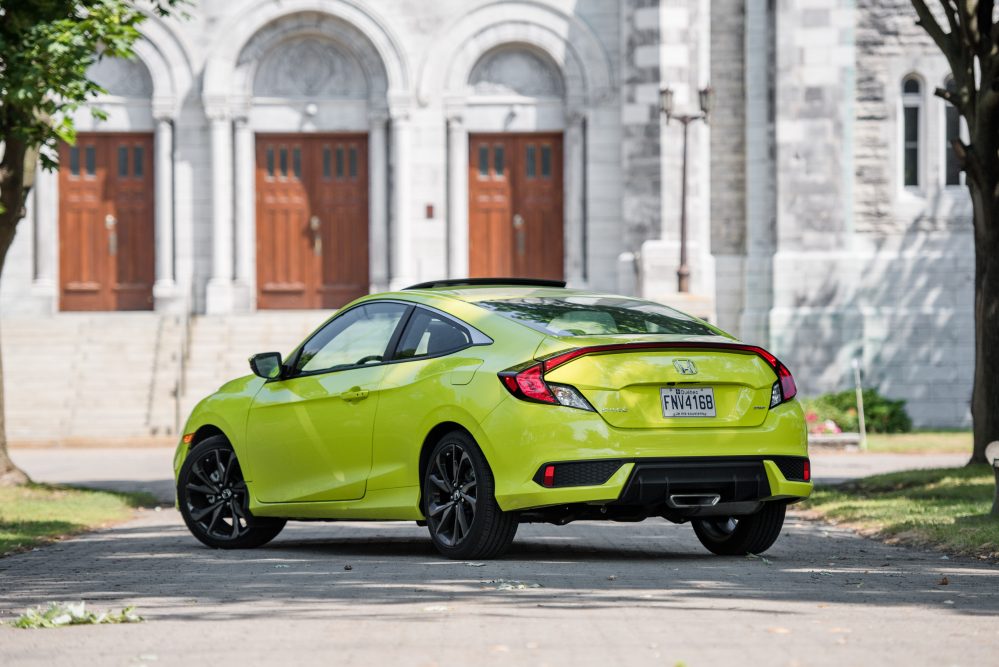 Color issues aside, the Sport package in two-door coupe form remains intact. It's a clever package, as it slots just over a base LX in terms price, and comes with neat "sporty" features like 18-inch wheels, fog lights, a proximity key, a power sunroof and dual zone climate control. It stickers for a very decent $26,860.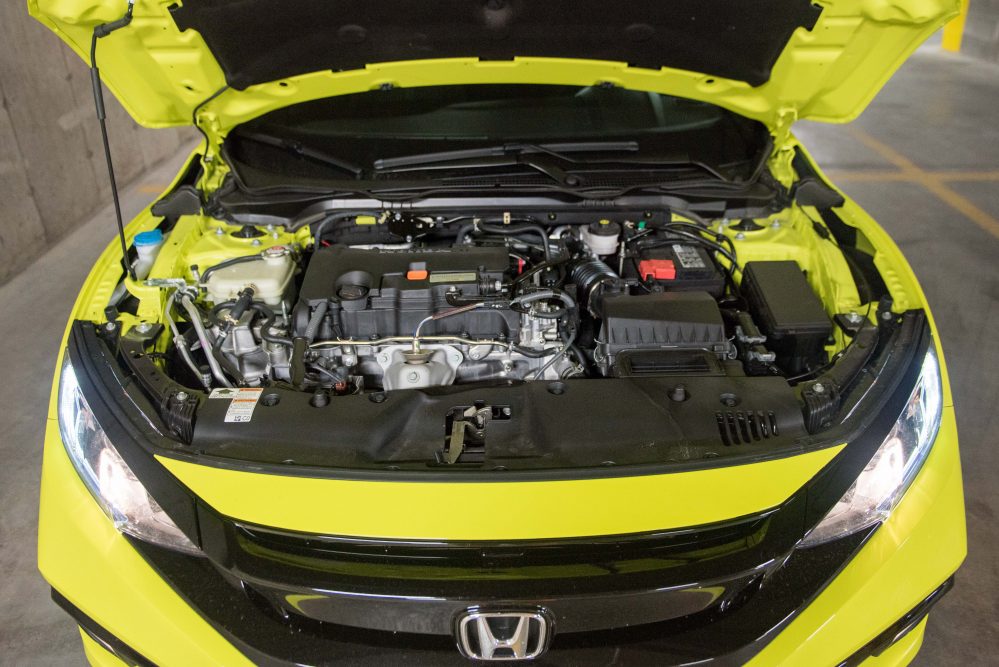 Power comes form the current Civic's entry-level engine, a naturally aspirated 2.0-liter four, or as many of you like to call it; the Honda K20. Its dual-overhead cam and i-VTEC technology may be a thing of the past, but its good for a stout 158 horsepower and 138 lb-ft of torque.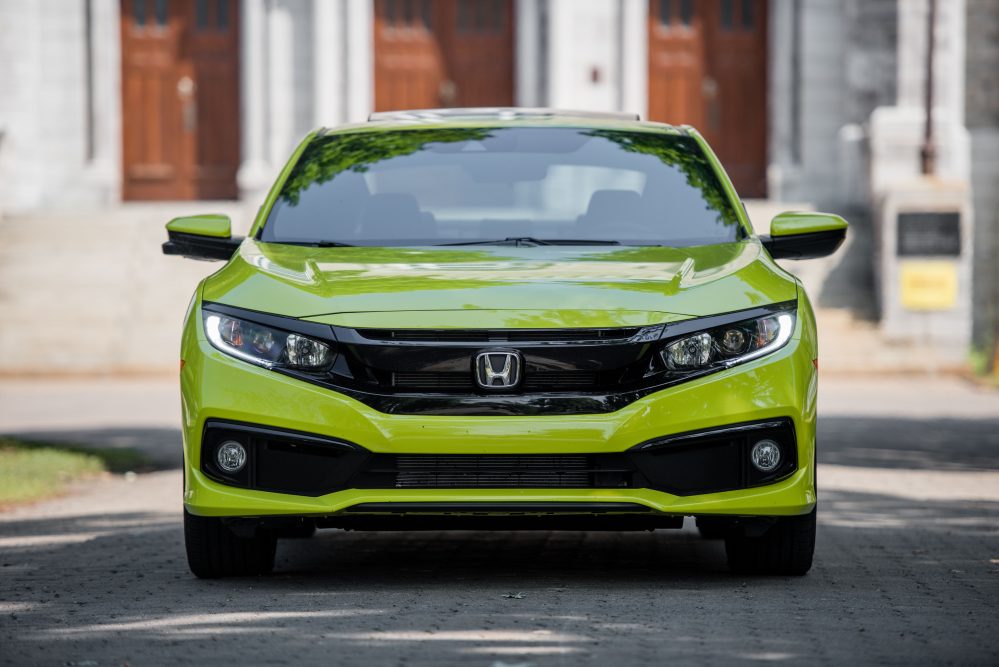 It's also an engine that has long proved its dependability in other Honda and Acura products. It's essentially a heavily revised version of the engine that powered past Honda Civic SiR models (EP3), Acura RSX and Acura CSX.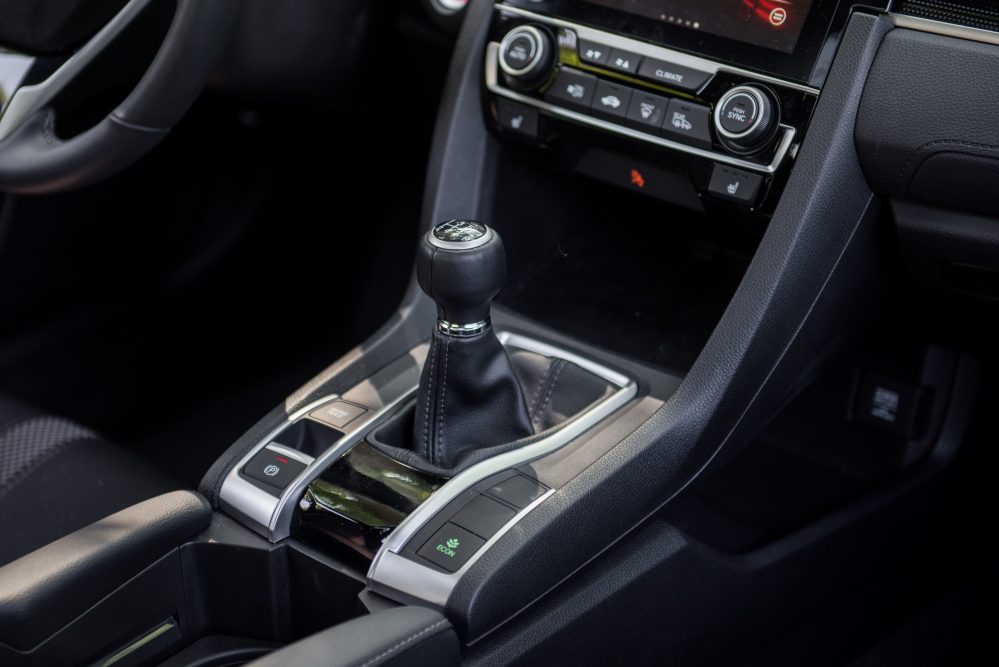 Of course, my transmission of choice for this engine, especially in Sport trim, is the six-speed manual. But, yes, there's also a CVT automatic option if that's your thing. To its defense, it's actually quite good.
Revving The Snot Out Of It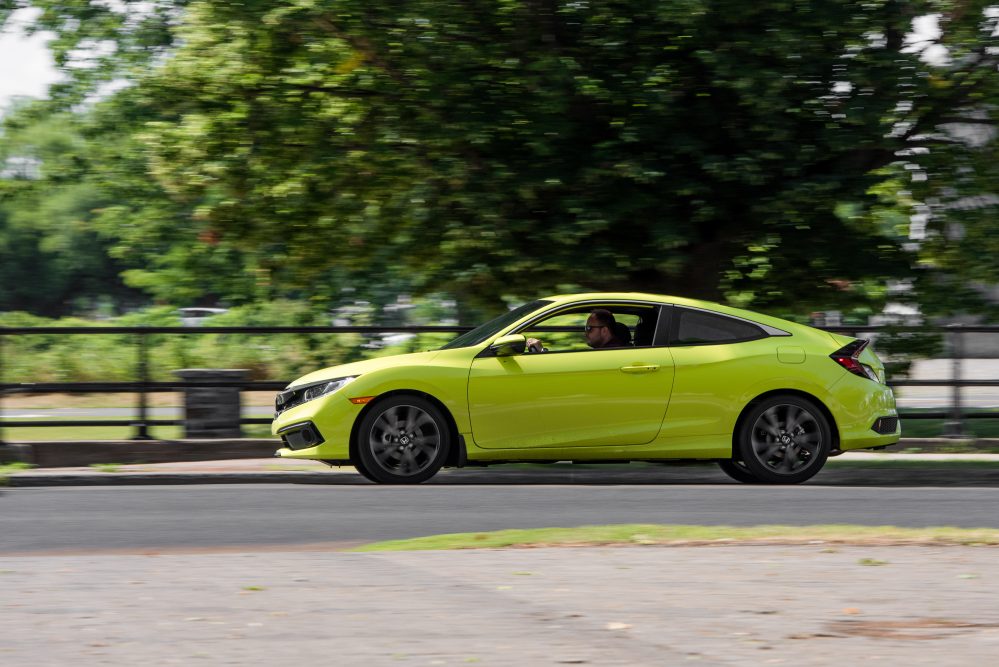 I tell you, it feels good to get back to driving a naturally aspirated high-revving Honda. Don't get me wrong, I love the current crop of turbo engines, and the 1.5-liter is a buttersmooth and rather feisty little bugger. That's before it's mixing oil with gas. Meanwhile, the more rudimentary K20 is bulletproof, with still no major issues reported.
While significantly less powerful and punchy than its turbocharged counterpart, it's a rev-happy unit that sings glorious naturally aspirated melodies. Combine that to one of the best manual gearbox' in the business, a light clutch and a tossable chassis, and you end up with a darn good recipe for good-old fashion fun.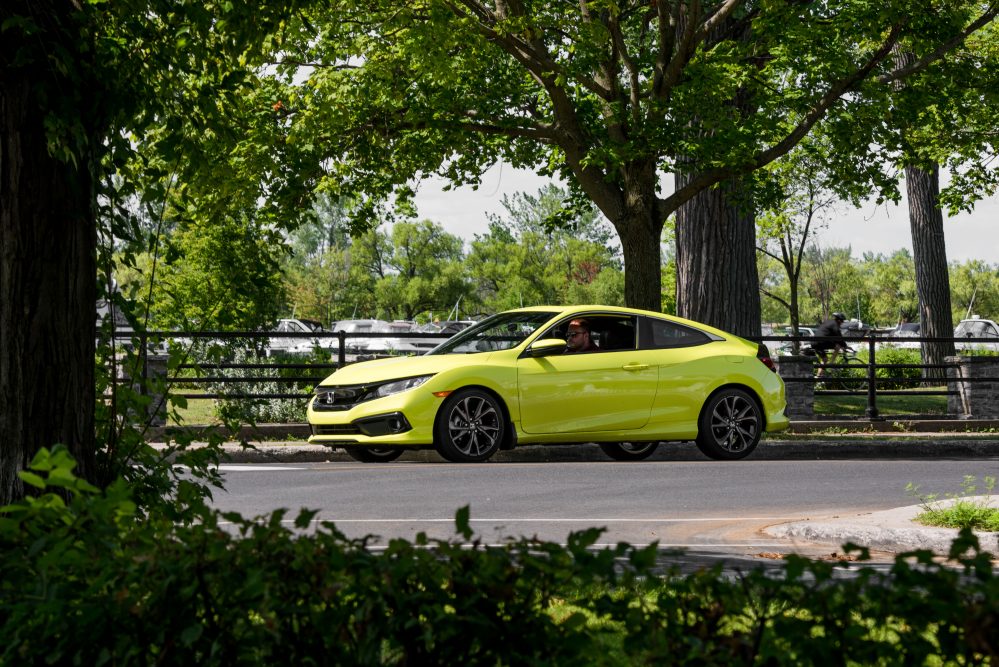 The current Civic is a big and heavy car compared to Civics of the  past, yet, it still feels light on its feet and surprisingly agile. In this form, with the three pedals, it's also the lightest of the Civic family, weighing at 2,826 pounds (1,281 kg), a full 100 lb (45 kg) less than an automatic sedan.
The naturally aspirated engine gives the Civic the livelihood of old. Sure, it won't put down as impressive numbers, reaching 100 km/h from a standstill in about seven seconds compared to the turbo engine's low sixes. But what it lacks in bottom-end torque it makes up for with urgency and an eagerness to climb through its rev counter. It's basically the simple Honda goodness we all like.
I also prefer the coupe from the entire lineup because of its looks. I'm sorry, but I don't find the current Civic sedan and hatchback model attractive, and I fear they won't age very well. The coupe, however, looks nice and athletic, modern, and simply has the right proportions.
Inside, the Sport gets subtle yet unique touches like aluminium trim pedals and a leather-wrapped steering wheel. It's frankly quite nice in there. While I blame the Civic for looking absolutely grotesque, it does have a dashing interior. Four years after it was first introduced, it still looks and feels fresh, modern and upscale.
Its best quality is its use of space and how the entire dashboard is driver-oriented. The seating position is fantastic, allowing you to drop the bench way low in the cabin, a feature tall people, such as myself, appreciate very much.
Then there's the massive, and by massive, I mean fuckin' huge, central storage compartment, which stacks both cup-holders and shelves over what appears to be a bottom-less tub. Smartphones can be neatly parked underneath the HVAC controls, with a wire passthrough leading to the USB jacks. It's not only handy, it discourages the driver from playing with their phone.
Sadly, I can't say the same about the Civic's infotainment system. Granted, the improvements Honda applied do a lot at quelling some of its ever-so-frustrating downfalls. For instance, there's now a volume knob and physical buttons to quickly access menus, contrary to the last system's entirely touch-operated interface.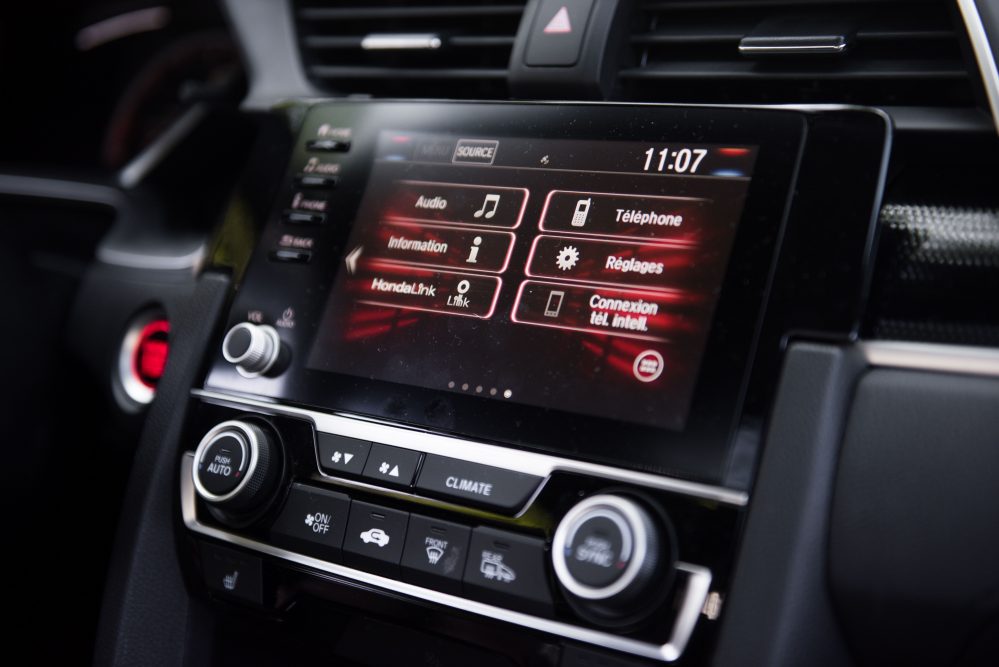 But while this updated version makes huge strides in user-friendliness, it's still cluttered, unintuivie and confusing. Here's to hoping Honda will fix this for the next generation car.
All in all though the 2020 Honda Civic Sport remains a solid compact car no matter the body configuration you choose. The coupe is obviously targeted at younger, typically single buyers looking to not spend too much on a new car, and frankly, as an affordable sports coupe for new drivers, it's fantastic.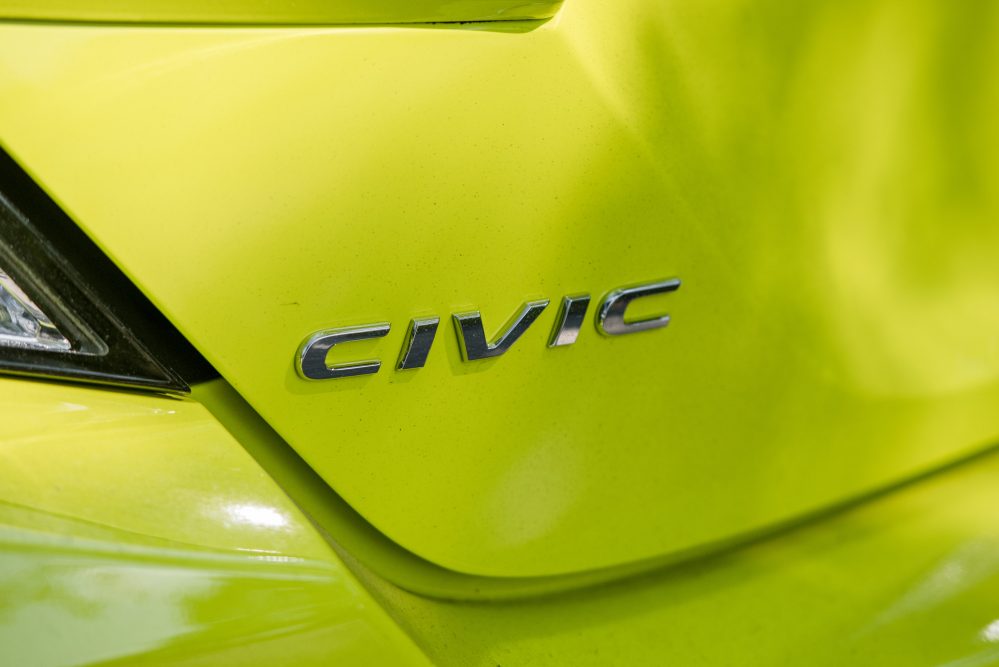 When it's not being thrown hard into corners, something the kids will undoubtedly do often, the 2020 Honda Civic Sport is fundamentally a Civic. In other words, it's cheap to run. Reliability is rock-solid, and it pulls decent fuel economy as well. I had no issue keeping mine in the low sevens, which is rather good.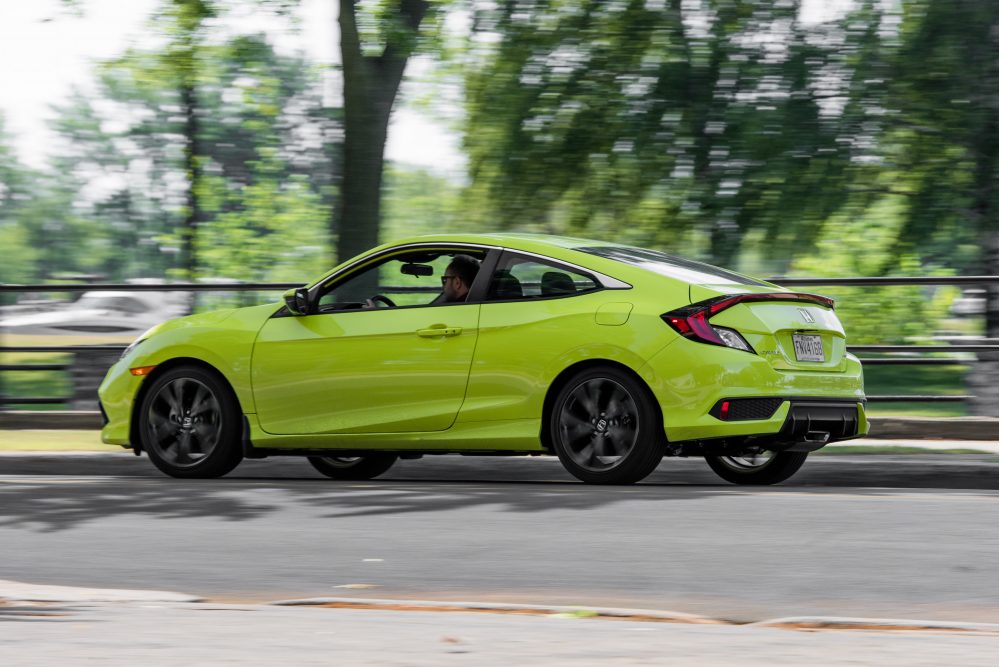 No, the 2020 Honda Civic Sport isn't as fast as a Type R or athletic as a Civic Si, but it's still a darn good cheap Honda. Plus, its lively character, low running bills and killer resale value remind me of the old stuff the big H would sell, and that makes me smile. If you ask me, this is where the sweet spot is.
Clavey's Verdict
Review of the 2020 Honda Civic Sport by William Clavey
Compact Cars
Fun to drive
A great value proposition
Proven reliability from the 2.0-liter engine
Tight rear seat
Not as practical as the rest of the Civic lineup
Annoying infotainment system
Clavey's Corner is located in Montreal, Quebec, Canada. Prices and trim levels discussed in this article reflect the Canadian car market.
Special thanks: Honda Canada
Photography: Guillaume Fournier
Contact the author: [email protected]