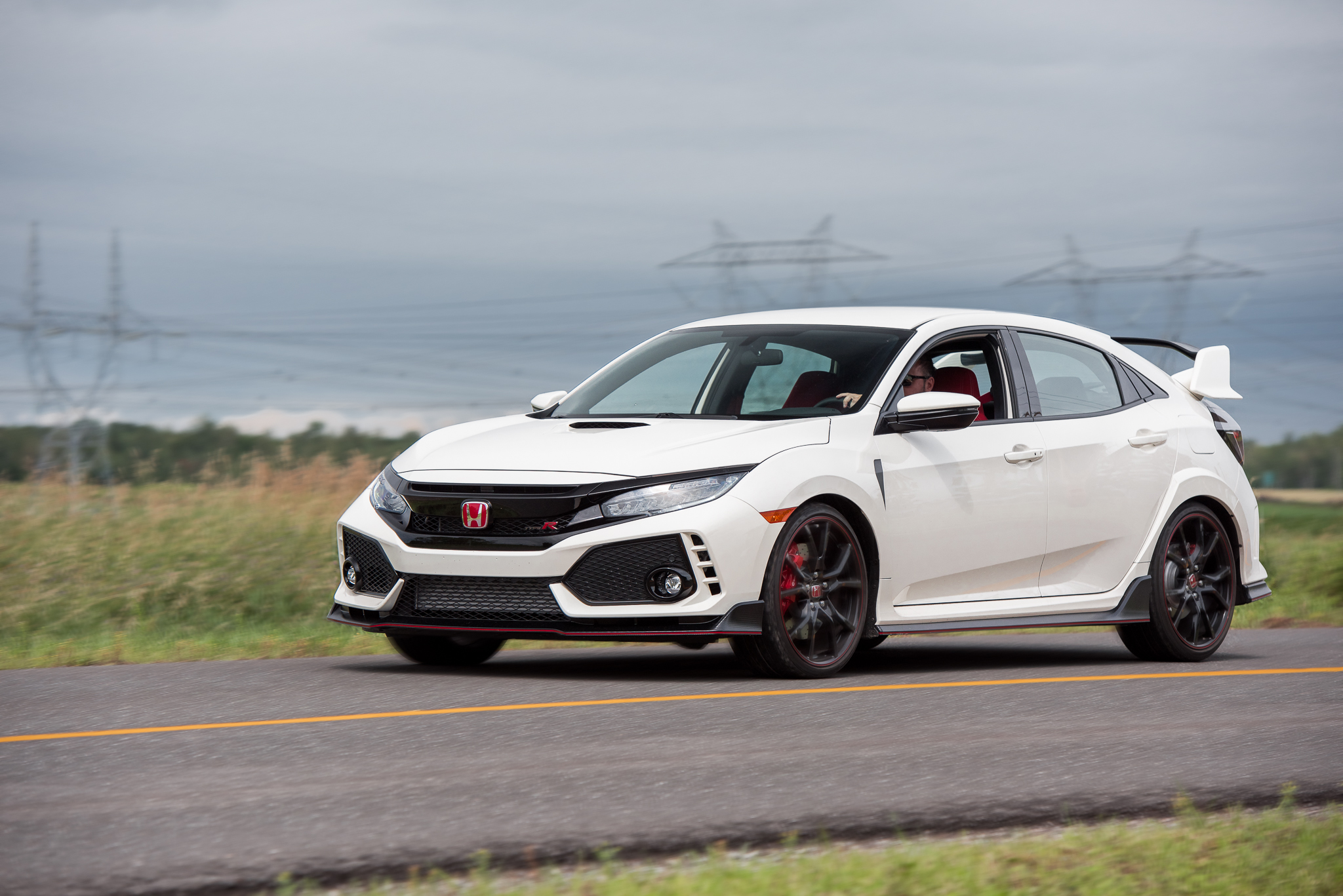 The more you drive the 2019 Honda Civic Type R, the more you appreciate it for what it is. The first time I sat my ass in one, it was two years ago when it was first launched. I then reviewed it a second time last year during my full-time journalist duties, and now, I'm back into one for a third time. My opinion about this thing hasn't changed one bit. If anything, I love it even more.
Giant Killer
Honda's extreme hatchback essentially followed me in my career. When I first drove it, the most hardcore machine I had driven was an Aston Martin DB11. Last year, it was a BMW M5. And this year, well, my car-roster exploded with supercars like the McLaren 600LT and the second-generation Acura NSX, which I'll review here in a bit.
And you know what? The 2019 Honda Civic Type R remains up there among the best driver's cars I've ever driven. Perhaps the only car that has managed to beat it in my top favorite performance machines is the BMW M2. That's how good the Type R is.
Now, I am going to say this: I'm still not a fan of the styling, especially when it's painted in the Championship White paint job like my tester. This year, there's a new Sonic Grey Pearl hue that was added to the lineup. It replaces the now gone Rally Red, which was, in my opinion, the best color for a Civic Type R.
I still can't get my head around this car's styling. While I totally respect the functional aerodynamic components Honda glued onto it, I'm not sure about the fake plastic air vents front and rear. And don't get me started on the rear fender flares that stop halfway to accommodate the rear doors. Also, this car is way too big and long. I never thought 20-inch wheels could actually look  tiny.
Hey, some people like this, and compared to the way too subtle Volkswagen Golf R, I do appreciate the Civic Type R's in your face design. This is an extreme machine engineered to set lap records at the track after all.
Not much changes for the Civic Type R in 2019, except for that grey color I just mentioned and an "updated" infotainment interface thanks to the addition of physical buttons and a volume knob. Power is still rated at 306 horsepower and 296 lb-ft of torque from a turbocharged 2.0-liter four.
The only gearbox available is slick-shifting six-speed manual. Yes, this thing is front-wheel-drive, but Honda engineered a clever suspension system to mitigate torque steer and understeer. Acceleration from 0-100 km/h is rated in roughly 5.5 seconds. Pricing kicks off at $43,460, and it comes fully loaded.
Mechanical Excellence
The more I drive the Civic Type R, the more I admire the mechanical excellence that was baked into it. It's also quite fascinating how civilized this hot hatch can be when you're not hammering on it.
Many will tell you that a Volkswagen Golf R is a much more comfortable daily driver, but that's not exactly true. I do believe that the Civic Type R – except for its boy racer looks – is equally docile in the everyday world. Also, those Recaro seats don't just look fantastic, they rank among some of the most supportive and comfortable automotive thrones I've ever spent seat time in.
When set to Comfort mode, the 2019 Honda Civic Type R softens up thanks to its adaptive dampers. Its steering becomes nice and relaxed, and there's nothing about the way it drives that reveals anything different from a conventional Honda Civic, except if you peek out the rearview mirror and spot that humongous rear wing.
During daily use, the Civic Type R is docile, quiet, comfortable and rather frugal too. I managed an 8.6L/100 km average while I had it which is fantastic considering how much performance it'll generate. The rear seat is also massive, and the trunk is up there among the largest in the segment.
Obviously, what you really want to do is bring this thing out on a race circuit or a remote back road, and set it into R+ mode, where it suddenly transforms into a super stiff track-attack machine ready to hunt down Mustangs and Camaros. Sport mode is the perfect balance for road-driving in case you do still care about your back.
Made To Be Pushed Hard
The moment you engage first gear through that impeccably precise shift knob, you know you're driving something special. The Civic Type R was built to be driven to its limits, and every single mechanical component feels of high quality, as if it can take abuse for days on end. And it's all done in a clean and elegant fashion only Honda could have accomplished.
Smash the throttle in first gear, and the Civic Type R basically claws its 245-section-wide tires onto the tarmac and jolts forward in a furious might. There's zero torque steer. What the car does instead is accelerate as if it were motivated by all-wheel-drive, which is frankly quite impressive for a car sending over 300-hp to the front wheels.
Hit the light clutch, ram in second gear – click – and the Civic Type R really starts to fly, with the turbocharged inline four generating massive low-end twist the moment boost kicks in, and never letting go all the way up to its 7,200 rpm redline. Sure, we've seen Honda engines rev higher than that, let alone scream louder, but what this forced induction VTEC unit lacks in aural pleasure, it makes for with a fat, meaty powerband you can exploit in all gears.
Gone are the days when upshifting too soon in a Honda meant you were eaten up alive by a minivan. The Civic Type R pulls strong no matter which gear it's in. That said, it's in the bends that this thing will blow you away. Handling is flat and buttoned down no matter how fast you attempt to eat up a corner.
Carrying speed is effortless, and the levels of grip are up there among supercar territory. Steering inputs are micro-reactive, the chassis feels just as alive as a purpose-built race car, and if you happen to get a little scared from hunting down apexes too fast, just slam that centre pedal and your face is transformed into pudding as the enormous Brembo brakes brings the entire thing to a halt.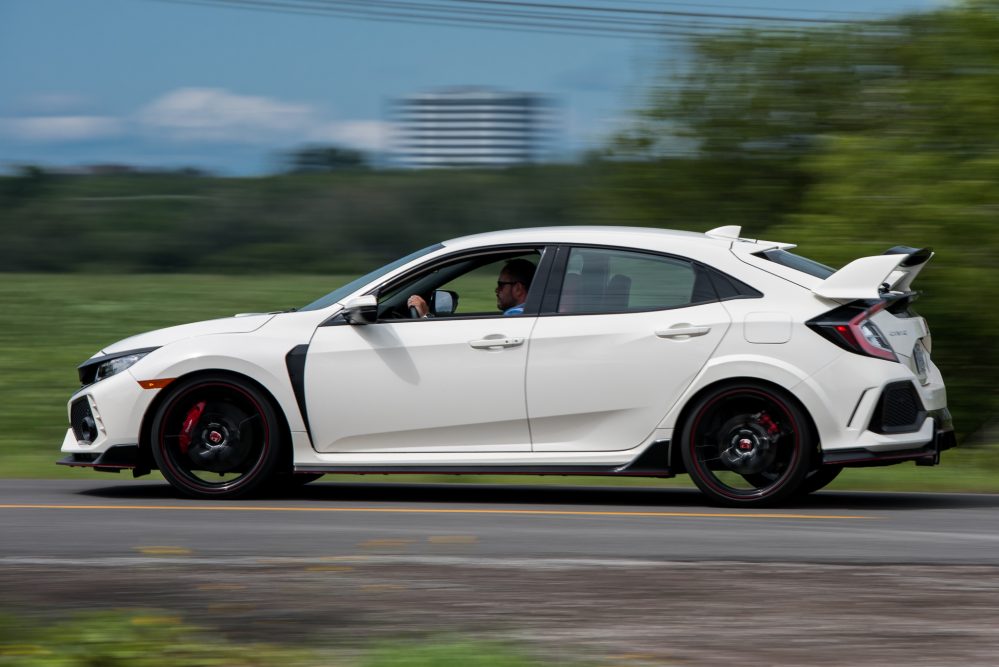 The 2019 Honda Civic Type R is one of those superhero cars you can't do otherwise than respect. It's the kind of brutal performance that wraps you up in a warm cotton ball, never scaring you per say. Fast as hell, immensely fun to drive, and super easy to live with, the Civic Type R doesn't have many things going against it except a love-it-or-hate-it appearance and a shady infotainment system. As for me, it's still up there among the best performance tools I've ever driven.
Clavey's Verdict
Review of the 2019 Honda Civic Type R by William Clavey
Hot Hatchbacks
One of the best chassis in the business
Fantastic power delivery
Comfortable, spacious and easy to live with
Questionable exterior design
Engine lacks sound and soul
Infotainment system still needs work
Clavey's Corner is located in Montreal, Quebec, Canada. Prices and trim levels discussed in this article reflect the Canadian car market.
Special thanks:  Honda Canada
Photography: Guillaume Fournier
Contact the author: [email protected]