You guys may remember my original review of the 2016 Hyundai Tucson. It's a vehicle that I particularly enjoyed and one that impressed me so much, that it made me rethink my entire opinion of Hyundai in general. In that review, I mentioned how composed and solid the Tucson's chassis felt, how quiet and refined it's interior was, and how it delivered overall driving dynamics typically associated with much more upscale offerings.
One of the only gripes I had with the vehicle was with the ho-hum 164-hp naturally aspirated 2.0L engine, which was, in my opinion, way too under powered for a vehicle of this size and heft.
That being said, Hyundai Canada has responded to the comment by throwing me the keys of the Tucson 1.6T, and after spending some, let's say–immature time behind the wheel–I can confidently say that the much-needed turbo boost not only gives the 2016 Tucson the passing power it deserves, but also a healthy dose of character that makes it feel a little less like a soulless appliance, and more like a sporty hot hatch on stilts.
Very Orange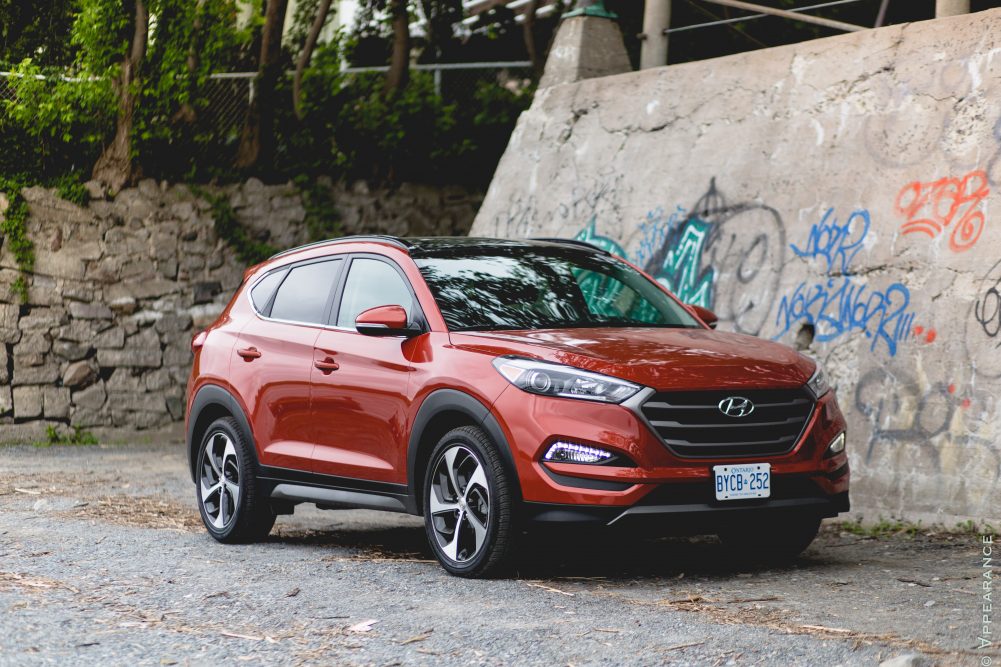 Unlike the last burgundy Tucson I test drove earlier this spring, this one came in a very turbo-ish orange hue (Sedona Sunset), which, when accentuated by the standard 19-inch wheels, gives this little crossover a much more upscale and sporty presence. In fact, dressed up this way, the Tucson is by far the sportiest looking trucklet to come out of Korea. I also continue to believe that the Tucson is among one of the most attractive compact crossovers on the market. As I mentioned before, the proportions are spot on and Hyundai has done a fantastic job of tucking in the front and rear overhangs to prevent it from having that overbloated "bubble butt" look that is typical of some of its competitors; notably the Nissan Rogue and Honda CR-V.
You may disagree, but I'm personally a big fan of that bold, squared-off front end that's accentuated by a large prominent grille through which the turbo engine's intercooler can be spotted.
"I also continue to believe that the Tucson is among one of the most attractive compact crossovers on the market".
That very orange paint job also attracted a lot of positive attention wherever I went, with people complementing it as a "nice truck" and enthusiastic questions such as "how is it to drive"?
Turns out that very much like its 2.0L brother, this Tucson drives smooth as butter, feeling rock solid due to that reinforced superstructure chassis that underpins it. I've had a chance to drive a Volvo, a brand new Honda Civic and an Acura since that last Tucson I drove, and I can safely say that this Hyundai's chassis is by far the most impressive one so far.
And since I've already done a thorough rundown of the Tucson's interior, comfort and cargo space, I'll let you go read it in that review.
Smaller Bigger Engine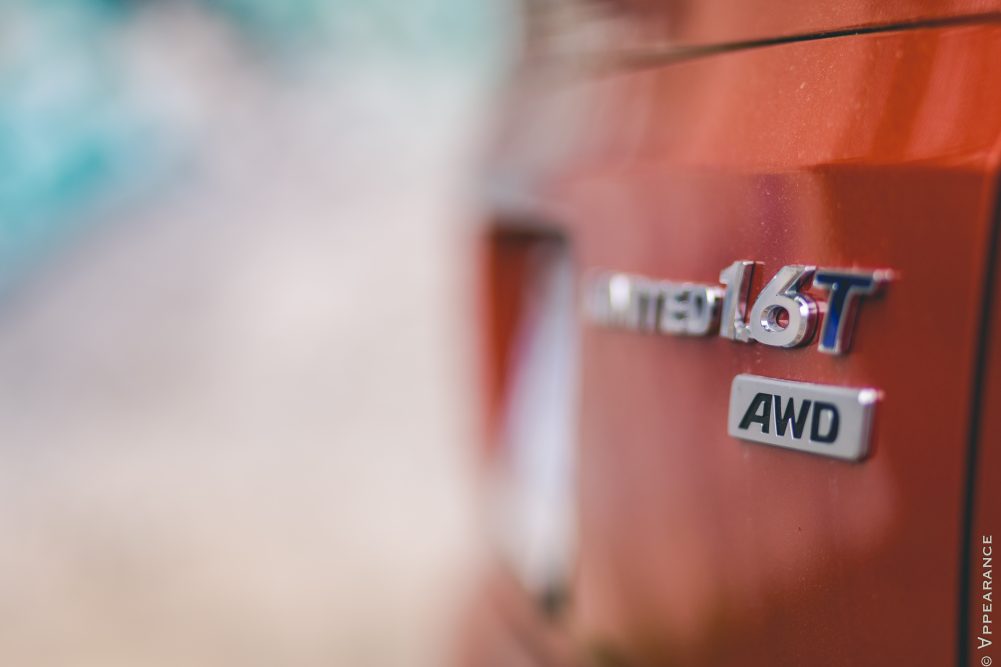 The irony in the 2016 Hyundai Tucson's lineup lies in the fact that the larger engine is in fact the smaller one. In this case, it's a 1.6-liter, direct-injection, turbocharged four banger that's good for a healthy 175 hp and 195 lb-ft of torque.
And it does indeed look tiny sitting inside that huge engine bay.
Puny dimensions apart, the 1.6T still offers a full 44 lb-ft of torque more than the 2.0L, as well as a welcome dose of much-needed oomph that translates into swift, if not almost addictive acceleration. The 1.6T is also surprisingly brawny for its size, where boost comes on low and remains constant throughout the entire rev range; ideal for towing a small boat or camper. Note that fuel consumption is relatively the same, if not a tad better than that of the 2.0L.
The 1.6T isn't the best sounding engine I've heard though, where it emits a somewhat unrefined buzz as it climbs through the revs. This is, after all, only a 1600 cc.
There is also an area where the 2.0L engine surpasses the 1.6T, and that's in overall throttle response. Somehow, in the 1.6T, there's a delay between the moment you hit the accelerator and when the engine actually responds. You just never know how much throttle you should give it when taking off. Could this be caused by a combination of throttle-by-wire and turbo lag? Whatever it is, the 2.0L is much more responsive.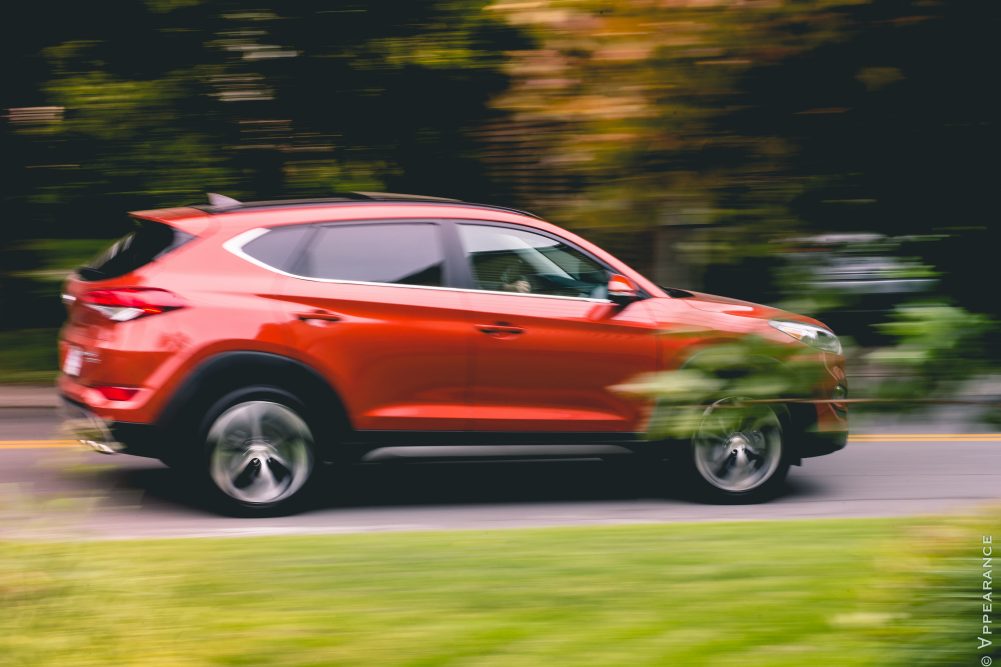 Transmission wise, the 1.6T comes standard with a 7-speed dual-clutch transmission. It's an impressive system and also a first in the segment. Actually, to Hyundai's credit, both the 5-speed automatic found in the 2.0L and the 7-speed DCT work fantastically well. The DCT shifts rapidly, improves fuel economy and helps maximize the engine's broad power band, but does remain a bit rough around the edges at low speeds where it tends to exhibit unwanted jerks – not particularly pleasant in stop and go traffic.
It's important to mention, however, that this is a common trait of all dual-clutch transmissions. Since these systems are not fitted with a torque converter like a conventional automatic, smooth take offs are sacrificed in favour of performance and efficiency.
That's when you realize how brilliant Acura's system is in the ILX.
In general though, the Tucson's transmission operates effortlessly and in all honesty, it's borderline perfect. Shifts are crisp and drama-free and it has an uncanny habit of getting the job done without attracting too much attention to itself.
I do wish there were steering wheel mounted paddle shifters though, why have a DCT if you can't shift for yourself directly on the steering wheel?
Flexible Trim Packages
One of the 2016 Hyundai Tucson's strongpoints is its wide range of available trim levels and flexible price range.  There's a full $15 000 gap between a base front-wheel drive 2.0L model and the top-flight 1.6L Ultimate AWD. My tester, the 1.6T Limited AWD sells for $36 649. That's just a tad over $3000 from that 2.0L Luxury AWD I tested a few months ago, but with the added benefit of usable low-end turbocharged torque.
Unless you really need the added technological gizmos offered by the Limited model, such as the Rear Park Assist System (RPAS), or if you just can't have it in another colour than that kickass orange paint job, I'd recommend going for the 1.6T Premium AWD. It sells for $31 299, a much more appealing price, and still comes with those attractive 19-inch wheels, leather seats, a crapload of standard features, and that sweet-shifting DCT transmission.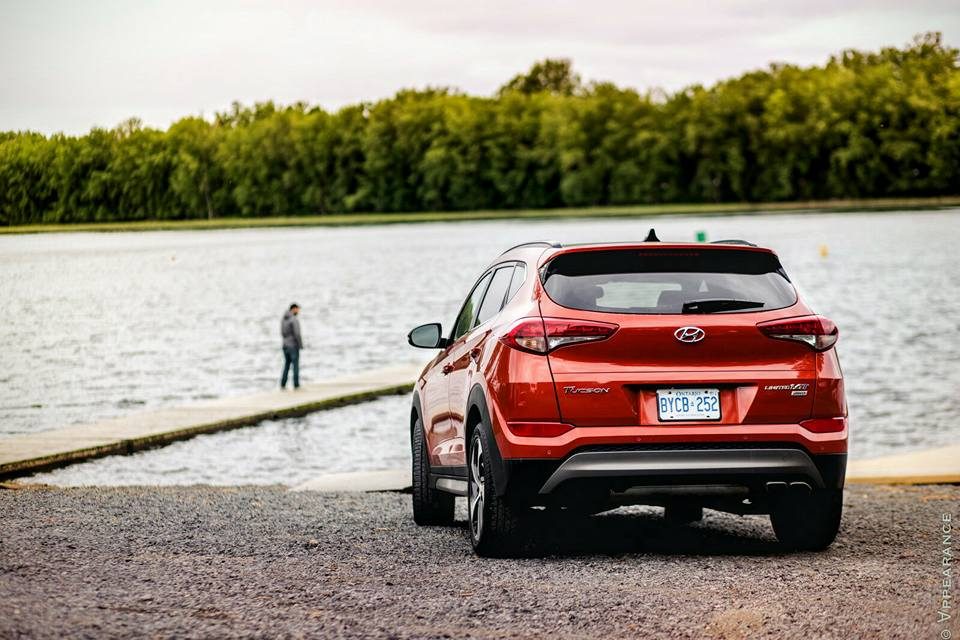 There's basically a Tucson for everyone at Hyundai – and that level of flexibility in the range is something that is missing in most of today's offerings. Kudos to Hyundai for letting their customers customize their Tucson to their liking regardless of the drivetrain they choose.
At the end of the day, the 2016 Hyundai Tucson 1.6T made my job as an automotive journalist that much harder. Although I did my best to find it flaws, it was virtually impossible to find any. Even my photographer, Myle, who daily drives a Volkswagen Tiguan, was impressed with the Tucson in general.
"Now, if Hyundai could find a way to inject a bit of power and soul in the Tucson, they'd be selling a perfect vehicle."
That's what I had said about the Tucson in March. And here I am now with a model that answers all of my requests. Hyundai, you've certainly proved to the entire world that you can in fact be the benchmark in a particular segment. Your 2016 Tucson 1.6T is so good that it may well be the perfect compact crossover.
Clavey's Verdict
Review of the 2016 Hyundai Tucson 1.6T by William Clavey – *2016 Top 10 Contender

Compact Crossovers

+
+ Powerful and efficient turbo engine.
+ Quick-shifting 7-speed dual clutch transmission.
+ Attractive exterior design.
–
– Frustrating delay in throttle response.
– Dual clutch transmission: unwanted jerks during stop-and-go traffic.
– Lack of steering wheel-mounted paddle shifters.
---
Clavey's Corner is located in Montreal, Quebec, Canada. Prices and trim levels discussed in this article reflect the Canadian car market.
Special thanks: Hyundai Canada
Photography: Appearance
Contact the author: [email protected]