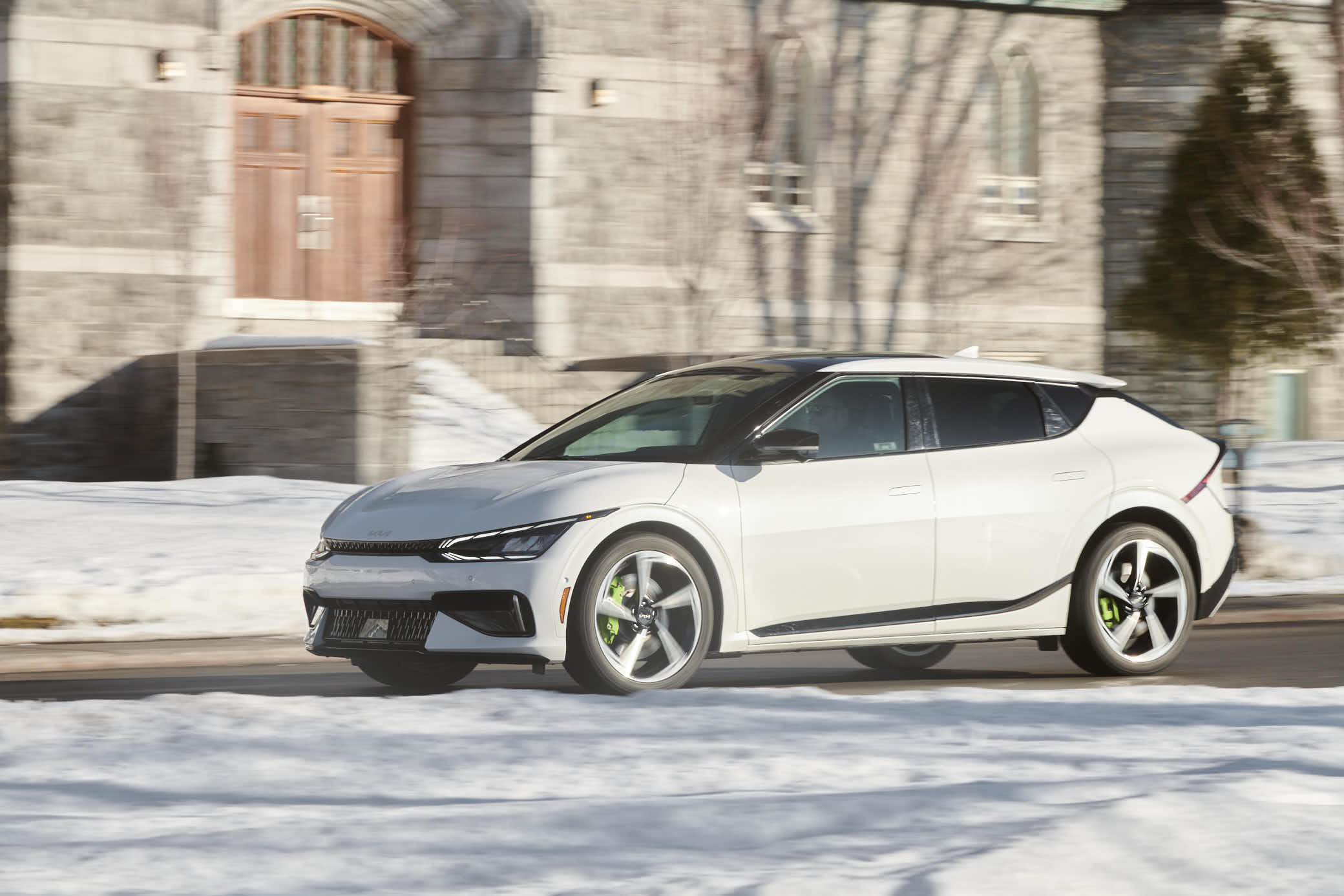 The 2023 Kia EV6 GT is one of those cars that nobody saw coming. While some may think that it's just a faster version of an already quick electric car, it's a lot more than that. The EV6 GT is hands down one of the vehicles I have enjoyed driving the most since I began doing this job. And not because it's fast. I mean, yes, but also because it feels like the product of people who actually understand what enthusiasts want from a car.
Asics Running Shoe
Unless you're really paying attention, there isn't much on the 2023 Kia EV6 GT that allows it to distinguish itself from the standard car. It's the classic sleeper formula where only a trained eye will know what this thing really is. From the perspective of average folk, it's just another electric blob.
I personally love the way the Kia EV6 looks in any form, and in this GT version, painted white like my example, it evoked in me Asics running shoe vibes. Perhaps that had something to do with the GT's signature fluorescent green accents, notably the massive brake calipers, but also the slightly sportier front fascia, a rear wing borrowed from the GT Line package and a rear diffuser adorned with reflectors at each end. It just looks damn cool.
The GT is, of course, the EV6's most powerful version. In electric car lingo, this essentially means that its battery channels more energy to its two electric motors. But while one would assume that this is a clone of the Genesis GV60, a car that's based on the same platform and powered by the same battery, the EV6 GT is unique in all sorts of cool ways.
For instance, while it is powered by the same 77.4 kWh usable liquid-cooled lithium-ion battery as the Genesis, it was fitted with a more powerful rear motor. So while its corporate cousin makes do with two 160 kW motors, the EV6 GT gets a 270 kW unit stuffed on its rear axle. The end result is a total combined horsepower figure of 576 and a ground breaking 545 lb-ft of torque. This yields a 0-100 km/h sprint of just 3.3 seconds, making the EV6 GT the fastest production Kia in history.
Of course, such performance does affect range. The EV6 GT is therefore the version that covers the shortest distance on a single charge, with a claimed range of 332 kilometers as per Natural Resources Canada. And no, it's not cheap. The darn thing costs $76,495. For a Kia.
The Magic Green Button
If one drives the 2023 Kia EV6 GT in its ordinary Normal, Eco or Sport modes, none of its performance will transcend through the steering wheel. It'll basically be just another EV6: quick off the line, well put together, quiet, smooth and incredibly efficient. On an average summer's day (things are very different in winter), these things will easily run below the 20 kWh/100 km energy consumption mark.
In order to fully grasp what this thing has in stock, you'll want to push the little green GT button that's on the steering wheel. It's the kind of performance wizardry BMW used to do with its M cars. However, in the EV6 GT, it somehow seems considerably easier and seamless. Hit the magic green button, and within seconds, the EV6 GT becomes an entirely different beast.
It all begins with adaptive dampers that suddenly go from firm to RACE MODE. A steering wheel that becomes as heavy as a GT3 Cup car and a an entire instrument cluster that shoots more fluorescent green lights through your retinas. Oh, there's also the pumped in audio that somehow sounds like a weird futuristic spaceship from another dimension. Unsettling? Yes. But cool nevertheless.
Smash the accelerator pedal in this mode and your brain will be smashed to the back of your skull faster than you'll have had the time to realize what's going on. Luckily, the EV6 GT's sport bucket seats – which look dashing and are, surprise surprise, also fluorescent green – hold you firmly in place while you attempt to comprehend what has happened to your body. The EV6 GT doesn't accelerate. It warps to another location.
Such mind-bending performance typically comes with some form of mechanical effort, that sense that the drivetrain beneath you is working overtime to deliver the excitement. But not in this electric blob. It's all done in an utmost precise and surgical matter, robotic at times, yes, but also incredibly efficient. It does what it has to do, and never fusses about doing it.
But fast EVs are nothing new. We all know your average battery powered family hauler can blow the doors off of a McLaren F1 these days. What's hard to do in the EV world is make these things feel organic, handle well and deliver to the driver some form of connection with the machine.
Yet, Kia seems able to hit the mark on these elements with this GT. Throw this massive crossover hard into a corner, and yes, it feels heavy and cumbersome, but never do you run out of grip. When you do, that rear end kicks out gracefully, generating massive powerslides during the process. It's all immensely addictive.
When that happens though, you'd better be awake, because the EV6 GT responds to the slightest inputs at lightning speeds. Focus on the road and properly place your hands at 9:15 with rested elbows, however, and you'll be in control of highly dedicated and entertaining device.
Tone and all down and the EV6 GT becomes just another crossover. This thing is massive inside, stuffed with cool technology and will haul a full set of groceries and a pair of kids no sweat. It's the kind of sleeper we all grew up loving, the family station wagon that can also blow the doors off of some supercars at the drag strip. It's even more hilarious that it wears a Kia badge.
Yes, I'm well aware that nobody needs a $76,000 electric Kia that can launch as hard as a Porsche 911. And it's obviously not at everyone's reach, especially not in today's inflated economy. But the fact that Kia has the balls to build and sell one is yet more proof that we live in the age where the South-Korean carmakers are king.
Clavey's Verdict
Review of the 2023 Kia EV6 GT by William Clavey
Performance Electric Crossovers
Fast like a bullet
Looks cool as hell
A great daily driver
Not cheap
In GT mode, it'll consume electricity like a hog
The lowest range in the EV6 lineup
Clavey's Corner is located in Montreal, Quebec, Canada. Prices and trim levels discussed in this article reflect the Canadian car market.
Special thanks: Kia Canada
Photography: Guillaume Fournier
Contact the author: [email protected]