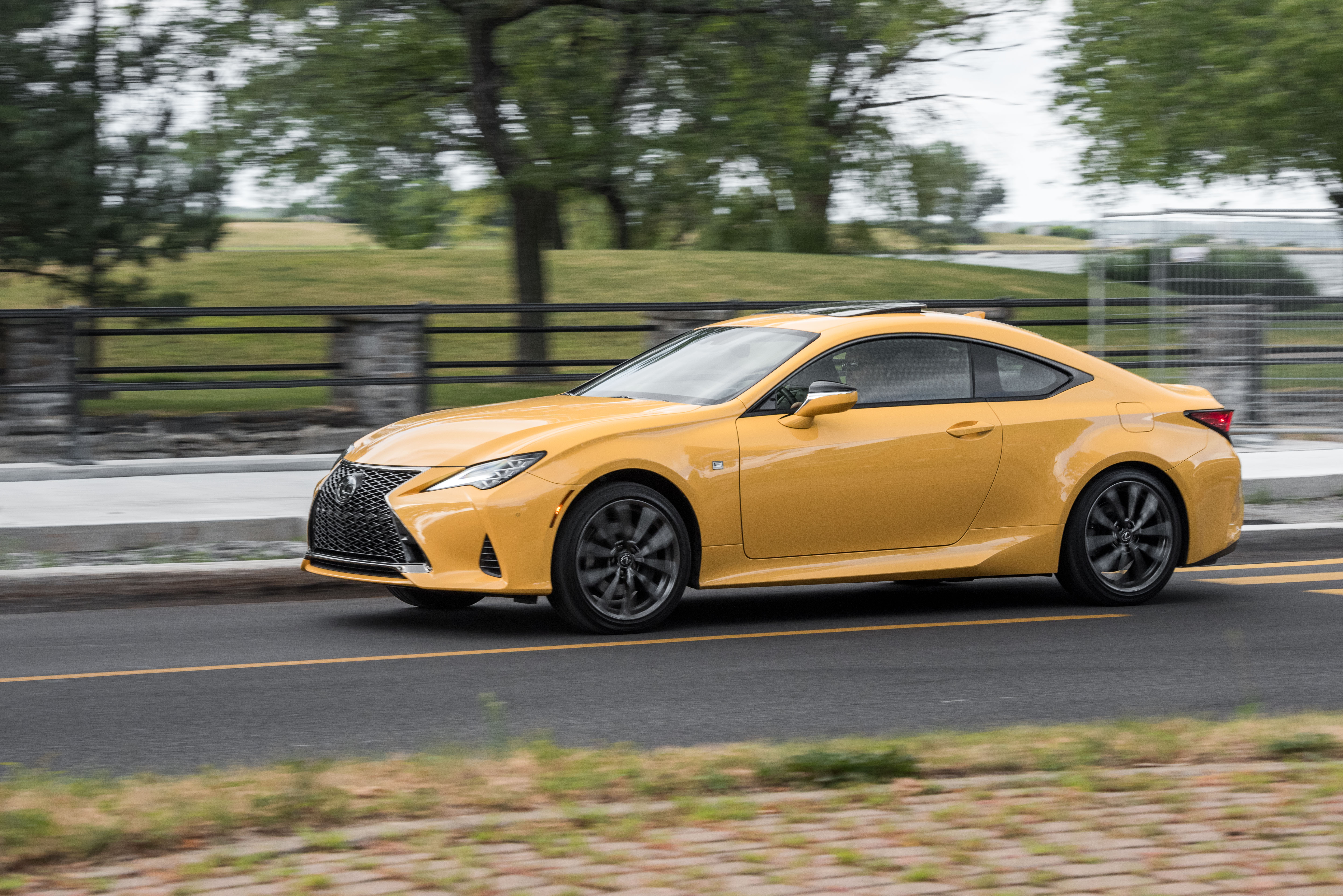 You may think that cars like the 2019 Lexus RC 350 F Sport have no reason to exist with the current onslaught of SUVs, but I disagree. They fill a small, yet still important niche called personal luxury, a segment which was created by the American carmakers in the 1970's with their opulent two-door road yachts. The idea behind them is to provide an immense amount of comfort, amenities and power to a single person: its owner.
While these cars often pass as selfish interpretations of the automobile, they cater precisely to a very specific kind of human being. And with this model, Lexus brings the entire concept to the 21st century.
Be Different
The Lexus RC isn't new, it's been around for about four years now. But for the 2019 model year, it gets a mild facelift through massaged front and rear fascias, new wheel and color packages and a retuned suspension and steering system.
I have personally always liked the way the RC looked, but many were thrown off by its controversial "predator" front grille and Japanese-Gundam-inspired styling. The facelift now brings the LED units out of the bumper and into a cleaner one-piece unit, and the rear gets a more coherent taillight and bumper design. Overall, it's simply a better looking coupe.
See the 2019 Lexus RC 350 F Sport as a two-door variant of the Lexus IS, the brand's entry level sports sedan. Except, the RC was considerably altered from its sedan brethren, not only in terms of design, but also in terms of its overall architecture.
Essentially, the entire front section is based on the IS, while the rear is actually taken from the larger Lexus GS sedan for its wider track. Lexus engineers then took the mid section from the last-generation IS convertible for its increased rigidity.
The end result is a coupe that behaves much differently than its sedan counterpart, but that also weighs significantly more. We're talking an extra 300 pounds over an IS powered by the same engine.
That engine, by the way, is carried over unchanged for 2019. It's still a gem, though; Toyota's ubiquitous naturally aspirated 3.5-liter V6. Lexus will sell you two variants of the thing, the RC 300, or this one: the RC 350. The difference actually relies on the engine's direct injection technology and breathing components.
While the RC 300 makes do with 260 horsepower, the RC 350 sits at a healthy 311 horsepower and 280 lb-ft of torque. The only available gearbox is a six-speed automatic. That's because all RC's sold in Canada come standard with all-wheel-drive. Our American friends still get a rear-wheel-driven Lexus coupe. That one comes with an eight-speed automatic.
My tester was a full-fat F Sport model, which now comes standard with the RC 350. It's mostly an aesthetic package which adds sportier design cues and wheels, as well as selectable drive modes with a Sport + feature. The Flare Yellow paint job is new for 2019; a $650 option. My tester stickered at $64,851.
Singing Strong
The immediate thing you notice when (attempting) to drive the 2019 Lexus RC 350 with spirit is its naturally aspirated engine. I've long said that while these engines lack the immediate torque delivery of their turbo rivals, nothing can replace the intake bark of an engine doing all the work. And Toyota's V6 in this Lexus loves to sing.
Just don't expect the RC 350 to dance like say, a Camaro 1LE Turbo. The Lexus RC is a grand tourer in all respects. Its main duty is to be comfortable while respectfully quick. And because of the car's weight, you need to give it time before it starts flying. When it does though, there's enough substance there to call it sporty.  This  is  quick  enough.
The transmission, however, is an Achilles heal for the otherwise fantastic drivetrain. While the engine wants to rev, the gearbox ratios are way too long. It's also still slow to react upon downshifts,  even  with  Lexus'  attempts  of  improving  it.
There is, however, an observable sense of athleticism in the RC's chassis, similar, in fact, to the IS. The RC feels exactly how it's built, with a wide, well planted rear that shoots in the direction the front aims. Grip is tremendous, especially upon corner exit. But there's just too much going on in the front. It's a nose-heavy car that quickly defaults to irritating oversteer.
Dial It Back
But if you crank down the volume one notch, you quickly discover a fantastically well thought out luxury coupe. What the RC lacks in dynamic finesse, it makes up for in immense comfort, an impeccably well tailored interior, and a sumptuous ride.
Seats support is spot on, as well as the driving position, which sits you just high enough in the cabin. All Lexus typically feel like quality objects, like an excellent mechanical watch. The RC displays its craftsmanship through an ingenious use of materials, designs and textures.
The V6, meanwhile. remains a pearl, even when dug deep in the boroughs of urban life. Solid low-end torque and smooth acceleration. Quick, yet entertaining music, one of the best V6 engines out there. I was however disappointed by the fuel efficiency of the thing, I could hardly keep it under 10L/100 km, in Eco mode.
Speaking of modes, the RC has four of them; Eco, Normal, Sport and Sport +. The latter considerably hardens the steering, sharpens throttle response and changes the transmission's shifting characteristics. The change is felt behind the wheel, but the modes do very little to alter the RC's character. In that respect, BMW still masters that art.
Also, I need to talk about the infotainment system. It's junk. And it's too bad, really, because the hardware to use it is exquisite both in look and feel. But it's a system that's tremendously hard to operate by its track pad-only controls. Plus, the interface itself is complicated, and slow to react. Simple commands, like changing radio stations are tedious procedures.
Luckily, physical buttons exist, and they do a lot to help. But using them will simply reveal the dated nature of the system.
With solid entries out there at the moment like the Audi A5, BMW 4-Series and Mercedes-Benz C-Class coupe, the 2019 Lexus RC 350 F Sport has a tough job to do. But Lexus doesn't expect this car to hold the company's profit on its shoulders.
This is a luxury coupe only Lexus could have conceptualized. It's immensely well put together, strikingly comfortable, and absolutely bulletproof. Yes, the RC 350 is an odd duck, but a charming and dependable one that sings the right music.
Clavey's Verdict
Review of the 2019 Lexus RC 350 F Sport by William Clavey
Luxury Coupes
Unique styling
Reliable and fantastic-sounding engine
Immensely comfortable and well-appointed cabin
Heavy car leads to clumsy handling
Slow-to-react transmission
Disastrous infotainment system
Clavey's Corner is located in Montreal, Quebec, Canada. Prices and trim levels discussed in this article reflect the Canadian car market.
Special thanks: Lexus Canada
Photography: Guillaume Fournier
Contact the author: [email protected]