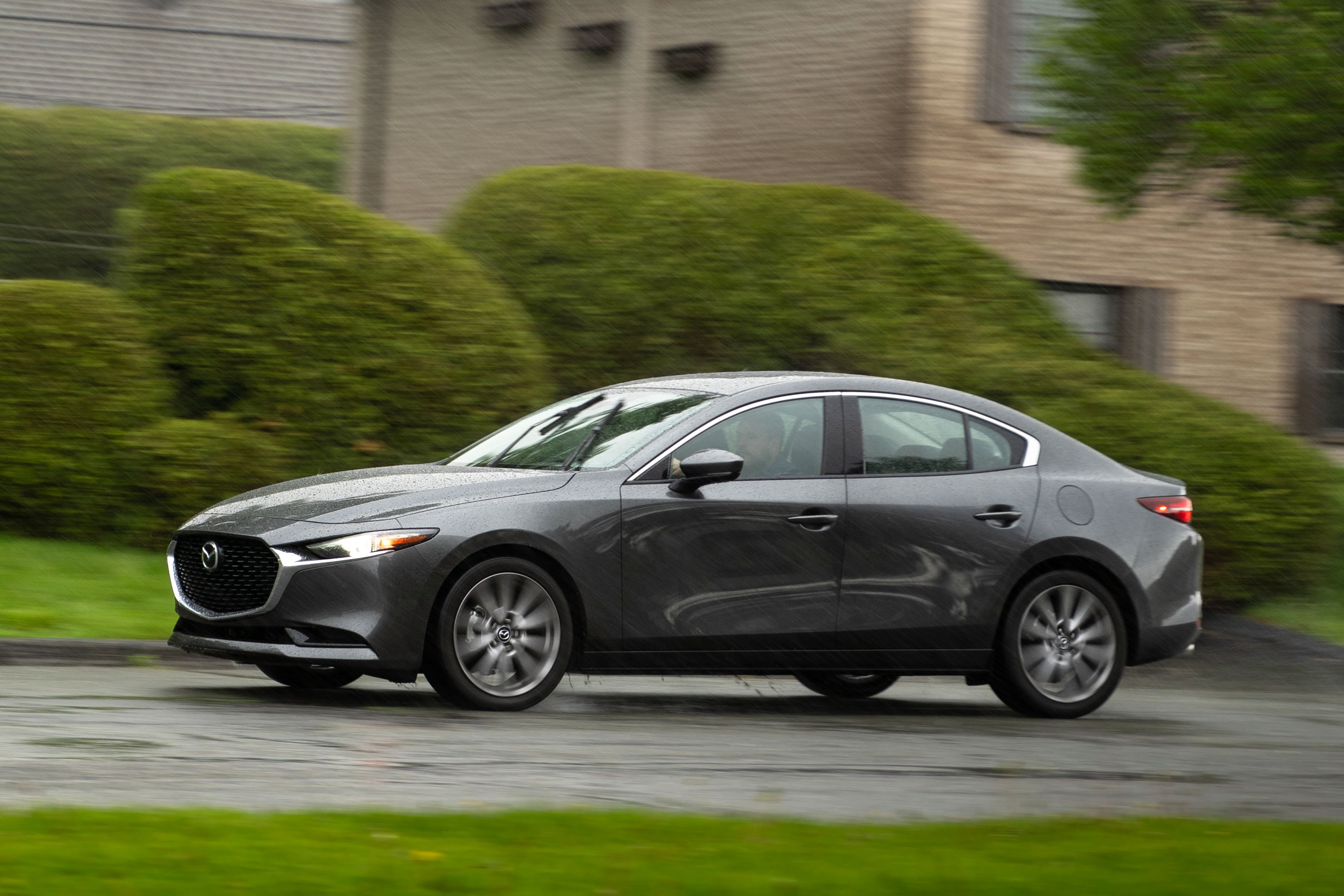 I'm going to be driving the hatchback model with a manual gearbox at the end of the summer, but I figured I'd begin with the more "tamed" one of the two, the 2019 Mazda3 sedan with the automatic transmission. In this configuration, the fourth-generation of Mazda's popular compact car feels more like a shrunken down Mazda6. It's all grown up now, sophisticated, impressively well thought out and, most importantly, still fun to toss around on a twisty road. I took one out for a weekend drive out in the Eastern Townships, and I was very pleased with the package. I'd reckon you should get this instead of that overpriced Audi A3.
Always Fresh
I'd be lying if I said I wasn't a fan of the Mazda3 ever since it first arrived back in 2003. It's just one of those honest to goodness affordable, good-looking fun to drive cars that don't burn a hole through your wallet. Also one of the only actual cheap cars left now that everyone's shifted to ridiculously expensive SUV's.
Mazda markets all of its cars with the "Driving Matters" tagline, a promise which is actually felt through its entire lineup. While originally built for cheap motoring for the masses, the Mazda3, in both sedan and hatchback form, remains an entertaining driver's car when flung around on a country road, proving you don't need much power to have fun behind the wheel of an automobile.
The 2019 Mazda3 sedan is all new from the ground up, riding on a refreshed platform and looks, I must say, very, very good. The new car is longer, wider, lighter and significantly more solid due to a substantial application of high-strength steel. It's also significantly more upscale, both in look and refinement. It's a car that looks expensive but never actually is.
The big news for 2019 is the addition of all-wheel drive across the board, with front-wheel drive remaining standard for those desiring to keep costs low, which is how my tester was equipped. 
Just like the last-generation car, two engines power the 2019 Mazda3 sedan. Both are naturally aspirated, and fitted with Mazda's SkyActiv fuel-saving technology achieved through higher than average compression ratios. Base model cars are powered by a 2.0-liter four cylinder good for 155 horsepower and 155 lb-ft of torque. My tester had the larger one, a 2.5-liter which pumps out a more substantial 186 horsepower and a dead equal 186 lb-ft of torque.
All front-wheel drive sedans powered by the 2.0-liter engine can come fitted with either a six-speed manual gearbox, or a six-speed automatic unit. The larger 2.5-liter only get the slushbox – go figure. However, the stick is available on both engines in hatchback form.
My tester, a fully loaded 2019 Mazda3 sedan GT, had the automatic, simply because I was curious to sample how my subtle brown sedan operated with it. Like I said, I'll be getting behind the wheel of a more exciting, bright red hatchback with a stick in a few weeks. Meanwhile, the one you see here stickers for $28,010.
Audi-esque
The moment you get behind the wheel of the 2019 Mazda3 sedan, you instantly ask yourself why you should buy anything more expensive of the same size. The levels of craftsmanship, build quality and all-out refinement is up there in the same league as, say, an Audi A3 or a Mercedes-Benz A-Class.
The sedan puts even more emphasis on comfort and discreteness, never shoving any of it in your face, but rather inviting you in an elegant and easy to live with interior. The all-new instrument panel is simple, easy to read and downright one of the most attractive cabin designs I've seen in this price range. Essentially, the interior is familiar Mazda territory, where all controls remain intact versus the last car, but everything's been modernized and massaged for a more modern look and feel.
What does change drastically is Mazda's infotainment interface, which still uses a center knob dial, similar to what BMW is doing with i-drive. Again, it's a simple, yet elegant system which now (finally) incorporates Android Auto and Apple CarPlay compatibility. The screen still isn't touch-operated, however. Some may find that irritating. I personally have always loved Mazda systems for their simplicity and ease of operation. 
There's also a slew of new safety technology available which I personally care nothing about, but that do deserve a bit of ink being spilled to explain them. One of them is, I must admit, quite witty, as it monitors the driver's eyes for distracted behavior. If the car senses you're not focusing on the road ahead, it alerts you through the instrument panel. I turn it all off, but some people should find the feature handy during long sleepy roadtrips.
Also, check out those analog dials. That's a rare sight these days as most carmakers just default to the lazy all-digital cluster instead. Nicely done, Mazda.
Fling it Around
What the 2019 Mazda3 sedan has not lost is the art of rewarding its driver for attempting to have a bit of fun with it. Its chassis remains composed, nimble and supremely well calibrated for good-old country road carving. I was actually the most impressed by how solid the entire car felt compared to past Mazda's, giving this 2019 Mazda3 a near-German sensation.
While its rear suspension is a live-axle setup – a decision which has enraged many enthusiasts -, the 2019 Mazda3 sedan still knows how to bogey. It's surprisingly well anchored to the ground at high speeds during varying road inclinations. Turn-in is nothing compared to some sport compacts out there like a Honda Civic Si, for instance, although the Mazda's steering informs its driver of the tire/road relationship more usefully.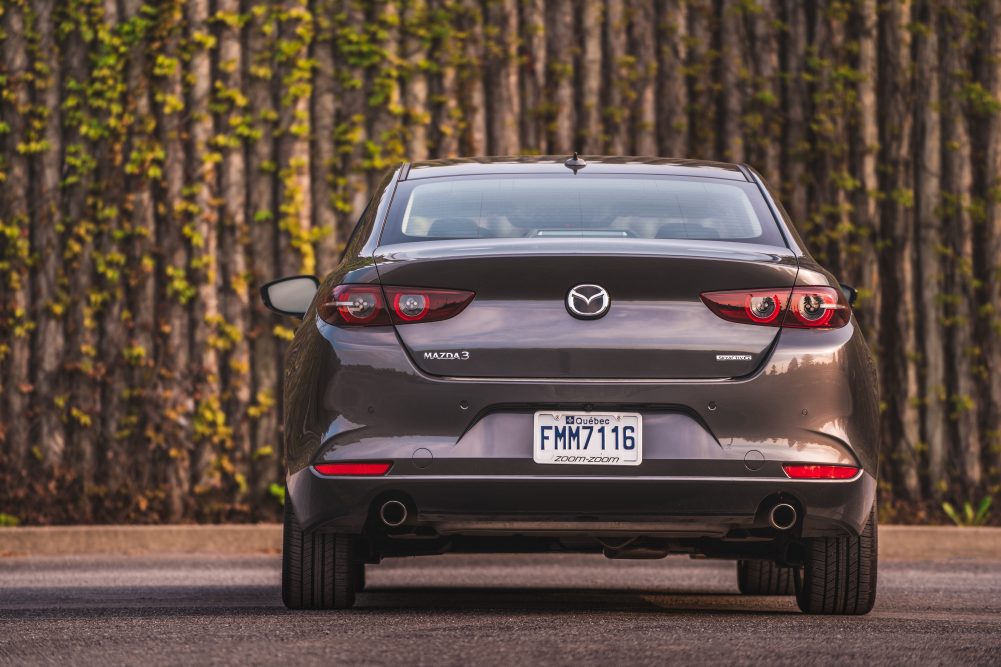 Same with power delivery; it isn't as immediate as what you'll get from the modern crop of turbo engines found in, say, the current Honda Civic sedan or Volkswagen Golf, but it's an engine that loves to rev, with quick throttle response and even an enjoyable exhaust note as it zings to redline. Acceleration is ok at best, with nothing thrilling happening when you gun the throttle, but the transmission is ultra rapid, hands over cogs in milliseconds and always seems to anticipate your next downshift when entering a corner.
This is also one hell of a frugal engine. I maintained a solid 6.8L/100 km average the entire time I had the car, and I wasn't gentle with the throttle.
So, what should you retain from this 2019 Mazda3 sedan review? That the Mazda3 is still affordable, kicking off at a very cheap $19,810, but that it's also all grown-up and feels a lot more expensive than it ought to be. It looks stunning, and drives impeccably well, encouraging its driver to release their inner ten-year-old child during the process. While I was a tad disappointed with its tight rear seat and lack of low-end torque, I have to say little Mazda has hit a solid homerun with its new compact.
Clavey's Verdict
Review of the 2019 Mazda3 Sedan by William Clavey
Compact Cars
Premium look and feel at an attainable price
Fuel efficient engines
Super fun to drive
Lacks low-end torque of turbo engines
Tight rear seat
No manual gearbox with all-wheel drive
Clavey's Corner is located in Montreal, Quebec, Canada. Prices and trim levels discussed in this article reflect the Canadian car market.
Special thanks: Mazda Canada
Photography: Caleb Gingras
Contact the author: [email protected]