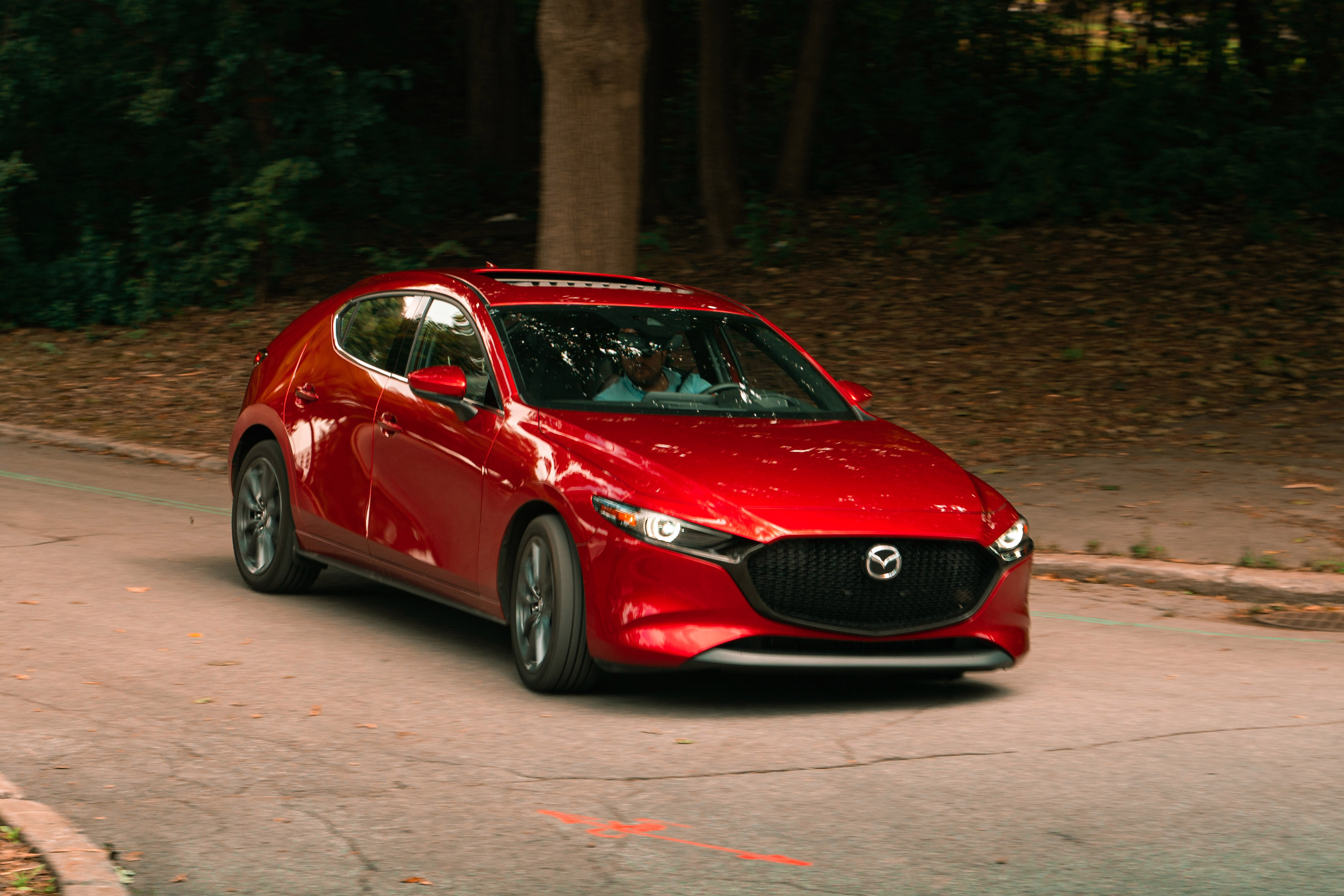 By now, you guys know how I feel about the 2019 Mazda3. I recently drove the thing in its most tamed, bread-and-butter variant; the sedan with an automatic gearbox, and I was pleased to report that while the car is now much more mature, refined, and buttoned down, it still retains the dynamic charm of its predecessors. But in my book, the Mazda3 must be a hatchback with a manual gearbox. It's what I like to call its ideal form, which is why I had to get behind the wheel of one.
Soul Red
I do believe that the Soul Red Crystal Metallic paint job my tester was painted in is the most appropriate hue to illustrate the 2019 Mazda3 Sport's character. What you have here is one of the rare affordable cars that continue to put the emphasis on stylish design and the art of driving. In hatchback form, that ethos couldn't be clearer.
While several people criticized the hatchback's enormous C-pillar, I actually don't mind it, and personally find this thing absolutely gorgeous. Inspired by Mazda's latest KODO design philosophy, the Mazda3 Sport has elegant and fluid lines, a simple yet modern front end, bulging hips and a wide, tapered rear. Say  what  you  will,  but this car  looks  very  good.
So yes, Mazda's popular small car now comes with optional all-wheel-drive, a characteristic that should, at least on paper, prevent it from being swallowed up by the recent onslaught of SUVs.
But if you want my honest advice, front-wheel-drive is the way you want to spec your Mazda3. Not only will it reduce its fuel economy, it also reduces the car's overall weight, all while giving it a much more playful driving feel since the rear end will wiggle and play the moment you'll throw this thing hard into a corner, a feat you'll want to do often.
What you get in the Sport is the upgraded 2.5-liter inline four good for 186 horsepower and 186 lb-ft of torque. A six-speed automatic is available, but I suggest you opt for the slick-shifting six-speed manual unit. The 2019 Mazda3 Sport also features Mazda's clever G-Vectoring Control Plus technology which improves the car's composure and reactivity during corner exit.
The car you see here is a fully spec'd GT model equipped with rather good-looking 18-inch wheels, a Bose sound system and a full battalion of innovative safety tech, which I'll get back to in a minute. Pricing for a Sport kicks off at a very satisfying $23,110. A fully loaded GT like my tester stickers for $30,210.
A Feel Good Machine
The Mazda3 is a car that rewards good driving. This means that the moment you engage its light clutch and shove one of its gears, you're instantly put at ease. Rowing that transmission never gets boring, and you'll quickly end up throwing the car into corners like a mad person, because its chassis is just so damn well calibrated.
But it's not all perfect and goodnight. I'm happy I had a chance to drive this car a second time, because while I have absolutely nothing to say about the Mazda 3's road composure and overall solidity, the rear torsion beam Mazda has put there instead of an independent suspension is a bit of a letdown. I hadn't noticed it in the sedan, but my second take reveals a car that bounces and weaves over the rough stuff, especially when compared to – ahem – the last generation model, or even a current Golf or a Civic.
To Mazda's credit, there's enough maturity here for the Mazda3 to at least feel a lot more gown up than before. If anything, this feels up there next to the MK7 Golf in terms of solidity and overall build quality. And I have absolutely nothing to say about its impeccably precise steering which requires very little input to react. All of this; a taught chassis, a precise steering and an effortless manual transmission, all lead to a car that you can drive fast with ease without being stressed.
Power isn't a Mazda3 strongpoint, however. Now, I'm well aware that this isn't a spiced up Mazdaspeed variant, but for some odd reason, that 2.5-liter engine never feels as punchy or as alive as the current turbocharged alternatives out there. Heck, I've seen more urgency from a Toyota Corolla hatchback, which by the way, makes less power than this.
The torque curve in this SKYACTIV-G unit is just flat, with no power peaks that give any kind of thrill as you're climbing through the revs. That, revving, is something this engine loves to do, but it never rewards you for throwing the tach needle up in the red. It also doesn't sound all that exciting, especially when it's running on idle.
Kills The Everyday Stuff, Though
But then, why ask so much from a car that was first and foremost created to be attainable transportation for the masses? The Mazda3 isn't expensive, you can get one super well equipped and looking this good for under 30 grand. So it can be forgiven for not being engineered like a high-end German car. When you dial things back a bit and treat it for what it is, this latest  Mazda3  is  actually  quite  brilliant.
Seats are immensely comfortable, front and back. That's a quality the last iterations of the model couldn't brag about. At least, not out the rear. Now, tall occupants feel at ease back there with plenty of head and leg room. Trunk space is also quite decent at a healthy 347 liters, enough to outpace the Corolla hatchback, but still a bit more cramped than a Civic.
Where the Mazda3 really impresses is in fuel economy. I pulled high sixes with this thing, with an average of 8L/100 km, which is frankly more than decent for its class.
I will say this: visibility is awkward in this new Three. The A-pillar is thick and very aggressive, which kind of always ends up on your sight line. Also, I'm not exactly sure what happened with the Mazda Connect interface, but it went from being one of the simplest systems in the industry to a rather complicated one.
The good news is that Android Auto and Apple CarPlay are finally here, and the entire presentation of the thing is absolutely gorgeous. I also continue to adore that center knob dial to operate it, very much like BMW's iDrive system.
The problem is that Mazda added extra layers of complexity as it attempted to give the system more functionality. For instance, changing radio stations on XM Radio requires having to first save them in a Favorites list beforehand. It's too much distraction for something that could have been fixed with one simple button. Also, the safety systems in this car, as innovative as they are, are way too intrusive by default. Why does my car slam on the brakes as I'm backing up into a parking lot surrounded by bushes? And how exactly is this safe? Luckily, everything can be turned off.
These gripes mostly have to do with the Mazda3 having to adapt to the automotive industry's new realities. Except for the lame-sounding engine and the annoying A-pillar, most modern cars have safety systems that don't mind their own business. In a nutshell, just like its sedan counterpart, the 2019 Mazda3 Sport remains a brilliant take at the compact car, and a formidable homage to its past. It's a good looking, immensely fun to drive and well put automobile that won't break your wallet. In my book, this puts it up there as one of the best buys of year.
Clavey's Verdict
Review of the 2019 Mazda3 Sport by William Clavey
Compact Cars
Impeccable chassis dynamics
Fun to drive
Attractive design at an attainable price
Intrusive safety systems
Engine lacks character
Infotainment system more complex than its predecessor
Clavey's Corner is located in Montreal, Quebec, Canada. Prices and trim levels discussed in this article reflect the Canadian car market.
Special thanks: Mazda Canada
Photography: Caleb Gingras
Contact the author: [email protected]