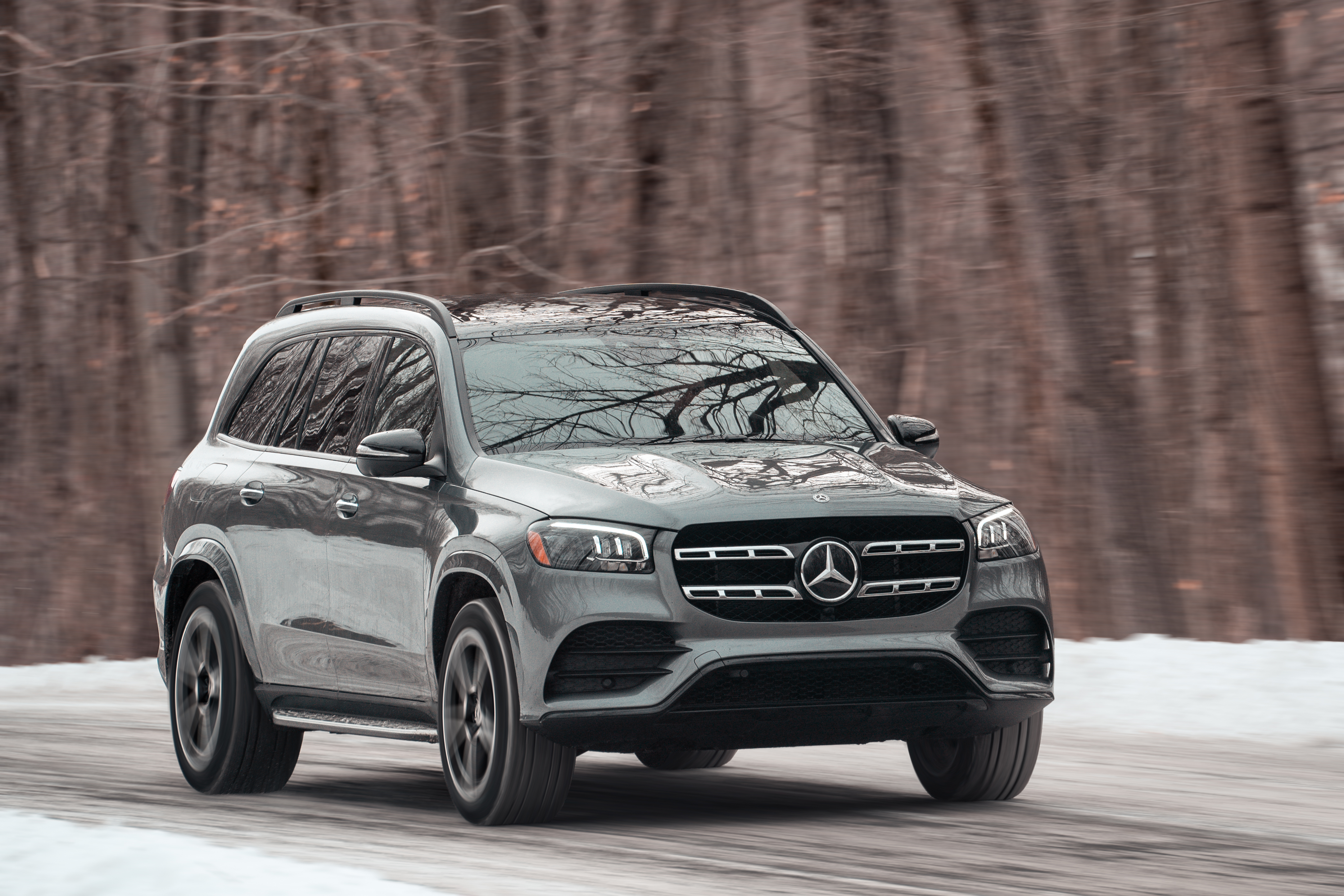 Look, don't get me wrong, I really like the 2020 Mercedes-Benz GLS 450. I personally always enjoyed the idea of a German interpretation of a Chevy Suburban. More plush, better engineered, a better vehicle all around. But now that Mercedes-Benz has updated it to its third generation, I feel like it has missed the mark on making its largest SUV the ultimate lifted luxury land yacht. Let me explain.
The Family Look
I'll get back to the 2020 Mercedes-Benz GLS 450 lack of flamboyance a little later. What you need to know is this big Benz takes on two different segments now. On one end, it's rivaling the European stuff like the all-new BMW X7 or the Volvo XC90. On the other, it's competing against a Cadillac Escalade or a Lincoln Navigator.
Because yes, that kind of cross-shopping happens more often than you might think.
The new GLS looks rather good, I must say. It gets the now familiar Mercedes corporate schnoz with the squinting headlights and ever-enlarging grille.  At least, Mercedes pulls the grille games off much better than BMW. The GLS is an overall elegant SUV, with a curvy body, muscular and wide stance – especially when its suspension is lowered to the ground -, appearing to be of good quality and expensive. Also appears to be a lot smaller than it actually is.
The GLS appears expensive because it's expensive. It kicks off at $95,500, and will top out at $135,000 in full-spec GLS 580 trim. Then there's the GLS AMG which will easily knock at the $200,000 door.  The GLS is therefore the second most expensive SUV in the Mercedes lineup after the almighty G-Wagen.
If you exclude the AMG models, two engines power this thing. While the GLS 580 gets a 483-horsepower twin turbo 4.0-liter V8, the GLS 450 you see here receives a more modest 3.0-liter twin-turbo hybrid inline six. The hybrid system is Mercedes' EQ Boost system, similar to what powers the Mercedes-AMG E53 Coupe I drove last summer. It's good here for 362 horsepower and 369 lb-ft of torque, mated to a nine-speed automatic gearbox and 4MATIC all-wheel-drive.
In other words, from a mechanical standpoint at least, this is the entry level model.
Solid And Smooth
I'll begin where the 2020 Mercedes-Benz GLS 450 excels, and that's at being a big comfortable Benz. This thing is so goddamn smooth it feels like it's riding on four clouds. Its suspension eats up anything. Its engine and transmission accelerate in absolute precision, and its structure is so solid, it feels like its made of adamantium.
There's a sense of quality and craftsmanship all around for the GLS, sometimes appearing perhaps too subtle at times, but always staying true to its promise of being a Mercedes-Benz. Build quality is bang on, materials are exquisite, both to look at and feel, and the entire cabin looks and feels modern.
This Mercedes just soaks you up in classic, no nonsense luxury. The hybrid system is smooth and seamless too, and the straight- six is velvet-quiet and free of unwanted vibrations.
Don't however expect the GLS 450 to be a quick SUV, because it's not. Instead, its performance is more silent efficient cruiser than belching fire-breathing speed. This GLS 450's acceleration is more like that of a train, taking a considerable amount of time to pick up speed, but when it does, it charges forward with a steady forward thrust. Performance is therefore lackluster, but the drivetrain at least works well, and the automatic gearbox drops gears in a clean and efficient manner.
It's also surprisingly rewarding to drive on a winding road. While big and heavy, body roll is well controlled and progressive, with precise and quick-reacting steering. Just don't expect to set out any lap records in your GLS.
Like the newest models within the Benz lineup, the GLS inherits the brand's MBUX infotainment interface, which both excels and deeply disappoints due to its beta-feeling voice-command feature.
Mercedes went through great lengths to allow the system to feel much more seamless and less dimwitted than other voice-operated interfaces in the business, and to its merit, it's frankly impressive. Ask the system to activate the massaging seats, wipers or even find you the nearest Tim Hortons, and it understands and executes commands like a charm.
The issue is when more than one passenger is talking at the same time, or when one of the car's windows are lowered, the system suddenly gets confused and downright leads you into irritating dead ends. MBUX's physical trackpad commands aren't the simplest neither, sometimes requiring several steps to perform simple tasks. It is, however, a good-looking interface, one that invites you to operate it while offering a wide range of available functionalities.
None of this, however, explains the title for this article. Do I actually believe the GLS should be bigger?
Not really, it's ostentatious and bloated enough as it is. What I'm all about is that overall cargo space and towing ratings aren't exactly matching both an Escalade nor a Navigator. Fold those seats down by way of electronic controls, and the GLS will engulf up to 2,400 liters of your junk. That's even smaller than the already tight BMW X7 (2,559 liters).
Then there's the towing rating. Sitting at 7,716 lb (3,500 kg), it's superior to the BMW (7,500 lb), but still under an Infiniti QX80 (8,498 lb), a Lincoln Navigator (8,700 lb), or even the new Chevrolet Tahoe (8,600 lb).  The GLS at least matches the latest Cadillac Escalade with identical towing numbers.
I guess what I'm trying to say is the 2020 Mercedes-Benz GLS 450 doesn't have the presence nor the opulence that its American rivals offer at similar price points. It's a good, solid big SUV, but the GLS has a spartan and functional sense to its personality that prevents it from truly standing out as a more intriguing purchase. In this segment of big flashy SUVs, what you want is large, expensive-feeling truck with a sense that you're getting a larger than life experience. Sadly, the GLS doesn't deliver on that ownership experience.
If you're looking for a Benz that also doubles as a full-size SUV, then the GLS 450 won't disappoint you. But do know that a Navigator or an Escalade are much more talented at being outrageously expensive and uselessly large utility vehicles.
Clavey's Verdict
Review of the 2020 Mercedes-Benz GLS 450 by William Clavey
Fullsize Luxury SUVs
Looks and feels the way a big expensive Benz should
Smooth and efficient hybrid engine
Surprisingly spirited handling
Lukewarm performance
Mid-pack cargo space
Annoying infotainment interface
Clavey's Corner is located in Montreal, Quebec, Canada. Prices and trim levels discussed in this article reflect the Canadian car market.
Special thanks:  Mercedes-Benz Canada
Photography: Caleb Gingras
Contact the author: [email protected]