The 2022 Mercedes-Benz EQS electric luxury sedan is a big deal. It not only represents Mercedes' first-ever mass-production electric car, but aims at proving that Mercedes' high standard for quality and craftsmanship can still exist in a gasoline-free world. It took me a while to get my hands on this one, but it was worth the wait. This is precisely what we should expect from the brand.
A Very Odd Blob
I'm not going to pretend that I like the way the 2022 Mercedes-Benz EQS looks, but at the same time, I don't exactly find it ugly. There's something strangely appealing about its blobish design language. In many ways, it reminds me of a fish, especially from the side profile. That's because the EQS was streamlined to shit to maximize EV range. It's the kind of engineering geeky stuff that I've always loved about German cars.
In other words, the EQS looks this way, because it needs to. It's the quintessential form follows function ethos that has defined the best German machines throughout history. The EQS is round, sleek, organic and looks like a rock that was carved from millions of years of water erosion. The end result of such slippery sheetmetal (and wheels) is a drag coefficient of only 0.20, making this the most aerodynamic automobile currently on sale.
Perhaps where the EQS's styling misses the mark is in flamboyance. Mind you, Mercedes' flagship sedans, like the S Class, were always about elegant subtilty, the idea of not attracting too much attention to itself while still being beautiful and chic. But in the EQS's case – especially this tester painted all black – it was all too subtle. Nobody really noticed that I was driving the company's first-ever electric luxury limousine.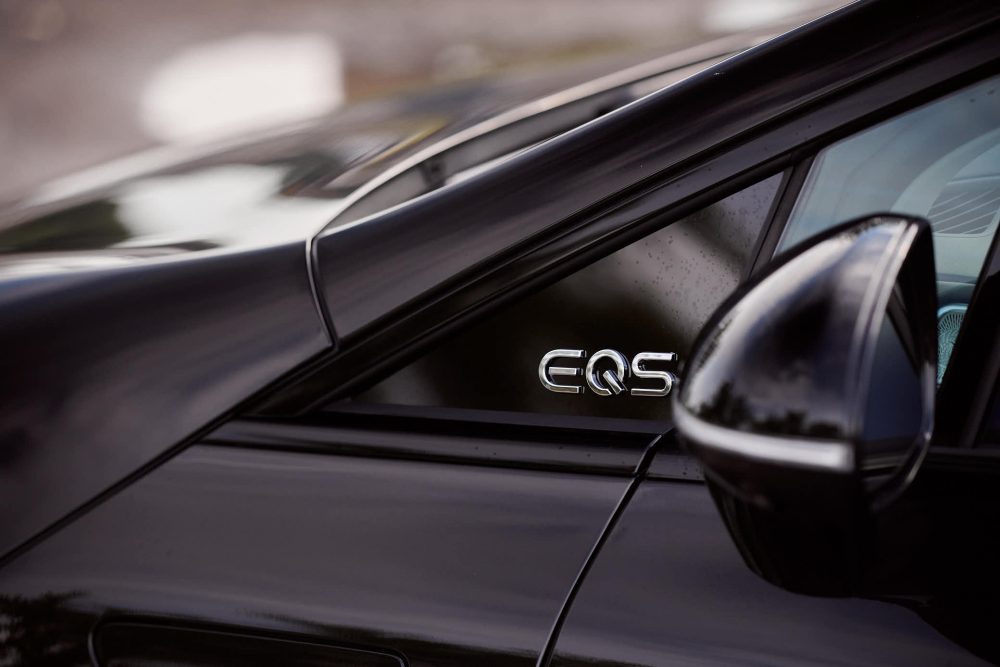 For now, this doesn't yet replace the S Class, but we all know that it eventually will. What I find totally cool about how Mercedes is entering the electric world, is that it's beginning with its flagship large sedan, then trickling down to the rest of the lineup. Ever since the EQS has been put on the market early this year, Mercedes has already released the smaller EQE, as well as the EQS SUV, essentially this, but in SUV form. And next month, the company will pull the drape off the EQE SUV. Yes, Mercedes is serious about electrification.
Powering this beast is a Mercedes-designed 107.8 kWh usable lithium-ion battery. In this 580 4MATIC's case, it powers two electric motors installed on each axle for a total combined output of 516 horsepower and 631 lb-ft of torque. Range is rated at 547 km as per Natural Resources Canada, while Mercedes claims a 3.7-second 0-100 km/h acceleration time.
Being a flagship model, the 2022 Mercedes-Benz EQS is, unsurprisingly, not cheap. The car kicks off at an already steep $146,500. My car had a few expensive packages like the $5,000 Night Package (which explains the all black look) as well as the $7,000 Premium Package. Final price for the big girl you're seeing in these pictures was a staggering $162,150.
Smooth, Quick, But A Tad Clumsy
If the EQS was the only expensive electric luxury sedan currently on sale, it would be easy to call it the queen of that segment. Sadly, there are new players on the block that have already tried to beat it at its own game. Those cars are the Tesla Model S and the Lucid Air. Looking at the EQS' numbers, you immediately notice that while a 3.7-second 0-100 km/h time is rather slow next to an Air or a Model S Plaid.
The Mercedes does have a few tricks up its sleeve though. I haven't driven the Lucid just yet, but I did drive a Model S Plaid. I assure you, the EQS, while slower, is significantly more refined and better put together than that Tesla. Thanks to a constantly adapting suspension and a rock-solid dedicated architecture, this Merc never flinches on beaten roads. It's always smooth, always composed and always luxurious. Oh, and those active digital headlights are seriously cool. They constantly light up different things on the road, never blinding anyone along the way.
And, I mean, it's not slow. The EQS is just slower than the other cars. Set this bad boy in its most dynamic Sport setting, and it'll launch hard enough to give you a solid headache if unprepared. Mercedes pumped in cool aquatic spaceship sounds in the car's audio system to increase the fun. I personally love it, but not everyone will. Thankfully, it can all be turned off.
Where the EQS disappoints, however, is in its overall driving dynamics. It's nowhere near as agile as an S Class in the corners. It feels heavy – because it is -, weighing in at a lofty 5,806 pounds. So while that massive battery gives it a planted feel, it gets easily unsettled when pushed a bit too hard to its limit. It doesn't help that Mercedes has fitted the car with 265-wide tires. Considering how massive this thing is, it could benefit from wider rubber.
But where this car truly pissed me off, was in its stupid brake pedal. I don't get how Mercedes got this one wrong, since it typically masters this. But in the EQS, the brakes feel like a giant sponge. Things get even worse when using regenerative braking. Not only will the EQS refuse to come to a halt while using regen, it lowers the brake pedal each time. That's odd, and a bit dumb. This means that you never know where the pedal is when you need to use the physical brakes, causing a disconnection with the drivetrain.
Honestly though, none of this matters the moment you sit inside an EQS. While its exterior is discrete and unassuming, its cabin is anything but. This is the first car in Mercedes' lineup to incorporate the highly impressive Hyperscreen layout, essentially a dashboard made up of a single screen. It's striking and overwhelming at first, but somehow quickly beomes easy to use. The system incorporates a wide array of customizable features, from ambient lighting to personalized digital gauges.
The car's onboard navigation system is also neatly displayed on the center screen, while Mercedes' Zero Layer technology allows you to overlay different apps without ever clogging up the main menu. And it all operates in near perfect fluidity, challenging Tesla at what it does best.
However, where the EQS totally pulverizes Tesla is in the overall build quality of the damn thing. No stones were unturned here. Everything is tightly installed, with no cabin rattles or unwanted squeaks.
Leathers and veneers look and feel of premium quality, while the enormous leather thrones deliver a wide array of comfort settings, including cooling, heating and massaging features. Storage space is also massive in an EQS thanks to the lack of a drivetrain, with neat compartments located underneath the center console.
Unfortunately that level of passenger space isn't well duplicated out the rear. While offering its share of comfort settings such as independent climate control settings and plush seats, headroom is annoyingly obstructed by the car's obsession with aerodynamics. The roof is just too aggressively raked, leading to a claustrophobic experience, especially if you're tall.
That all being said, the 2022 Mercedes-Benz EQS is nothing short of extraordinary. It brings Mercedes to a whole new level of luxury and sophistication while proving that the company is indeed ready for the electrification shift. If for you, comfort, craftsmanship and technology are of more importance than 0-100 km/h times and canyon-carving abilities, than Mercedes' impressive electric flagship definitely won't let you down.
Clavey's Verdict
Review of the 2022 Mercedes-Benz EQS 580 4MATIC by William Clavey
Luxury Full-Size Electric Sedans
Buttery smooth operation
Loaded with neat and innovative technology
A high quality item
Some competitors are quicker off the line
Annoying brakes
Tight rear headroom
Clavey's Corner is located in Montreal, Quebec, Canada. Prices and trim levels discussed in this article reflect the Canadian car market.
Special thanks: Mercedes-Benz Canada
Photography: Guillaume Fournier
Contact the author: [email protected]