Driving the 2020 Nissan Pathfinder Rock Creek Edition felt exactly the same as driving the 2017 Nissan Pathfinder, which already felt old then. The thing is, although Nissan's "mallfinder" is an honest to goodness good purchase, it's now facing seriously capable and modern rivals. I drove this Pathfinder exactly a week after driving the amazing Kia Telluride and the moment I strapped myself behind the driver's seat, I had a very hard time figuring out why anyone would pick the Nissan over its Korean opposition. It took me an entire week to determine its relevance in the market. Here's what I have to say.
Offering Value
You're probably wondering what a 2020 Nissan Pathfinder Rock Creek Edition is. While it doesn't change anything about the Pathfinder's mechanical components, it does offer consumers a fair bit of unique bits and a good amount of value at an attainable price.
The Pathfinder distinguishes itself from its dog-eat-dog segment by its aggressive price point. It kicks off at 38 425 $, making it a more more affordable than other three-row crossovers like a Honda Pilot ($43,220) or even a Kia Telluride ($47,005). The Rock Creek package is also not all that expensive, offered on either a Pathfinder SV ($ 43 628) or SL ($49 228), which is what you're seeing in these photos.
The package is mostly aesthetic, adding model-exclusive 18-inch wheels, which, I do admit look the business. Logos, door handles, mirrors, roof rack and some elements of the front fascia have all been darkened. Rock Creek also adds black fender flares, a tow package, subtle cabin details and up to seven exclusive paint jobs, like my tester's Pearl White exterior.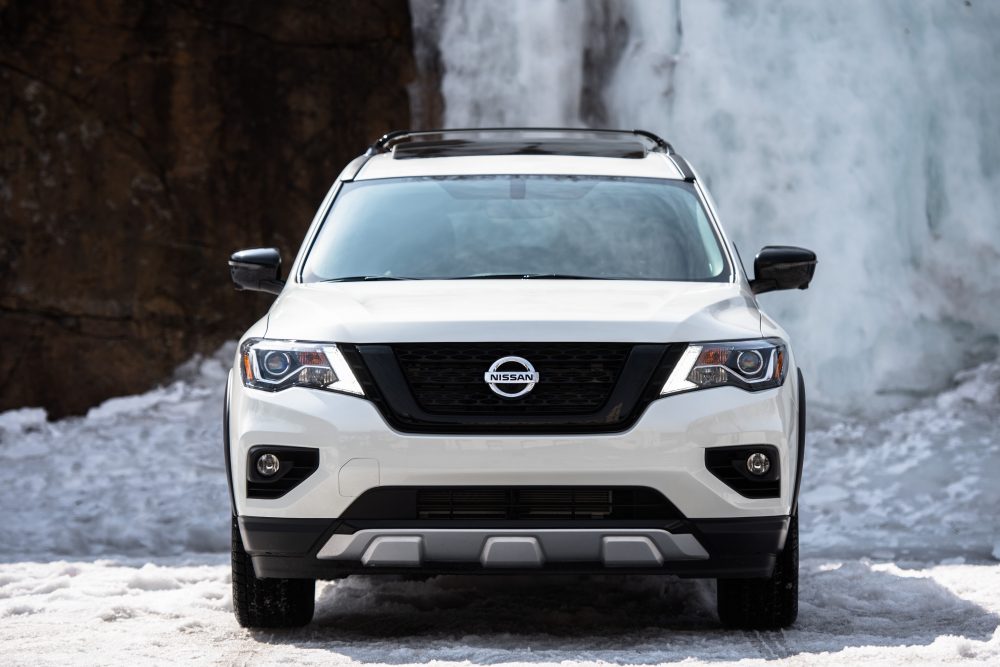 From a mechanical standpoint it's the exact same formula as when this Pathfinder hit our market seven years ago. All variants sold in Canada come with all-wheel-drive, and the only available engine is a naturally aspirated 3.5-liter V6 good for 284 horsepower and 259 lb-ft of torque.
It's mated to a continuously variable automatic transmission (CVT), probably the worst kind of transmission that can be fitted onto an automobile. This one is particularly bad, which I'll get back to in a bit.
Reliable Because Old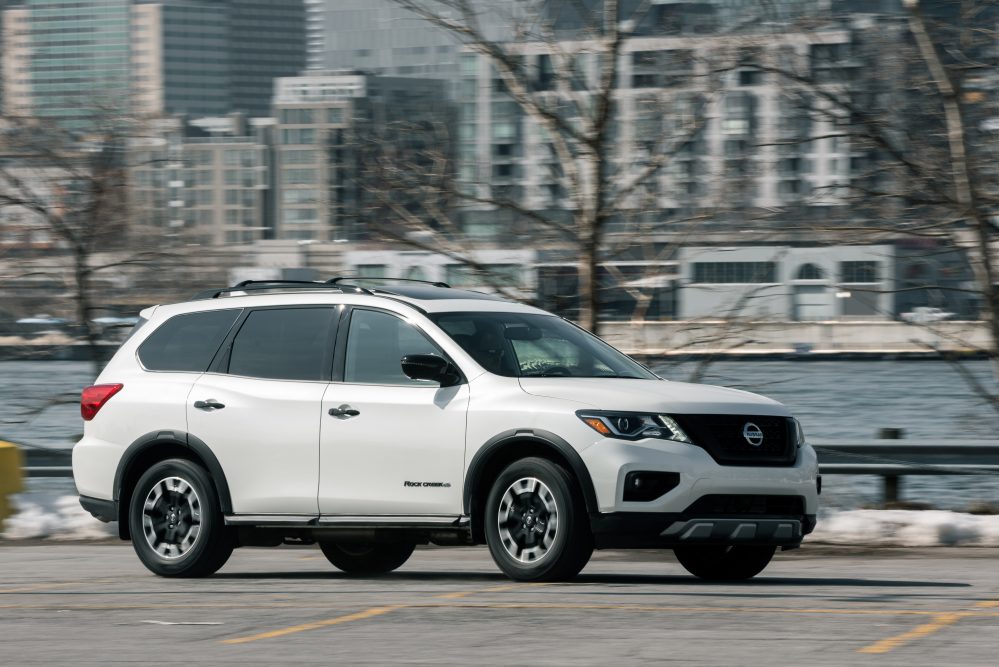 So, when I say the Nissan Pathfinder desperately needs to evolve, it's because the thing is old as fuck, especially when pitted against its newer rivals. But that's not entirely a bad thing.
By old, I mean its interior looks and feels like it's from another era, its driving dynamics are clunky, its infotainment system seems to be running on a Sega Dreamcast processor and its engine offer no form of turbocharging or hybrid technology.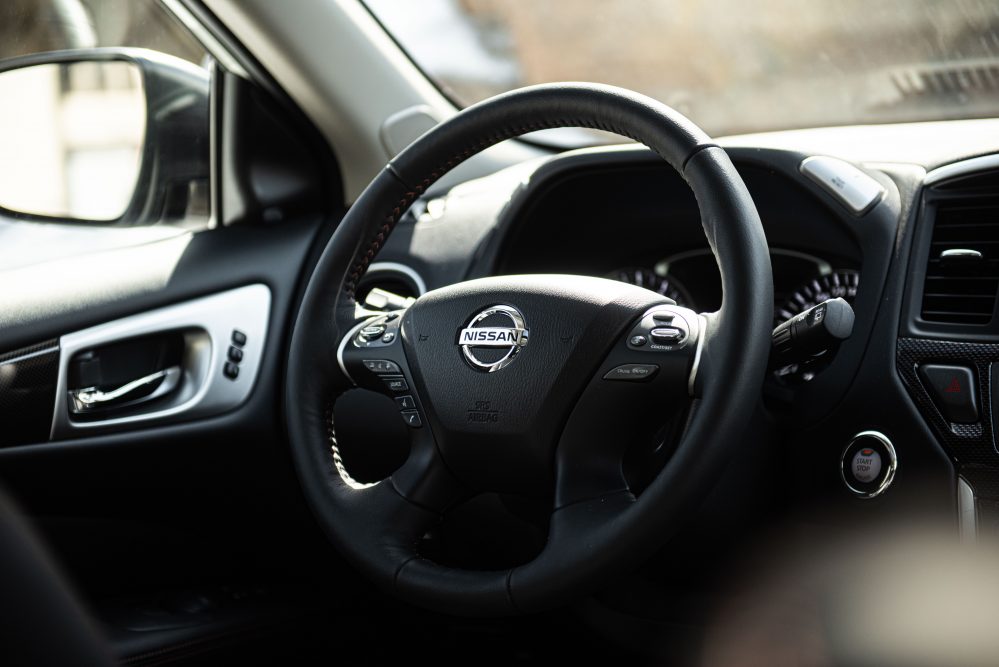 That said, the fact that the Pathfinder is still riding on old bones and powered by essentially the same V6 that propelled the Nissan 350Z from the early 2000's is what makes it indestructible. People driving around in Pathfinders currently have very little issues with their family shuttles. This is why I continue to consider the Pathfinder as a good purchase. It needs to evolve in a similar fashion as, say, a Toyota Highlander. Not like a Ford Explorer.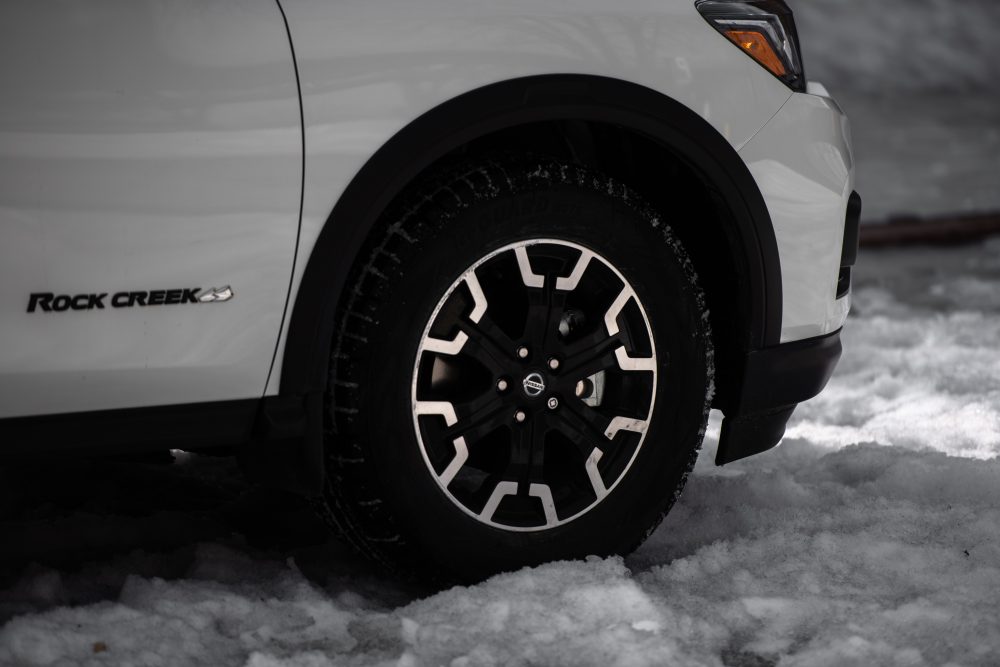 The new Explorer is a fine and highly technological machine, but those new turbo engines are still unproven. The Highlander, on the other hand, retains its tried and proven 3.5-liter V6 but also offers a highly frugal and innovative hybrid variant. That's the path the next Pathfinder needs to take. And it needs to do it quickly before it gets eaten up by the segment.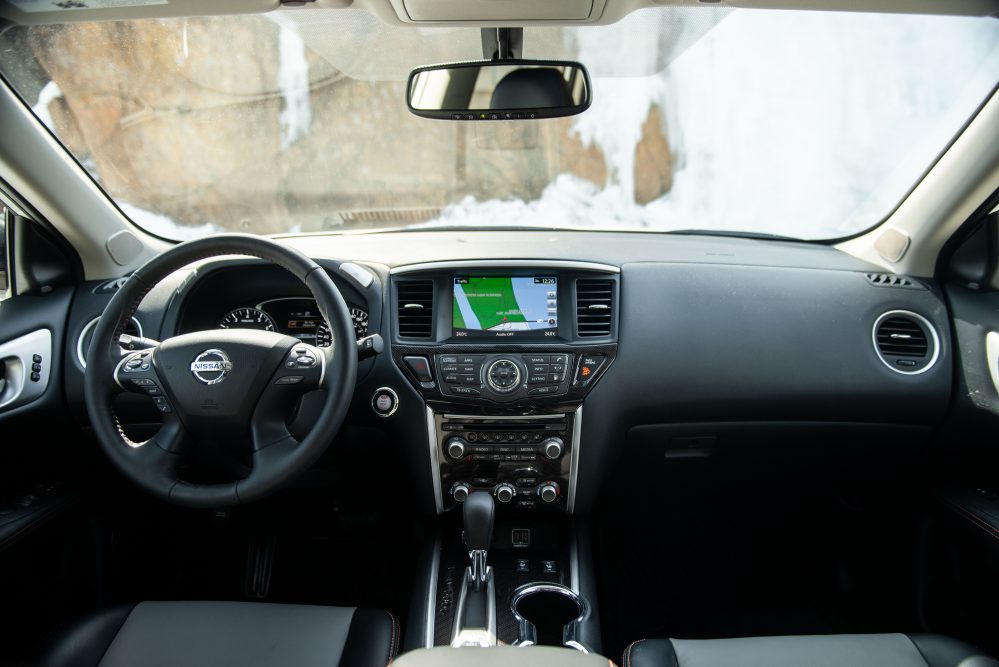 The current model isn't bad though. It seats up to eight comfortably, has an easily accessible third row seat and its suspension tuning is soft and floaty, which makes it the perfect vehicle for long family cruises. The V6 engine also provides the right amount of power and torque to get this big buy off the line quickly enough, and I personally like the fact that its all-wheel-drive system can either be entirely removed, or set to a full "lock" setting.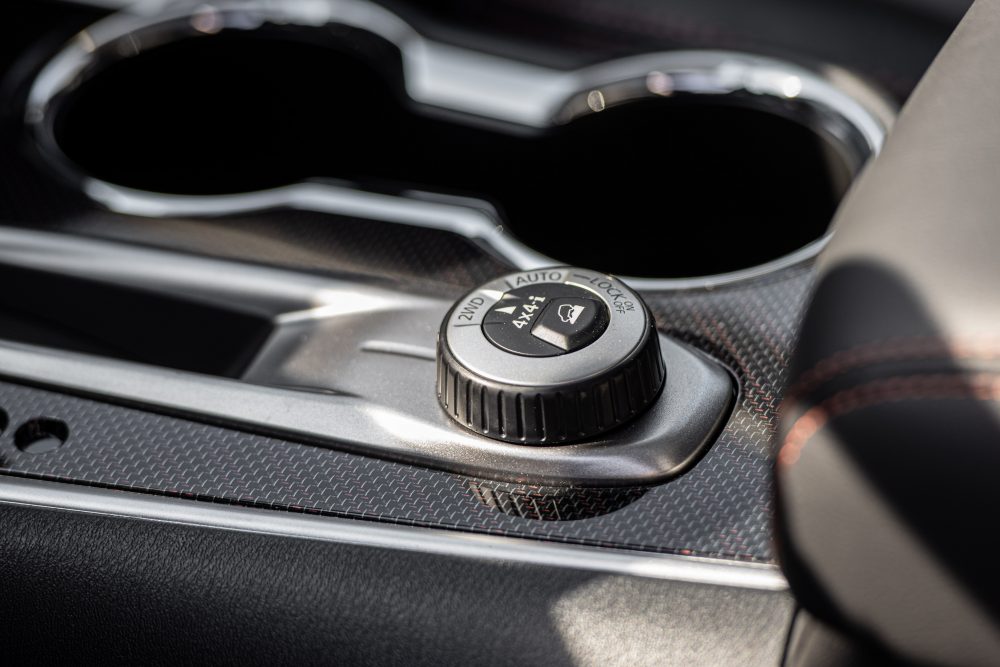 Granted, we're far from the adorable body on frame Pathfinders of the past, but this subtle touch does help retain some of the vehicle's offroad legacy. Max towing is also a Pathfinder signature feature, boasting a 6,000-pound (2,721 kg) rating while most of its rivals max out at 5,000 pounds (2,267 kg).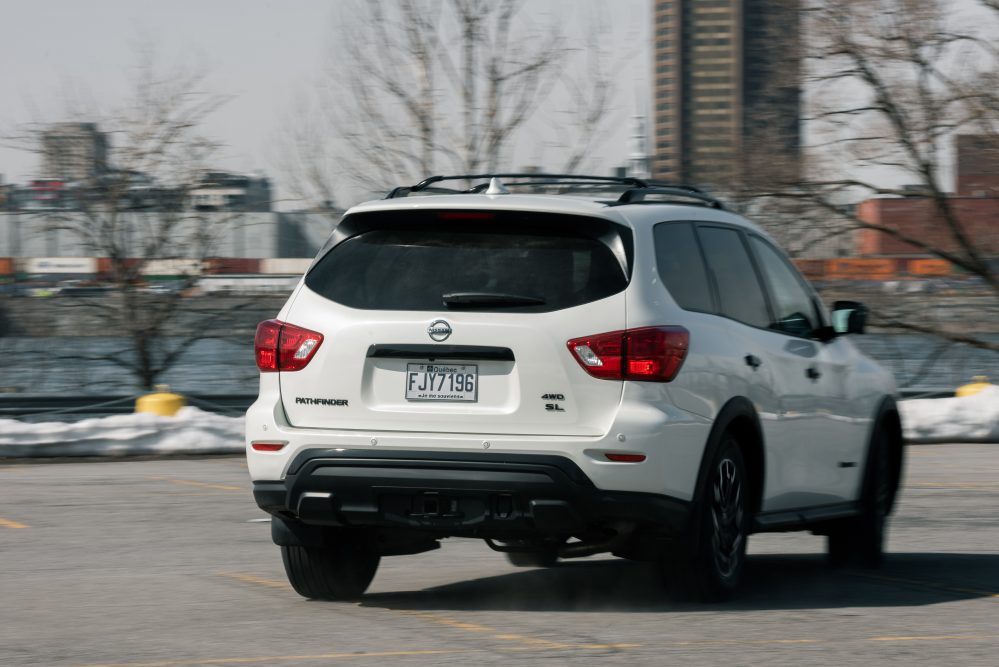 But driving a Pathfinder is also painstakingly awful due to the fact that it feels like a much larger vehicle than it actually is. The fact that it still has a hydraulic power steering is a good thing, but the steering itself is overly light and the amount of body roll is immense. It doesn't handle very well in the corners, and the CVT gearbox is just…I can't even.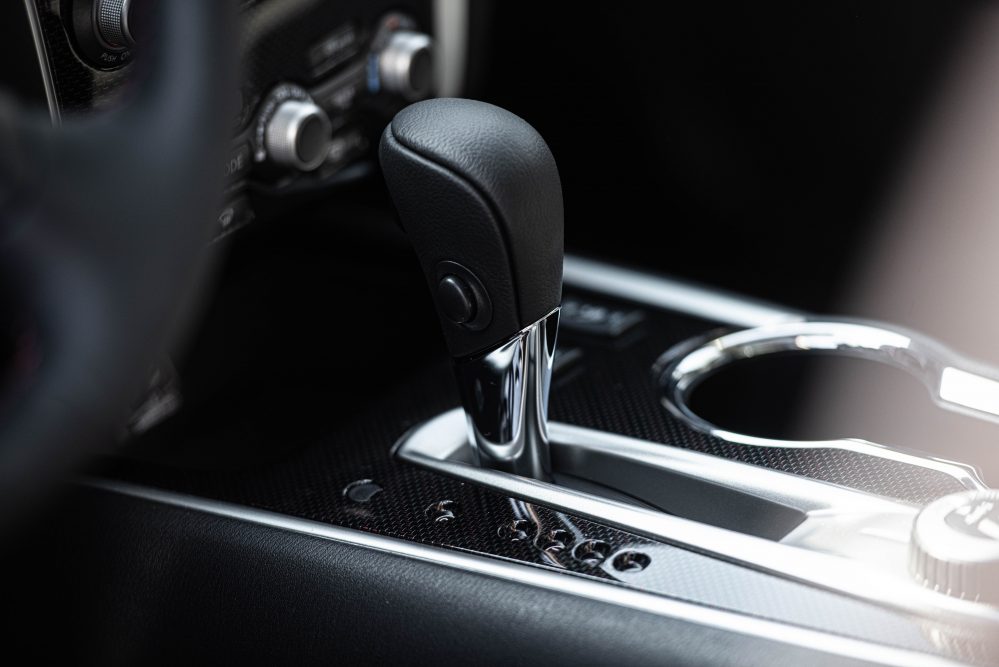 The problem with it is that it has no idea how to maximize the engine's powerband. It feels like Nissan crammed it in there to improve fuel economy without thinking twice about how it affects acceleration. The transmission constantly keeps revs too low, which is a huge letdown considering this V6 develops most of its twist at high RPM. Add to that the usual drone and elastic effect of a CVT gearbox, and you end up with a transmission you just want to throw in the garbage.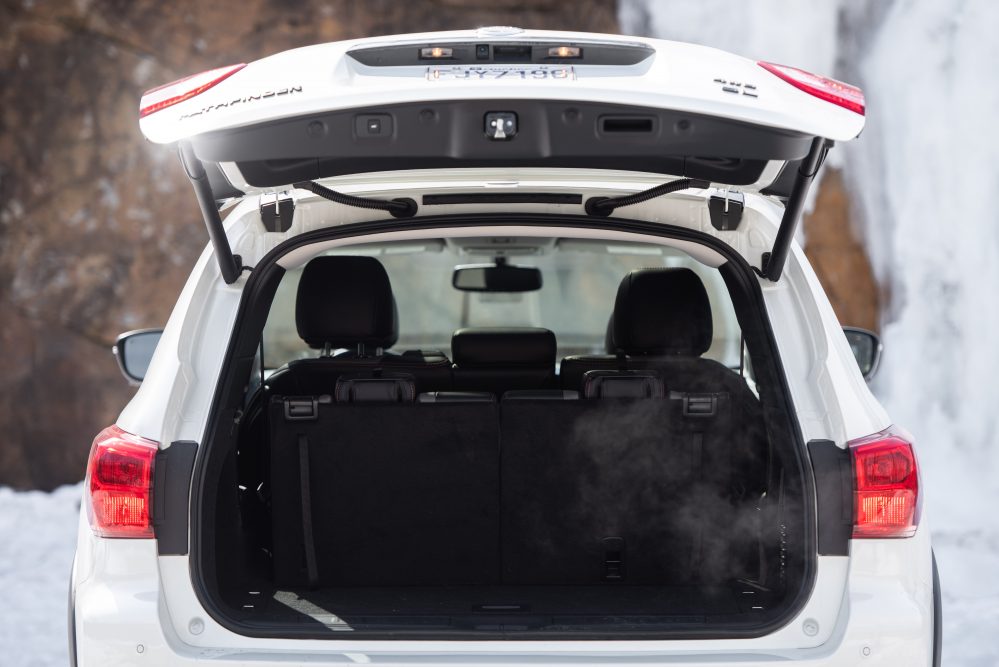 Cargo space is fine, but not great. The Pathfinder will engulf up to 2 251 liters of your gear once all its rear seats are folded flat, which remains spacious. You will however get more room from a Chevrolet Traverse (2,780 liters), a Dodge Durango (2,406 liters), a Kia Telluride (2,463 liters) or a Volkswagen Atlas (2,741 liters).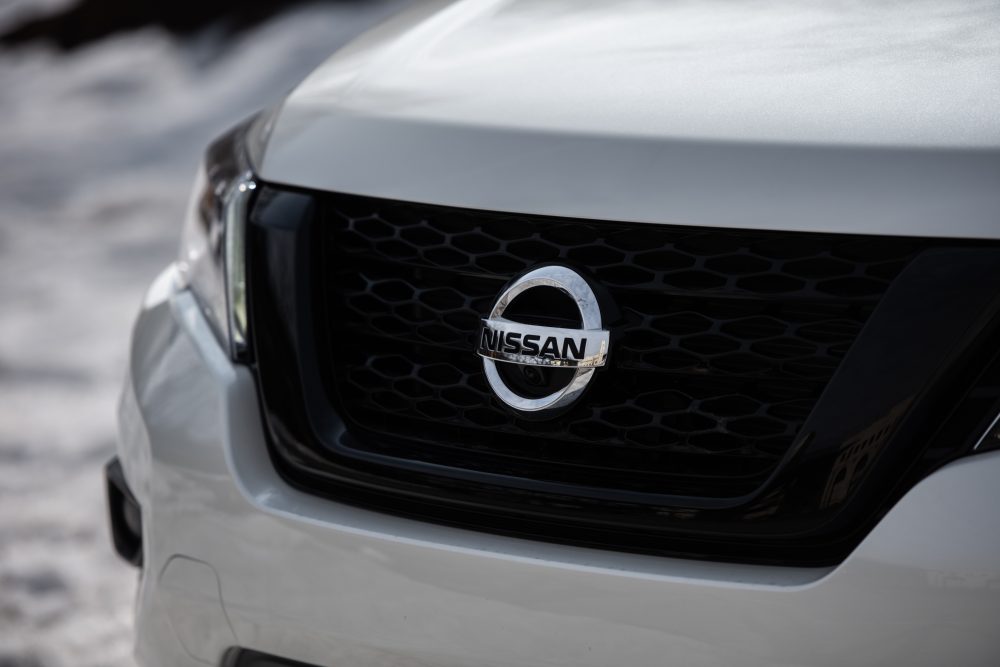 Finally, I mentioned the infotainment interface earlier. I can deal with dated graphics, but I cannot accept ergonomics that have no logic. The system can be operated with either touch-operated or physical controls. That's fine. The issue at hand is that some of these controls downright lead to dead ends, while other controls repeat themselves for no reason at all. Performing simple tasks like changing radio stations is tedious and counter-intuitive.
Would I opt for a 2020 Nissan Pathfinder if I was looking for a three-row midsize SUV? I would definitely consider its top-notch reliability record, spacious interior, and class-leading towing rating. But I'd be more compelled to flock towards a Toyota, a Kia or even a Ford simply because I'd feel I'd be getting more SUV for my dollar. To sum it all off, the Pathfinder is a good vehicle. Buying one is fine, and I wouldn't blame you for it. But this thing really needs to evolve and be in tune with the times.
Clavey's Verdict
Review of the 2020 Nissan Pathfinder Rock Creek Edition by William Clavey
Midsize Crossovers
Tried and proven engine
Roomy and comfortable cabin
Class-leading towing rating
Getting old
CVT gearbox
Dated infotainment interface
Clavey's Corner is located in Montreal, Quebec, Canada. Prices and trim levels discussed in this article reflect the Canadian car market.
Special thanks: Nissan Canada
Photography: Guillaume Fournier
Contact the author: [email protected]