"That's not a Porsche, it's an Audi Q5!" That's the number one comment I heard during the week I had my 2017 Porsche Macan. I can only imagine how tired the people at Porsche are of explaining the differences between their baby SUV and its Audi cousin.
Yes people, Porsche borrowed the Audi Q5 platform to build the Macan. So what? It's not like the Q5 is a bad vehicle to begin with. But I have to admit that when Porsche Canada gladly accepted to have me review one of their press cars, I expected to be handed the keys to a 911, a Boxster, or even a Cayman. In my book, the "rest" of Porsche's lineup, A.K.A. the SUVs, simply exists to finance the 911's development.
Nevertheless, here I was sitting my big butt inside Porsche's truly stunning mini SUV in its most basic trim: the 2.0T. I figured this would make a very interesting review for two reasons. First: I was curious to find out if, even when completely stripped out, the Macan still deserves a Porsche badge. Second: the idea of an affordable Porsche built in partnership with Volkswagen feels awfully familiar. Remember the 924? Well, I reckon its soul is hiding somewhere within the Macan.
Porsche's Hot Hatch
Porsche likes to call its Macan (pronounced Mawkahn) a crossover, but I prefer calling it a hot hatch, because it drives more like a fortified Golf GTI than a truck wearing running shoes. Now, we've all heard the "sports car of SUVs" tagline before; I mean, pretty much every carmaker now sells not only one, but several crossovers in their lineup. And the badge "Sport" seems to be the dominant selling point for everyone these days.
Examples of this are the Mazda CX-3, or Infiniti QX50; two sports-car oriented crossovers that offer very little actual practicality but very engaging driving dynamics. However, when the product comes from Stuttgart's finest, you get a sense that the Macan isn't designed solely to rake in profits, but rather because any vehicle with a Porsche logo slapped onto its hood simply has to be a pure-bred sports car. So, what exactly are we talking about here?
Very much like the 924 Porsche would sell in the late 70s, the Macan is what us common folk would call the "attainable Porsche". Sitting at the very bottom of the lineup, the Macan was designed to attract younger buyers into a Porsche dealership in hopes that they'll climb the lineup ladder as their lives and/or careers progress. It's a stunt many carmakers have been performing lately, and which has proven rather successful. The Macan 2.0T, such as my tester, is where everything begins at Porsche. Yes, that engine is shared with the Audi Q5, TT, A4, Volkswagen Golf GTI – pretty much everything in the VW/Audi lineup, but it's important to mention that Porsche has added its own engineering know-how to the powerplant to make it feel more Porsche than VW (more on that later). Also, the 2.0T is the only engine to be shared with Audi. All other Macan trims, from the Macan S, all the way to the almighty Turbo, come with their own Porsche-exclusive engines and transmissions.
Power in the Macan 2.0T is rated at a respectable 252 hp and 272 lb-ft of torque. Of course, all-wheel drive is standard; and this is not Audi's Quattro, but Porsche's own Traction Management (PTM) system, the same one found in the Cayenne. It's a system that constantly regulates the drive force distribution between the rear and front axle, allowing the driver to, in Porsche's own words, "feel what it's like to be driving a genuine sports car". Power is sent through Porsche's fabulous PDK 7-speed dual-clutch transmission, which is not only taken straight out of the Panamera, but also a gem in its own right.
When equipped with launch control, such as my tester, this baby Porsche will sprint to 100 km/h in a swift 6.5 seconds. Remember, this is the slowest Porsche you can buy.
That Unique Driving Experience
How does the Macan feel behind the wheel? Impeccable – the way a modern Porsche should. Ride quality is superb, while remaining sporty. The entire time I drove it, I felt I was driving a compact car, not a jacked-up SUV. It's a surprisingly nimble vehicle for its size and weight, and although you do need to push that four-cylinder engine around for it to actually wake up, it still manages to move the Macan around with gusto. That engine, no matter what it powers, continues to impress. My Macan never felt underpowered, but I have to admit that it didn't sound all that Porschy.
The Macan's interior is classic German luxury, with clean lines, high-quality materials, and superior fit and finish, but nothing to set to your hair on fire with fancy design themes. This is functional styling at its best. The centre console is decorated in a foray of buttons, à la Panamera. It all looks fantastic, but does take some time to get your head around. Once you get it however, everything makes total sense.
Seating position is near perfect in the Alcantara seats. The steering wheel, the same one found in a Boxster or Cayman, is not only an elegant mashup of leather and brushed aluminum, but one of the most enjoyable wheels I've ever gripped onto, especially thanks to the little grooves conveniently placed to rest my thumbs as I pulled back on the paddle shifters, which are in their own right an engineering marvel both to behold and operate. Look ahead, and you're presented to the classic Porsche tachometer.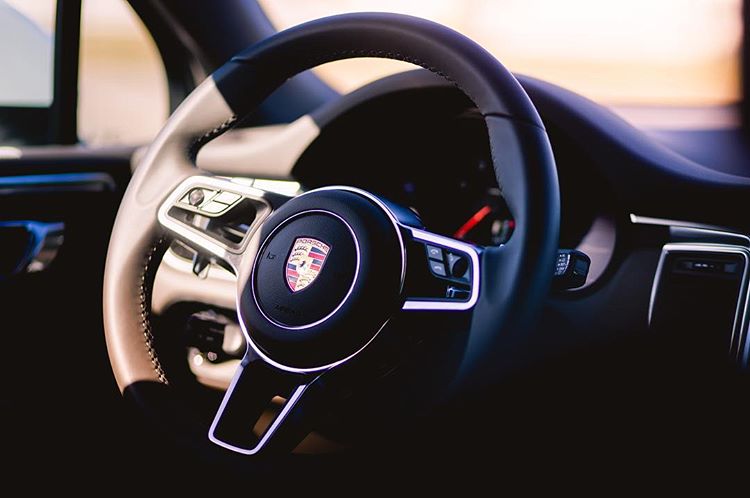 To the left you'll find a tiny, almost useless speedometer with increments of 50 km/h, reminiscent of old 911s. Thankfully, there's a digital speedometer smack in the middle of the tach. Everything in the Macan is presented in total simplicity, yet somehow manages to remain very elegant.
Shortcomings? It's rather cramped back there. And due to the way the trunk is shaped, cargo space is compromised. Excusable? Totally. Because you don't buy a Porsche for practicality. Period. Oh, there's also a very un-Porsche-like squishy brake pedal.
Three drive modes are available for the driver to pick from. The default setting is a plush, smooth and un-sporty car drive, where throttle response is laggy due to throttle-by-wire and turbo lag. But the PDK transmission shifts effortlessly within milliseconds, defaulting to the highest ratio for maximum fuel efficiency. Sport and Sport Plus modes do bring the Macan to life, with vastly improved throttle and steering response, and a transmission that suddenly holds on to revs longer; blipping the throttle upon downshifts and doing a fantastic job of hiding any signs of lag. Remove traction control, and Porsche's Stability Management (PSM) system switches to its sportiest setting. Accelerate hard out of a turn in this configuration, and you'll feel the entire system transfer the torque under you as the entire vehicle claws for grip. The more you push, the more it handles, and despite the Macan's high gravity centre, body roll is kept low, with cornering transitions being quicker than most sports sedans I've tested.
It all makes for a really fun drive. Lacks a bit of oomph, but still, very fun. I reckon the 4-cylinder handles better than the 6-cylinder models due to the lighter engine.
How Different is This From a Q5?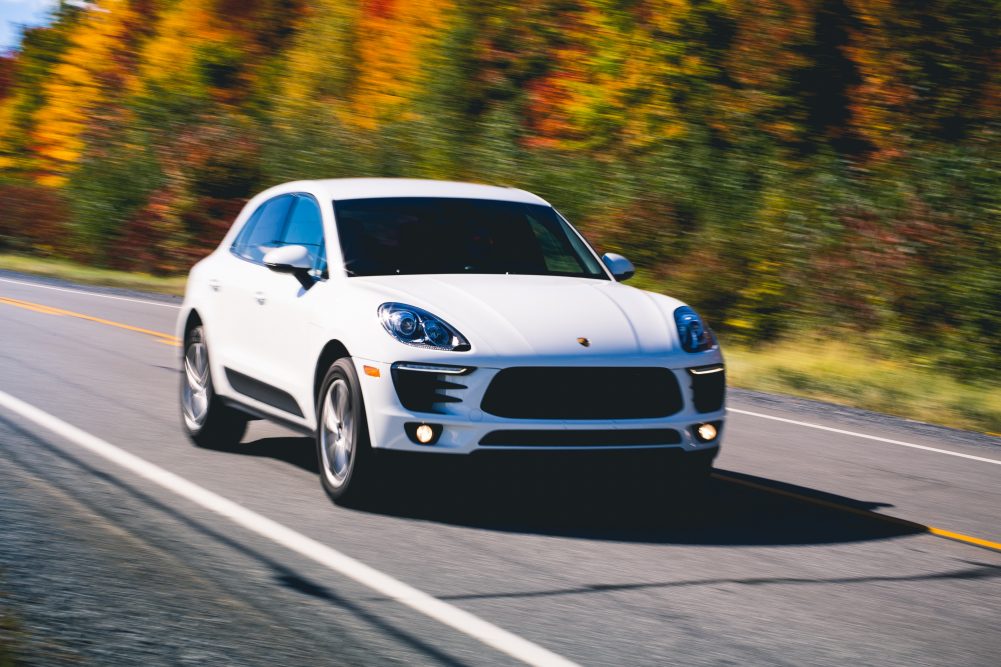 Of course, that's what everyone wants to know. To my surprise, Porsche did a lot more than simply pimp up a Q5 with fancy acronyms. There's some seriously geeky stuff here. For instance, visually, the Macan is longer and wider than its cousin, resulting in a more aggressive stance. It's also a lighter vehicle. Everything is different: suspension, brakes, and wheels. Then, there's the aluminum clamshell hood, which not only looks seriously cool when raised, but also serves as an active air duct. Essentially, the air passes through the main grille, through the radiator, and then enters hood pockets that spread the air toward either side of the engine (one side for the 4-cylinder). The end result is better engine breathing, thus better throttle response. The diagram below explains it better than I can.
The Macan also inherits from a quicker steering rack than the Audi – 14.3:1 vs 15.9:1. This allows the Porsche to be overall more responsive to smaller inputs;  hence the nimble sports car driving experience.
And finally, there's the undeniable fact that you're sitting in a freakin' Porsche. The styling is absolutely stunning, and the vehicle simply breathes engineering greatness from every angle. I'm a particular fan of the Macan's taillight treatment, which is, in my opinion, much more appealing than the Cayenne's. Actually, the Macan is generally way prettier than its big brother in every way.
So, how much for this "affordable" Porsche? Well, that all depends on the options you choose, and that's where things become rather bonkers. My tester was literally naked. No sunroof, no proximity key, blind spot monitoring, or navigation, which is kind of weird considering you now get such features in a Honda Civic. Anyway, prices start at $52 700, but my Macan had the upgraded 19-inch wheels and the Sport Chrono Package with launch control – because everyone needs launch control in their SUV. It sells for $57 270. Buyers can then climb the ladder and choose from a Macan S, Macan GTS, Macan Turbo, and finally, at the top of the chain sits the Macan Turbo with the Performance Package (the one we all want to own). That one sells for a staggering $97 600.
Although the Macan Turbo is a very desirable product, the idea that you can drive out of a Porsche dealership for under 60k is very cool.
To wrap it all up, I'd like to come back to the main metaphor of this article: the Porsche 924. Just over 30 years ago, Porsche built an affordable sports car powered by an Audi 4-cylinder engine. The idea was to sell the Porsche nameplate to the masses. Like the Macan, Porsche enthusiasts criticized the 924 for not being a real Porsche. By the end of the 80's, the 924 (944) had evolved into a genuine thoroughbred, and is remembered today as the best front-engine Porsche ever built. How will the Macan be remembered? Porsche calls it a crossover, but its performance abilities resemble more those of Porsche's own sports cars than other "sport-oriented" utility vehicles.  Like the 924, the Macan is hard to classify. Call it what you will, it's a vehicle only Porsche could have built.
Clavey's Verdict
Review of the 2017 Porsche Macan 2.0T by William Clavey – *2016 Top 10 Contender
Luxury Compact Crossovers
+
+ Stunning exterior design.
+ Sports car performance in an SUV body.
+ Lightning quick transmission.
–
– Rather expensive, especially when adding options.
– Entry level models lack basic convenience features.
– Not the most practical SUV.
---
Clavey's Corner is located in Montreal, Quebec, Canada. Prices and trim levels discussed in this article reflect the Canadian car market.
Special thanks: Porsche Canada / Sanair
Photo credit: Appearance
Contact the author: [email protected]