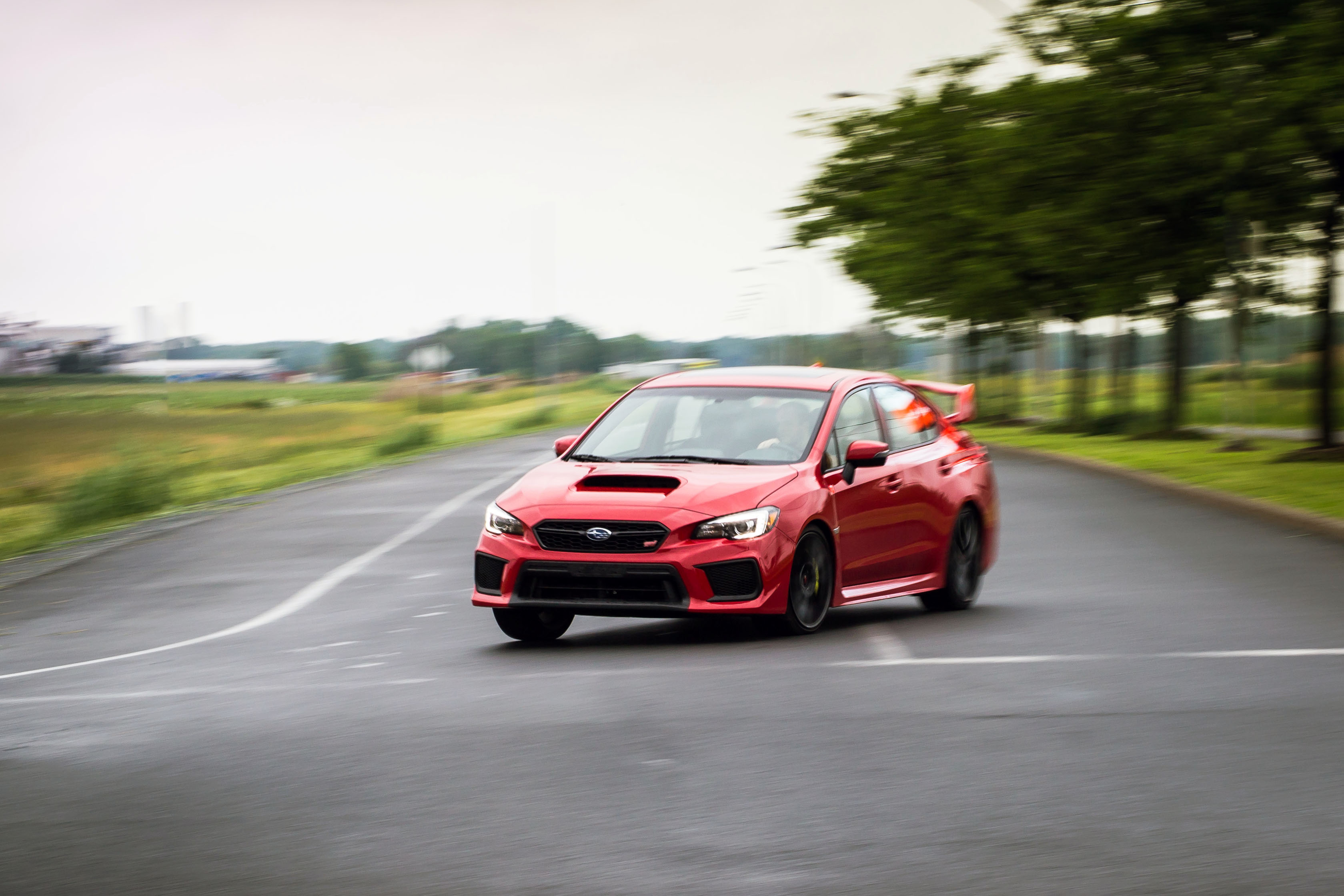 If you still haven't seen the new Baby Driver movie, I strongly recommend you do. It's a fresh take at a driver flick where a kid named Baby drives mobsters around in a red hawkeye Subaru WRX, pulling off sick stunt manoeuvres as he attempts to bring the bad guys home safe from an angry crowd of over-motivated police officers. Go check it out, it's fun to watch.
No, I'm not mentioning the movie because Subaru Canada paid me to do so, but because it graciously lent me a red WRX STI during the same week the movie was launched. Seeing that little red sedan with its bulging hood scoop do cool things on the big screen, with Baby telling his boss in one particular scene: "I'll be your driver" gave me the itch to go have some good old fashion fun myself with my large-winged rally-derived troublemaker.
So I did.
Getting Old, But Still Hanging
The car you see here is not based on the new Subaru Impreza launched earlier this year. Subaru considers the WRX and the STI to be totally different cars than the base Impreza, so expect to wait another year or two before a true replacement comes out. Meanwhile, Subaru has considerably face lifted the car, and has fitted it with enough goodies to keep it relevant versus its new crop of available contenders, notably the Volkswagen Golf R, Ford Focus RS and the all-new Honda Civic Type R.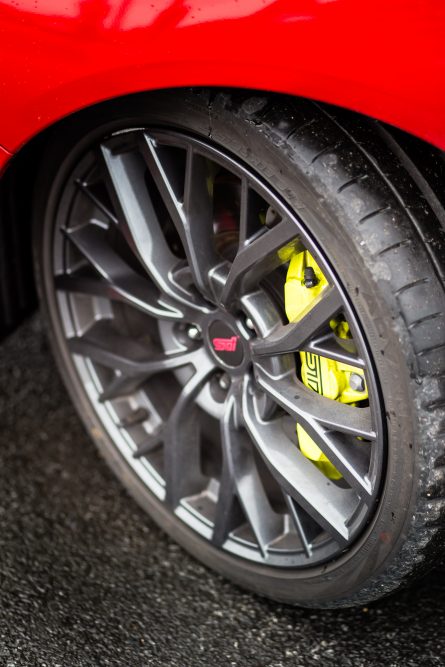 Most of the 2018 WRX STI's updates are both focused on its mechanical components and the quality of its interior. I'll get to those later, but the front end has been massaged with a new front grille and revised bumper to give the car a wider, squarer appearance, and the car gets a new set of 19-inch wheels, the largest ever fitted on an STI since its inception.
Am I the only one that sees some late nineties, 22B, rally-era Subaru resemblance in the way this updated car looks from the front? I say good work Subaru, because the last generation STI looked a bit too much like a Corolla with a wing on its trunk.
Speaking of wings: don't you worry, hardcore Suby fans, the 2018 STI still has one. And it's still larger than a moon. But this STI, especially when painted in Pure Red like my tester, remains one of the most in-your-face pocket rockets out there, and one the police will spot the moment you'll drive out of your driveway. Personally, I dig the fluorescent yellow brake calipers. They're very Ken Block-ish and also all new, with drastically upgraded and stronger monoblock six-piston calipers up front, two-piston out the rear that sit on drilled rotors all around for better heat dissipation.
Hear that punk? For better heat dissipation.
Ready, Fight!
The Subaru STI is a car that doesn't give you a break. It's always ready to fight and won't be afraid to hit you in the throat the moment you make a mistake. The irony here is that this is a much more compliant and livable car than any STI that came before it. Now that the car doesn't have the Mitsubishi Evolution to compete against and faces more refined competitors like the Golf R and Focus RS, Subaru has attempted to add more civility to the car through improved sound deadening and a revised suspension to be more daily-driveable.
While feeling a tad more mature than past STI's, this remains a hard car to live with, meaning it isn't soft.  The clutch is hard, the steering reacts in razor-sharp jolts, the suspension is stiff and the brakes will rip the skin off your face if you dare flirt with them too much. While the Golf R is an Audi wearing a Golf suit, the Subaru STI is a purpose-built training shoe. If you don't know what you're doing, just don't drive an STI.
Power for the 2018 Subaru WRX STI remains rather conservative. This is essentially the same format as, well forever. Under its hood lies the brand's ubiquitous 2.5-liter turbocharged flat four pumping out the same claimed 305 horsepower and 290 lb-ft of torque as the last generation car. A six-speed manual gearbox takes care of sending all that JDM twist down to the ground via Subaru's trusted symmetrical all-wheel-drive system.
Again, nothing new here.
I say the power is conservative because 306 horsepower can now be had in midsize family sedans. Some jet skis have this sort of power now. I, like many enthusiasts would have preferred something more in the likes of the Focus RS in the 350-horsepower range. So it's kind of disappointing, but the STI isn't slow. That Boxer four continues to make glorious flat-four intake noises and exhaust pops. If you listen closely, you'll even detect a slight swoosh of the wastegate when lifting off the throttle. And the engine loves to rev all the way until that cute little shift light shows its face in the gauge cluster.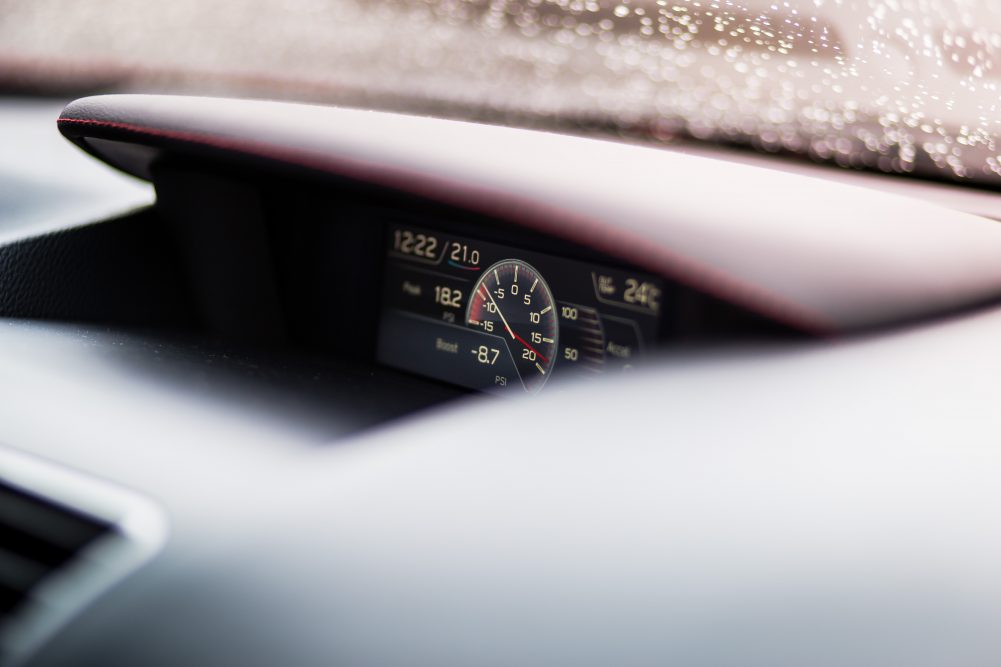 Subaru claims an acceleration time of roughly 4.7 seconds, putting it in the same ballpark as a dual-clutch equipped Golf R. Launching an STI fast all depends on how much courage you'll have to dump the clutch at around 5,000 rpm. Again, this car makes you work for your performance, unlike the Golf R where all you do is sit there and enjoy the ride as the automatic gearbox does all the work for you.
Traction Isn't An Issue
As with past STI models, the 2018 model inherits an active center differential. Subaru calls it C.Diff, and it's all controllable through a center-console mounted knob dial. By default, the STI makes do with a 41 front/59 rear torque split. The system will allow you to send up to 100% of the available traction to the rear or front wheels, and both front rear sections are fitted with limited-slip differentials.
The result of all this rally-inspired gadgetry is a car that will explode out of corner exits, and gracefully balance its body in elegant drift maneuvers in the event that the surface becomes a little too slippery. There aren't many roads the STI can't take on.
I took the STI out for some good old dirt road hooning, and the system is frankly impressive. Unlike the Golf R which tends to default to understeer too often at the limit, Subaru's system remains rear-wheel-drive biased, even when left in auto mode, resulting in a rear end that's always looking to kick out upon throttle inputs. Add to that an ABS system that can adjust brake pressure at each rear wheel while cornering and you'll get the same feeling as a torque vectoring system when trail-braking the car into a corner. A similar effect up front will be felt during on-throttle applications. Understeer is basically nonexistent in a Subaru STI. It's straight out a blast to drive, all the time.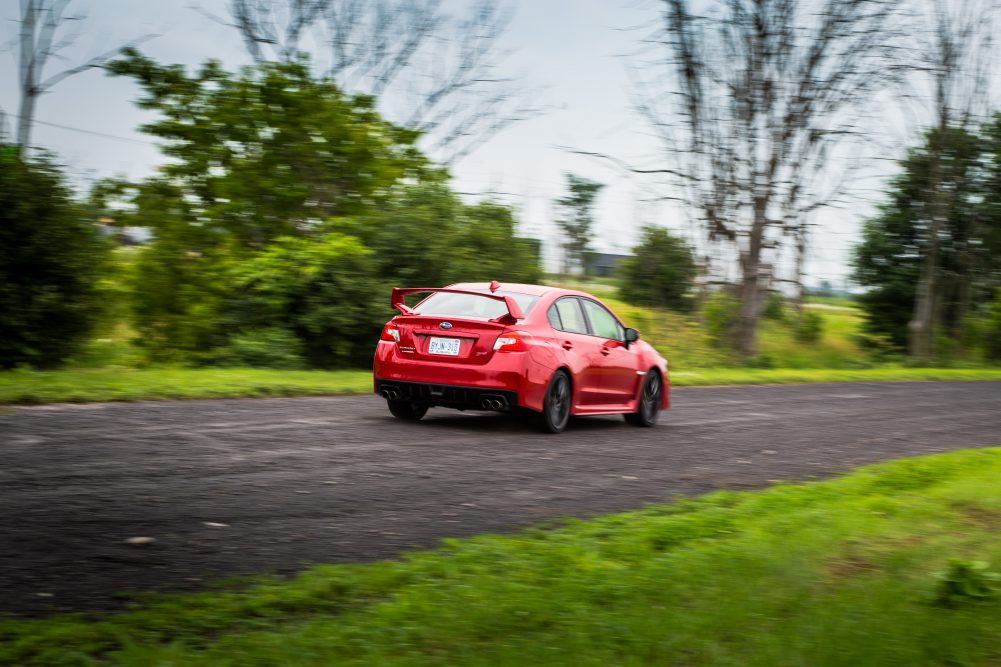 Subaru's Boxer engine also remains the quintessential weapon of choice if you're looking for a planted and secure feeling on the road. No other all-wheel-drive car out there can even come close to a Subaru's weight distribution and center of gravity because of its low to the ground engine configuration. In a performance application like the STI, it makes even more sense. This car may be running on a decade-old mechanical layout, but on a countryside backroad, it'll give high-end sports cars a run for their money.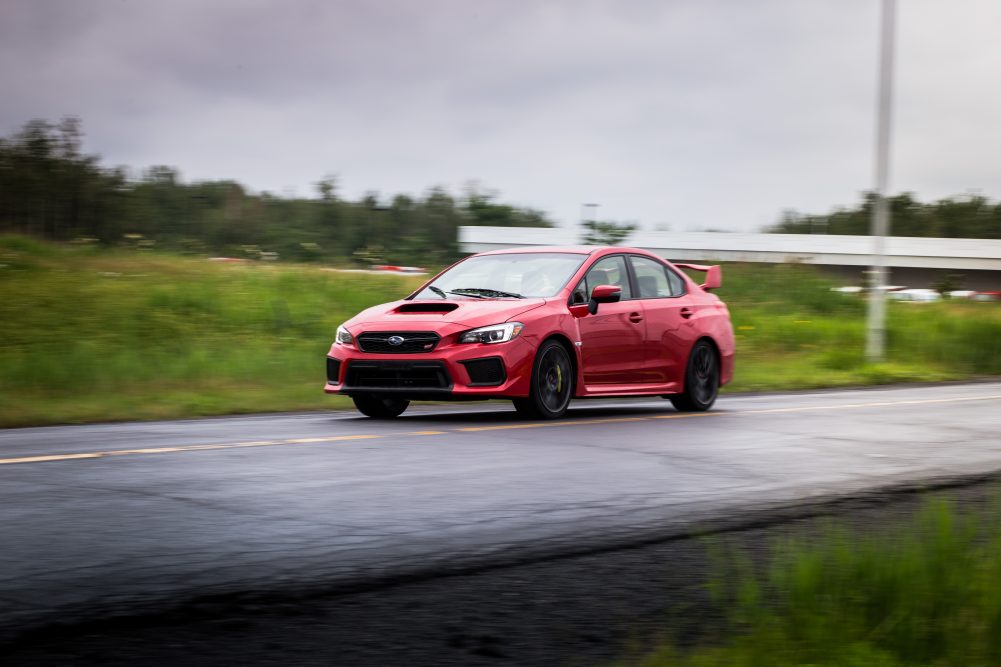 Finally, all that available turbo power can be adjusted via Subaru's SI-Drive engine management system through three available settings: Sport, Intelligent and Sport Plus. Each setting significantly alters the turbo's torque curve. Select Sport Plus and turbo lag becomes virtually non-existent as it comes on earlier in the rev range, allowing for better off the line acceleration.
Pimped Up Interior
For the longest time I would complain about how Subaru's interiors seemed like they were made out of cardboard. Although this new STI still doesn't inherit the new Impreza's fabulously pimped-up cabin, I must say, it looks damn good in there.
Sure, there are still some hard plastics, a relic from the last generation car, and it certainly doesn't come close to the craftsmanship found in the Golf R's cabin, but Subaru has done a fantastic job of covering up the cheap stuff with softer materials and red stitching on the steering wheel, door inserts and dashboard. I personally adore the way the red on black sports Recaro seats look, even though they're kind of hard, and those red seatbelts were put there to remind you you're sitting behind the wheel of a vehicle that can get you in a lot of trouble, real fast.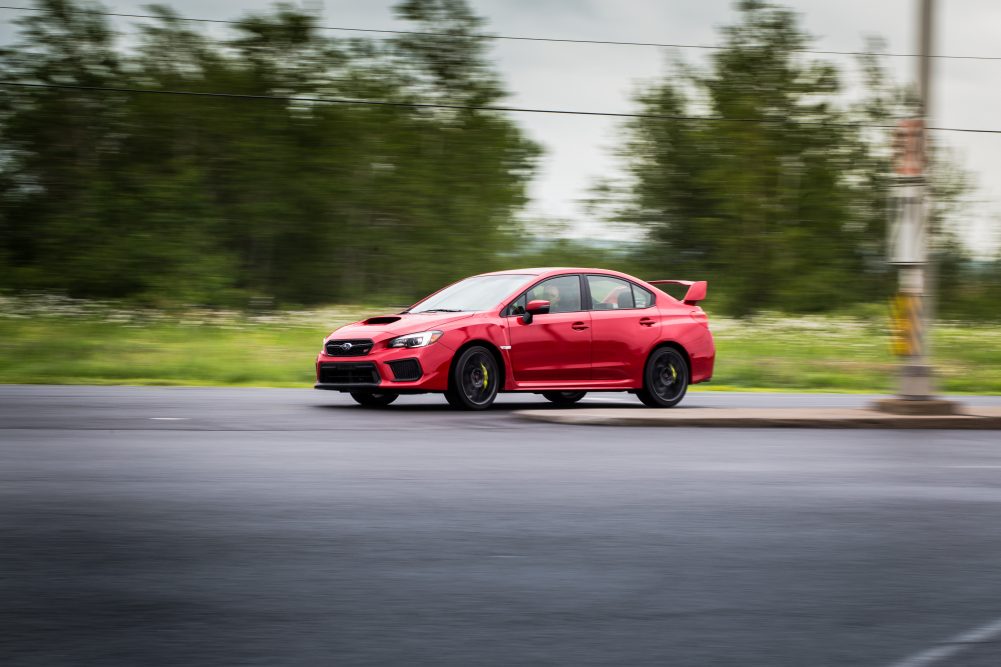 As for the rest, the STI remains a conventional Impreza, visibility all around is impeccable, with a rear wing that no longer obstructs the rearview mirror. Subaru's Starlink infotainment system may not come with Android Auto or Apple Carplay connectivity, but does have a neat feature called MirrorLink, which mirrors your smartphone's interface on the car's screen. The system also remains a no-brainer to understand, and is among the quickest, most intuitive interfaces in the industry. Rear seat room is ample in the STI, as well as head clearance, and there's a cavernous, 340-liter trunk back there to haul around your gear, or a few machine guns in the event you'll need to help your buddies pull off a bank heist.
Fuel economy was decent during the time I had the car, hanging around in the 10.5 L/100 km range. That's comparable to a Ford Focus ST, and not all too shabby considering the STI's engine has an extra set of wheels to push around.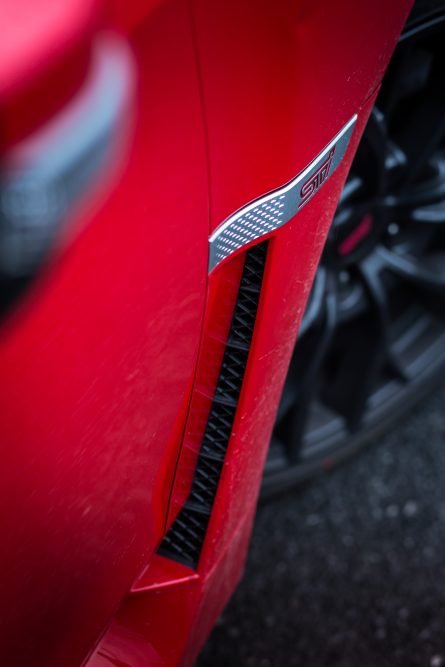 So the STI comes through as a competitive sport compact car, but it does come with a few shortcomings. It remains a harsh ride, with a stiff suspension that beats you up over the hard stuff, and wind and road noise are prominent compared to its main German rival. Finally, although those big Brembo brakes do marvels when pushing the limits of the car's available performance, in the everyday world, they squeak louder than the ones found on a city bus. And that can get annoying real fast.
Pricing for a 2018 Subaru WRX STI kicks off at $41,260. These are Focus RS, Golf R, and Civic Type rivaling numbers. My tester was the top-of the-line Sport Tech trim, which came with the upgraded Brembo brakes, 19-inch wheels, Recaro seats and a Harman Kardon premium sound system sells for $48,360.
And yes, Subaru does offer a no-cost rear wing delete if you're already fed up of seeing it.
Verdict: The 2018 Subaru STI is a bit more refined than the last one, but remains a loud old-school hooligan that's a bit rough around the edges and an absolute workout to drive. Don't worry, it's still quick as hell and immensely fun to drive.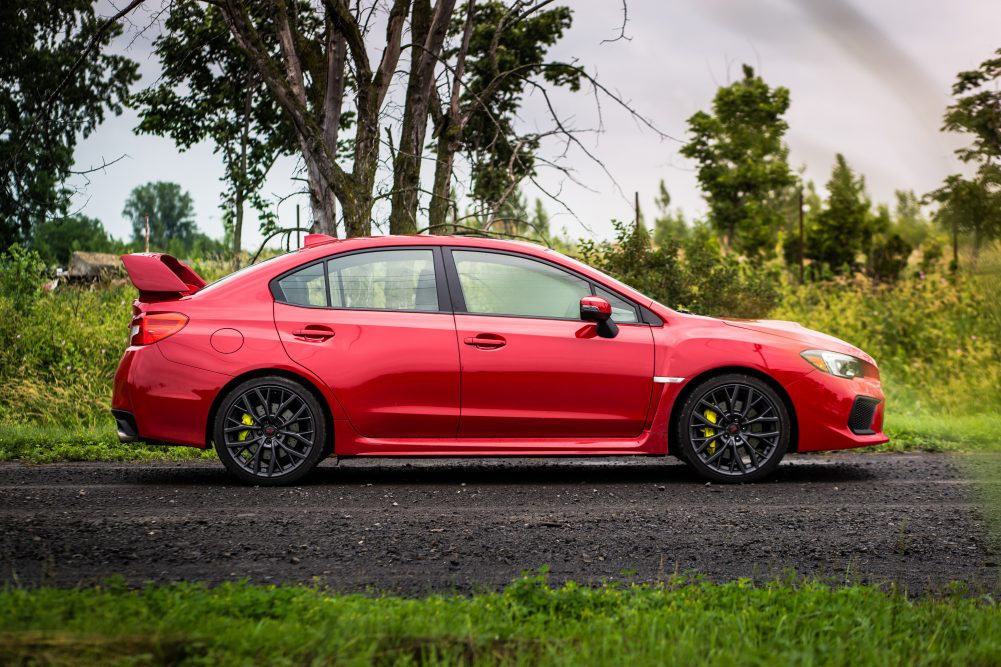 What I like the most about this STI, is that it remains the rebel in the segment, the one that refuses to change. If it were in an arm-wrestling contest, it would be the old grey-bearded grandpa with sailor tattoos on his bulging forearms, smirking at you from the distance, confident he'd still have what it takes to take your young smart ass down. And he probably could.
Clavey's Verdict
Review of the 2018 Subaru WRX STI by William Clavey
Sport Compact Cars
Competitive performance, dynamic handling.
All-weather capability.
Practical and spacious.
Rough around the edges.
Stiff ride.
Squeaky brakes.
Clavey's Corner is located in Montreal, Quebec, Canada. Prices and trim levels discussed in this article reflect the Canadian car market.
Special thanks: Subaru Canada
Photography: Appearance
Join the Tribe
Contact the author: [email protected]