When Toyota Canada offered me the keys to a 2016 Toyota Tundra, not only didn't I expect it to be a TRD Pro, I also didn't expect it to be so hard to review. I'm no Motortrend or Car and Driver, so I can't afford to pit a RAM, an F-150, a Silverado, and a Tundra in a 4-way comparo in the middle of the desert with tractor trailers, cement blocks, and hay bales.
"How on Earth am I going to review this thing?" I wondered as I brought the ginormous machine back home through the congested Montreal traffic.
I mean, truck buyers are a serious bunch. They'll spend an entire evening debating over payload capacity and locking axle ratios. I know nothing about that stuff. I'm a car guy, not a truck guy. And you can't mess around with these people, because if you happen to mix up the specs of a particular model with another one, you'll get burned alive in the comments. I'm not sure which crowd is the scariest: Ford, RAM, or Chevy – they all scare me.
Luckily, this is a Toyota; the underdog of the full-size truck world, which should make it a little easier for me. Also, since this is the off-road version of the Tundra, it's designed to play in a sandbox, so I don't need to test its towing capacity.
Fine, so now what?
I live in Longueuil in a family-oriented neighborhood. There are no sandpits or mountains to climb. What the hell am I doing with a lifted half-ton truck in my driveway? That said, in an attempt to better understand the purpose of this monstrous creation, I hit the road in search of inspiration, and ended up in Percé 10 hours later.
Serious Off-Road Props
Before I move on to my time spent road tripping with the TRD Pro, let me take the time to explain how different this Tundra is from your father's chrome-grilled plywood carrier. The TRD Pro trim is much more than a simple marketing gimmick. It's a set of serious off-road hardware, developed by the gurus over at Toyota's Racing Development branch, which gives the Tundra enough chops to trade punches with the RAM Rebel. It's not, however, a direct competitor to Ford's SVT Raptor, a vehicle which has reigned virtually unchallenged until now, although I wouldn't be surprised to see a TRD Pro keep up with a Raptor in an off-road race.
Because the TRD Pro package is far from being negligible. It can be added to any V8-powered 4×4 Tundra in both Doublecab or Crewmax configurations and includes a set of fortified all-terrain components to an already sturdy machine. Modifications include TRD Bilstein shocks with remote reservoirs, TRD-tuned springs with a 2″ lift for the front of the vehicle, TRD front skid plates, a decreased spring rate to improve ride quality over harsh terrain, Michelin ORP tires mounted on blacked-out 18-inch TRD-stamped wheels, and a TRD dual exhaust system which makes this Tundra sound like a pro off-road race truck at full throttle.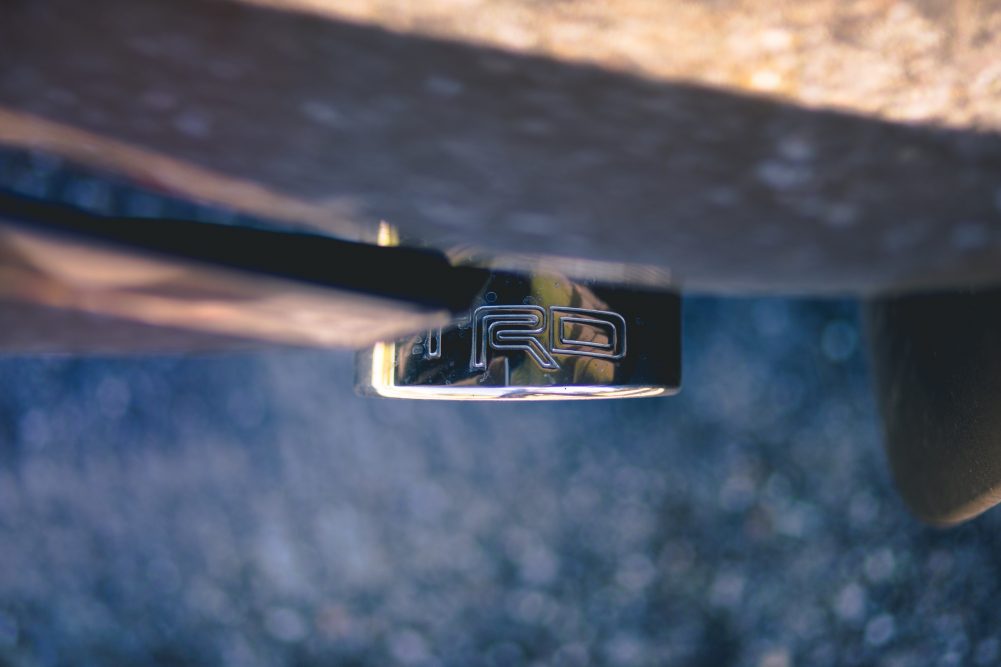 Other aesthetic differences from the regular Tundra include a blacked-out front grille complete with old-school TOYOTA lettering, TRD Pro quarter panel bed stamping, and a TRD shift knob and seats – a total package that makes this Tundra look totally badass, especially in this Magnetic Grey Metallic paint which helps further accentuate the blacked-out components.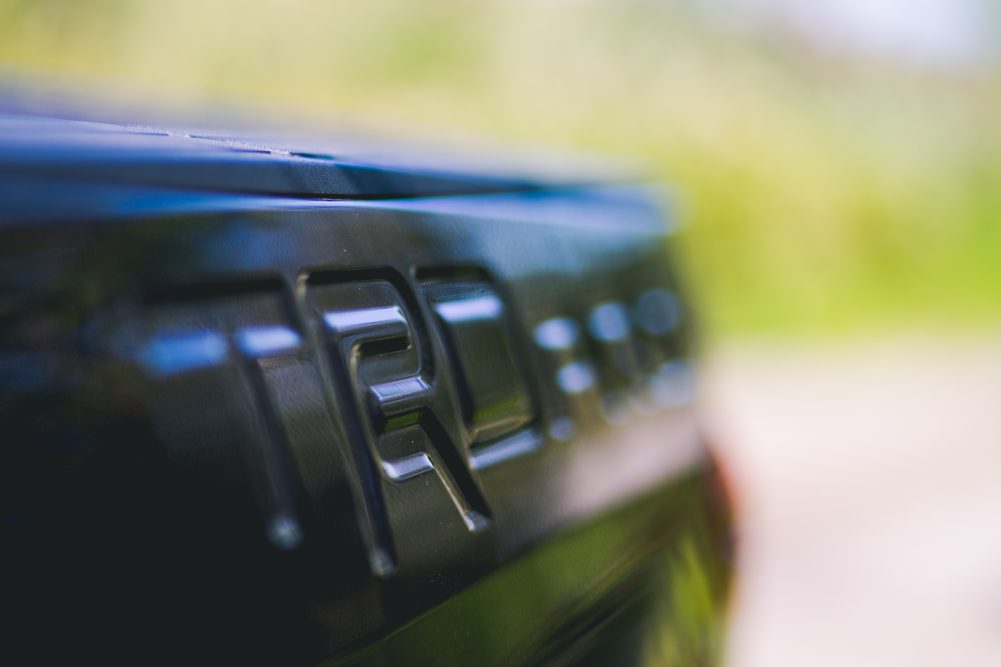 Power remains unchanged, but then again, it's not like Toyota's iForce 5.7L V8 needed extra love. It's a fantastic engine, one which, thanks to its 32-valve configuration, delivers smooth and linear power through its entire rev range, with great torque delivery down low. Power is rated at a solid 381 hp and 401 lb-ft of torque, allowing this massive 2600 kg rig to sprint to 100 km/h in roughly 6.3 seconds – about the same time as a mid-size sports sedan.
For those who care, maximum towing rates for the 2016 Tundra are rated at 4762 kg and maximum payload is 934 kg, putting the Tundra a tad under the best in class Ford F-150. The only notable changes for the 2016 model year are an integrated trailer brake controller and a 142-litre fuel tank, the largest in the segment.
Because one thing the Tundra does well is sip massive amounts of fuel.
Drive it Far
So yeah, Percé. Of course, there's absolutely no logic in my decision, especially considering that the Tundra does 14.5L/100 km at best on the highway, and that's only if you're not flooring the throttle every 2 minutes because you're addicted to the sound it makes. If the Tundra had been fitted with more gears, like its competition, perhaps it would have delivered more interesting mileage numbers, but alas, this Toyota is still fitted with the same 6-speed automatic transmission as when it was released back in 2007.
It's not a bad box though: it's smooth, like Camry smooth. But because of the 5.7L's tendency to want to rev to maximize its power band, the Tundra did tend to downshift unnecessarily at the slightest of inclinations. That, and the fact that it's a 9-year-old box which is unfortunately outgunned by today's smarter 8-speed offerings.
And as I drove. Drove. And drove some more – the idea of bringing this enormous pick-up truck to one of the most remote villages in Quebec started to make a whole lot of sense. Because unlike pot-hole-infested Montréal, the Gaspésie region is the kingdom of trucks. Everywhere I looked I'd see jacked-up Fords, RAMs, Super Duties, and Chevy trucks fitted with enormous tires and off-road equipment strapped onto them. Among them were also lots of Toyotas; Tundras and Tacomas. And to my surprise, I attracted quite a lot of attention in my TRD Pro, especially considering I over-towered most of them. Which is impressive, considering I was driving a factory-tuned vehicle backed by a manufacturer warranty.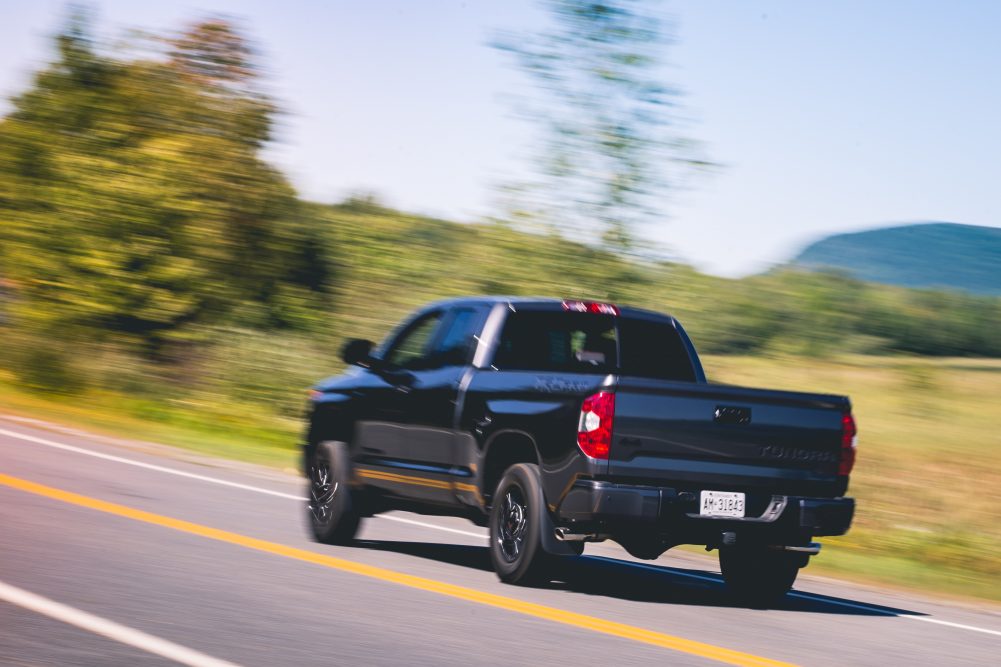 As a road trip vehicle though, the Tundra is impressive. It's roomy in there, more so than your average mid-size sedan. And those leather seats provide plenty of long-distance comfort and support. As for the interior, it's simple, well laid out, but nothing fancy. I love the big knobs to control the HVAC controls, because you know you can use them wearing gloves, and that's cool. In all honesty though, the interior is starting to show its age, with lower than average material quality and hard Corolla-like plastics found at every corner. In this segment, I'm sorry, but that's unacceptable. I was, however, delighted about the fact that my tester was free of useless electronic gimmicks, not even a proximity key fob, which is the standard now, even in a Honda Fit. Except for the much appreciated backup camera and parking assist sensors, which were lifesavers during parking manoeuvres, this Tundra was all business and no fuss – just the way I like them.
Arriving to Percé, I also enjoyed the 6.5-foot bed as my private hotel room for the night. Since my tester was the Doublecab (2 extra tiny doors instead of full-size ones), it had the second longest available bed. Unlike the American competition, you cannot customize the bed on your Tundra according to cabin choices. This means that if you opt for the Crewmax with the full-size rear doors, you end up with a 5.5-foot bed. Get the single cab, and your Tundra will have the longest available 8-foot bed.
Anyway, 6.5 feet was enough to accommodate my full-size body for a night. It's also lying on the Tundra's bed that I enjoyed the soothing sounds of the waves crashing onto the nearby rocks. And as I was trying to find a way to shield my face from the 4 A.M. freezing Gaspesian ocean breeze, I was suddenly hit with a sudden epiphany: the 2016 Toyota Tundra TRD Pro isn't only a fantastic family hauler over long distances; it's also an impeccable RV for a night!
For more details on that road trip, you can go check it out on my Opposite Lock column, where I posted some pictures of the trip.
Yes, it'll Off-road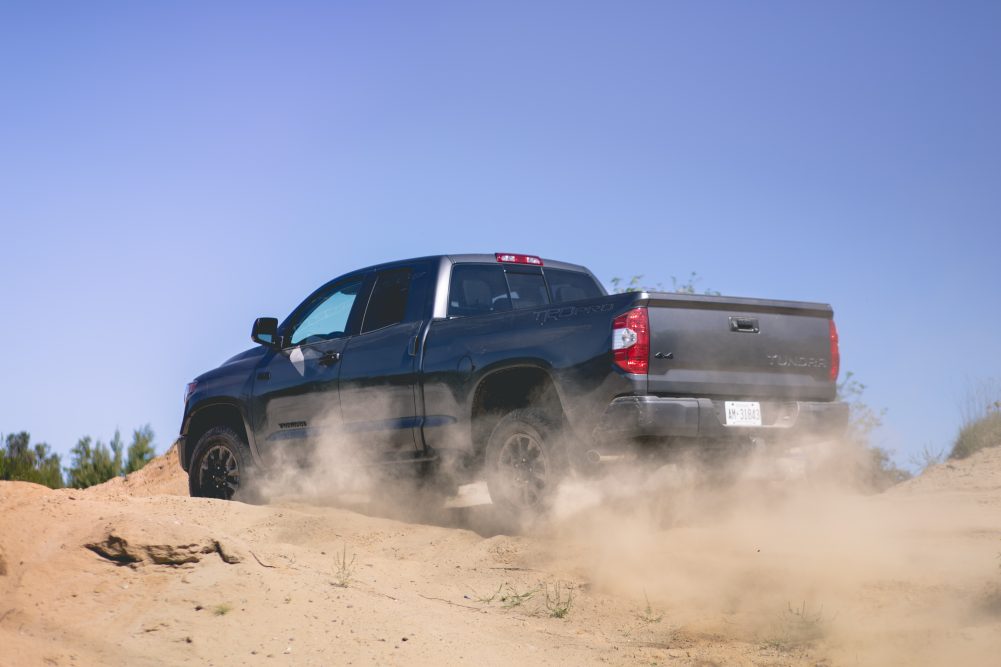 Of course, you all want to know if this TRD Pro can off-road. The answer is yes. Very yes. Upon my return from Percé, Myle and I shot the Tundra in an abandoned sandpit in the Eastern Townships, a playground for local dirt bikers and ATV riders. It's an area loaded with steep inclinations, deep sand, aggressive banks and sudden drops. There, the Tundra's tuned suspension really came alive. Like the aerodynamics on an F1 car, you need to go fast for this setup to show what it's made of, which is somewhat unsettling at first, since I didn't want to break the darn thing.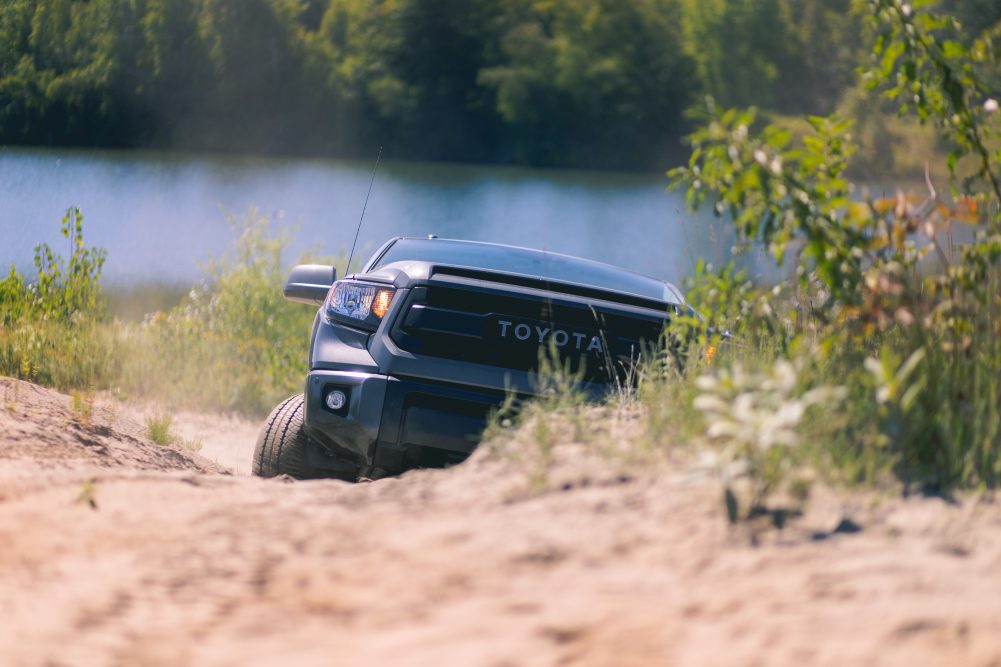 But as I grew more confident, the Tundra kept begging for more abuse. Holes, obstacles and sudden elevation changes were absorbed seamlessly, and the suspension did a fantastic job of keeping the truck stable at all times, providing a smooth and comfortable ride even during massive hooning. The people at TRD have certainly learned a lot from their experience in racing, because this is a fabulously well-tuned setup – both on and off-road. Set the TRD Pro in 4×4-high, leave traction control on, shift the transmission to S for its most aggressive shifting pattern, and gun the throttle; that's how you'll get over anything. Only once did I feel the shocks bottoming out up front, luckily the skid plates prevented any damage to serious hardware.
Wow, what a machine! Here I was smashing this bull through terrain designed solely for purposely built off-road machines, and the day before I was cruising it down highway 20 in massive comfort.
As I sat there with a huge grin on my face in the Tundra's air-conditioned cabin while the massive Michelin off-road tires never failed to find grip, I thought: the 2016 Toyota Tundra TRD Pro isn't only a fantastic family hauler over long distances, and an impeccable RV for a night, it's also the perfect getaway vehicle during a zombie apocalypse. Strap some machine guns on the roof of this sucker, and you're invincible!
And isn't that the Toyota promise after all? To deliver a bulletproof, indestructible vehicle that will never die, no matter how much it is tortured? Never once did I question this thing's reliability during the entire time I had it, and never once did it display any signs of weakness, and like all Toyota products, from a Prius all the way to a Lexus GS F-Sport, there's an undeniable feeling that the Tundra will indeed last forever.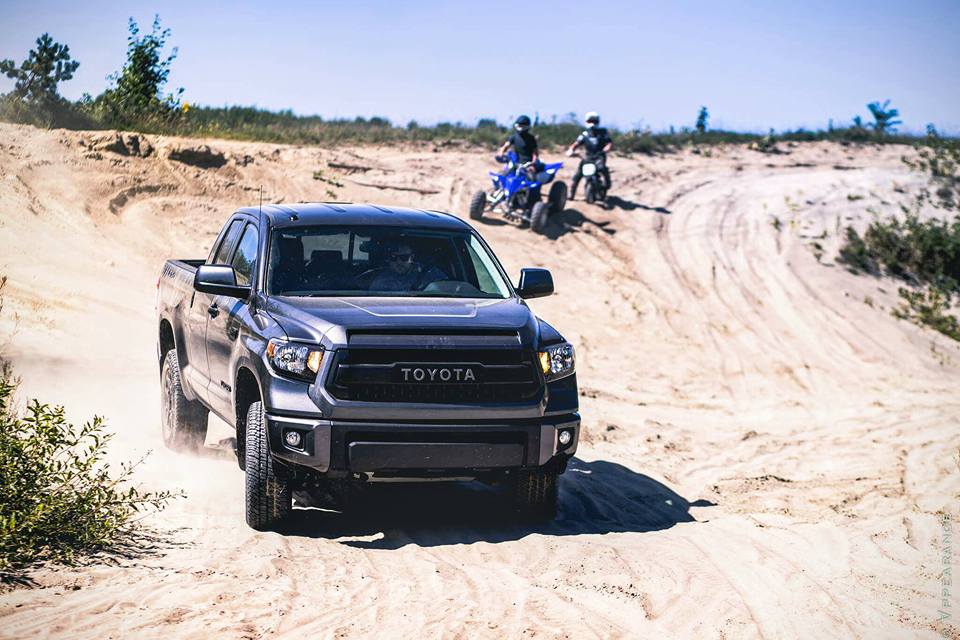 So, how much for this motocross chasing gas-sipping giant?
As tested, my 2016 Tundra TRD Pro sells for $57 000. Gulp. If you opt for the Crewmax, it'll cost you $59 500. Expensive? Well, considering that unlike the Ford SVT Raptor which sacrifices a lot of everyday truck usability in favour of its off-road credentials, the TRD Pro remains the same exact truck as a regular Tundra. Meaning you can still use it to carry around construction materials, tow a boat, or plow a driveway, it ain't all that bad.
To sum it all up, it's evident that nobody needs a truck like this. It's really just a big toy for people with money to waste. But are we happy Toyota is building it? Of course we are, because not only is the 2016 Toyota Tundra TRD Pro proof that the Toyota brand still has a sense of humour, it's proof that the off-road wars are heating up and have never been this extreme. Now, how about throwing me the keys to that Raptor, Ford?
Clavey's Verdict
Review of the 2016 Toyota Tundra TRD Pro by William Clavey
+
+ Impressive offroad credentials for the price.
+ TRD Pro adds aesthetic edge over standard Tundra.
+ iForce V8 engine remains among smoothest and most powerful in the segment.
–
– Automatic transmission could use two extra gears.
– Interior is starting to show its age.
– Not the most fuel efficient vehicle.
---
Clavey's Corner is located in Montreal, Quebec, Canada. Prices and trim levels discussed in this article reflect the Canadian car market.
Special thanks: Toyota Canada
Photography: Appearance
Contact the author: [email protected]