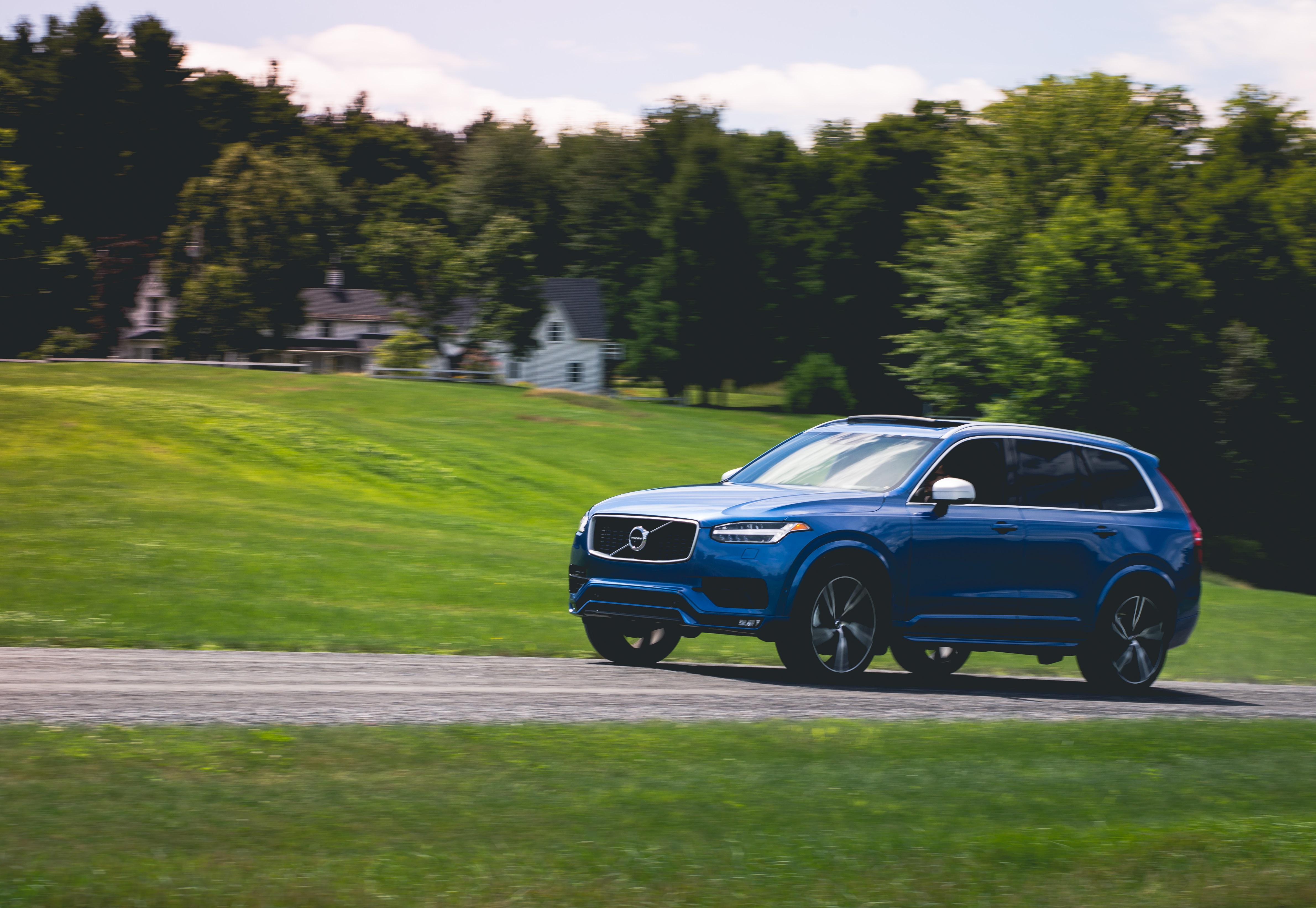 Ah yes, the all-new and stunning 2016 Volvo XC90. Not only is it the brand's first redesign in ages of the full-size, 7-passenger SUV; it's also the first vehicle in Volvo's lineup with an entirely new design from the ground up since the brand was purchased by the Chinese.
This means that this XC90 is very much a Volvo effort, making it more Swedish than your IKEA kitchen set.
Made in Sweden also means that during the week I had this seriously insane looking truck dressed up in R-design sports gear, and an appropriately named Bursting Blue Metallic paint job, I attracted more attention than if I had been driving a supercar. People from all ages, sex, and social classes thumbed me up, gazed, smiled, and straight up complimented the XC90's looks.  That being said, when an Audi Q7 owner comes up to you at the fuel pump to tell you he's considering a trade in, you know Volvo has accomplished its mission of delivering an expensive luxury vehicle that actually deserves its spot in an overcrowded segment.
Hammer of Thor Headlights – Because Sweden
As you may all know by now, I'm not a big fan of SUVs in general. Simply put, I find that once you've seen one, you've seen them all. Also, since I'm blessed to drive a whole bunch of different cars all the time, it takes quite a lot to make an impression on me. But the 2016 Volvo XC90 is simply a whole new level of awesome. Not only is it the first time I fall in love with an SUV, it's one I actually aspire to own one day.
I mean, just look at this thing.
Like a Swedish supermodel, you just can't get your eyes off of it.
The attractiveness, of course, begins with the Hammer of Thor LED headlights; a reference to the god of thunder in Norse mythology  – not the Marvel superhero. Those headlights not only allow this redesigned XC90 to distinguish itself from other luxury SUVs; aka Q7s, X5s and Range Rovers, but also do a fantastic job of reinforcing the brand's identity. Expect to see these headlights appear on other upcoming Volvo models.
But  the XC90's looks go much deeper than just an elegant pair of LED headlights. From every angle, this thing looks absolutely stunning. Volvo designers have done a great job of retaining the traditional wagon-like 2-box design of the last generation XC90, while adding just enough visual cues to make it feel fresh. This is a big truck, and Volvo isn't hiding it. The XC90 sits high, with a squared-off roofline, long hood, short overhangs, and bulging fenders. The end result is a truck that looks as if a Mercedes-Benz G-class and a Range Rover had a child, and then had it adopted by a Swedish family.
My tester, the R-design model, added an extra layer of Scandavian flair thanks to its more aggressive front and rear bumpers, chromed out mirrors, R-design lettering, massive 20-inch low-profile wheels and upgraded brakes; which holy crap made it look good.
Inside, the XC90 continues to impress with a fantastically well-crafted interior, a simplistic yet elegant design, and a meticulous attention to detail. The R-design package adds aggressively bolstered leather seats that would not only fit perfectly in a private jet, but also offer a wide range of settings for optimum comfort and support; as is expected of a Volvo. Very similar to the Tesla Model S I drove a few weeks ago, the centre stack in the XC90 is almost entirely button-free, with a large I-pad like interface to control most of the car's available features.
The system looks sharp, with beautifully presented menus, adaptive backlighting, and intuitive controls. It also boasts one of the most attractive navigation systems I've ever witnessed in an automobile.
It also came with its share of fingerprint smudges.
Yes, even the navigation system is sexy in a 2016 Volvo XC90.
All the buttons that were not taken out are the ones that matter, such as a large, beautifully designed volume knob with a Pause/Play button integrated into it. Kudos to Volvo for not going down with the frustrating touch-operated volume controls offered by other carmakers (Tesla, Honda). Not only is that knob perfectly positioned, it can easily be manipulated wearing a pair of winter gloves.
In front of the driver is another LCD screen for gauges and other driver info. Again, the layout is perfect, with customizable displays and an overall elegant design. Make no mistake, material quality, fit and finish, and refinement are impressive in the XC90. Yet, everything remains subtle and understated, it never tries to brag about what it is, it simply welcomes you into its soothing and quiet interior. In R-design trim, wood grain inserts are replaced by carbon fibre. And I swear, those diamond-cut controls on the centre console look like they were taken directly out of a jewelry store.
Just look at the starter button.
This fanatical attention to detail sets the XC90 in a class of its own, but it never feels like it's trying to mimic the competition. It feels like a genuinely unique product. The end result is a luxury SUV that feels truly special behind the wheel.
Turbocharged and Supercharged
Under the hood, things can become rather confusing. While this truck wears the traditional T6 badge we've come to expect from past Volvos, there's nothing reminiscent of an inline 6-cylinder about the drivetrain.
Instead, this 2760 kg truck is powered by a tiny 2.0L 4-cylinder engine.
Wait, what?
That's right. But get this: it's turbocharged and supercharged to crank out an impressive 316 hp and 295 lb-ft of torque. Towing capacity is also good for 2250 kg.
Now that's what I call progress.
And while I can't wait to test drive the 400 hp T8 hybrid twin engine model, I must say I was rather impressed with the way the T6 behaves. Except for a somewhat unrefined sound on idle, it's a satisfyingly smooth powertrain, one which delivers good low-end torque. There are, unfortunately, annoying power peaks caused by turbo lag and throttle-by-wire, but thanks to the exquisite 8-speed automatic transmission's ability to convert to manual mode through the wheel-mounted paddle shifters, drivers can willingly let this little engine rev freely to extract its maximum torque.
Different drive modes are available which, unlike those of the S60 Cross Country I drove a few months ago, actually alter the XC90's personality. Drivers can choose from Eco, Comfort, Off-road, Dynamic, and Individual drive modes; each setting altering throttle response, brake feel, steering heft, and suspension settings accordingly. Set the XC90 in off-road mode and the entire truck suddenly lifts off the ground, adding the required clearance to attack that freshly plowed snowbank in your driveway. In the event that you'd want your 7-passenger SUV to feel like a track machine, set it to Dynamic, and the XC90 slams to the ground, with transmission, throttle response, brakes, and steering suddenly converting to full on attack mode.
And although Dynamic is the coolest of all the settings, the 2.0L engine unfortunately can't keep up. It was just not designed for performance. That said, except for added handling, Dynamic doesn't add much dynamic driving characteristics. This is a 7-passenger SUV after all. It does, however, make it look seriously badass with that lowered stance and those diamond-cut 20-inch wheels.
Should be a hit with the kids.
Still, the XC90 feels solid behind the wheel, and to my surprise, it never felt cumbersome to drive given its bloated dimensions. It feels nimble, and even with the excessive body roll caused by the high centre of gravity, it does stick to pavement rather well and never complains when pushed hard. I do have one complaint with those 20-inch wheels though, which make the ride a tad on the rough side. Even with the XC90 set in Comfort mode, the R-Design is very stiff.
Out of all the available drive modes, believe it or not, Eco was the one that impressed me the most. It allowed this massive SUV to achieve an astounding 6.0 L/100 km average on the highway.
Six.
In some cases, it even went down in the low 5s.  Jesus- I can only imagine how frugal the T8 twin engine must be.
Expensive, but Worth Every Penny
There's no denying the fact that the 2016 XC90 is an expensive vehicle. Starting at an entry price of $61 300, it tops out at a whopping $81 250 for a T8 Inscription model.
Yikes!
Volvo isn't exactly giving you a bargain, are they? But then, why would they?  There's nothing cheap about the way the XC90 feels. And while some luxury carmakers jack up the price on cars that share components with some of the entry-level divisions, everything in the XC90 feels premium, and exclusive to this truck. Believe me, that's worth shutting up and giving Volvo your money.
If it were up to me, I'd get the R-design, like my tester. It just looks so damn cool. With that sexy blue paint job, it sells for $66 650. Now, when you consider that an Audi Q7 starts at $65 200, and a BMW X5 won't cost you under $66 200, the XC90 suddenly makes a whole lot of sense.
Truth be told, it feels great to see Volvo back in action with their full-size SUV. A few years ago, I was praying for the brand to remain alive, and here I am today, reviewing what is probably the best vehicle I've driven this year. This is definitely a sign of great things to come at Volvo, and I can't wait to sample their upcoming S90/V90 sedans and wagons.
To sum it all up, I was totally mesmerized with this truck.  More refined than a Jeep Grand Cherokee, a lot more distinctive than an Audi Q7, and offering more character than a Range Rover, the 2016 Volvo XC90 is not only a home run for Volvo, it raises the bar of what we should expect from a luxury SUV. If you're looking for the new benchmark in the segment, it's no longer German or British, it's Swedish. And I'm totally ok with that.
Clavey's Verdict
Review of the 2016 Volvo XC90 R-Design by William Clavey – *2016 Top 10 Contender

Luxury Full-Size SUVs

+
+ Stunning exterior design.
+ Wonderfully appointed interior with high levels of refinement.
+ Innovative and efficient powertrains.
–
– 20-inch wheels contribute to a stiff ride.
– Can become pricey with options.
– Waiting for a real high performance version.
---
Clavey's Corner is located in Montreal, Quebec, Canada. Prices and trim levels discussed in this article reflect the Canadian car market.
Special thanks: Volvo Canada
Photography: Appearance
Contact the author: [email protected]