The 2021 Acura TLX finally drives, looks and feels like the Acuras I remember growing up with. If you've been listening to automotive enthusiasts lately – the Honda faithful more specifically – you'll hear them complaining about how the old Acuras were better, more fun and more engaging to drive than the new stuff. Well that just changed with this new TLX. I'm here to tell you Honda's luxury division is fun and cool again.
A Road-Legal Concept Car
For the record, the car you see here isn't the much-anticipated Type S model. That one isn't out yet, it's coming only next Spring. This is a "normal" 2021 Acura TLX, but in A-Spec form, which still makes it look pretty rad.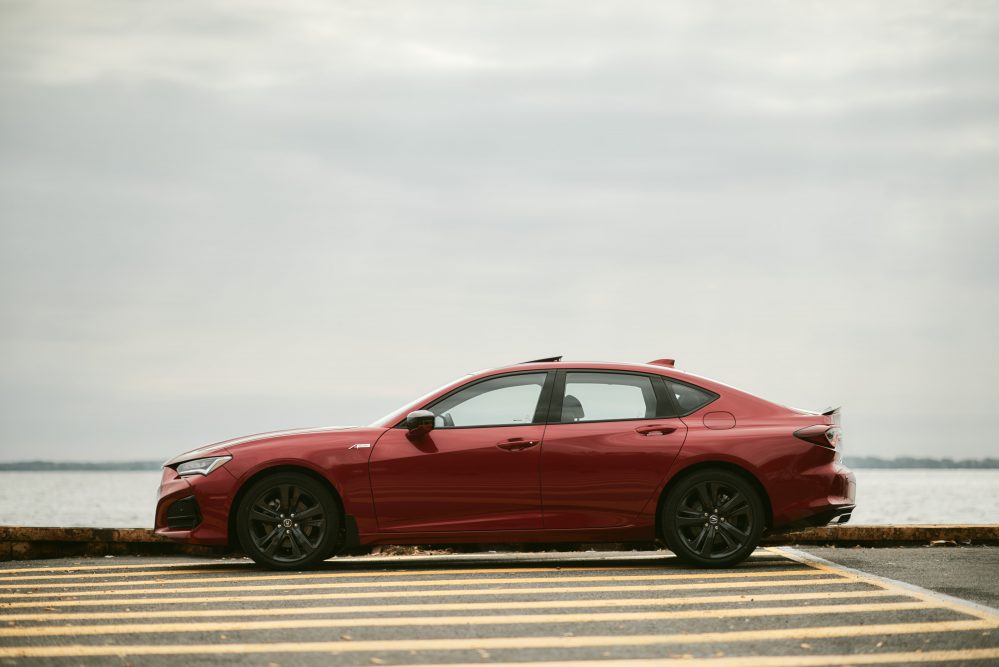 I totally dig this new design. It doesn't differ much from the Acura Precision Concept that was unveiled at Pebble Beach last year. This is basically that concept car, but adapted for the road, helping Acura bounce back as a bold and confident premium brand.
It's also a much bigger car than the one it replaces. This new TLX is wider, longer and lower than ever before, but it also looks racier, younger, active and more modern than any Acura that came before it. The front end gets the now signature Acura face with the now expected Jewel Eye headlights, while the tapered roof flows down to a fastback shape that's accentuated by wide haunches and massive exhaust pipes.
The A-Spec package is merely aesthetic, but it does bring with it flashy colors, like this Performance Red Pearl; arguably the best hue for this car. A-Spec also adds model-specific wheels, blacked out body accents, a subtle rear decklid spoiler and some unique interior styling cues.
All TLXs, including this A-Spec, are powered by a turbocharged 2.0-liter four-cylinder good for 272 horsepower and 280 lb-ft of torque. It's mated to Honda's own ten-speed automatic gearbox. SH-AWD is also standard now on all trims sold in Canada. What's more, this new TLX no longer rides on a modified Honda Accord platform but rather Acura's own bespoke structure that also underpins the current RDX. The TLX was developed, tested and built at Honda's Ohio plant alongside the NSX supercar.
Pricing for a 2021 Acura TLX kicks off at $43,900 and climbs all the way to $51,690. The A-Spec example you see here stickers for $49,290. Add an extra $500 for that red paint job.
Minding Its Own Business
The rule of thumb for a performance sedan has always been a longitudinally positioned engine layout and a rear-wheel-biased configuration, but Honda's past is rich with highly capable front-driven machines. The TLX pushes this ethos even further by officially being the only sport sedan in its segment to offer a transverse engine layout. But thanks to Acura's famed SH-AWD system, the TLX has grip for days and never feels, well, front-wheel-drive.
There's a lot of clever engineering too, allowing it to shine a lot brighter than the model it replaces. For instance, Acura lengthened the distance between the dash and the front axle, yeilding almost rear-drive proportions. This, along with a rear-mounted battery, leads to almost 52 pounds that are shifted towards the rear of the car in an attempt to mitigate nose dive and understeer.
And like the Acuras from the 1990's we all love, this TLX utilizes a control-arm front suspension, which promises to be 85 stiffer than the last TLX's setup. Aluminum front fenders and shock towers help further reduce the car's forward mass. Final weight distribution is set at 57 percent front and 42 percent rear.
Perhaps where the TLX's handling dynamics impressed me the most were how the car goes about its business doing its own thing, but remains just as capable as some rear-biased competitors. Throw it hard into a corner, and this large, supercar-wide sedan simply eats up the road, allowing you to attack full boil the way you'd do it in a Honda Civic Type R. Brakes are strong, and on-throttle corner exit feels planted, with rear rotation that you can actually feel behind the wheel; a result of the SH system's torque vectoring abilities.
Then there's the way the car's suspension setup simply works. This car doesn't get adaptive dampers (the Type S will) but it doesn't exactly need them, as Acura tuned this setup to near perfection, allowing it easily play in both the luxury and sport sedan game. Remember how old BMWs felt? It's pretty much that.
The 2.0-liter engine remains a gem, delivering the same kind of thick powerband you get in other Honda / Acura applications, i.e., the Civic Type R, Honda Accord and Acura RDX, with a surprisingly high-revving nature for a turbocharged unit. That said, because this TLX is a full 600 pounds heavier than a Honda Accord, that poor little four-pot does need to be thrashed to get the car up and going, feeling a tad underpowered at times.
Acura claims a 0-100 km/h time of just under six seconds for this entry level engine, which remains significantly quicker than the outgoing 2.4-liter K24 unit. But I do miss the sweet VTEC sounds and immediate throttle response of that old engine.
Meanwhile, the ten-speed automatic gearbox works supremely well during normal driving but does prove a little slow during performance maneuvers, especially in manual mode where it won't hand you over a gear as quickly as some dual-clutch German systems will.
Same Rear Room, On Purpose
The 2021 Acura TLX's cabin also leaps forward in terms of overall comfort, technology and design. It's a fine place to spend some time in, with styling that's just as fresh and modern as its body, impeccable build quality and sweet red ambient lighting that spices up the entire experience at night.
Acura continues to march forward with its gigantic Dynamic Select knob that protrudes from the middle of the dashboard, which easily has you mistake it for the audio system's volume knob. There's Normal, Comfort and Sport modes to choose from, which alter the car's transmission and steering system. The TLX also inherits of the RDX's god-awful track-pad operated infotainment interface.
The system itself looks good and is displayed through a clean-looking 10.2-inch screen, but cycling through the menus or operating simple functions is complex and tedious. Plus, the trackpad doesn't always want to cooperate. Luckily, Acura gives you a physical volume knob and skip buttons to make your life a little easier.
While considerably longer than its predecessor, the 2020 Acura TLX doesn't necessarily improve its rear cabin space, but that's actually due to the way the entire car was shifted rearward. Acura defends itself by saying cabin space is no longer a priority for sedan buyers, as they tend to favorize driver involvement instead. Consumers looking for more room have already left this segment and flocked to SUVs. That said, while snug, I fit back there just fine.
Acura definitely lays a solid foundation with this new TLX, a car that exhibits the kind of greatness that defines the best sport sedans currently on sale. Yes, it's more expensive than its predecessor by a good margin, but it's also a lot more car for your dollar. More importantly, the 2021 Acura TLX has its own soul, own personality and own driving dynamics. It's a sedan only Acura could have developed, a unique beast that dares to dance to the beat of a different drum.
Clavey's Verdict
Review of the 2021 Acura TLX A-Spec by William Clavey
Midsize Luxury Sport Sedans
Concept car good looks
Impressive chassis dynamics
Fine interior
Annoying track pad infotainment system
Transmission could be quicker
Not as quick off the line as main German rivals
Clavey's Corner is located in Montreal, Quebec, Canada. Prices and trim levels discussed in this article reflect the Canadian car market.
Special thanks: Acura Canada
Photography: Guillaume Fournier
Contact the author: [email protected]