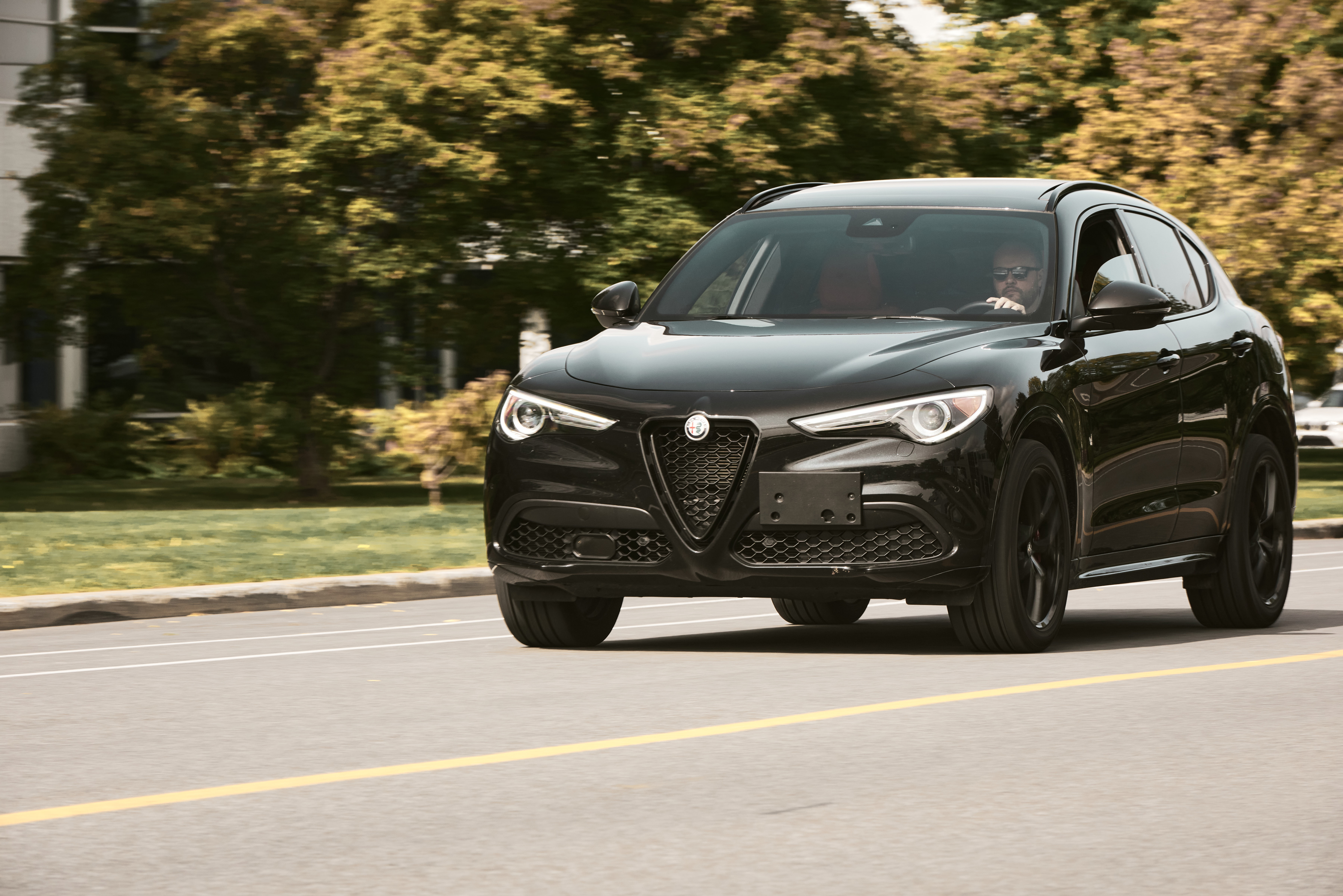 The 2020 Alfa Romeo Stelvio is sadly not the first luxury compact crossover that comes to people's minds. And that's a shame, because choosing one over, say, an Audi Q5 or even a BMW X3, will grant you one fine family shuttle that also happens to be an Alfa. Not many SUVs can claim that. But the Stelvio is much more than a pretty Italian face. It's actually good at being a normal car.
Nero Edizione
This may be the first time you see a 2020 Alfa Romeo Stelvio on these pages, but it's actually the third time I drive one. I drove the standard model two years ago for my old day job, then I strapped myself in the driver's seat of the super wild Quadrifoglio version last year. In both cases, I was pleasantly satisfied by the Stelvio, both for its distinctive styling and the way it drives.
Everyone wants to know what a Quadrifoglio feels like, and I'm here to tell you it's just as intense as you imagine it to be. Fast, loud, incredibly agile and much more flamboyant than anything German, the Stelvio's hotted up variant is a hell of a lot of fun, but also deeply flawed. The sweet spot actually lies in this, the more toned down "Q4" version, as it's capable enough to make a compelling case for not getting an Audi.
The reason people aren't buying as many Stelvios as other luxury compact SUVs isn't because the vehicle isn't good. It's because Alfa Romeo itself hasn't done much to advertise the thing. Even if it's the brand's best-selling vehicle on our shores, Alfa barely shipped 10,000 of them in the US and Canada last year. Meanwhile, Audi sold 77,000 Q5s.
In order to breathe new life into the poor old Stelvio, Alfa reshuffles the trims levels in an attempt to offer consumers a bit more substance for their hard-earned dollar. For 2020, the vehicle changes only slightly, mostly inside, by way of an updated 8,8-inch infotainment system that's both more attractive and easier to operate. There's a revised center console design, while buttons, switches and interior materials all get an update.
Mechanically, the 2020 Alfa Romeo Stelvio carries over unchanged, riding on a shared architecture with the Giulia sport sedan. The Stelvio is essentially that car but with a lifted suspension, meaning it's powered by the same excellent turbocharged 2.0-liter four cylinder good for 280 horsepower and 306 lb-ft of torque. It's mated to an eight-speed automatic gearbox. All-wheel-drive is standard here in Canada.
The pricing ladder for a Stelvio is vast, with up to seven available trim levels, allowing it to both cover entry level premium and luxury categories. And in that respect, you are getting a bit more for your money with a Stelvio than a German alternative. A base Stelvio kicks off at $50,545 rather well equipped. But the model I was driving was a TI Sport with the kickass Nero Edizione Sport package grafted on, which is why it's all black. Final price was $70,535, or roughly in the same territory as a similarly equipped BMW.
The Best Steering
While the 2020 Alfa Romeo's spec sheet appears to be a carbon copy of everything else currently on sale, it actually goes about its business in a very cool and unique manner. That's immediately recognizable by this car's impeccably precise steering, a quality taken straight out of the Giulia.
The Stelvio reacts to your inputs in utmost grace and precision. Turn in is lightening quick (for an SUV) and the handling limits are spectacular given its lifted ride height. It's respectfully quick, too. While it won't hold its own against its 505-horsepower big brother in a drag race, the Stelvio's overfed four pot pulls strong and smooth all the way to redline, clocking the 0-100 km/h time in a brisk 5.6 seconds.
There's even a pleasant exhaust rasp as the Stelvio shuffles through gears in traditional ZF effectiveness, but the sounds are never too overwhelming, nor annoying. It's this graceful balance of performance and comfort that allow the Stelvio to stand proud as a very capable SUV.
But perhaps where this Italian-bred vehicle truly feels the most fantastic is in the way it looks, both inside and out. Thanks to that blacked out package my tester was equipped with, the red interior downright popped, arguably making this the sexiest crossover in its class. Don't expect a Stelvio to offer the same level of luxury and craftmanship as a German rival, but it makes up for it for utmost style and swag.
The new infotainment interface does indeed make large strides in terms of user experience thanks to a much simplified layout. The console-mounted knob dial remains pleasant and easy to use. It's also a quick system to react, with clean menus and easily accessible information. In many ways, it feels like FCA's ubiquitous UConnect system, because, well, it kind of is. However,Alfa does a bang up job of hiding the Dodge/Jeep origins by infusing the system with Alfa-exclusive design cues.
Everywhere you look, the Stelvio's cabin feels special, from the thick red leather seats that feel like you're sitting in an expensive Italian exotic, to the brushed aluminum inserts and subtle red stitching. The flat-bottom steering wheel is thick and meaty, and I personally adore the start button located directly on the wheel itself. Also, check out those beautiful console-mounted paddle shifters. They're perfect.
The Stelvio's passenger and cargo space is even up there among the best in the segment. The rear seat is a little tight for tall people, but so is anything European in this class. Meanwhile, total cargo space is among the best at 1,600 liters, allowing this Alfa to arrive just under a BMW X3 (1,775 liters), and considerably more spacious than an Audi Q5 (1,503 liters) and a Mercedes-Benz GLC (1,149 liters). The Stelvio will even tow up to 3,000 pounds, which is more than you actually need.
Another reason people aren't taking much notice of the 2020 Alfa Romeo Stelvio is becaue many consumers are afraid of Alfa Romeo's "poor" reliability record. It's true that Alfa's past isn't exactly known for its Honda-grade levels of durability, but the recent products are actually not that bad.
Also, consider this: German vehicles aren't exactly cheap to own anyway, so how bad can be with an Alfa? I've been told, from people who own Stelvios, that its maintenance costs and overall reliability aren't much worst than BMW or a Mercedes. My recommendation? Lease one, and give it a try, because on paper, there is no reason why you shouldn't consider a Stelvio on your shopping list.
Clavey's Verdict
Review of the 2020 Alfa Romeo Stelvio by William Clavey
Premium Compact Crossovers
Killer looks
Solid driving experience
Punchy turbocharged engine
Still unknown reliability
Not as luxurious as main rivals
Unclear resale value
Clavey's Corner is located in Montreal, Quebec, Canada. Prices and trim levels discussed in this article reflect the Canadian car market.
Special thanks: Alfa Romeo Canada
Photography: Guillaume Fournier
Contact the author: [email protected]