The 2021 Aston Martin DBX is the kind of a vehicle even Aston Martin itself promised it would never build. Sadly,  like any other carmaker wanting to remain alive in this day and age, even Britain's finest can't escape the SUV craze. Fear not though, because the DBX is every bit an Aston Martin.
Distinctive Design
I've actually seen some comments online to the effect that the 2021 Aston Martin DBX kind of looks like an overblown Ford Escape. And that's unfair for the DBX because one, Ford's latest designs are obviously copied off of Aston Martin – the company it used to own – , but also because the DBX is a lot more attractive in person than in photos or video.
What you can't see in these images is how low, wide and properly stanced this big guy is. I'm saying big guy because the DBX is a properly large SUV, just as long in fact as a Range Rover. But you won't notice it due to the way the styling was engineered. This thing messes with your eyes. It's enormous, but appears tiny. It's also absolutely beautiful; one of the most gorgeous SUVs I have had a chance to review.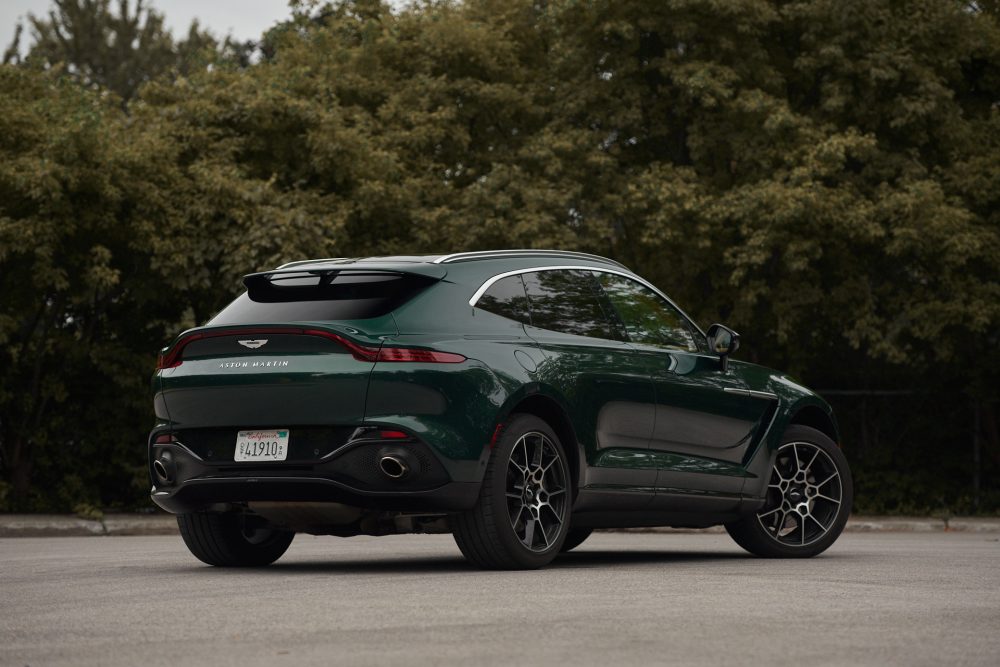 While the DBX may be sized like a three-row SUV, it only seats five people. That's actually done on purpose to give the vehicle more occupant space, comfort and luxury. Aston figured if it was going to build one of these things, the DBX should have a proper grand tourer vibe. The end product is long, wide low and extremely spacious inside.
I'll get back to the plush interior in a bit. What you need know is that while its engine is borrowed from the wizards over at Mercedes-AMG, the DBX's entire platform and suspension tuning were an in house effort. Like the Vantage and the DB11 V8 then, the good stuff, or what defines the car, is all from Aston.
There's some pretty clever technology underneath the sexy sheetmetal as well, like a 48-volt mild hybrid system that aims at making the suspension react quicker. Not only does the DBX have an adaptive air suspension, it uses a hybrid system to improve the reaction times of its active anti-roll bars, a first in this category of vehicle. In other words, the DBX constantly adapts to the terrain on which it's driving and makes sure you, the driver, never feels what the elements are throwing at you.
Power comes from a twin-turbocharged 4.0-liter V8 – the same engine that also poweres the Vantage – good for 542 horsepower and 516 lb-ft of torque. It's mated to a nine-speed automatic transmission, while all-wheel drive is of course standard. Aston claims its SUV will spring to 100 km/h from a standstill in just under four seconds. The price? These things kick off at a mind-boggling $203,500. The one you see here, which is wearing the $7,300 Buckinghamshire Green paint, stickered for a staggering $238,680.
Always Composed
The immediate first impression when driving the DBX is how smooth and composed it is, all the time. Even when you set it in its wildest Track setting, it never tries to destroy your back like other luxury performance SUVs. While tremendously quick and capable, this Aston always prefers wearing a suit and tie.
My time in the DBX was brief, as it usually is behind the wheel of an Aston Martin. But I had it long enough to journey out of the city and into the country side to sample its performance on a few winding back roads. And my god is it well sorted out. I'm always amazed by how much Aston Martin can still properly tune a chassis even if it doesn't have the same resources as Porsche, BMW or Mercedes-Benz.
Of course, Aston couldn't get there without the help of the Germans, but even if its heart is an AMG, the DBX emits its own distinctive soundtrack and puts down its performance to the tune of its own drum. Drop a gear or two using the colomn-mounted paddle shifters, and you'll hear subtle little pops and crackles come out of the vehicle's rear section. Yet, they're never too brash or too obnoxious like what the Germans will sell you. The DBX's exhaust tuning has a pleasant industrial growl to it, but it's also highly refined and tremendously classy.
Performance is downright fantastic, both in a straight line and in the corners. While the DBX is a tall and heavy SUV, it provides enough grip to carry you through a winding road at full throttle without ending up in a ditch. Throw it hard into a corner and the massive front wide tires quickly quell the understeer. Apply throttle, and the DBX will gracefully rotate as it transfers the weight to its wide rear end. It's just peach to drive hard, even if it's a massively large machine.
Where the DBX really impressed was in its ability to overwhelm me with plush cow hides, high-grade suede and stunning levels of quality. Yes, it would be easy to dismiss the old Mercedes Command infotainment system for being behind with the times, and the lack of popular driver assist features does make the DBX feel a little old, but the moment you grab the yacht-like leather steering wheel, you quickly understand where you're money went. What the DBX lacks in sophistication, it makes up for with a highly prestigious vibe.
There are cool design cues as well, like the classic Aston Martin arrowheads in the door releases and the trademark PRND buttons with the engine start/stop actuator located on the dashboard's top center section. There are folds and creases on the dashboard's leather surface to make it look and feel organic, and the suede-covered ceiling envelops you with warmth and cozyiness.
But of course, it's the DBX's unique presence and exclusivity that really allow it to be an event on its own. Everywhere I went with the thing, I got genuinely curious stares. People are never quite sure how to react when seeing an Aston Martin, because contrary to the Porsche Cayennes they see at least once a day, they've probably never seen an Aston in real life, let alone an SUV.
And that, the exclusivity and the brand's unquestionable social status is why Astons are always worth their ridiculous price tags, even if their infotainment systems are behind one generation. As for the DBX, it may be another SUV to follow a trend, but it may be the most Aston Martin vehicle Aston currently sells.
Clavey's Verdict
Review of the 2021 Aston Martin DBX by William Clavey
Performance Luxury SUVs
A gorgeous Aston Martin design
Serene and exciting driving experience
The most practical Aston ever built
Dated and clumsy infotainment system
Lacks popular driver assist features
Exclusivity comes at a price
Clavey's Corner is located in Montreal, Quebec, Canada. Prices and trim levels discussed in this article reflect the Canadian car market.
Special thanks: Decarie Motors
Contact the author: [email protected]